Posts Tagged 'GLE'
by phil - September 12th, 2011 6:54 am
108%!
That's how much Greece is paying today to borrow money for a year! In theory, if you lend Greece $10,000 today, next year they will pay you back $20,800. In THEORY that is because, at 108% – IF they actually borrowed at that rate, you could be very sure that they would not be around to pay you. That's the joke of this whole thing – we have these insanely unrealistic prices being set on bonds, which only hurts the people who have outstanding ones and need to redeem them as Greece doesn't actually borrow money for even double-digit interest rates. It's all a silly, artificial construct that is only useful in spreading panic among investors.
Unfortunately, investor panic is all you need to really destroy the Global economy – as we proved in 2008. As you can see from the chart on the right, we are currently mirroring the same path we took 3 years ago as we head into October and, in fact, our financial sector is performing WORSE than it did when we had ACTUAL major bank and minor country failures – not just rumors of them.
On Friday, Greece's finance minister, Evangelos Venizelos, blamed "organized rumors" for renewed speculation that Greece would default, and said the country intended to comply with all terms needed for the bailout that European countries agreed to in July. But the fact that the details of the deal have yet to be locked down has unnerved some investors.
In a speech this week, Josef Ackermann, the chief executive of Deutsche Bank, said it was not justifiable for politicians to demand that European banks raise more capital, as Christine Lagarde (DSK's evil replacement), the head of the International Monetary Fund, had done. "It's obvious," he said, "that many European banks would not be able to handle writing down the sovereign bonds they hold on their banking books to market levels."
But, he said, it would "risk undermining the credibility" of European bailout packages "if politicians were to now send out the signal that they do not believe in the success of those measures." And, he argued, forcing banks to raise capital now would anger investors by forcing the dilution of current shareholders.
"Risk undermining the credibility of European bailout packages?!?" Is this guy freakin' kidding? Greece is being "bailed out" and the market rate on their debt…

by phil - May 4th, 2010 7:55 am
Societe Generale is out with the latest edition of their hedge fund watch and in it we see that they've found hedge funds to have the "shortest position EVER on bonds."
Well, ever is since 2005 but still, hedge funds now have more than 270,000 short contracts on the 10-year Treasury Bond and that's not even counting PSW Members and their TBT positions (ultra-short the 20-year) so we are either twice as smart as hedge funds or twice as dumb – either way, it looks like it's coming to a head!
SocGen also reports large short positions in 30-year TBills too with a net short there of about 100,000 contracts and the Bank concludes that funds are also "strong net sellers of the Yen (50K net short) and buyers of US Dollars." Short positions in the Euro are being reduced now that we're near my $1.30 target but this is a critical line for the Euro and we could still break 10% lower if it doesn't hold, I mentioned our Euro play in the Weekend Wrap-Up so I won't get into it here but what a day we had yesterday already!
According to Market Folly, hedge funds are also now net sellers of equities with long/short equity funds are now around 25% net long, which is definitely below their historical average of 35-40% net long. Folly also sees that, according to CFTC data, many hedgies have been adding to shorts in S&P futures. Whether they are simply selling longs to lock in some profit or making a market timing call, one thing is clear: hedge funds are definitely cautious in this market. Following the funds has been profitable this year as they are up 13% year-to-date after the Hedge Fund Generals Index was up 69% last year.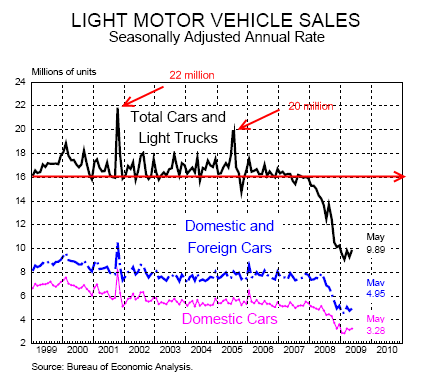 PSW members did their best to avoid temptation yesterday despite the "rally" (that failed to make it back to Thursday's highs on low volume) and despite the "fabulous" auto numbers that CNBC et al could not stop fawning over. Indeed the statistics were so good they were – RIDICULOUS – Chrysler up 25%, DIA up 18.8%, F up 24.7%, GM up 6.4%, HMC up 12.5%, Hyundai up 30%, Kia up 17.3% and TM up 24.4%. This caused me to comment to Members:
OK, now I may be an old fuddy-duddy but I'm counting less than 1M cars sold in a month in this group and it seems to
…

by phil - November 11th, 2009 6:18 am
$2.5 Trillion – That's the size of of the global oil scam.
It's a number so large that, to put it in perspective, we will now begin measuring the damage done to the global economy in "Madoff Units" ($50Bn rip-offs). That's right – $2.5Tn is 50 TIMES the amount of money that Bernie Madoff scammed from investors in his lifetime, yet it is also LESS than the MONTHLY EXCESS price the global population is being manipulated into paying for a barrel of oil.
Where is the outrage? Where are the investigations?

Goldman Sachs, Morgan Stanley, BP, TOT, Shell, DB and Societe General founded the Intercontinental Exchange in 2000. ICE is an online commodities and futures marketplace. It is outside the US and operates free from the constraints of US laws. The exchange was set up to facilitate "dark pool" trading in the commodities markets. Billions of dollars are being placed on oil futures contracts at the ICE and the beauty of this scam is that they NEVER take delivery, per se. They just ratchet up the price with leveraged speculation using your TARP money. This year alone they ratcheted up the global cost of oil from $40 to $80 per barrel.
A Congressional investigation into energy trading in 2003 discovered that ICE was being used to facilitate "round-trip" trades. Round-trip'' trades occur when one firm sells energy to another and then the second firm simultaneously sells the same amount of energy back to the first company at exactly the same price. No commodity ever changes hands. But when done on an exchange, these transactions send a price signal to the market and they artificially boost revenue for the company. This is nothing more than a massive fraud, pure and simple.
"Traders of the the ICE core membership (GS, MS, BP, DB, RDS.A, GLE & TOT) wouldn't really have to put much money at risk by their standards in order to move or support the global market price via the BFOE market. Indeed the evolution of the Brent market has been a response to declining production and the fact that traders could not resist manipulating the market by buying up contracts and "squeezing" those who had sold oil they did not have. The fewer cargoes produced, the easier the underlying market is to manipulate." – Chris Cook,
…