Societe Generale is out with the latest edition of their hedge fund watch and in it we see that they've found hedge funds to have the "shortest position EVER on bonds."
Well, ever is since 2005 but still, hedge funds now have more than 270,000 short contracts on the 10-year Treasury Bond and that's not even counting PSW Members and their TBT positions (ultra-short the 20-year) so we are either twice as smart as hedge funds or twice as dumb – either way, it looks like it's coming to a head!
SocGen also reports large short positions in 30-year TBills too with a net short there of about 100,000 contracts and the Bank concludes that funds are also "strong net sellers of the Yen (50K net short) and buyers of US Dollars." Short positions in the Euro are being reduced now that we're near my $1.30 target but this is a critical line for the Euro and we could still break 10% lower if it doesn't hold, I mentioned our Euro play in the Weekend Wrap-Up so I won't get into it here but what a day we had yesterday already!
According to Market Folly, hedge funds are also now net sellers of equities with long/short equity funds are now around 25% net long, which is definitely below their historical average of 35-40% net long. Folly also sees that, according to CFTC data, many hedgies have been adding to shorts in S&P futures. Whether they are simply selling longs to lock in some profit or making a market timing call, one thing is clear: hedge funds are definitely cautious in this market. Following the funds has been profitable this year as they are up 13% year-to-date after the Hedge Fund Generals Index was up 69% last year.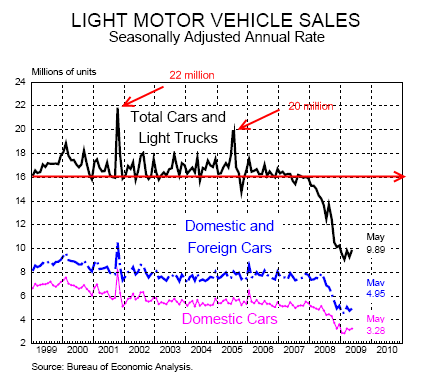 PSW members did their best to avoid temptation yesterday despite the "rally" (that failed to make it back to Thursday's highs on low volume) and despite the "fabulous" auto numbers that CNBC et al could not stop fawning over. Indeed the statistics were so good they were – RIDICULOUS – Chrysler up 25%, DIA up 18.8%, F up 24.7%, GM up 6.4%, HMC up 12.5%, Hyundai up 30%, Kia up 17.3% and TM up 24.4%. This caused me to comment to Members:
OK, now I may be an old fuddy-duddy but I'm counting less than 1M cars sold in a month in this group and it seems to me that there are well over 200M cars in this country so 12M cars a year is a replacement cycle of once every 16 years. That doesn't sound good, does it? So, while the gains may be "impressive" - that's only because last year was a complete catastrophe but we are a lot closer to the bottom than the top yet that is not in the least the story we're getting is it?
My eyeball estimate turned out to be very accurate as it turns out that the annualized sales rate for April was 11.2M vehicles and that's DOWN (yes DOWN) 5% from 11.78M in March. Much like this quarter's earnings reports, the economic data we are seeing is comping to disaster and the market is pretty much acting like they are NJ Nets fans, lining up for Playoff tickets because their team wins 8 games in the first half of the season (as they only won 12 out of 82 all of last year). Jersey fans may be crazy enough to wait for playoff tickets but they sure aren't stupid enough to bet on the Nets just because they win a few games but, on Wall Street, hope springs eternal I guess…
My other eyeball estimate yesterday also turned out to be very useful as the watch levels from my 10:02 Alert to Members were: Dow 11,100, S&P 1,197, Nas 2,480, SOX 385, NYSE 7,590 and RUT 725 and we keyed on the NYSE and that kept us from getting too excited as the other levels made their mark. As I predicted in the Alert:
Rejections at those levels will be a good reason to get more bearish and, on the whole, today is a great day to be cashish and have a nice lunch and catch up on EMail because we've got a big week ahead of us and today is not likely to mean much judging by the very light trading we're seeing this morning.
I also said "oil now back at $86.50 and we'll want to short (futures) here with tight stops" and that attempt cost us a nickel but the second attempt came at $87 and this morning oil is all the way back to $84.62 – what a silly commodity! Gold is also silly and we shorted that with a GLL spread – not willing to go naked short on gold as we do on oil. We even flipped back to bearish on our mattress plays, going naked on our long DIA puts into the close – as I said in the weekend post, the market isn't that complicated – just figure out what everyone else is doing and do the opposite. My logic at 3:50 was: "Notice, by the way, that all we are doing today is making lower highs than last week. This rally means nothing but setting a downtrend if we don't pop over those levels."
So those are our targets to throw in the bearish towel: Dow 11,308, S&P 1,219, 2,535, NYSE 7,727 and Russell 745. More likely, we'll be watching for 3 of 5 break-DOWN levels this morning as the Euro continues to fall in early trading, along with the EU markets, which are down about 1.5% this morning, expanding on Asia's poor performance this morning:
These charts are not live, the BSE fell 284 points since this chart (1.4%) to 17,137, breaking below the 50 dma (blue is 20). The Nikkei is closed but the futures are down about 200 from yesterday's close (something we talked about yesterday at length) and the DAX is down 75 points (2%) this morning (8:30) at 6,085 and we have no reason to think they'll find support at their 50 dma. Did I mention copper and our relentless shorting of FCX yesterday? Copper hit $3.25 this morning and FCX is looking at $72.50 – look out below if they break lower!
So it is a truly gravity defying performance put on by our US equities as they float high above – NOT JUST THE 50 DMA BUT, ladies and gentlemen, for perhaps the last time on the World stage in 2010 – the Flying US Indices will attempt to float above the 20 Day Moving Average in order to LIFT the other Global markets back to the very top of Wall Street's big top. Come and see the show!
Like good little market physicists, we know better than to fight gravity but, once the bonds of gravity are truly broken, then we also know that an object that is in motion will remain in motion unless acted upon by an opposing force. Our upper levels are the obits within which the markets may travel but the thrust needed to truly break out will take a lot more push than the low-volume nonsense we've been seeing on our magical "up" days.
Gravity will be a bitch this morning with Europe dragging us down and ICSC Retail Store Sales are not helping as they come in down 0.4% while Redbook Sales are down 22% from last week's numbers. The World's oldest Democracy is rioting in the streets of Athens as all of Greece is on a 48-hour strike, protesting the IMF deal while the UK and Ireland are again grounded due to volcanic activity. This is getting to be just like that 2012 movie isn't it?
Speaking of disasters, if you are trying to keep up with shareholder lawsuits filed against the company, you can check out this one, this one, this one, this one, this one or that one. The problem with having wealthy clients and wealthy investors is that they have access to the same high-profile law firms that you do when you get caught trying to screw them over…
Don't take any wooden nickels…
Do you know someone who would benefit from this information? We can send your friend a strictly confidential, one-time email telling them about this information. Your privacy and your friend's privacy is your business... no spam!
Click here and tell a friend!