Posts Tagged 'HMC'
by phil - May 4th, 2010 7:55 am
Societe Generale is out with the latest edition of their hedge fund watch and in it we see that they've found hedge funds to have the "shortest position EVER on bonds."
Well, ever is since 2005 but still, hedge funds now have more than 270,000 short contracts on the 10-year Treasury Bond and that's not even counting PSW Members and their TBT positions (ultra-short the 20-year) so we are either twice as smart as hedge funds or twice as dumb – either way, it looks like it's coming to a head!
SocGen also reports large short positions in 30-year TBills too with a net short there of about 100,000 contracts and the Bank concludes that funds are also "strong net sellers of the Yen (50K net short) and buyers of US Dollars." Short positions in the Euro are being reduced now that we're near my $1.30 target but this is a critical line for the Euro and we could still break 10% lower if it doesn't hold, I mentioned our Euro play in the Weekend Wrap-Up so I won't get into it here but what a day we had yesterday already!
According to Market Folly, hedge funds are also now net sellers of equities with long/short equity funds are now around 25% net long, which is definitely below their historical average of 35-40% net long. Folly also sees that, according to CFTC data, many hedgies have been adding to shorts in S&P futures. Whether they are simply selling longs to lock in some profit or making a market timing call, one thing is clear: hedge funds are definitely cautious in this market. Following the funds has been profitable this year as they are up 13% year-to-date after the Hedge Fund Generals Index was up 69% last year.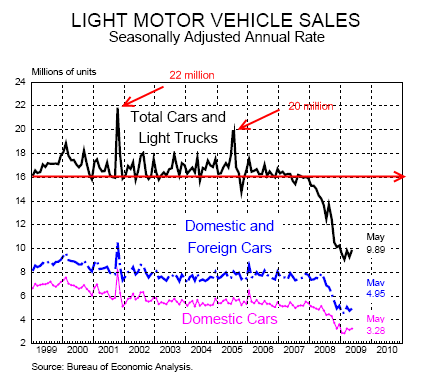 PSW members did their best to avoid temptation yesterday despite the "rally" (that failed to make it back to Thursday's highs on low volume) and despite the "fabulous" auto numbers that CNBC et al could not stop fawning over. Indeed the statistics were so good they were – RIDICULOUS – Chrysler up 25%, DIA up 18.8%, F up 24.7%, GM up 6.4%, HMC up 12.5%, Hyundai up 30%, Kia up 17.3% and TM up 24.4%. This caused me to comment to Members:
OK, now I may be an old fuddy-duddy but I'm counting less than 1M cars sold in a month in this group and it seems to
…

by phil - April 30th, 2009 8:48 am
8,200!
Finally we make the target we discussed since the beginning of the month but, sadly, it took another shot of Federal stimulus to get us there. Now what? I did say at the time that I thought it would be a short-term top as 8,200 is the 5% rule bottom of the 8,650 mid-range (8,217 to be exact) that we expected to get back to in May but we didn't expect to get there without a pullback test of 7,632. Heck, we haven't even tested 7,900 properly since our very brief visit to 7,699 on the 21st. I didn't count that as a test as it was brief and 1% off our mark but, since then, the market sure has acted like it aced the test and is ready to move up to the next set of levels.
As we can see from David Fry's chart of the S&P, the S&P is hitting very serious resistance at about the 885 mark and that ties right in with Dow 8,250 and Nas 1,717, which is our first US index to hit the 40% mark. Our other 40% levels will take some work as we're looking for Dow 8,413, S&P 946, NYSE 6,232 and Russell 514. The Dow and the Russell have the best chance of getting there but we'll have to see as, at the moment, the Nasdaq is more of an outlier at the moment. We need to keep an eye on the Nasdaq leadership: GOOG, AAPL, RIMM, AMZN, EBAY, ORCL, INTC… for signs of weakness. If they can't keep it going, the entire market rally may falter here.
XOM missed by .03 this morning but still earned .92 per share and seem to be forgiven for it. While profits are down 58% from last year, last year was $10.9Bn so $4.6Bn may be disappointing but oil back over $50 does allow the company to project better times ahead (gee, maybe that's WHY oil is at $51.50 this morning). I wouldn't touch them with a 10-foot pole as they did beat revenue forecasts by 20% ($64Bn vs $54Bn) which indicates the company is doing a lousy job of controlling costs and may face disaster if the economy doesn't improve or if oil collapses.
While earnings have been pretty good, expectations have been really low. This is like getting all excited about…