Posts Tagged 'JNJ'
by phil - November 16th, 2012 8:32 am
Falling, falling, falling.
That's all the markets have been doing lately. As you can see from our Big Chart – it's been a pretty orderly sell-off according to our 5% rule with roughly a 4-5% drop during October with some consolidation, followed by a much steeper 4-5% drop after the election.
We're back to the point where we expect resistance at an 8% total drop as well as some bounce action where once again we'll be measuring for strong or weak bounces to determine whether or not we can get a turn again (our indicators kept us bearish last time). Regarding the current action, I said to our Members yesterday in Chat:
I think there is a lot of selling as people take capital gains while they can. I think that it's very possible that it's going to be very difficult to get a proper rally into the end of the year because there are plenty of people waiting for a rally to take their gains, whether through timing or position. The problem with this state of not knowing is it becomes prudent for people to hedge for the worst and, if someone had a 20% gain for the year and now it's 15% and they can take it off now and keep 12.75% (after 15% tax) vs possibly hitting another 5% drop and running down to 8.5% this year or possibly 7% (at 30%) if they wait until next year and there's no recovery (and the more the cliff looms the less likely recovery seems) then it almost doesn't make sense not to take the 12.75% and run. So that's very possibly the selling pressure we see and it may continue to be relentless into the end of the year unless there is some sort of resolution or delay to the cliff.
While we don't think the Fiscal Cliff will end up being a big deal – that doesn't stop others from panicking. This week we've been scooping up positions they have been running away from but, if we're going to have another leg down – we'll be needing those disaster hedges (see Wednesday's post) to keep us out of trouble. It doesn't take much to profit from a downturn, fortunately, when we use good hedges. On Wednesday I suggested the TZA April $17/24 bull call spread for $1.40, selling the $14…

by phil - January 24th, 2012 8:26 am
Tough call today.
The Dollar bounced off 79.75 this morning, nothing to crow about for Dollar bulls as the Euro remains just over the critical $1.30 mark and the Pound is solidly over $1.55 for the moment.
You could say it's a bearish sign that the Dow and the NYSE stopped dead at our breakout levels but that's to be expected on a first attempt at breaking out – even if they have already attempted the same move back in late October, when the Dow was 5% lower in it's test and the NYSE was testing the same line (7,866).
Our broadest market index is the one that's holding everyone back as what little volume there has been in this rally has been fairly narrowly focused on certain leaders. Now a pessimist might say that this is a reflection of the blatant manipulation of the indexes in which certain Banksters place buys on stocks that have disproportionate positive effects on the junior indexes in order to fool retail traders into believing there is a rally while the Banksters drive the VIX down to multi-year lows, dump all their stocks on the bagholders and prepare to cash in by crashing the markets on a major event like tomorrow's FOMC Rate Decision which is, in fact, very unlikely to have any language specific to the QE3 that has been promised by the MSM since Thanksgiving.
An optimist would say – well, you can read almost any MSM site for that. It's lonely at the top of the range when you are bearish, one by one the other bears capitulate and soon you are there all by yourself with your shorts – your lovely, lovely, cheap shorts! The Dow shot up yesterday to just over the 12,749 breakout line we have as the tippy top of the range on our Big Chart so of course I called for DIA puts in Member Chat. The DIA Feb $123 puts, which came in around .75 and finished the day not much higher at .78 after topping out at .95. Ranges usually hold – if you're not going to have conviction at the very top of a range to short – when will you? For one thing – you have a very good stop line to watch!
As noted by Dave Fry in his SPY chart, the bulls have engineered their golden cross…

by phil - August 5th, 2011 10:22 pm
Uh-oh!
Officials at ratings firm, Standard & Poor's, said U.S. Treasury debt no longer deserved to be considered among the safest investments in the World. S&P removed for the first time the triple-A rating the U.S. has held for 70 years, saying the budget deal recently brokered in Washington didn't do enough to address the gloomy long-term picture for America's finances. It downgraded U.S. debt to AA+, a score that ranks below Liechtenstein.
S&P said "the downgrade reflects our opinion that the fiscal consolidation plan that Congress and the Administration recently agreed to falls short of what, in our view, would be necessary to stabilize the government's medium-term debt dynamics." It also blamed the weakened "effectiveness, stability, and predictability" of U.S. policy making and political institutions at a time when challenges are mounting.
In other words, the ship is sinking and the captain and crew are doing nothing but rearranging the deck chairs. S&P was supposed to release this report this afternoon (Friday) but the Treasury Department caused a delay by arguing the math the S&P was using (a $2Tn discrepancy). At 8pm, the S&P decided the Treasury was wrong and went ahead and released the report, not only downgrading our Debt to AA+ but giving us a NEGATIVE OUTLOOK as well. Now we have to contemplate what the effect of this change may be…
Let's first keep in mind that this was expected. In fact, it's ridiculous how long it took for someone to downgrade us. JPM estimates that $4Tn worth of treasuries are pledged as collateral by borrowers such as banks and derivative traders. The change in status from one ratings agency is unlikely to trigger any immediate covenants (a primer on Sovereign Debt Ratings) but it may take only one more before borrowers are required to come up with many, many Billions of Dollar of cash or securities to keep their creditors at bay – essentially – it's a margin call on America!
Well, I say this was expected but I mean by us. We cashed out today (see morning post) but Little Timmy Geithner, who blew his chance this week to resign with America's credit rating intact under his watch, was on Fox News in April SPECIFICALLY stating that there was "NO RISK" that the US could lose it's AAA rating. Read the article or watch the video –…

by phil - December 17th, 2010 8:18 am

Good job Congress!
Way to bend of and take it from your new Republican Masters! Not since Jack sold his cow for some magic beans has a deal like this been made by our "leadership" where families earning between $35,000 and $64,000 go $7,800 further into debt to get a $613 tax break while families earning between $5M and $10M get $38,590 and families earning $50M to $100M get $380,590 and families (or Corporations, of course) earning $500M to $1Bn get $3,859,000 or about 12,590 times more than the average middle class family but, then again, they deserve it because – they are that much better than you are!
Face it, unless you are in an income category where your tax benefit has 5 digits, you are what George Orwell (who worked in England's Ministry of Propaganda) called a "Prole." In "1984" the Proles (proletariat) were the vast majority of the populace, the working class of Oceana. Though the proles are the majority, they are unimportant. The Party explicitly teaches that the Proles are "natural inferiors who must be kept in subjection, like animals". As one of the Party Leaders observes: "the relative freedom of working-class people is merely a symptom of the contempt in which they are held".
It is not only the Party which regards the Proles as unimportant: the arch-enemy, Goldstein, dismisses them too, referring to the divisions of High, Middle and Low people, in which the Low are essentially destined to remain powerless. This attitude has much in common with the one Huxley shows in Brave New World—the lower castes are mindless enough to be satisfied with little, and can be relied on not to be troublesome.
You're not going to be any trouble are you? Enjoy your $613, little people. That's what, about a month's worth of gasoline and cable TV? Congratulations on your voting acumen – you certainly have gotten the Government that you deserve! I apologize because I had mischaracterized the tax cuts as being fairer to the Middle Class last week, when I said it was only an outrage. I thought that families earning $50,000 would be getting $900, not $613, but it turns out that 12,590 times $287 is another $3,613,330 that could be given to a Billionaire and they NEED that money to buy stuff that might create a job while you would only…

by phil - October 17th, 2010 4:51 pm
Wow, we covered a lot of stuff in Member Chat this weekend.
After a really fun Friday where we had another couple of massive index puts pay off in the morning and on Saturday we reviewed our October's Overbought 8 list, with half our trade ideas already past our 50% targets and 3 of the 4 remaining spreads on track. In Member Chat, we discussed the possibility of a pullback in oil next week as the barrel count on the NYMEX is dangerously high with over 600M barrels currently scheduled to deliver to Cushing in the next 90 days. Cushing has a capacity of about 40M barrels a month and they are full but, even if they weren't, 480M barrels need to be dumped and rolled into Feb, March and April contracts between now and the year's end.
The November contracts settle on Wednesday, the 20th and any traders caught holding those "hot potato" contracts have to figure out what they will actually do with millions of barrels of oil. Right now, there are 141M barrels earmarked for November delivery and, if this month is typical, only about 20M are actually needed. 141,000 contracts (1,000 barrels each) were traded 210,000 times on Friday as prices fell from $84.12 at 3am (Asia trading) to $80.75 into the NYMEX close. It is easier for a NYMEX trader to drink a barrel of oil than fob off his contracts to some other sucker during a glut – or something like that is the old biblical saying…
What I love about investors and the MSM in this country is their ability to completely ignore the fact that, ultimately, someone must consume the oil that is leading the inflationary drive in the economy. Actually, we shouldn't blame oil (I said as much last week) but, as I also said last week, QE is the wrong kind of inflation because we are not giving any money to the workers. Ultimately, it's the workers who have to buy food and fuel you know….
One thing people don't realize from a global perspective is that gasoline prices are subsidized for India and China to the tune of nearly $40 per barrel so China's 11Mbd of fuel subsidies is…

by ilene - July 27th, 2010 4:10 pm
Courtesy of Pharmboy at PSW and Phavorites of Pharma
Over the past few years, there has been a lot of talk about pharmaceutical manufacturing and persistant problems in quality control. Genzyme, Schering Plough, are ones that comes to mind, but now Johnson & Johnson came under fire. Manufacturing is a killer for any pharmaceutical company, as news breaks, companies scramble, and CEOs come on saying that everything is OK, and we are going to recall the product and get things fixed. Unfortunately, those fixes take a lot longer than one would think, and in the case of a company as diverse as Johnson & Johnson (NYSE:JNJ), their current crisis is a good one.
Johnson & Johnson is a global American pharmaceutical, medical devices and consumer packaged goods manufacturer founded in 1886. The corporation's headquarters is located in New Brunswick, New Jersey, United States. Its consumer division is located in Skillman, New Jersey. The corporation includes some 250 subsidiary companies with operations in over 57 countries. Its products are sold in over 175 countries. J&J had worldwide pharmaceutical sales of $22.5 billion for the full-year 2009 represented a decrease of 8.3% versus the prior year. Net earnings and diluted earnings per share for the full-year 2009 were $12.3 billion and $4.40. Full-year 2009 net earnings included an after-tax restructuring charge of $852 million and an after-tax gain of $212 million representing the net impact of litigation matters. Full-year 2008 net earnings included special items related to in-process research and development charges of $181 million with no tax benefit and an after-tax gain of $229 million representing the net impact of litigation matters. Excluding these special items, net earnings for the full-year 2009 were $12.9 billion. Diluted earnings per share for the full-year 2009 were $4.63, representing an increase of 1.8%, as compared with the full-year in 2008.
The Company announced earnings guidance for full-year 2010 of $4.85 to $4.95 per share, which excludes the impact of special items.
In 2010, a suit brought by the United States Department of Justice alleges that the company from 1999 to 2004 illegally marketed drugs to Omnicare, a pharmacy that dispenses the drugs in nursing homes. JnJ is vigorously fighting this claim, but I think they will settle it out of court. More recently JnJ has broadened their recall children's medications for a manufacturing issue…

by Option Review - July 21st, 2010 5:54 pm
Today's tickers: BAC, JNJ, EXP, KO, YHOO, VVUS, SKS & STJ
BAC – Bank of America Corp. – A large-volume bullish risk reversal initiated in the September contract on Bank of America in the first half of the current trading day indicates one options strategist is positioning for a rebound in the price of the underlying stock by expiration day in a couple of months. BAC's shares, which fell 2.85% to $13.38 this afternoon, are currently down more than 32.7% since the stock reached a 52-week high of $19.86 back on April 15, 2010. Analysts at Goldman Sachs removed Bank of America from the conviction buy list on Monday. But, one optimistic individual is rooting for BAC to come roaring back to life by September expiration day. The investor appears to have sold 20,000 puts at the September $12 strike for a premium of $0.26 apiece in order to purchase the same number of calls at the higher September $15 strike for a premium of $0.36 each. The net cost of the transaction amounts to $0.10 per contract. If financial services firm's shares fail to rally above $15.00 by expiration, the investor will lose the full premium paid to purchase the trade. However, if the price of the underlying increases 12.85% over the current price of $13.38, the risk reversal player will start to make money above the effective breakeven price of $15.10 through September expiration. Finally, the short position in put options at the September $12 strike suggests the investor is willing to have Bank of America shares put to him at an effective price of $12.10 apiece should the puts land in-the-money at expiration.
JNJ – Johnson & Johnson – Shares of the provider of consumer products, pharmaceuticals and medical devices fell more than 2.85% in afternoon trading to arrive at $56.89 just before 3:00 pm (ET). The health care company's shares slipped lower after the firm said second-quarter revenue was flat and lowered its 2010 profit forecast by $0.15 a share. JNJ still reported a 7.5% increase in net income, earning $1.23 a share in the second-quarter, but revising full year earnings lower took its toll on the price of the underlying stock today. One contrarian options player populating JNJ LEAPS caught our eye this afternoon. The investor appears to have purchased a plain-vanilla debit call spread using sky-high strike prices in the January 2012 contract. The…

by phil - June 6th, 2010 8:27 am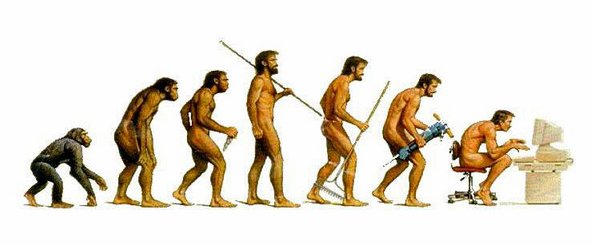 $10,500.
That is the per capita average GDP for the 6Bn ape-like creatures on this planet who have pockets and purses. Of the still hairy and pocketless apes, there are only about 1M left and they are mainly prisoners so we won't be worrying about them but it would be nice to consider the plight of our ancestors once in a while… Anyway, so 6Bn of us fill in those last 3 images in the planetary labor pool with the vast majority of us STILL FARMING and, of course, a select group of us are still hunting and gathering and contributing very little to the GDP.
None of our problems are new – as noted in this 2005 cartoon:
The United States of America with it's highly evolved population of shopoholics has a per capita GDP of $46,381 – VERY IMPRESSIVE but we rank 6th! Brunei does a little better than we do and Singapore is up at $50,523 (so let's hear it for corporal punishment) and Norway (one of my top choices of countries to flee to when it all hits the fan) is at $52,561 but Luxembourgh ($78,395 – banking) and Qatar ($83,841 – oil) simply trounce us in earnings power per person. For those of you who like to think Capitalism is all about keeping score – they must be better than you because they make more money, right?
Below the US, per capita GDP drops off fairly quickly. Rounding out the top 10 are Switzerland ($43,007 – watches and more bankers), Hong Kong ($42,748 – don't tell China!), Netherlands ($39,938 – legal drugs!), Ireland ($39,468 – free beer when on wellfare!) and Australia ($38,911 – beer comes in oil cans plus gigantic bouncing rats). 20th on the list is Germany at $34,212, Greece is 25th at $29,882 (but not for long), 30th is South Korea at $27,978, 40th is Slovakia at $21,245. Lithuania comes in at 50 with $16,542 (1 ahead of Russia) and it steadies out there with emerging market star Brazil in 75th place with $10,514 and, keep in mind – that is where you FINALLY get to the average leverl of economic activity for the world.
Another BRIC in the global wall is mighty China, with a per capita GDP of $6,567 for each of their 1.2Bn persons and India's Billion people average out at less than half of that, at $2,941, ranking 128th and still ahead of 53…

by Option Review - June 4th, 2010 4:52 pm
Today's tickers: KWK, MCCC, EWZ, NSC, HNT, EFA, JNJ, GT & LVS
KWK – Quicksilver Resources, Inc. – The independent oil and natural gas company's shares recovered late in the session, adding 0.50% to stand at $12.18 as of 3:07 pm (ET), after commencing the trading day in the red by 0.30% to touch an intraday low of $11.75. Options investors all but ignored Quicksilver until this afternoon when both puts and calls in the July contract started to change hands. Roughly 10,000 puts were exchanged at the July $11 strike for an average premium of $0.44 apiece. Simultaneously, investors traded about the same number of calls at the higher July $13 strike for an average premium of $0.79 each. It looks like some options strategists populating KWK are selling strangles on the stock because they expect shares to trade within a specified range through expiration. Strangle-sellers pocket an average gross premium of $1.23 per contract, and keep the full amount received as long Quicksilver's shares trade within the $11.00 to $13.00 range through expiration day. Investors short the strangle face losses should shares rally above the upper breakeven price of $14.23, or if shares slip beneath the lower breakeven point at $9.77 ahead of expiration. Other options strategists may be utilizing the same strike prices in the July contract to enact bullish risk reversals. Investors employing the risk reversal likely sold the July $11 strike puts in order to offset the cost of buying the July $13 strike calls. Average net premium paid for the transaction amounts to $0.35 per contract and positions traders to make money as long as Quicksilver's shares rally 9.60% to exceed the average breakeven price of $13.35 by October expiration.
MCCC – Mediacom Communications Corp. – Shares of the firm engaged in the development of cable systems serving smaller U.S. cities are flat on the day at $6.28 in late afternoon trading. MCCC popped onto our 'hot by options volume' market scanner earlier in the session after one options investor exchanged a chunk of 4,000 calls on the stock in the October contract. The calls traded to the middle of the market at the October $7.5 strike for a premium of $0.25 apiece. The investor may be buying the contracts, in which case he is bullish on Mediacom and expects shares to rally sharply ahead of expiration in five months time. A long call…

by phil - May 15th, 2010 6:35 am
You can't lose what you don't have.
The reverse is true for people with Millions in a stock virtual portfolio. Phil points out that the reson you don't run a large hedge fund trying to make 100% gains is that the people who invest in those funds are more interested in what we call "preservation of capital" rather than generating wealth. Generally, the people who have $1M of investable cash to play the markets have already achieved a great deal of success, often by taking their own risks along the way. For most of us, $1M is hard to come by and, while we want to put that money to work – we certainly don't want it wondering off and joining the circus.
As a high net-worth investor, you need to decide how to diversify your assets to suit your long-term goals. We're not going to get into that here – let's just say that if you want to gamble and go for some of our "more exciting" plays, perhaps allocate a portion of the virtual portfolio to those. Whether that's 5% or 10% or 30% is up to you but it is good to fence off your risk to a sensible, manageable amount that you really can afford to lose while keeping the bulk of your market allocation well diversified and well-hedged.
I have my own 5% Rule. Phil's famous 5% Rule deals with the predictable movement of stocks in their trading ranges but my 5% Rule, which Phil also agrees with is simply "Do not put more than 5% of your virtual portfolio in the stock of any one company!" This is so much easier said than done for many reasons!!
[1] Transition to Large Numbers

Moving from a 5 or 6 figure account to a 7 figure account has a profound impact on many traders. In fact, our friend Dr. Brett refers to the effect "performance anxiety" can have on a virtual portfolio and notes that one of the causes is the responsibility felt by traders as larger dollar amounts are traded. Phil advocates a system of "purging" Short-Term Virtual Portfolio gains when they gets too large and shifting money into safer investments in a Long-Term Virtual Portfolio – it is good to have a strategy for balancing out your holdings, not just target goals.
While it might be acceptable to put…