Posts Tagged 'Koch Industries'
by phil - April 30th, 2014 7:35 am
Wheeeeeeee! Down goes oil!
That's $5,000 per contract in your pocket if you followed our lead on Wednesday, the 16th, when my comment right in the morning post (which you can have delivered to you pre-market, every day by clicking here) was:
In yesterday's post, I reminded you we were shorting oil at $104 and we caught a $500 per contract move back to $103.50 but then (also live in the Webcast), we decided to wait for $105ish to re-short today (/CL Futures). This morning, I posted early (6:22) to our Members that we had our shorting opportunity at $104.95 and already (8:06) we're back to $104.65 and that's good for $300 per contract after a hard morning's work – plenty of money for breakfast!

We're still expecting a much bigger drop, probably not until after the weekend though, as Ukraine tensions are keeping oil high. Rather than play the volatile Futures over the weekend, we have SCO and USO plays set up for our Members to take advantage of the potential correction. Today though, we can still have fun with the Futures (stop at $104.75 at the moment) into inventories at 10:30.
As you can see from the Futures chart above, we hit it right on the nose and caught a fantastic drop right away but, of course, we've stuck to our guns on those short positions and, just yesterday, in our Live Weekly Webinar, we discussed the merits of leaving our SCO position on the table to take advantage of a further fall in crude.
If not for the continuing nonsense in the Ukraine, oil would be much lower at the moment as we print record US inventory storage today (10:30 is the official report) without near-record supply and nowhere near record demand.
In fact, if the crooks at the US energy cartel weren't EXPORTING 1.7 MILLION BARRELS PER DAY out of the country to create an artificial shortage, we'd be piling on an additional 12M barrels a week or 618M barrels this year alone. In other words, the criminal organizations (allegedly) that control the energy trading in America are sending the equivalent of the entire Strategic Petroleum Reserve out of the country each year…

by ilene - March 10th, 2011 1:46 am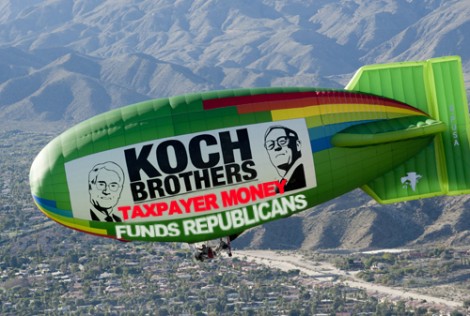 Why are American taxpayers forced to subsidize the billionaire Koch brothers' massive campaign contributions to Republican Party politicians, the Tea Party movement, and policies that ensure greater subsidies to the Kochs, while cutting more public services to the taxpayers who fund the Kochs' business and political activities?
It is an important question, but not one you'll hear discussed much by our political class. Instead, right-wing pundits whinge endlessly about the public sector union bosses' evil schemes to shake down taxpayers for union dues that eventually flow towards the Democratic Party. Here, for example, is Michael Barone, American Enterprise Institute resident fellow and senior Moonie political analyst, complaining in the Washington Examiner last week:
Follow the money, Washington reporters like to say. The money in this case comes from taxpayers, present and future, who are the source of every penny of dues paid to public employee unions, who in turn spend much of that money on politics, almost all of it for Democrats. In effect, public employee unions are a mechanism by which every taxpayer is forced to fund the Democratic Party.
Okay, fine, you're serious about not wanting taxpayer dollars going to finance partisan political campaigns. But before we start talking about public sector unions, let's test this: if think-tank jockeys like Barone are genuinely concerned with saving taxpayers' money, would they extend this concern to the fake private sector (i.e.: the publicly-funded private sector)? Would they be in favor of demanding that publicly subsidized billionaires like Charles and David Koch stop funneling money to fund corrupt Republicans and Tea Party campaigns as long as they keep sucking billions in taxpayer subsidies?
Fair is fair, right?
The Kochs could start by giving up the $1 billion their biofuels division is scheduled to receive in 2011 alone. That's $1 billion in savings from just one of many massive taxpayer subsidies the Kochs profit from. Not only will that help balance the budget, but taxpayers will no longer be forced to watch helplessly as their hard-earned money is used to fund radical right-wing Tea Party Republicans or is spent on causes that deny Americans the same universal health care that every other First World country offers its citizens.
This talk about Koch Industries being a huge beneficiary of taxpayer money might come as a surprise—especially to all the gullible Tea Party libertarians who believe the Kochs actually…

by ilene - June 13th, 2010 5:31 pm
Courtesy of Mark Ames and Yasha Levine, The eXiled
This article was first published in Alternet.
Why are the hoppin'-mad Teabaggers so oddly quiet these days, ever since the BP oil disaster? That's what Thomas Frank, author of What's The Matter With Kansas? asked last week in his column, "Laissez-faire Meets The Oil Spill." Ideologically, it's painfully obvious why the Teabaggers are now the Teagaggers: their free-market gospel got mugged by oil-drenched reality — a reality so horrific that even pollster Frank Luntz couldn't spin the BP disaster as the government's fault. Best to just shut up when you're that wrong.
But there's another, more concrete reason why the Tea Party revolutionaries melted back into their suburbs as soon as the enormity of the Gulf spill disaster hit: The Tea Party evolved out of the pro-offshore drilling astroturf movement in 2008. They even share some of the same organizers and front groups, from PR operative like Eric Odom, to advocacy groups like FreedomWorks, whose combined efforts on the "Drill Here! Drill now!" astroturf campaign succeeded in opening up all of America's coastlines and waters to offshore drilling, overturning a 27-year ban thanks to threats of "a Boston-style Tea Party," as one Republican put it in the summer of 2008.
We have been following this movement from the beginning. Back in February 2009, on the eve of the first Tea Party protest, we published the first investigative article exposing the hidden relationship between the fake-"spontaneous" Tea Party protests that month, and the Republican machine that backed and promoted the campaign. Our research led again and again to the right-wing Koch brothers, who are worth a combined $32 billion as owners of the largest private oil company in America, Koch Industries. Koch-linked front groups like FreedomWorks and the Sam Adams Alliance (named after the leader of the original Boston Tea Party) played key roles in both the 2008 campaign to deregulate offshore drilling, and in the Tea Party movement.
Eric Odom, the PR flak who launched the Tea Party in February 2009, is the same Eric Odom who in August 2008 organized Republican Twitter-mobs who crashed Capitol Hill chanting "Drill here! Drill now!" to force Congress to open up…