Posts Tagged 'Main St.'
by ilene - November 17th, 2010 4:42 pm
Courtesy of Charles Hugh Smith, Of Two Minds
Rising costs and taxes and declining income have mugged Main Street while Wall Street revels in the Fed-engineered "recovery"--in the stock market.
The Fed would have us believe that the stock market is the leading indicator of the economy: if stocks are rising, then that is strong evidence the economy is improving.
This is the bogus "wealth effect" I have taken pains to discredit:
Why the Fed's 'Trickle-Down Economics' Is Failing
Are the Fed's Honchos Simpletons, Or Are They Just Taking Orders? (Nov. 1, 2010)
Fraud and Complicity Are Now the Lifeblood of the Status Quo (Nov. 12, 2010)
Fed's QE2 Misadventure Costs U.S. Households $4.6 trillion (Nov. 10, 2010)
Main Street didn't buy "the stock market is rising, so you must be richer" either, for the simple reason that Main Street's wallet is now much thinner. Even as the S&P 500 has soared 80% from its March 2009 lows, 70% of Americans don't believe the recession is over.
That must really hurt the apparatchiks in the Ministry of Propaganda and the Fed. Here they go to all this trouble to orchestrate a bogus stock market rally and Mainstream Media propaganda campaign hyping "the recovery," and Main Street America refused to buy it. How irksome.
It seems Main Street's grasp on reality is firmer than that of either the Fed or its partner, Wall Street.
Let's consider income.
The stock market rally off the March 2009 lows was by some measures the sharpest such advance in the past 100 years. Yet as stocks went on a tear,household income actually declined. According to the Census Bureau, the median household income fell 0.7% to $49,777 in 2009, down 4.2% since pre-recession 2007.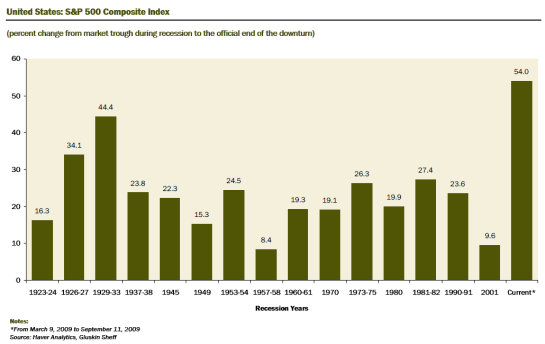 The Federal Reserve's stated policy objective is to boost the stock market to trigger a "wealth effect" which will then lead consumers to open their wallets.
As noted here before, the Fed failed to notice that only the top 10% of households hold enough stocks to see much benefit from a rising market. Household income actually fell, despite the huge run-up in stocks.
In other words, a rising stock market did not increase household incomes. The Fed is gambling on an effect with no evidence to support it.
How about jobs?
While the Bureau of Labor Statistics reported that…

by ilene - May 27th, 2010 1:30 am
Courtesy of The Pragmatic Capitalist
I had to chuckle at the headline on Yahoo Finance throughout much of Monday's trading session:
It's an accurate headline. Mortgage rates have declined in recent weeks as U.S. government bonds have surged. But the actual article was filled with very dramatic certainties (most of which were inaccurate and/or misleading). For instance, the excellent Mark Zandi of Moody's was quoted saying that we are seeing a once in a generation buying opportunity in real estate:
"It's the best time in our generation to buy. It may be the best time in any generation. Mortgage rates are so low and with homes prices down and lots of inventory, you couldn't pick a better time to buy or re-finance."
Wow, sounds like we should all go out and buy houses, right? It gets rosier though. The article details why we should all run out and buy houses immediately:
But the decline in rates probably won't last long, analysts say. So homeowners need to move fast.

"I think they won't last much longer than a month or two at the best," says Lawrence Yun, chief economist at the National Association of Realtors. "I can see them going up to 5.5 percent by the end of June if not sooner."
Move fast, huh? Prices are low. Rates are going back up. That sounds pretty convincing. If interest rates (and home prices) are only going to be low for a brief period then we should capitalize on that opportunity. Right? But then the article takes a dramatic turn for the worst when they try to explain the actual fundamentals behind the rising interest rate argument:
"The US is fortunate now that there's no pressure on interest rates," Yun goes on to say. "But going forward, higher rates will be needed for financing the debt."
(Screeching sound). Uh oh. Here we go again with the hyperinflation, the USA is dying, the dollar is finished, higher interest rates will be needed to "finance our debt", argument. The dots are easy to connect in this article. In essence, the article implies that interest rates are at record lows because investors have sought the safety of government bonds and mortgage rates have subsequently declined. What they fail to expand on is why interest rates have been declining in recent weeks when, according to…