Posts Tagged 'PNFP'
by phil - January 17th, 2012 7:54 am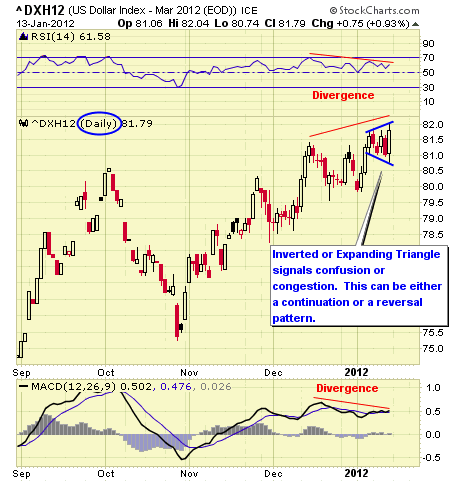 Isn't this exciting!
The pre-markets are up 1% after a long weekend. That hasn't happened since – two weeks ago! Of course last Tuesday, we were jammed up as well and the Tuesday after Christmas, we were jammed up as well but THIS TIME – we're REALLY feeling it, right?
The funniest thing is the way they have dozens of idiots saying all sorts of ridiculous things on CNBC and not one of them mentions even the vaguest hint of deja vu in what has been the most consistent pattern of late 2011, early 2012.
On this Dollar chart from Scott Pluschau, you can see the dives that are occasionally taken to goose the markets and we have another one this morning with the Dollar down 1%, making the 1% pop in the futures slightly less impressive when taken in context.
This time may be different because, according to Friday's Legacy Commitments of Traders Report released by the CTFC, Commercial Traders are now net short on the Dollar to the tune of 59,023 to just 6,061 longs – about a 10:1 ratio that is EXTREME to say the least. Non-Reportable, Non-Commercial Traders (ie. Speculators), on the other hand, are almost 10:1 the other way with 9,765 long contracts and just 1,390 shorts. Reportable Non-Commercial Traders (Hedge Funds) fill out the rest of the longs with 52,644 long contracts against just 8,057 shorts.
To some extent, hedge funds are also speculators and usually you would assume their bets are covered but that's kind of hard to see with a 7:1 long/short ratio. Keep in mind that Commercial Traders are institutions with business reasons to hedge – they are not going to be flip-flopping their positions so they will NOT be buying Dollars just because they get cheaper. So, if it all hits the fan and the Funds shift to short – we could get quite a tidal-wave of Dollar selling.
That's an odd sort of positions for the speculating class to be taking (super-long on the Dollar) considering the possibility of a highly dilutive quantitative event (QE3) in the very near future. This is why we can't be gung-ho bearish – tempting though it may be and this is why every little rumor of Europe being "fixed" sends the Dollar flying down – there are no buyers – only nervous long Dollar holders.
by phil - January 19th, 2010 8:08 am
"There is no pain you are receding
A distant ship's smoke on the horizon.
You are only coming through in waves.
Your lips move but I can't hear what you're saying.
When I was a child
I caught a fleeting glimpse
Out of the corner of my eye.
I turned to look but it was gone
I cannot put my finger on it now
The child is grown,
The dream is gone.
but I have become comfortably numb." – Pink Floyd

I have a theory that the markets (and the American people in general) aren't irrational, they are simply shell-shocked after suffering a very traumatic group financial experience…
To be shell-shocked is to be "mentally confused, upset, or exhausted as a result of excessive stress" and the most common symptoms are: Fatigue, slower reaction times, indecision, disconnection from one's surroundings, and inability to prioritize – That certainly sounds like our Congress doesn't it? Combat stress disorder was first diagnosed in WWI, when 10% of the troops were killed and 56% wounded – far worse than had been experienced in previous wars. Our current financial crisis has similarly affected more people than any previous crisis with almost everyone knowing someone who is bankrupt or lost their jobs or homes and almost no one escaped the carnage of the downturn without some financial damage.
Combat fatigue may go a long way to explaining the severe drop-off in volume that has plagued the markets since March, with participation now down to 25% of where we were last January and that leaves us open to the blatant sort of market manipulation that Karl Denninger caught last week as well as the usual nonsense we get daily from HFT programs that drive the market with such precision that we are able to tell how the day is going to go by simply checking our hourly volume targets. Here's a clip from CNBC where a floor trader discusses market manipulation as a fact of trading (2 mins in).
As Nicholas Santiago points out on In The Money Stocks, "January is usually a very high volume month, yet it has started off the New Year even lighter than the last two months of 2009. Light volume markets are very difficult to…