Posts Tagged 'private banks'
by ilene - July 8th, 2010 5:06 pm
Courtesy of Charles Hugh Smith Of Two Minds
The con of the decade (Part I) involves the transfer of private debt to the public (the marks), who then pays interest forever to the con artists.
I've laid out the Con of the Decade (Part I) in outline form: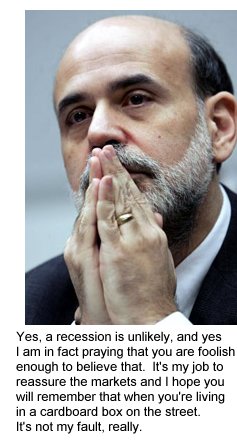 1. Enable trillions of dollars in mortgages guaranteed to default by packaging unlimited quantities of them into mortgage-backed securities (MBS), creating umlimited demand for fraudulently originated loans.
2. Sell these MBS as "safe" to credulous investors, institutions, town councils in Norway, etc., i.e. "the bezzle" on a global scale.
3. Make huge "side bets" against these doomed mortgages so when they default then the short-side bets generate billions in profits.
4. Leverage each $1 of actual capital into $100 of high-risk bets.
5. Hide the utterly fraudulent bets offshore and/or off-balance sheet (not that the regulators you had muzzled would have noticed anyway).
6. When the longside bets go bad, transfer hundreds of billions of dollars in Federal guarantees, bailouts and backstops into the private hands which made the risky bets, either via direct payments or via proxies like AIG. Enable these private Power Elites to borrow hundreds of billions more from the Treasury/Fed at zero interest.
7. Deposit these funds at the Federal Reserve, where they earn 3-4%. Reap billions in guaranteed income by borrowing Federal money for free and getting paid interest by the Fed.
8. As profits pile up, start buying boatloads of short-term U.S. Treasuries. Now the taxpayers who absorbed the trillions in private losses and who transferred trillions in subsidies, backstops, guarantees, bailouts and loans to private banks and corporations, are now paying interest on the Treasuries their own money purchased for the banks/corporations.
9. Slowly acquire trillions of dollars in Treasuries--not difficult to do as the Federal government is borrowing $1.5 trillion a year.
10. Stop buying Treasuries and dump a boatload onto the market, forcing interest rates to rise as supply of new T-Bills exceeds demand (at least temporarily). Repeat as necessary to double and then triple interest rates paid on Treasuries.
11. Buy hundreds of billions in long-term Treasuries at high rates of interest. As interest rates rise, interest payments dwarf all other Federal spending, forcing extreme cuts in all other government spending.
12. Enjoy the hundreds of billions of…

by ilene - July 6th, 2010 4:25 pm
Courtesy of JESSE'S CAFÉ AMÉRICAIN
Iceland represents an interesting situation. Most people are not very familiar with it. With only 300,000 inhabitants, Iceland certainly fits the description of a 'microcosm.' The story of the privatization of the Icelandic banks, and the ensuing orgy of credit expansion and fraud, is well worth some attention.
Banks that are private sometimes should be allowed to fail. One might consider saving the depositors, especially if it is a fraud, and certainly if the accounts are explicitly insured, but the creditors and investors should be wiped out, utterly and completely. This is the only way to wring moral hazard out of the system. This of course should be accompanied by vigorous and aggressive investigations for fraud, and prosecutions if the evidence indicates for indictment. I would follow those perpetrators to the ends of the earth, seeking their extradition, to insure that justice was done. These people are little better than traitors to their country and their people.
We tend to treat these sorts of banking frauds far too lightly. They are like poison to the system, because they not only involve the theft of funds, but the destruction of the confidence and integrity which permits the social system to function.
Their reform movement and new approaches to banking in Iceland are hopeful signs. They should not even think about joining the EU, or taking any loans for their banks.
They might also consider relieving the Social Democrats of power, because it sounds as if they are not interested in serving the people. The only question I would have is, "Why are they still in office, and not out on the street looking for employment?"
Iceland Jails Bankers and Sues Accounting Firms - AFP
The IceSave Dispute - Wikipedia
UK Slowly Strangled Iceland Says Ex-Central Banker - Bloomberg
h/t to Anonymous
While not mentioned in the video, the implications of the recent Icelandic Supreme Court's decision on the illegality of loans indexed to foreign currency baskets may be significant.
Under the provisions of the IMF Articles of Agreement, courts of other member states, including the US, UK and the Netherlands, are presumably/arguably barred from reaching a different conclusion. See, Article VIII, Section 2(b):
(b) Exchange contracts which involve the currency of any member and which are contrary to the
…