Posts Tagged 'Richard Davis'
by ilene - June 3rd, 2010 11:30 pm
Consumer Metrics Institute Personal Finance Index Continues to Deteriorat
e
Courtesy of Rick Davis at Consumer Metrics Institute
Below is an addendum to the update sent out on Tuesday, addressing new data reflecting changes in consumer behavior concerning their debt:
The Consumer Metrics Institute's Personal Finance Index continued its decline for the sixth consecutive week, with it now showing a year-over-year decline in consumer confidence in excess of 40%.
This contrasted sharply with the situation as recently as the end of January 2010, when the same measure of confidence was showing a year-over-year gain in excess of 7%. The Consumer Metrics Institute's Personal Finance Index is composed of a number of data series, some of which collect transactions that are precursors to the initiation of default and/or foreclosure activities. The levels of these negative activities are inverted before being included in the 'Personal Finance Index', so that a rapid rise in Consumer transactions with default and foreclosure counseling services, for example, will drive that particular index down.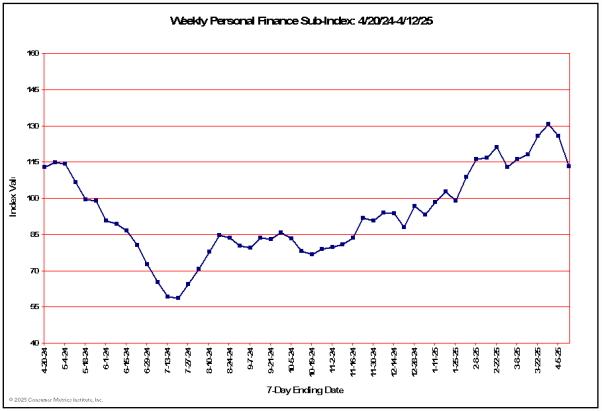 [http://www.consumerindexes.com/weekly_personal_finance.png]
The Personal Finance Index is not alone in reflecting continued weakness. In fact, our 'Weighted Composite Index' (which is by far our best daily aggregate measure of the consumer 'demand' side of the economy) has shown a relatively steady deterioration since peaking in August 2009, with the trailing month now recording contraction in excess of 2%.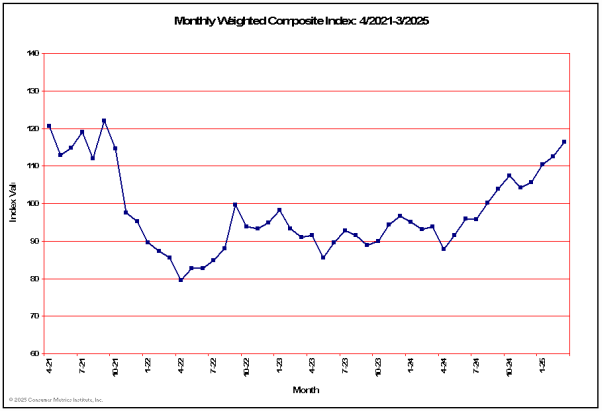 [http://www.consumerindexes.com/monthly_weighted_composite.png]
The sliding 'trailing quarter' as reflected in our 'Daily Growth Index' has also reached a level consistent with a year-over-year contraction rate of about 2%, after initially dropping into net contraction on January 15th. When compared to previous contraction events in 2006 an 2008 this particular episode of contraction in consumer demand is following a unique profile: at it's worst it is still milder than the mild 2006 event but it has gone on longer than even the 2008 event without forming a clear bottom.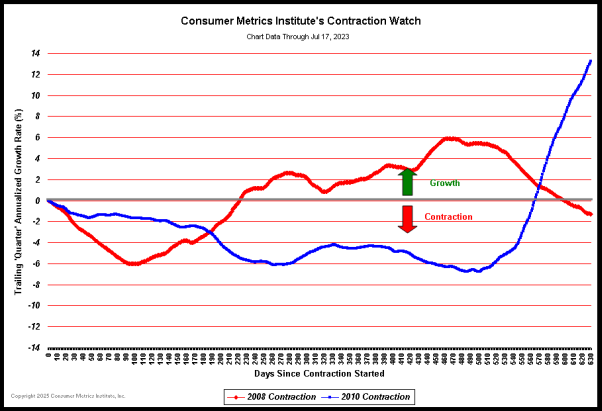 [http://www.consumerindexes.com/commentary_2010_contraction_watch.png]
If the housing market is expected to recover soon, a significant increase in demand for residential real estate loans will need to be occurring in the near future. Although there has been a recent minor upturn in consumer interest in refinancing on a year-over-year basis, it may only be a sign that consumers are beginning to expect that the historically low mortgage rates are nearing an end.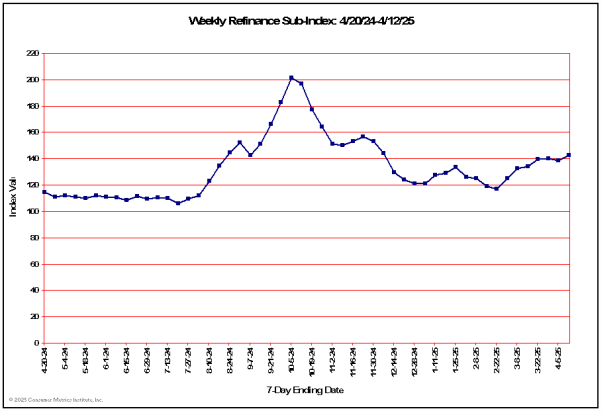 [http://www.consumerindexes.com/weekly_refinance.png]
A more telling development would be for a similar upturn in consumer interest in new loans, which we…

by ilene - May 4th, 2010 11:07 pm
Lagging GDP Confirms Consumer Slowdown
The Information that was Missing from Last Friday's GDP Report
[See also my interview with Rick, here. And more on Rick's data, here. - Ilene]
Courtesy of Richard Davis of the Consumer Metrics Institute, Inc.
The April 30th GDP report issued by the Bureau of Economic Analysis ("BEA") of the U. S. Department of Commerce was a freeze-frame quarterly snapshot of a highly dynamic economy — an economy that another source indicates was in significant transition while the snapshot was being taken.
Compared to the 4th quarter of 2009, the annualized growth rate of the GDP had dropped by 43%. Depending on your point of view this could be interpreted either as a glass that is "half-full" or a glass that is "half-empty":
1) The "half-full" reading would mean that the GDP numbers confirm that the recovery had at least moderated to a historically normal growth rate. In this scenario the good news would have been that "the economy is still growing," albeit at a historically normal rate. The bad news would have been that a normal growth rate would only warrant normal P/E ratios in the equity
markets.
2) The "half-empty" reading would have meant that the near halving of the GDP's growth rate confirmed that (at the factory level) the economy had finally begun to "roll over". If so, the BEA's announcement portends even lower readings in the quarters to follow.
What was clearly missing in the "half-full/half-empty" debate was a feel for whether the level seen in the snapshot's glass was stable or still dropping. At the Consumer Metrics Institute our measurements of the web-based consumer "demand" side economy support the "half-empty" reading of the new GDP data. The new GDP numbers (which are subject to at least two revisions) agree with where our "Daily Growth Index" was on November 24th, 2009, 18 weeks prior to the end of 2010′s first calendar quarter — and when that index was in precipitous decline.
Our indexes capture consumer activities in the "demand" side of the economy by mining consumer internet tracking data on a daily basis. This consumer "demand" flows downstream economically to the "supply" side factories over the following 18 weeks: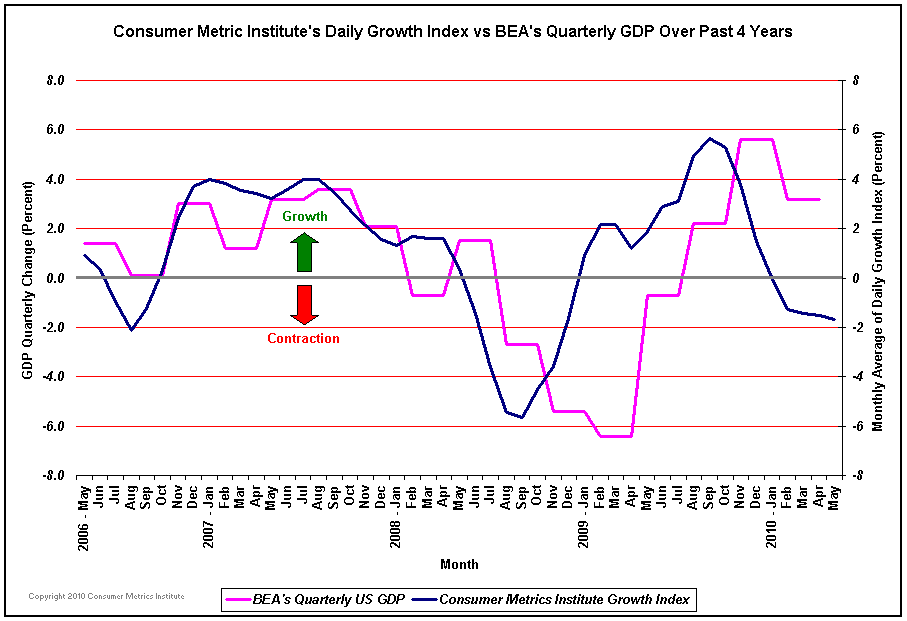 http://www.consumerindexes.com/commentary_2010_dailygrowthindexvsgdp_full.gif
A look at our "Daily Growth Index" also shows that towards the end of November 2009 the "demand" side economic activity was dropping so quickly that a two week change in the sampling period would make a huge difference in the numbers being reported. If the sampling period had…