Posts Tagged 'Shanghai Composite'
by phil - January 25th, 2010 3:00 am
Chart Review by Michael Clark
"By a continuing process of inflation, government can confiscate, secretly and unobserved, an important part of the wealth of their citizens."

-- John Maynard Keynes
SO, IS THIS FINALLY THE 'REAL' CORRECTION?
What a week it was. The Bears gave the Bulls some payback. Obama got a wake-up call. And the banks got a well-deserved scare (and we hope they will get a well-deserved hair cut).
The markets reacted, as one might expect, with selling. Actually, the selling began before the Massachusetts election and before Obama sent a shot across the Goldman Sach's bow. Last week Intel announced surprisingly strong earnings; and the stock started up and then sank. For the past half-year investor behavior had been the reverse: a buying spree for any stock that did not lose as much as it might have — beating 'Street expectations' that had been dumbed down over and over again during a quarter so that the company could report 'surprising' strength. Suddenly, now, even good earnings are being greeted with selling. Then came Massachusetts — wasn't that a Bee Gees' song?

All the lights went out in Massachusetts
Anyway, readers want to know where the markets stand today, after the sell-off this week. My view of it — my 'view', not my gut-feeling — is that we are, so far, merely correcting from an over-extended rally. This rally has been bizarre, to say the least. This has been a 'fear rally' — usually the 'fear' side of the equation is when selling comes in, 'greed' driving the expansion. But fear of systemic failure has driven this rally; and Ben Bernannke has been the captain sailing the 'Boat of Fear', Ben's logic — that more debt will solve the insolvency crisis — has a shadow side, the logic that a collapse in stock prices will result in systemic failure, international chaos, revolution, repression…made him believe that preservation of the status quo was requiired, at any price. A 'make-believe' recovery could be jump-started, perhaps, if the Fed could just stimulate (and simulate) another asset-bubble. After all – that is how his mentor and predecessor, Alan Greenspan, had become the darling of the coctail party crowd, leading member of Time Magazine's 'Committee to Save the World';…

by phil - August 31st, 2009 8:17 am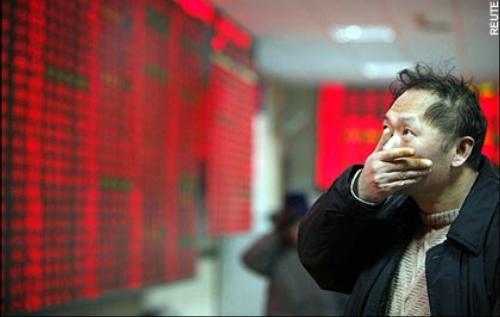 The Shanghai Composite fell 6.7% this morning!
I mentioned our love of FXP (ultra-short China) in our August Market Review and the short sale of FXP puts (a bullish play) was our primary cover in the last $100KP since early August for exactly the reason we are seeing play out today. Of course China's problems were my theme on Friday and on 8/16 we warned that China's GDP wasn't real and on 8/7 we pointed out that China's 2009 growth was nothing more than an accounting trick after my August 6th article in which I pointed out that GS was desperately working to pump China up at the top (likely while they were dumping their own shares on unsuspecting suckers). Do fundamentals matter? Sure they do — evenutally. But we had to roll and DD our August FXP short puts (big winners now) as it always pays to remember the words of John Keynes: "The market can stay irrational longer than you can remain solvent."
We nailed the move in the Shanghai, which is now down 25% since we turned negative on it but the Hang Seng, which is much easier to manipulate as it's controlled by foreign IBanks (our beloved gang of 12), has mysteriously flatlined near their August highs, maintaining the myth of the Chinese recovery so Uncle Rupert could run his almost daily articles telling you how great the global economy is on the other side of the world, where you can't see it. Interestingly, in China he's running stories telling them how the US economy is leading the way back and in Europe he has total control of the media so whatever he wants to tell them is the truth anyway.
Ler's see how rational the markets get as mainland China falls to it's lowest level since May and let's keep in mind that "limit down" on the Shanghai is 10% so a 6.7% drop in one day indicates that scores of companies were likely halted at 10% down. It's going to take some really big plate spinning by GS et al (already attempred by GS last night with this idiotic release calling China…

by phil - August 18th, 2009 8:21 am
We did get our stick save yesterday – only it came at 7:45 pm!
That's right, on pretty much no news at all and without any global markets open, the US futures all took off in synch at 7:45 last night and went up and up and up into Asia's open. There was no particular news and Jim Cramer had just finished telling his viewers that the markets may be overbought. Cramer also is now targeting a "3-5% decline," which is amazingly the exact decline I predicted last week and he also swiped my BBT pick as his "find of the day." So good morning Jim, nice to have you back! We don't mind Cramer stealing our buy picks because we have a full day advantage over his flock so welcome aboard suckers – er, fellow Cramer fans…
Anyway, so the after-hours markets were flat but the ubiquitous futures market took off as soon as all the retail traders had their trading accounts turned off for the night and you would have thought something huge was happening to watch the relentless, non-stop, 3-hour climb in the Dow, the Nasdaq, the S&P and even the Russell futures that led into the Asian open. Did this blatant manipulation of the indexes fool Asian investors? Of course it did! The Nikkei opened at 8pm EST and had gapped down to 10,200, exactly 4% off the high of 10,620 on Friday. As I said to members in yesterday's chat, that 4% line is critical in the follow-through day on the 5% rule as it represents our expected bounce off 5%, so holding that line is still bullish.
Well, never let it be said that Mr. Stick doesn't know how to paint a bullish picture and the Nikkei was rescued from failing that 4% line by the relentless futures buying between 8pm and 10:30, which coincided with 9pm to 11:30 on the Nikkei, which just so happens to be when they close for lunch. What happened at 11:30 Tokyo time? Well, suddenly everyone lost interest in the US futures and they fell ALL THE WAY BACK to where they started in just 60 minutes. Please Congress, whatever you do, don't look into this nonsense – better to just sit there in your little offices and say "the market forces are too complicated for me to understand" and…