Posts Tagged 'SKS'
by Option Review - March 24th, 2010 4:30 pm
Today's tickers: SMH, X, WMT, SYMC, MOS, SKS, GE, GENZ, DVN & ADBE
SMH – Semiconductor HOLDRS Trust – Massive bearish positioning on the Semiconductor HOLDRS Trust, which holds shares of common stock issued by 20 different companies engaged in the semiconductor business, indicates shares of the underlying stock may be set to tumble lower ahead of expiration day next month. Shares of the SMH are down 2.40% to $27.92 with thirty minutes remaining in the trading session. It appears one investor purchased 50,000 put options at the April $27 strike for an average premium of $0.41 per contract. Such a large stake in bearish put options suggests the purchaser is perhaps paying for the privilege of securing downside protection on a long underlying stock position. If this is the case, the put contracts yield protection should shares of the SMH trade beneath the effective breakeven price of $26.59 ahead of expiration. Of course, it is also possible the trader does not currently own shares of the SMH. In this scenario the investor makes money if shares fall another 4.75% below the current price to breach the breakeven point on the puts at $26.59. The sudden flurry of options activity on the Semiconductor HOLDRS Trust lifted the overall reading of options implied volatility 7.8% to 26.35%. SMH-investors exchanged more than 131,900 contracts this afternoon, which represents nearly 72% of total existing open interest of 183,473 contracts.
X – United States Steel Corp. – Shares of iron and steel producer, United States Steel Corp., rallied 0.65% during afternoon trading to $63.75. Bullish traders anticipating continued share price appreciation for U.S. Steel purchased out-of-the-money call options in the October contract. Nearly 5,600 calls were coveted at the October $75 strike for an average premium of $4.68 apiece. Investors holding these call contracts stand ready to accrue profits if shares of the underlying stock surge 25% to surpass the effective breakeven share price of $79.68 ahead of expiration day in October. We note that U.S. Steel's share price last traded above $80.00 during the final days of September 2008.
WMT – Wal-Mart Stores, Inc. – The largest retailer on the planet experienced a slight pullback in the value of its shares this afternoon perhaps on news the firm may sell $2 billion of 5- and 30-year senior notes. Shares edged 0.40% lower during the session stand at $55.68. Options traders expecting lower volatility…

by phil - January 7th, 2010 7:50 am
Beware the data!
The first thing you will hear this morning is that COST had a 9% rise in sales, with International sales up a whopping 25%. What you are less likely to hear is that COST sells a lot of gasoline, which has doubled in price since last December and, excluding inflation in gas prices, same-store sales are up just 2%, a tremendous miss of the 7.9% expected. Out of the 25% increase in International sales, 15% is attributable to currency exchange so up 10% is the real number.
This is nothing against Costco, I like that company, but it's a caution sign to look carefully at the retail numbers we're going to be seeing today as there are several outside factors that are skewing the results drastically – to the point where the numbers, whether good or bad, are almost meaningless. It's also good to keep in mind that we are comping sales to the WORST CHRISTMAS EVER so anything less than double digit gains over last year is still pretty sad.
Mish did a good job yesterday of pointing out the statistical nonsense known as the Non-Farm Payroll Report, where "Birth/Death" model revisions that were as much as 356,000 a month last year (January) make the data beyond useless for any kind of serious analysis. Nonetheless, analyze it they will and if we manage to avoid posting our 24th CONSECUTIVE month of losses, surely they will be pouring champagne on CNBC and acting like Capitalism has once again triumphed over evil (evil being people without money who still want to live with dignity).
Speaking of dignity – if you know 100 people in Nevada then, statistically, 3 of them went bankrupt this year, up 61% from last year as our economy "recovers". In Tennessee, Georgia and Alabama, just 2 of your 100 friends filed while California, surprisingly "only" had one in 66 households file for bankruptcy so you can go almost a whole day and not run into someone who lost everything in California – too bad the same can't be said for the State overall! California needs $21Bn over the next 18 months to keep the lights on. This doesn't seem so bad, GMAC is losing $13Bn this quarter and we're bailing…

by phil - October 2nd, 2009 8:28 am
Wheeee, what a ride!
Just like any good roller coaster, market plunges can be fun when you are strapped in safely and prepared for them. Our members have been so prepared we'll have to hand our Eagle Scout badges (we don't need no stinkin' badges) for riding out a toppy market for two tedious weeks, which I won't rehash here but you can go back to my Sept 19th "Wrong Way Weekly Wrap-Up" to see how hard it was to stay bearish in the face of all that "great" news that the media kept throwing at us. Nonetheless, had you followed our trading ideas in that post, you'd be a VERY happy camper right now!
Now we are down 300 points from that Friday's finish, about halfway to our 9,100 target, which is the top 5% of our original trading range around Dow 8,650. We'd love to see 9,100 hold, especially on a nice volume sell-off so we can move our range up 5% and make 9,100 our new mid-point, putting the 33% (off the top) lines withing striking distance of a proper breakout but suddenly the news-flow has turned sharply negative. This is something I warned members about way back on August 11th, the last time I thought we were getting toppy (and we were) at Dow 9,400 when I said: "Watch the newsflow in the MSM. If it starts to get negative, look out below."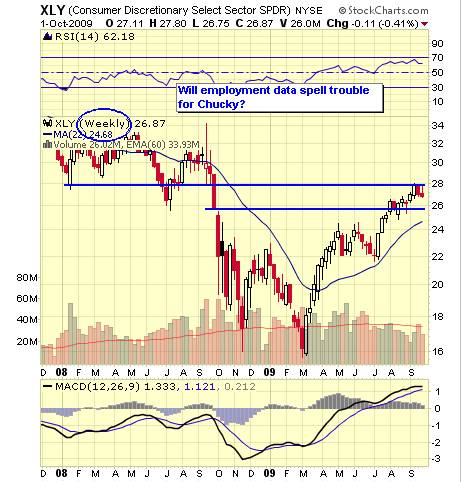 Yesterday we talked about GS's about-face on the REIT sector and, later that day, we noted during Member chat that JPM had decided to downgrade SKS, hitting the retail sector hard in the afternoon. I called a slightly early top on Retail on 9/16, when I said to Members: "Right now all retail is being played like a huge winner, as if no segment will lose market share to another. This is amazingly stupid in a declining wages and declining consumer credit environment." RTH was $88.76 that day after running up just about 20% from July 7th so we were looking for a pullback at least to $85, but I think worse as I see nothing in the data that makes me believe in Santa Clause this year or the rally he often brings.
As you can see from David Fry's chart of the XLY (another Retail tracker) we topped out at technical resistance and are now looking for a completion of a 5%…