Wheeee, what a ride!
Just like any good roller coaster, market plunges can be fun when you are strapped in safely and prepared for them. Our members have been so prepared we'll have to hand our Eagle Scout badges (we don't need no stinkin' badges) for riding out a toppy market for two tedious weeks, which I won't rehash here but you can go back to my Sept 19th "Wrong Way Weekly Wrap-Up" to see how hard it was to stay bearish in the face of all that "great" news that the media kept throwing at us. Nonetheless, had you followed our trading ideas in that post, you'd be a VERY happy camper right now!
Now we are down 300 points from that Friday's finish, about halfway to our 9,100 target, which is the top 5% of our original trading range around Dow 8,650. We'd love to see 9,100 hold, especially on a nice volume sell-off so we can move our range up 5% and make 9,100 our new mid-point, putting the 33% (off the top) lines withing striking distance of a proper breakout but suddenly the news-flow has turned sharply negative. This is something I warned members about way back on August 11th, the last time I thought we were getting toppy (and we were) at Dow 9,400 when I said: "Watch the newsflow in the MSM. If it starts to get negative, look out below."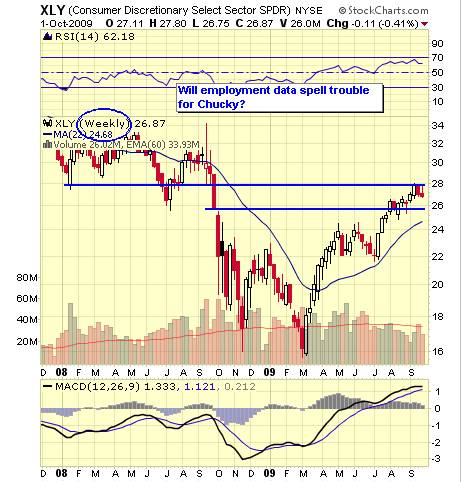 Yesterday we talked about GS's about-face on the REIT sector and, later that day, we noted during Member chat that JPM had decided to downgrade SKS, hitting the retail sector hard in the afternoon. I called a slightly early top on Retail on 9/16, when I said to Members: "Right now all retail is being played like a huge winner, as if no segment will lose market share to another. This is amazingly stupid in a declining wages and declining consumer credit environment." RTH was $88.76 that day after running up just about 20% from July 7th so we were looking for a pullback at least to $85, but I think worse as I see nothing in the data that makes me believe in Santa Clause this year or the rally he often brings.
As you can see from David Fry's chart of the XLY (another Retail tracker) we topped out at technical resistance and are now looking for a completion of a 5% drop back to the August highs but I'm very concerned about today's job number and wondering how Retail indexes can get back to last June's highs with 10% less people working than there were last June (5% "officially"). Are we really supposed to think that the 90% of people still working will be doing 11% more shopping to make up for it. No, that is just stupid. Well, then so are the current valuations don't you think?
8:30 Update: Oops, jobs are even worse than I thought (and miles worse than GS and other analysts thought) with 263,000 jobs lost (a 9.8% unemployment rate) and the people who are working are averaging just 33 hour work-weeks, which itself is down 7% from last year. That should lock in the 5% rule target levels I set in our 1:10 Member Alert yesterday which are: Dow 9,329, S&P 1,016, Nasdaq 1,942, NYSE 6,688 and Russell 589. As the Russel already blew 589 yesterday on a weak finish, we were very confident in our bearish stance going into yesterday's close and we'll have to see how our 5% lines perform today. Keep in mind, just like I said in my 3:54 comment into the close regarding the 2.5% lines we'd been wathing all day - 3 of 5 indexes blowing levels = BAD!
Our late additions yesterday were EDZ at $7.59 and an SKF vertical that's already well on track for a 100% gain. SRS has finally turned around and our widow-maker is now becoming a money-maker so congrats to those who rode out that annoying index. Our ERYs will also be flying but we did take 1/2 of those off with "just" a 42% gain. That's the fun thing about playing the bear side, nothing happens for a very long time and then suddenly it's payday. I spent much of the day yesterday warning members it was too early to bottom fish and I will say right now it's STILL too early, especially with the weekend looming and a lot of scary magazine covers ahead of us as editors are scrambling to wake up their bearish writers as we speak – suddenly back in favor after weeks on the bench.
My prediction for today was a 1.5% drop on the indexes and it now looks like we'll be opening there so watch for a 1% bounce back from our 5% lines but anything less than that will keep us bearish into the weekend, otherwise we will be shifting to a more neutral stance. Some of the Semis, like WFR are getting cheap enough to sell naked puts on – perhaps selling the Nov $14 puts naked for $1 or better as they bottomed out around $12 in March and we could double down at that price and be very happy to own them long-term for $13 average, especially with the huge option premiums they command as sales.
Speaking of the 2.5% rule, that's exactly what both the Nikkei and the Hang Seng did to the downside. Speaking of REITs turning ugly, Glorious Property Holdings Ltd. became the 5th consecutive IPO to fail in Hong Kong this morning, dropping 18% from its open. Hong Kong investors may know something because, on this side of the Pacific, office rents in San Francisco fell 37% in the third quarter. That's THIRTY-SEVEN PERCENT. Did I say 37%? OK, good, now that we have that down, let's role-play:
The scene is one year ago and IYR (Real Estate ETF, which we shorted last week) is at $40 in October:
Me: Hey Mr. REIT, how is business?
Mr REIT: Oh it's terrible, credit is tight and the stimulus checks are running out and a bad Christmas may cause me to lose tenants.
Me: Wow, I guess I shouldn't buy IYR at $40. How are you holding up Mr. REIT?
Mr. REIT: It's very tough, we are barely break even despite refinancing at the lowest rates ever and despite oil dropping to $40 and lowering our energy costs. I can't sell my building because there are no buyers and the banks are foreclosing on other buildings and then I have competitors with lower entry costs who can undersell me on rents – even if I could fill my space.
Me: Ouch that's not good. What would happen if you had to drop rents 37%?
Mr REIT: Why that's madness, I'd go bankrupt.
I hope you enjoyed our little play and perhaps gained some insight as to why we are short IYR and long SRS, which is the ultra short of the same thing. As I mentioned in yesterday morning's post, we are also short BXP, who hit their own 5% rule yesterday so you are welcome free readers, even if you didn't catch the option play we took that is up over 100% already. We are not going crazy, as with yesterday we are still taking bearish profits off the table relatively quickly as this market can turn on a dime but that is true to the downside as well. This morning, for example, The cost of protecting Asia-Pacific bonds from default soared 10% as worse-than-expected U.S. jobless claims and manufacturing data increased concern that the pace of recovery in the world's largest economy is faltering. 10% – that's a lot for a day…
Our gal pal, Meredith Whitney points out that the credit crunch continues . Taxpayer dollars have supported institutions that are 'too big to fail.' Small business has been left out in the cold. Anyone counting on a meaningful economic recovery will be greatly disappointed. Credit is contracting. Access to credit is being denied at an accelerating pace. Large, well-capitalized companies have no problem finding credit. Small businesses, on the other hand, have never had a harder time getting a loan. They fail, they don't pay REITs, REITs fail – this is not hard stuff people.
I'm sorry I don't have better news going into the weekend but at least the BDI got back over our 2,250 line. We need to see 2,400 again for things to get interesting but just arresting the downtrend this week is encouraging. We're going to be watching our levels closely and taking some speculative upside plays off the bottom but our weekend stance is sure to be neutral and we'll wait and see how things play out in the media as well as how far down Asia can go on Monday before shifting our stance for next week.
Have a great weekend,
- Phil
Do you know someone who would benefit from this information? We can send your friend a strictly confidential, one-time email telling them about this information. Your privacy and your friend's privacy is your business... no spam!
Click here and tell a friend!