Posts Tagged 'tax credits'
by ilene - September 2nd, 2010 5:50 pm
Courtesy of DEAN BAKER at CEPR
This column was originally published by The Guardian.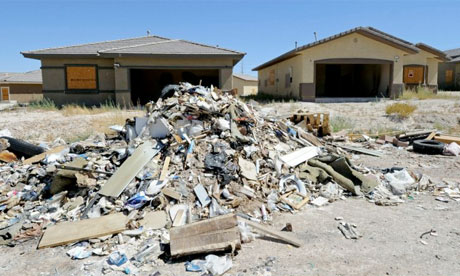 Trash is piled up outside houses at the abandoned Desert Mesa subdivision in Nevada. The north Las Vegas housing authority started the project in 2004, but the entire subdivision has since fallen into foreclosure. Nevada continues to lead the nation in foreclosures, unemployment and bankruptcies. Photograph: Ethan Miller/Getty Images
The howls of surprised economists were everywhere last week as the government reported on Tuesday that July had the sharpest single-month plunge in existing home sales on record. The next day the Commerce Department reported that new home sales hit a post-war low in July.
All the economists who had told us that the housing market had stabilized and that prices would soon rebound looked really foolish yet again. To understand how lost these professional error-makers really are it is only necessary to know that the Mortgage Bankers Association (MBA) puts out data on mortgage applications every week. The MBA index plummeted beginning in May, immediately after the last day (April 30) for signing a house sale contract that qualified for the homebuyers tax credit.
It typically takes 6-8 weeks between when a contract is signed and a house sale closes. The plunge in applications in May meant that homebuyers were not signing contracts to buy homes. This meant that sales would plummet in July. Economists with a clue were not surprised by the July plunge in home sales.
What should be clear is that the tax credits helped to pull housing demand forward. People who might have bought in the second half of 2010 or even 2011 instead bought their home before the tax credit expired. Now that the credit has expired, there is less demand than ever, leaving the market open for another plunge in prices. The support the tax credit gave to the housing market was only temporary.
It is worth asking what was accomplished by spending tens of billions of dollars to prop up the market for a bit over a year with these tax credits. First, this allowed millions of people to sell their home over this period at a higher price than would…

by ilene - August 27th, 2010 2:27 am
Courtesy of Mish
I failed to comment yesterday on the huge miss by economists on consensus new home sales, but Rosenberg has some nice comments today in Breakfast with Dave.
Once again, the consensus was fooled. It was looking for 330k on new home sales for July and instead they sank to a record low of 276k units at an annual rate. And, just to add insult to injury, June was revised down, to 315k from 330k. Just as resales undercut the 2009 depressed low by 15%, new home sales have done so by 19%. Imagine that even with mortgage rates down 100 basis points in the past year to historic lows, not to mention at least eight different government programs to spur homeownership, home sales have undercut the recession lows by double-digits.

in the aftermath of a credit bubble burst and a massive asset deflation, trauma has set in. The rupture to confidence and spending from our central bankers' and policymakers' willingness to allow the prior credit cycle to go parabolic has come at a heavy price in terms of future economic performance. Attitudes towards discretionary spending, credit and housing have been altered, likely for a generation.
The scars have apparently not healed from the horrific experience with defaults, delinquencies and deleveraging of the past two years — talk about a horror flick in 3D. The number of unsold homes on the market exceeds four million and that does include the shadow bank inventory, which jumped 12% alone in August, according to the venerable housing analyst Ivy Zelman.

Nearly 1 in 4 of the population with a mortgage are "upside down" and as a result are now prisoners in their own home. We have over five million homeowners now either in the foreclosure process or seriously delinquent. The government's HAMP program was supposed to bail out between 3 and 4 million distressed homeowners and instead we have only had a success rate of fewer than half a million.

Now back to the new home sales data. Every region in the U.S. was down, and down sharply. The homebuilders did not cut their inventory levels and as a result, the backlog of new homes surged to 9.1 months' supply from 8.0
…

by ilene - August 11th, 2010 8:12 pm
Courtesy of Jr. Deputy Accountant
Great views! Close to transportation!
Anyone remember "whatever it takes"? Whatever it takes, even if it means keeping real estate at artificially high values just to stave off deflation, I guess.
If you guys wonder why I am so desperate to get out of this third world toilet I have called home for the last 11 years, look no further than the following. I hope every idiot who got stuck in a new home just for the $8000 tax break (no offense, WCV) enjoys the financial [violation] to come that is amortized over the next 30 years as still-broke municipalities scramble to pay their bills using property taxes as ATMs. Good luck with that, hope it was worth it!
The Bay Area's two biggest metro areas had two of the nation's three biggest housing price gains in the second quarter, the National Association of Realtors reported today.

The median house price in the beautiful San Jose-Sunnyvale-Santa Clara metro area jumped 26 percent year over year to $630,000. In the San Francisco-Oakland-Fremont area, the median price climbed 25 percent to $591,200. (Only Akron, Ohio, oddly enough, had a bigger gain, at 36 percent.)

Of course, prices in both the San Jose and San Francisco metro areas are still down sharply from the peak of the market. In 2007, for example, the median house price was $836,800 in the San Jose area (Santa Clara and San Benito counties) and $804,800 in the San Francisco area (which includes San Francisco, its relatively expensive suburbs in Marin and San Mateo counties, and more affordable — at least by Bay Area standards — communities in Alameda and Contra Costa counties).
Yes, you read that correctly. Read it again just to be sure.
The funny part is we were actually beat out by Akron, Ohio (of all God-forsaken places) as far as percent increases are concerned, though their median $119,700 looks pathetic next to our $591,000. $591,000? Man, what a steal!
Here are other winners and losers from around the country:
BIGGEST INCREASES
1) Akron, Ohio, $119,700 median price, up 36 percent
2) San Jose, $630,000, up 26 percent
3) San Francisco-Oakland-Fremont, $591,000, up 25 percent
4) Riverside, $190,200, up 18…

by ilene - July 29th, 2010 5:58 pm
Courtesy of Mish
It's been one hell of a non-recovery in housing, smack in the face of now-expiring $8,000 home tax credits that have proven to be as stimulative and futile as attacking fire ants with a BB-Gun.
Please consider Foreclosure Filings Rise in 75% of U.S. Metro Areas
Foreclosure filings climbed in three-quarters of U.S. metropolitan areas in the first half as high unemployment left many homeowners unable to pay their mortgages, according to RealtyTrac Inc.

The number of properties receiving a filing more than doubled from a year earlier in Baltimore, Oklahoma City and Albuquerque, New Mexico, the mortgage-data company said today in a report. Notices of default, auction or bank seizure rose more than 50 percent in areas including Salt Lake City; Savannah, Georgia; and Atlantic City, New Jersey.

"Foreclosures are spreading out from areas that had been hardest hit," Rick Sharga, senior vice president for marketing at Irvine, California-based RealtyTrac, said in a telephone interview. "We're dealing with underlying economic weakness as opposed to unsustainable home prices and bad loans."

Continued weakness in employment and efforts to prevent foreclosure may "delay the inevitable" and weigh on home prices, RealtyTrac Chief Executive Officer James J. Saccacio said in a statement.

The company said 154 of 206 U.S. metro areas with populations of more than 200,000 had increases in households with filings from January through June.

Cities in Nevada, Florida, California and Arizona accounted for the 20 highest foreclosure rates. Nine of the top 10 metro areas had decreases in the total properties receiving filings, a sign that foreclosures may have peaked in the states hurt the most by the housing market's collapse, RealtyTrac said.
Video with Rick Sharga Senior Vice President of RealtyTrac
Bloomberg has an interesting Video Interview with Rick Sharga that inquiring minds will want to play.
Partial Transcript: "There is a pretty direct correlation between job loss and foreclosure. Until the unemployment rates start to go down, and until we actually see net job creation, and importantly until consumer confidence comes back, the housing market has really slim chances of recovery. That coupled with the huge overhang of distressed property, really suggests the housing market is not going to turn around for the next few years."
Flashback Thursday, October 25, 2007
by ilene - July 3rd, 2010 3:25 pm
By Steven Brill, courtesy of TIME
The following is an abridged version of an article that appears in the July 12, 2010, print and iPad editions of TIME.
Two weeks ago, along a marble corridor in the Rayburn House Office Building in Washington, I watched about 40 well-dressed men (and two women) delivering huge value for their employers. Except that we, the taxpayers, weren't employing them. The nation's banks, mortgage lenders, stockbrokers, private-equity funds and derivatives traders were.
They were lobbyists — the best bargain in Washington. Capitol Tax Partners, for example, is one of 1,900 firms that house more than 11,000 lobbyists registered to operate in Washington. Last year, according to the Center for Responsive Politics (CRP), firms like Capitol Tax were paid a total of $3.49 billion for unraveling the mysteries of the tax code for a variety of businesses. According to Capitol Tax co-founder Lindsay Hooper, his firm provided "input and technical advice on various tax matters" to such clients as Morgan Stanley, 3M, Goldman Sachs, Chanel, Ford and the Private Equity Council, which is a trade group trying to head off a plan to increase taxes on what's called carried interest, a form of income enjoyed by the heavy hitters who run venture-capital and other types of private-equity funds. (Time Warner, the parent company of TIME magazine, is also a client of Capitol Tax Partners.)
Since 2009, the Private Equity Council has paid Capitol Tax, which has eight partners, a $30,000-a-month retainer to keep its members' taxes low. Counting fees paid to four other firms and the cost of its in-house lobbying staff, the council reported spending $4.2 million on lobbying from the beginning of 2009 through March of this year. Now let's assume it spent an additional $600,000 since the beginning of April, for a total of $4.8 million. With other groups lobbying on the same issue, the overall spending to protect the favorable carried-interest tax treatment was maybe $15 million. Which seems like a lot — except that this is a debate over how some $100 billion will be taxed, or not, over the next 10 years.
And what did the money managers get for their $15 million investment? While lawmakers did manage to boost the taxes of hedge-fund managers and other folks who collect carried interest as part of their work,…

by ilene - June 3rd, 2010 9:56 pm
Courtesy of Mish
Michael McNamara, Vice President, Research and Analysis for SpendingPulse, observes Consumer Takes a Respite as Spending in Many Sectors Declines.
The momentum in consumer spending that was building through the first quarter, seems to be taking a breather in the second quarter of 2010, at least so far. Financial volatility in the capital markets and ongoing macroeconomic issues could account for this shadow cast over the recovery in consumer spending. Some sectors seem to be responding to specific disruptive events, such as the expiration of the Federal housing tax credits, where previously we'd noticed a beneficial "echo" effect on housing related categories such as Furniture and Furnishings.

In addition, Memorial Day occurring a week later than it did last year, could have pushed some spending into June, 2010. Nevertheless, we continue to see strength in pricing, and in most categories, we are registering solid increases in the SpendingPulse Price Index, indicating that inventories continue to be aligned to demand, and retailers have not had to return to steep discounting.
Price Wars
In response to Michael McNamara's statement "retailers have not had to return to steep discounting" I counter with Foreclosure Life Raft; Price Wars at Walmart; Electrical Demand Drops Two Straight Years, First Since 1949.
Wal-Mart, Target, Costco, others are clearly in the midst of price wars hoping to capture market share.
YouTube Commentary From McNamara
Here's a short YouTube video with additional commentary from Michael McNamara.
Factors in Spending Respite
McNamara discusses several factors in the spending respite.
Some Memorial Day sales falling into June instead of May. This may benefit June sales.
Financial market volatility impacts big ticket items and durable goods.
The end of $8,000 housing tax credits pushed forward big ticket spending items like furniture and appliance.
Spending Trends
Interestingly, apparel sales and footwear showed a significant decline although online apparel sales were up 20-30% depending on category.
Furniture sales were down 9% compared to a year ago. This was in spite of a mini-rush to buy housing ahead of the expiring tax credit. Perhaps we see a bump in furniture and appliance sales in June or July after some of those home purchases close, but that will be the last hurrah in my opinion.
Luxury retail spending showed an increase of 9.7%…

by ilene - February 9th, 2010 2:04 pm
Small business optimism inched higher but all it really means is things are getting worse at a falling rate. Please consider U.S. Small-Business Optimism Index Rose in January.
Confidence among U.S. small businesses increased in January for the first time in three months as the outlook for sales improved, according to the National Federation of Independent Business optimism index.

The gauge climbed to 89.3, the highest level in 16 months, from 88 in December, the Washington-based organization said today. The advance left the measure close to the 2009 low of 81 reached in March, which was second only to a 1980 reading as the lowest on record.

Three of every 10 companies surveyed said a lack of sales remained their biggest concern even as the demand outlook turned positive for the first time since January 2008, the month after the recession began. A majority of small businesses expect profit and employment to decline, showing why the Obama administration has announced new plans aimed at providing credit and tax breaks to small firms.

"This is very disappointing for an indicator of the health of the most critical segment of the economy in terms of new job creation," said Joshua Shapiro, chief U.S. economist at MFR Inc. in New York.

"The good news was less bad news," William Dunkelberg, chief economist at the NFIB, said in a statement. "Optimism has clearly stalled in spite of the improvements in the economy in the second half of 2009."

President Obama last week announced he will back a temporary increase in Small Business Administration loans to $1 million from $350,000 to encourage hiring. He has previously endorsed $33 billion in small business tax cuts and incentives for hiring as well as a plan to use $30 billion of bailout money paid back by Wall Street financial institutions to help community banks make loans to small businesses.

Such aid is "misdirected," NFIB's Dunkelberg said in the statement, because the top problem for small business leaders is weak demand rather than a lack of credit. Stimulus therefore should focus on reviving consumer spending, he said.
Recovery In Doubt
Please consider No Job Growth for Small Business Spurs Recovery Doubt.
Small businesses are becoming the Achilles
…