Posts Tagged 'Tea Party'
by ilene - March 10th, 2011 1:46 am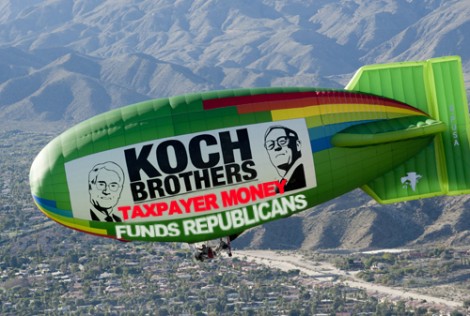 Why are American taxpayers forced to subsidize the billionaire Koch brothers' massive campaign contributions to Republican Party politicians, the Tea Party movement, and policies that ensure greater subsidies to the Kochs, while cutting more public services to the taxpayers who fund the Kochs' business and political activities?
It is an important question, but not one you'll hear discussed much by our political class. Instead, right-wing pundits whinge endlessly about the public sector union bosses' evil schemes to shake down taxpayers for union dues that eventually flow towards the Democratic Party. Here, for example, is Michael Barone, American Enterprise Institute resident fellow and senior Moonie political analyst, complaining in the Washington Examiner last week:
Follow the money, Washington reporters like to say. The money in this case comes from taxpayers, present and future, who are the source of every penny of dues paid to public employee unions, who in turn spend much of that money on politics, almost all of it for Democrats. In effect, public employee unions are a mechanism by which every taxpayer is forced to fund the Democratic Party.
Okay, fine, you're serious about not wanting taxpayer dollars going to finance partisan political campaigns. But before we start talking about public sector unions, let's test this: if think-tank jockeys like Barone are genuinely concerned with saving taxpayers' money, would they extend this concern to the fake private sector (i.e.: the publicly-funded private sector)? Would they be in favor of demanding that publicly subsidized billionaires like Charles and David Koch stop funneling money to fund corrupt Republicans and Tea Party campaigns as long as they keep sucking billions in taxpayer subsidies?
Fair is fair, right?
The Kochs could start by giving up the $1 billion their biofuels division is scheduled to receive in 2011 alone. That's $1 billion in savings from just one of many massive taxpayer subsidies the Kochs profit from. Not only will that help balance the budget, but taxpayers will no longer be forced to watch helplessly as their hard-earned money is used to fund radical right-wing Tea Party Republicans or is spent on causes that deny Americans the same universal health care that every other First World country offers its citizens.
This talk about Koch Industries being a huge beneficiary of taxpayer money might come as a surprise—especially to all the gullible Tea Party libertarians who believe the Kochs actually…

by ilene - September 29th, 2010 4:04 pm
Courtesy of Mish
An open battle exists at the Fed concerning Bernanke's second round of Quantitative Easing (QE2).
Hoenig Attends Tea Party
Bloomberg reports Fed Dissenter Hoenig Wages Lonely Campaign Against Easy Credit
Thomas M. Hoenig, dressed in a gray suit, white shirt with French cuffs, and baby-blue tie, faces an edgy crowd of 150 people in a hotel meeting room in suburban Lenexa, Kan. A large "Kansas City Tea Party" banner covers a table at the door. Attendees wear anti-tax stickers on their lapels. This is not an after-dinner speech for which most central bankers would volunteer.

Hoenig smiles at his audience and begins: "This is a support-the-Fed rally, right?"

Dead silence. Then the room erupts in laughter. Disarmed, the Tea Partiers listen politely as Hoenig defends the Federal Reserve as an indispensible institution, even if at the moment, he says, it happens to be heading in the wrong direction.

And, by the way, if it were up to him (though it's not, really) he would break up the biggest Wall Street banks.

This is Tom Hoenig's moment, and it's a strange one. In Washington, he is the burr in Fed Chairman Bernanke's saddle: the rogue heartland banker who keeps dissenting alone — for the sixth straight time on Sept. 21 — to protest the Fed's rock- bottom interest-rate policy. Hoenig warns that the Bernanke majority is setting the country up for an as-yet-unknown asset bubble: the next dot-com or subprime craze. He can't tell yet where the boom-and-bust will materialize, but he can feel it coming, like a Missouri wheat farmer senses in his bones the storm that's just over the horizon.

In abundant speeches and articles, Hoenig has condemned the political influence of the financial elite. "We've had a Treasury Secretary from Goldman Sachs under a Democratic President and a Treasury Secretary from Goldman Sachs under a Republican President. The outcomes were not good," Hoenig says while being driven to a luncheon talk at an affordable housing conference in Topeka, Kan.

Hoenig harbors powerful misgivings over not dissenting more often and more forcefully during the Greenspan years. "He regrets going along with the votes when Alan Greenspan was chairman to get rates so low and keeping them so low so long," says his
…

by ilene - September 15th, 2010 8:33 pm
Courtesy of Jr. Deputy Accountant
You have to think someone's worried to reach way back to Westward Expansion to make a (weak) political point. But, hey, the Democratic National Committee is paying Tim Kaine to do something.
Still, is this really the way to react to the Tea Party surge?
"What we're seeing in the Republican Party is that they invited the Tea Party in and it's turning into the Donner Party, in some instances, because they're turning the energy and the ferocity against each other," said Kaine in response to a question by the Huffington Post, referring to the infamous group of 19th-century American pioneers who eventually had to turn to cannibalism to survive. He added that the divisions have given Democrats "some great opportunities in races that we wouldn't have absent the Tea Party candidates."
I don't know. My recollection is that the Donner Party waited until people weredead to eat them. Seems like this is something more like the Darwin Party, where the strong survive and the weak go home. Or whine like bitches.
And, hey, doesn't seem like it was that long ago that the Democrats complained incessantly that the GOP's "Big Tent" claim was B.S. Maybe it was. Hard to make that argument now, even if the tent is full of party crashers.
by ilene - September 7th, 2010 4:26 pm
Courtesy of Jr. Deputy Accountant
If this is a dirty trick, bring it on. And more, please.
NYT:
Benjamin Pearcy, a candidate for statewide office in Arizona, lists his campaign office as a Starbucks. The small business he refers to in his campaign statement is him strumming his guitar on the street. The internal debate he is having in advance of his coming televised debate is whether he ought to gel his hair into his trademark faux Mohawk.

Mr. Pearcy, 20, is running for a seat on the Arizona Corporation Commission, which oversees public utilities, railroad safety and securities regulation. Although Mr. Pearcy says he is taking his first run for public office seriously, the political establishment here views him as nothing more than a political dirty trick.

Mr. Pearcy and other drifters and homeless people were recruited onto the Green Party ballot by a Republican political operative who freely admits that their candidacies may siphon some support from the Democrats. Arizona's Democratic Party has filed a formal complaint with local, state and federal prosecutors in an effort to have the candidates removed from the ballot, and the Green Party has urged its supporters to steer clear of the rogue candidates.

"These are people who are not serious and who were recruited as part of a cynical manipulation of the process," said Paul Eckstein, a lawyer representing the Democrats. "They don't know Green from red."

But Steve May, the Republican operative who signed up some of the candidates along Mill Avenue, a bohemian commercial strip next to Arizona State University, insists that a real political movement has been stirred up that has nothing to do with subterfuge.

"Did I recruit candidates? Yes," said Mr. May, who is himself a candidate for the State Legislature, on the Republican ticket. "Are they fake candidates? No way."
Predictably, the Democrats whine, calling the process deceitful. One former Democratic legislator, who lost a re-election bid after a Green Party candidate got in the race, said such candidates should align themselves with "the party they're interested in" if they want to run.
Maybe they do. Maybe that party is the Green Party or the Tea Party or whatever. Maybe a little more strategizing, campaigning, speechifying, debating, doing the fucking job of putting yourself out there would bring about different results.
Politics shouldn't be
…

by ilene - August 31st, 2010 1:33 am
The billionaire brothers who are waging a war against Obama.
Excerpts:
DiZerega, who has lost touch with Charles [Koch], eventually abandoned right-wing views, and became a political-science professor. He credits Charles with opening his mind to political philosophy, which set him on the path to academia; Charles is one of three people to whom he dedicated his first book. But diZerega believes that the Koch brothers have followed a wayward intellectual trajectory, transferring their father's paranoia about Soviet Communism to a distrust of the U.S. government, and seeing its expansion, beginning with the New Deal, as a tyrannical threat to freedom. In an essay, posted on Beliefnet, diZerega writes, "As state socialism failed . . . the target for many within these organizations shifted to any kind of regulation at all. 'Socialism' kept being defined downwards."
Members of the John Birch Society developed an interest in a school of Austrian economists who promoted free-market ideals. Charles and David Koch were particularly influenced by the work of Friedrich von Hayek, the author of "The Road to Serfdom" (1944), which argued that centralized government planning led, inexorably, to totalitarianism. Hayek's belief in unfettered capitalism has proved inspirational to many conservatives, and to anti-Soviet dissidents; lately, Tea Party supporters have championed his work. In June, the talk-radio host Glenn Beck, who has supported the Tea Party rebellion, promoted "The Road to Serfdom" on his show; the paperback soon became a No. 1 best-seller on Amazon. (Beck appears to be a fan of the Kochs; in the midst of a recent on-air parody of Al Gore, Beck said, without explanation, "I want to thank Charles Koch for this information." Beck declined to elaborate on the relationship.)
[...]
As their fortunes grew, Charles and David Koch became the primary underwriters of hard-line libertarian politics in America. Charles's goal, as Doherty described it, was to tear the government "out at the root." The brothers' first major public step came in 1979, when Charles persuaded David, then thirty-nine, to run for public office. They had become supporters of the Libertarian Party, and were backing its Presidential candidate, Ed Clark, who was running against Ronald Reagan from the right. Frustrated by the legal limits on campaign donations, they contrived to place David on the ticket, in the Vice-Presidential slot; upon becoming a candidate, he could lavish…

by ilene - June 13th, 2010 5:31 pm
Courtesy of Mark Ames and Yasha Levine, The eXiled
This article was first published in Alternet.
Why are the hoppin'-mad Teabaggers so oddly quiet these days, ever since the BP oil disaster? That's what Thomas Frank, author of What's The Matter With Kansas? asked last week in his column, "Laissez-faire Meets The Oil Spill." Ideologically, it's painfully obvious why the Teabaggers are now the Teagaggers: their free-market gospel got mugged by oil-drenched reality — a reality so horrific that even pollster Frank Luntz couldn't spin the BP disaster as the government's fault. Best to just shut up when you're that wrong.
But there's another, more concrete reason why the Tea Party revolutionaries melted back into their suburbs as soon as the enormity of the Gulf spill disaster hit: The Tea Party evolved out of the pro-offshore drilling astroturf movement in 2008. They even share some of the same organizers and front groups, from PR operative like Eric Odom, to advocacy groups like FreedomWorks, whose combined efforts on the "Drill Here! Drill now!" astroturf campaign succeeded in opening up all of America's coastlines and waters to offshore drilling, overturning a 27-year ban thanks to threats of "a Boston-style Tea Party," as one Republican put it in the summer of 2008.
We have been following this movement from the beginning. Back in February 2009, on the eve of the first Tea Party protest, we published the first investigative article exposing the hidden relationship between the fake-"spontaneous" Tea Party protests that month, and the Republican machine that backed and promoted the campaign. Our research led again and again to the right-wing Koch brothers, who are worth a combined $32 billion as owners of the largest private oil company in America, Koch Industries. Koch-linked front groups like FreedomWorks and the Sam Adams Alliance (named after the leader of the original Boston Tea Party) played key roles in both the 2008 campaign to deregulate offshore drilling, and in the Tea Party movement.
Eric Odom, the PR flak who launched the Tea Party in February 2009, is the same Eric Odom who in August 2008 organized Republican Twitter-mobs who crashed Capitol Hill chanting "Drill here! Drill now!" to force Congress to open up…

by phil - April 16th, 2010 8:27 am
Has the World gone sane?
I was amazed this morning to see both the usual contrarian indicator of a bullish cover on Newsweek (mission accomplished market pumpers) and a good piece of reporting in the Journal on a topic ZeroHedge and I have been pounding the table on for a year. Our readers will find nothing new in the article "This Market Has Its Freq On" but to see it finally summarized in the MSM (giving us no credit at all, of course) is at least a little bit satisfying.
The Journal highlights the following facts (and they are now MSM FACTS, not "conspiracy theories" Tyler and I were making up):
The recent gains have come with only marginal support from traditional long investors. Wall Street trading desks and the relatively new breed of high-frequency traders have been fueling the rest.
Investors pumped only $396 million into domestic stock funds in March. Since the start of the year, they've only added only $1.8 billion, according to the Investment Company Institute. Compare those inflows with some other recent rallies. Between April and July 2009, investors poured $28.76 billion into U.S. stock funds and in the first three months of 2007 they moved $19.1 billion into such funds.
Insiders are dumping stock at an alarming pace, $15 billion so far this year, more than six times the $2.5 billion they've bought, according to Trim Tabs. Moreover, they've been dumping their stock more in recent weeks. Insiders sold $6.9 billion in March and bought just $831 million.
Six stocks represented 27.51% of the overall stock market volume: American International Group Inc., Ambac Financial Group Inc., Bank of America Corp., Popular Inc., Fannie Mae and Citigroup Inc. Since the start of the year they've represented 16.55% of the composite volume on the New York Stock Exchange, and more than 22% on each of this week's first three trading days, reaching as high as 30.62% Tuesday..
The rise in these stocks has mirrored, or perhaps driven, the recent broader gains. Through Wednesday, Bank of America was up 28.8%, Citigroup was up 48.9%, Ambac shares have doubled, Popular shares are up 74.3% since the start of the year. AIG shares are up 32.5% for the year through Wednesday.
Program trading represented 27.9% of NYSE volume for the week
…

by ilene - March 29th, 2010 8:21 pm
Very dismal forecast from our friend James Kunstler, he writes so beautifully but I hope he's wrong. – Ilene
Courtesy of James Howard Kunstler
Nations go crazy. It's terrifying when it happens, especially to a major nation with the ability to project its craziness outward. We look back on the psychotic break of Germany in 1933 and still wonder how the then-best-educated population in Europe could fall under the sway of a sociopathic political program. We behold the carnage and devastation left in the wake of that episode, and decades later you still can do little more than shake your head in bewilderment.
China had a psychotic break in the 1960s in its "cultural revolution," provoked by the mad neo-emperor Mao. He sent cadres of Chinese baby boomer youths rampaging across the land, turned every institution upside down, and let millions starve. Mao's China lacked the ability then to export this mischief, but enough of his own people suffered.
Cambodia was the next humdinger of a national nervous breakdown when the Paris-educated classic marxist Pol Pot decided to make the world's biggest omelette by cracking a million eggs. He took everybody wearing eyeglasses, everybody who appeared to have a thought in his or her head, and sent them out to the bush to be worked to death, or shot in ditches, or disposed of otherwise. The mounds of skulls remain to tell the tale.
Lately we've had the Hutu-Tutsi genocides in Rwanda, the craziness in former Yugoslavia, the cruelty of Darfur, the international suicide-bomber craze (including today's blasts in Moscow). Surely, I've left a few out… but these are minor episodes compared to what be coming next.
Am I the only one who senses it might be America's turn to go nuts? I don't mean a family squabble, like the Boomer-Hippie-Vietnam uproar that was essentially an adolescent rebellion against bad parenting in the national household. I mean a genuine descent into madness, with the very high probability of persecution, violence, murder, and mayhem — all more or less sponsored by various authorities and institutions.
The Republican Party is doing a great job in provoking such a dangerous episode by making consensual governance impossible in a time of awful practical problems and challenges. They're in the process, right now, of transforming themselves from…

by phil - February 28th, 2010 7:45 am
Coffee Party Movement: Alternative to Tea
Furious at the tempest over the Tea Party — the scattershot citizen uprising against big government and wild spending — Annabel Park did what any American does when she feels her voice has been drowned out: She squeezed her anger into a Facebook status update.
Let's start a coffee party . . . smoothie party. red bull party. anything but tea. geez. ooh how about cappuccino party? that would really piss 'em off bec it sounds elitist . . . let's get together and drink cappuccino and have real political dialogue with substance and compassion.
Friends replied, and more friends replied. So last month, in her Silver Spring apartment, Park started a fan page called "Join the Coffee Party Movement." Within weeks, her inbox and page wall were swamped by thousands of comments from strangers in diverse locales, such as the oil fields of west Texas and the suburbs of Chicago.
I have been searching for a place of refuge like this for a long while. . . . It is not Us against the Govt. It is democracy vs corporatocracy . . . I just can't believe that the Tea Party speaks for all patriotic Americans. . . . Just sent suggestions to 50 friends . . . I think it's time we start a chapter right here in Tucson . . .
The snowballing response made her the de facto coordinator of Coffee Party USA, with goals far loftier than its oopsy-daisy origin: promote civility and inclusiveness in political discourse, engage the government not as an enemy but as the collective will of the people, push leaders to enact the progressive change for which 52.9 percent of the country voted in 2008.
The ideas aren't exactly fresh — Tea Party chapters view themselves as civil, inclusive and fueled by collective will — but the Coffee Party is percolating in at least 30 states. Small chapters are meeting up, venting frustrations, organizing themselves, hoping to transcend one-click activism. Kind of like the Tea Party did this last year, spawning 1,200 chapters, a national conference and a march on Washington but with a VERY different mission statement:
"The Coffee Party Movement gives voice to Americans — across every demographic — who want to see cooperation in government.
…