Posts Tagged 'the elite'
by ilene - September 25th, 2009 1:13 am
Courtesy of Charles Hugh Smith, Of Two Minds

dollars
It seems a given now that the U.S. dollar is doomed to either slow depreciation or devaluation. Perhaps--but the consensus seems too easy. Yes, money supply and liquidity have exploded as the Fed and Treasury fight deflation, and yes, history suggests expanding the money supply debases the currency.
That the dollar has been debased is clear enough if we measure the dollar's value in gold. Priced in gold, the dollar has lost over 2/3 of its value in a mere decade. Courtesy of contributor Harun I., here is a chart of gold: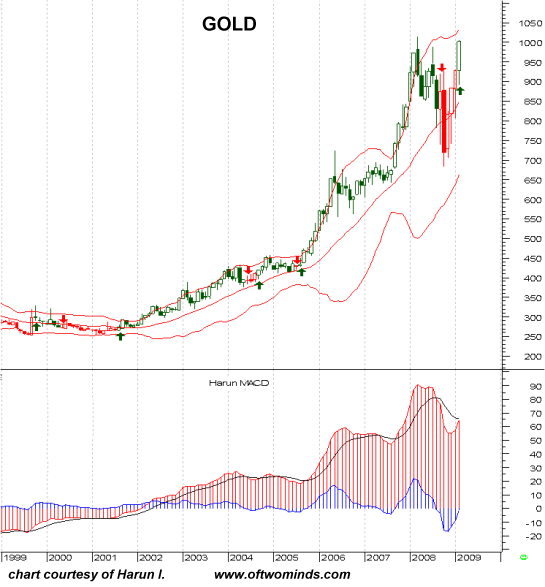 Where it took less than $300 to buy an ounce of gold in 2001, it now costs about $1,000. Thus the dollar has lost 70% of its purchasing power when priced in gold.
Correspondent Jim S. observed that this depreciation has been a trend for the entire 20th century:
At the barbershop, the barber asked me if the dollar was at risk of failing. The dollar is not at risk of being wiped out, IT ALREADY HAS BEEN WIPED OUT, and the world is moving on. From 1789 to 1912, the dollar appreciated a full 11%. From 1912 to 2001, it has lost 95% of its value under the fractional reserve banking system of the Fed Reserve, massively overleveraged further since the inventive application of credit derivatives since the '90s.

In 2001, a dollar index of $1.2 (as charted by the Dollar Index) existed and now it is at about .76. This recent drop results in a dollar loss greater than 95% from the 1912 value. The dollar HAS been destroyed in the proper historical perspective!

A world-wide move underway, recognizing that the dollar is now unsustainable as a reserve currency, to a new form of reserve currency/currencies, will take some time, and, our dollar will remain as the reserve currency for a while as something new emerges. Regional currencies may evolve in the meantime: Yuan? AMERO? EURO? A worldwide, single, unified currency is too utopian for applicability.

Regional currencies have yet to be proved sustainable either. We are in limbo with a sinking dollar. Geopolitical instability of increasing scope, including at least cultural and resource wars, are in the offing before anything gets settled. Remember the '100 years war'?
Indeed, debased currencies and the evaporation of…