Posts Tagged 'the Long Depression'
by ilene - August 16th, 2009 6:33 pm
Courtesy of John Lounsbury writing at Seeking Alpha
With everyone (well, almost everyone – I am one of the lonely skeptics) convinced that we have stepped back from the "edge of the abyss", the title of this article may be viewed as laughable. When you connect the dots, as I will in this article, you will at least stop laughing, and, maybe, realize that we still have a big problem.
We have a confluence of five factors that have the potential to create damage to banking not seen in 80 years, and that includes the Great Depression. We'll hit these factors one at a time.
First Factor: Banks Are Not Doing Enough Business
Commercial bank credit growth has dropped to 2%, according to Jesse's Cafe Americain (here). The recent history of credit growth is shown in the following graph.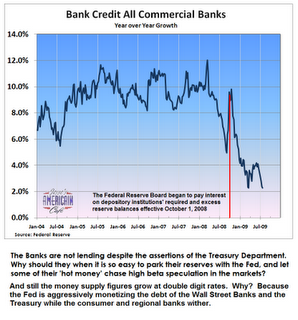 Now, it is a good thing that banks are conserving capital, since they need to increase capital to offset bad loans.
But, if asset valuations deteriorate (and that is quite possible), the banks need to increase earnings to "earn their way" out of their problem. Interest paid by the Fed for reserves on deposit there (by the commercial banks) are not producing nearly the same level of income as new credit issued commercially under our fractional reserve banking system with much higher interest .
If credit issuance does not increase year over year, banks can not improve their financial condition unless the quality of their existing loan portfolio improves.
As discussed in the third factor, below, just the opposite is anticipated for loan portfolios.
So the first factor in this perfect storm is that the banks are not doing enough business.
Second Factor: Banks Are Failing at a Rate Not Anticipated Two Months Ago
In his article, Jesse mentions reports by Bloomberg that 150 banks are in trouble. Some of these will be larger than many of the 77 (mostly community) banks that have gone under FDIC receivership so far in 2009.
Banks mentioned being in trouble by Bloomberg (here) include Wisconsin's Marshall & Ilsley Corp. (MI), Georgia's Synovus Financial Corp. (SNV), Michigan's Flagstar Bancorp (…