Posts Tagged 'TIF'
by phil - January 13th, 2010 8:07 am
The futures were boogying "all night long."
THIS is why we love being born-again bulls. China's Hang Seng down 578 points on the Hangs Seng (2.5%) – It doesn't matter! Shanghai down 3.1% – It doesn't matter! Europe down half a point – It doesn't matter! Germany's economy contracted 5% in 2009, the worst decline since WWII (the big one) – It doesn't matter! ABC Consumer Comfort Poll drops 11% with just 9% of Americans rating the economy postively – IT JUST DOESN'T MATTER - because WE are those 9% of Americans, right! OUR economy is just fine and we don't know what that 91% contingent of babies is whining about do we?
Yes, it's been a while since I dubbed us in a Meatball Market. The last market I labled as such was November 30th, 2006, when the Dow broke through 12,000 on the way to 14,000. Our bullish picks that day included BA, CAT, COF, DOW, GE, HD, JWN, QQQQ, TIE, TIF, XLE and XOM. Those were all, of course, fantastic picks but what I want you to do is read the October 2nd, 2007 article, where I began to turn cynical on the "Meatball Market" and I made the following statement:
Up, up and away – it's Super Market! It's bugdet proof, oil proof, terror (threat) proof, housing proof, inflation proof and pullback proof - 3 weeks in a row!

This is truly a Market of Steel (and the recent movement of X underscores that) and looking at the movement of the past week we really do have to believe it can fly… Is the US consumer (driver of 2/3 of the economy) really impervious to harm? What, if anything, is our stock market Kryptonite?

Unstable currency, runaway commodity prices, spiraling inflation, low savings rates, hedge fund collapses, declining home values, banks writing down their virtual portfolios, hundreds of thousands of layoffs, millions of foreclosures — it simply does not matter as long as they are LOCAL problems for the US as we are a smaller and smaller cog in the great global economy, one day we may even be granted emerging market status by our Chinese masters!
Doesn't sound like much has changed in 2 years does it? Unfortunately, that also happened to be the day that Alan Greenspan (now working for PimpCo) decided to call China, with the Hang Seng…

by phil - January 8th, 2010 4:24 pm
Today's tickers: FXY, EEM, PEP, TEVA, TIF, UPS & X
FXY – Japanese Yen Shares – The exchange-traded fund, which seeks to mirror the price of the Japanese Yen, is trading more than 0.50% higher today to stand at $107.12 in the aftermath of employment data undermining the U.S. dollar. Options activity in the March contract this morning suggests the price of the Yen may decline in the next couple of months. One Yen-bear sold call options in the March contract in order to finance the purchase of a put spread. The investor sold 10,000 calls at the March $110 strike for a premium of $1.20 per contract. The put spread involved the purchase of 10,000 puts at the March $105 strike for a premium of $1.70 each, marked against the sale of the same number of puts at the lower March $100 strike for $0.40 apiece. The net cost of the three-legged combination trade amounts to just $0.10 per contract for the investor. Thus, from a pure options standpoint (assuming no underlying position in shares), the investor stands to accumulate maximum potential profits of $4.90 per contract in the event that shares of the FXY plummet to $100.00 by expiration in March. FXY's share price must decline 2% to $104.90 before the trader breaks even on today's transaction.
EEM – iShares MSCI Emerging Markets Index Fund – Shares of the emerging markets exchange-traded fund are up less than 0.50% today to $43.01. Near-term pessimistic sentiment clouded the February contract as one investor initiated a ratio put spread on the fund. It appears the trader purchased 5,000 puts at the February $40 strike for an average premium of $0.69 apiece, marked against the sale of 10,000 puts at the lower February $35 strike for roughly $0.17 each. The ratio spread results in a net cost of $0.35 per contract. The investor responsible for the spread is likely holding a long position in the underlying stock. In such a case, the value of the share position is protected if EEM's shares decline 8.5% from the current price and breach the effective breakeven point at $39.65 by expiration next month.
PEP – PepsiCo, Inc. – Global beverage, snack and food company, PepsiCo, received an upgrade to 'buy' from 'hold' at Edward Jones today despite slight share price declines of less than 0.50% to $60.76. Bullish investors initiated a couple of different strategies…

by Option Review - November 25th, 2009 10:06 pm
Today's tickers: VALE, GLD, BKC, VIX, IYR, GPS, CTXS, JPM, JCG, BKC, & TIF
VALE – Vale S.A. – Iron ore producer, Vale, experienced a more than 2.5% rally in shares during the trading session to arrive at a new 52-week high of $29.64. A bullish risk reversal in the March 2010 contract today indicates at least one investor is positioning for continued upward movement in the price of VALE shares by expiration. The trader sold approximately 3,300 puts at the March 26 strike for an average premium of 1.29 apiece in order to finance the purchase of roughly 3,300 calls at the higher March 32 strike for 1.59 each. The net cost of the transaction amounts to 30 cents per contract and positions the investor to amass profits if shares surpass the breakeven price of $32.30 by expiration. Shares must jump at least 9% from the current price to breach the effective breakeven point on the trade.
GLD – SPDR Gold Trust ETF – Shares of the gold exchange-traded fund, which replicates the performance of the price of gold bullion, rose 1.5% today to yet another all-time high of $116.43. We observed bullish activity in the June 2010 contract by one investor who initiated a call spread on the fund. It appears the trader purchased 13,265 calls at the June 125 strike for an average premium of 5.95 each, spread against the sale of the same number of calls at the higher June 150 strike for 2.10 apiece. The net cost of the gold-spread amounts to 3.85 per contract. The investor responsible for the trade accumulates profits if shares rally 11% from the current price and surpass the breakeven point at $128.85. Maximum potential profits of 21.15 per contract are available to the trader in the event that shares of the GLD surge 29% to $150.00 by expiration day in June of 2010.
BKC – Burger King Holdings, Inc. – Burger King-bulls bought nearly 4,700 calls at the in-the-money December 17.5 strike for an average premium of 50 cents apiece. Such activity suggests investors expect shares to rally through $18.00 – the breakeven point on the calls – by expiration in December. Bullish sentiment on the flame-broiled burger maker is perhaps inspired by strength in the fast-food restaurant sector. Cash-strapped consumers, wary of the 10.2% unemployment rate, are likely trading down from moderately priced eateries to cheaper nosh provided…

by phil - October 7th, 2009 7:53 am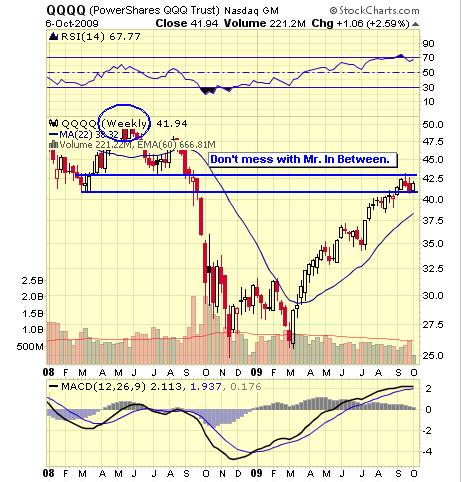 When your first trade of the day is a cover, you know you are too bearish!
That's what happened to us yesterday when I sent out a 9:47 Trade Alert to Members for the QQQQ $41/42 bull call spread at .57 to cover the too bearish stance I was worried about in the morning post. We exited that trade at .70 (up 22%) and that served it's purpose of giving us some cash to put into rolling up our puts, following through on the strategy laid out in the morning post. As I said at the time, these are the moves we're making BEFORE we capitulate and our short plays will form a base from which we can aggressively go long once we clear our targets.
I called off that QQQQ trade at 11:32, about 9 cents off the high of the day as they looked about to fail our 42 target which, as you can see from David Fry's chart, is right about the middle of the weekly range so it's a level we have to respect on multiple fronts. We're still waiting for a proper test of that 40 line, a 5% drop from here and PSQ (short QQQQ) calls are the main protection in our $100K Virtual Portfolio at the moment. Any move below 40 on the Qs can re-shape the chart to a much more bearish formation long-term.
We also covered up our long DIA puts, which flipped us more bullish overall and ended the day half-covered – neutral and confused but with more aggressive puts than we had on Monday so some small progress was made. In addition to rolling up our bear plays like GLD puts, we added hedged January bullish plays on EDZ and TZA, went bullish on RIMM as they sold off to $65, bearish on MOS as they ran up to $49, bullish on WFR at $16, bearish on FCX at $70, April bullish and hedged on SKF, bearish on OIH at $118.50, Jan bearish and hedged on TIF at $40.75, bullish and hedged on April SCO and bullish on FXP at $9.45. Overall a pretty busy and bearish day of trading.
As I said to members in my closing comments, the XLF couldn't hold $15 and the Qs couldn't hold 42, which were both watch levels for us during the day. The index levels we were targeting were a mixed bag as we were looking for…

by Option Review - April 14th, 2009 4:12 pm
Today's tickers: MSFT, XLF, VRTX, X, MT, TIF, JCG & AIG
MSFT Microsoft Corporation – Some option traders laughed in the face of a 2% decline in MSFT's shares and were seen making some bullish plays on the stock which currently stands at $19.16. One trade of note was the sale of 5,000 puts at the July 17 strike price for a premium of 90 cents apiece spread against the purchase of 5,000 calls at the July 22 strike price for 74 cents each. This optimistic investor accepts a 16 cent credit on the trade and appears to be looking for shares to rally by about 19% through the breakeven point at $22.74 by expiration. Other bullish investors selected the July 23 strike price where more than 11,000 calls were purchased for an average premium of 44 cents per contract.
XLF Financial Select Sector SPDR – Shares of the XLF have plunged more than 5% to $10.50 today. However, we observed one options investor looking for a recovery in financials by September's expiry. The financials ETF was one of the top tickers on our 'most active by options volume' market scanner with more than 406,000 contracts traded throughout the day. The trade we chose to highlight involved the purchase of 20,000 puts at the September 8.0 strike price for 80 cents apiece spread against the sale of 10,000 puts sold for a premium of 2.79 per contract. This ratio spread yields a credit of 1.19 to the trader (2.79*1 – 0.80*2 = 1.19). The investor will retain the full credit if shares rise through $12.00 by expiration in September. The purchase of twice as many puts at the lower 8.0 strike price serves to cap the investor's losses at a maximum of 2.81 should shares continue to fall all the way to $8.00 by expiration.
VRTX Vertex Pharmaceuticals, Inc. – The pharmaceuticals company has seen its shares give back gains experienced earlier in the trading day, and is currently off by less than 1% to stand at $27.10. Option implied volatility has jumped from 72% yesterday to the current value of 82% amid unconfirmed rumors reported by one source that Johnson & Johnson may be eyeing VRTX. Option traders took bullish stances on the company by purchasing calls in the April and May contracts. The in-the-money April 25 strike price had 1,100 calls bought for 3.27 apiece, while the April…