Posts Tagged 'toxic debt'
by ilene - September 22nd, 2010 8:56 pm
Courtesy of Charles Hugh Smith, Of Two Minds
Resentment, frustration and anger are now ubiquitous features of U.S. culture. This is the consequence of several factors, none of them positive.
"Horn broken, watch for finger." This bumper sticker perfectly captures the zeitgeist of the nation: the horn is broken, and everyone is giving everyone else the finger.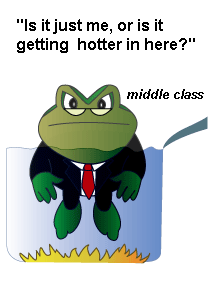 Why are simmering resentment, frustration and anger now ubiquitous features of U.S. culture? I would posit the following factors:
1. A culture of entitlement: the U.S. is now a culture of takers obsessed with getting their "fair share" of the swag/borrowed money. "We were promised!" (public employees); "I earned it!" (Social Security recipient, though only the first 3-4 years of benefits are drawn from his/her contributions, and everything after that is welfare drawn from the hides of current workers); "healthcare/income security/housing is a right!" (everybody's got rights, but nobody seems to have any duties or obligations); "it's for the children/elderly!" (that is, my expense account, million-dollar pension, etc. are nominally protected by the banner of "education" and/or "healthcare"), and so on.
Those with access to "private welfare" such as CEOs are a privileged class; most of us have to elbow our way to the crowded public trough. The truly select feed at the Wall Street trough, which combines private welfare skimmed from shareholders and investors, and Central State welfare issued in unlimited billions via bailouts, Fed purchases of toxic debt, backstops, loan guarantees, etc.
But like the story about the attractive young lady who blushingly agrees to share her favors for $10,000, but balks when the suitor downgrades his offer to a paltry $100 (with the punchline being, "We've already established what you're willing to sell, now we're just haggling over the price"), the recipient has sacrificed autonomy in accepting the entitlement, regardless of the source or size. This is how complicity to a host of embezzlements, corruptions and exploitations is purchased.
2. A culture of victimhood: Victimhood is rewarded, shouldering ones' own load and thrift are punished. Like rats in a maze, Americans respond to incentives and disincentives: as a result, everyone is shouting out their claim to victimhood. The cacaphony is reminiscent of a classroom of spoiled children all claiming excuses for their odious behavior and poor performance.
3. Unrealistic expectations: nobody wants to do demanding physical labor, so skilled-craft jobs go begging and companies have to train workers.…

by ilene - September 12th, 2010 6:27 pm
Courtesy of Tyler Durden at Zero Hedge
Scientific American has done a great summary of peak commodity levels as well as depletion projections for some of the most critical resources in the world including oil, gold, silver, copper, not to mention renewable water, as well as estimating general food prices over the next half century. Generally speaking, regardless of whether one believes in peak oil or not, the facts are that stores of natural resources are disappearing at an increasingly alarming pace. And instead of the world's (formerly) richest country sponsoring R&D and basic science to find alternatives, the US government continues to focus on funding a lost Keynesian cause, debasing the dollar and perpetuating a system that will do nothing to resolve any of these ever more pressing concerns. Furthermore, as by 2020, the US will have around $23 trillion in debt (per CBO estimates), the government will be far too focused on using anywhere between 50-100% of tax revenues to cover just interest expense, than funding science and research. Then again it is probably only fitting that future generations will be saddled with not just $100 trillion in total sovereign debt, but will be running out of water, will see sea levels rising ever faster, will have no flat screen TVs, and will be using Flintstonemobiles to go from point A to point B. All so a few bankers and ultra-wealthy individuals don't have to recognize total losses on their balance sheets filled with trillions in toxic debt.
Some key highlights from Scientific American, as well as the year in which a given resource either peaks or runs out:
Oil – 2014 Peak
The most common answer to "how much oil is left" is "depends on how hard you want to look." As easy-to-reach fields run dry, new technologies allow oil companies to tap harder-to-reach places (such as 5,500 meters under the Gulf of Mexico). Traditional statistical models of oil supply do not account for these advances, but a new approach to production forecasting explicitly incorporates multiple waves of technological improvement. Though still controversial, this multi-cyclic approach predicts that global oil production is set to peak in four years and that by the 2050s we will have pulled all but 10% of the world's oil from the ground.
In…