Posts Tagged 'UNP'
by phil - January 6th, 2011 7:29 am
Russell 8-0-0, Russell 8-0-0! Wherefore art thou Russell8-0-0? Deny thy dollar and refuse to fall, or, if thou spike not, be but consolidating at resistance and I'll happily Capitulate….
If it's good enough for fair Juliet, it's going to have to be good enough for us as the Russell finally makes it over our 800 target – the last barrier that was keeping us on the bearish side. Above these lines – it's time to stop worrying and love the rally as we romanticize the deadly combination of QE2 the Obama tax cuts as: "A pair of star-crossed lovers take their life, whose misadventured piteous overthrows doth with their death bury their parents' strife."
Of course Willie Shakespeare has nothing on Jimmy Cramer, who's pearls of wisdom are also sure to be repeated centuries from now. Last night the Bard of Wall Street sang a veritable sonnet in praise of the stock market and foretold a tale of woe for anyone dumb enough to take profits into this rally:
We got the correction this morning, Dow fell 35 points… Today's action was proof positive that you need to stop worrying and learn to love corrections… What scares me, and what should scare you, is that if you sell your stocks here, you won't be able to get back in. You should be worried about stocks getting away from you, because I think we can be on the verge of something big – something very positive. FORGET the fact that stocks have run up a lot in the last 6 months. For more than 10 years, this market has done nothing, THAT is the most important frame of reference…

What's changed? We are finally starting to see big breakouts from a slew of breakouts from several large cap companies including: CAT, UTX, FCX, SWK, CBE, ETN, CSX, UNP and so many other big industrials. Ladies and gentlemen, we have waited over a decade for this move and what do people want to do now that it has arrived? They want to sell! That's right, they want to sell. That's right. They want to dump the stocks (sell button sound effect) because they are up
…

by phil - May 8th, 2010 5:43 am
I'm just doing a quick wrap-up this week because, surprisingly, it MIGHT be time for a new Buy List!
I had said to Members on Cinco de Mayo, in our 5% Rule Review, that if we broke below 1,155 we would retrace all the way to 1,100 with our 5% Rule resistance points around 1,100 at 1,155, 1,114, 1,100, 1,073 and 1,045. We actually spiked as low as 1,066 on Thursday but finished the week at a very sad 1,110 as we watched for that "weak bounce" zone to be broken all day. This does not bode technically well for the markets next week but I told Members we would have to give the markets a pass for the day. Based on the uncertainty of the weekend, we can't expect a lot of capital commitments ahead of the EU decision. After all, we're in cash – why shouldn't other smart funds be too?
When I predicted we'd hit 1,000 on Wednesday, I did not think it would be on Thursday! The markets are now negative for the year and the S&P has spiked almost to the Feb low of 1,044 (and our lowest close was 1,056). That's right, these 5% Rule numbers are the SAME ones we used back then and it's the same series we used to measure our winter run at the end of last year. We expect a bounce here, hopefully at least a test of 1,155 on a relief rally if Greece is "fixed" yet again on Monday but we're not going to be too impressed until we're over that line.
Still that means it's time to at least lay out a new Watch List, which is the prelude to a Buy List – giving us a list of stocks we'd like to get into at lower prices. Our last Member Watch List was back in December and by Feb 6th we had our famous Buy List, which we triggered at Dow 10,058 for a very successful run through March 18th ("Bye Bye Buy List!"), when we closed 2/3 of the positions and we have since cashed out the rest as I got more and more worried about the rally, finally calling for all cash last week.
Speaking of last week, for those of you who say I don't pick enough straight stocks – I listed 33 short trade ideas from my unofficial "Sell List" last Friday (4/30) when the Dow was way up at 11,167…

by phil - April 30th, 2010 8:30 am
Attention ladies and gentlemen:
The stock market will soon be leaving the station, please secure all personal items, pull down the safety bar (our Disaster Hedges) and keep all body parts inside ride at all times. Well you know you can follow all of the safety instructions and STILL get smacked in the face with a black swan (like our friend Fabio, pictured here) which is why we elected to get back to cash ahead of this report. The markets were just too insane this week and who the heck knows if Europe will still be a Union on Monday or what the GDP number is going to be (but I do think it's a miss).
Since our biggest weekend fear is financial panic in Europe, our cash US dollars will become more valuable in a crisis and if the market drops, all the better as we can ride back in and do some bargain hunting. If the market takes off on good GDP and Greece is "fixed" and Spain is "fixed" and Portugal and Ireland are not really a problem (especially for MS and JPM) and the CRIMINAL charges against Goldman look beatable and and the Financial Reform Bill doesn't disrupt the market with a disorderly breakup of the big banks and the Bank of International Settlements Report continues to be ignored and the run on the Greek banks doesn't spread to other STUPID counties – well, then we can BUYBUYBUY because, if all this doesn't matter, then it's very likely that the entire planet Earth could explode but Wall Street will keep ticking higher.
Yep, I can't wait to ride this baby mindlessly higher! After all, what can go wrong? BIDU is ONLY $710 a share, BLK is $190, CMP is $76, GOLD is $84, BUCY is $65, FAST is $56, MMM is $90, FOSL $40, F $13.50, DECK $149, SHOO $55, TPX $35, LZB $14, CTB $22, NOG $16, CEO $176, FTI $75, CLB $150, CIB $46, BBD $19, TD $75, BCA $45, BAP $87, ITUB $22, EDU $94, WYNN $93, FFIV $72, CY $14, CREE $77, UPS $70, UNP $78…
These were stocks I was looking at last week, when I told members I thought it was easier to construct a Sell List than our usual…

by phil - January 23rd, 2010 11:36 am
Well I hate to say I told you so but…
No wait, that's nonsense – what market prognosticator doesn't love to say "I told you so"? Actually, it's kind of my job to tell you so and the reason I'm so popular is because, more often than not, when I tell you so, I tend to be right. I'm not right all the time and my single biggest flaw is I am often right but sometimes way too early and timing is EVERYTHING in the markets. It's not good enough to tell you what is going to happen (give things enough time and everything happens eventually, right Cramer?) - I need to get the period right as well so we can turn it into an actionable trading idea that makes money.
As a fundamentalist, I didn't like the entire last 500 points of the rally. I had predicted the market would finish the year at 10,200 way back when it was down at 8,650 when the idea was we'd have a Santa Clause rally to 20% (10,380) and then a 20% pullback of that run (346) into Jan earnings that would take us back to 10,034 so the entire run from 10,200 to 10,700 REALLY annoyed me. It didn't annoy me just because it made me wrong – I'm wrong a lot and I'm old enough to have learned how to deal with it. What annoyed me was the manipulation as, clearly, the fundamentals in no way, shape or form justified the additional 5% move up.
I've gone on and on about how fake the move was and how manipulated the markets were and how artificial the support was and I think I've pulled out the Seinfeld "fake, Fake, FAKE" clip often enough now that I don't even have to do a link (but I love it, so I do) or explain how it's a metaphor for recent market activity so I'm not going to waste our valuable time here. Let's just do a review of the recent action, which is my best way of preparing for the upcoming Members only post where I'll be charting out new levels and coming up with action plans for the week ahead.
So don't read this if you can't stand to hear "I told you so" because this is the review post and I did tell you so!
by phil - January 22nd, 2010 8:25 am
Boy, when sentiment shifts – it REALLY shifts!
Suddenly nothing is good enough for this market. A beat from GOOG send the stock plummeting, massive earnings at GS sent the stock lower even before Obama read them the riot act (now called the "Volker Rule"). On the one hand, it's all an overreaction but, on the very large other hand, it's about freakin' time this market finally acted normally and pulled back a little because 10,700 was pretty irrational given the underlying fundamentals.
On the whole, we're loving it as we went to cash last week and played bearish into the drop. Last week I detailed how we had a great time day-trading in both directions and this week we hit it again with our upside DIA play on Wednesday (a 26% winner on the day) and yesterday I sent out a morning Alert to Members at 9:50 saying: "I am for shorting into this morning spike as it's nonsense, especially this run in the Nas – most likely it will reverse but I'd like to see a clear move back to resistance first. QQQQ $45 puts give you great leverage at .56 and you can use $46.20 on the Qs as a stop out, looking for .70+ on the day." We hit .85 by lunch and pulled it just off the day's high for a nice 51% gain on the day.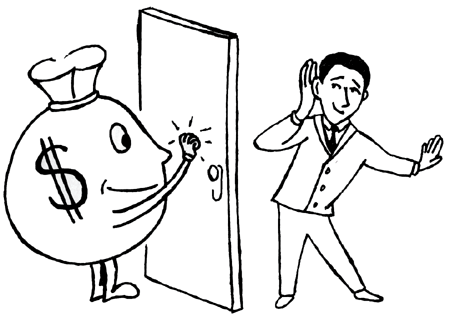 I point this out both to encourage you to subscribe to our Newsletter (all 19,000 subscribers got yesterday's free Alert) as well as to emphasize that WE DO NOT CARE which way the market goes. Yes, I am very bearish on the short-term economy as I feel we are overbought and due for a correction but I also think we are probably OK over the longer term and we are taking advantage of these dips to pick up some long positions. We are opportunistic players and we are investing along the premise I laid out in my 2010 outlook, which was titled "A Tale of Two Economies" as we see a great divide forming between the top 10% and the companies that service them and the bottom 90% of our population who are in dire straights, as are the companies that rely on selling to the masses to make a living.
For an example of "Rich Company/Poor Company" just look at the earnings of two ends of…

by phil - January 21st, 2010 5:13 pm
Today's tickers: GS, WFT, FITB, NITE, USU, KFT, UNP, EBAY, SBUX & HOTT
GS – Goldman Sachs Group, Inc. – Near-term bears and bulls crossed paths in the February contract on global investment banking firm, Goldman Sachs Group, today. The past 48 hours have stirred up a plethora of concerning news for investors, most recently, President Obama's call to limit the size and trading activity of large financial institutions, which pummeled the financial sector like a ton of bricks, dragging equities down across the board. Additionally, markets are still smarting from China's reining in of monetary policy, which sent the US dollar up over the past couple of days. The VIX jumped yesterday and continues higher during the current session. The fear-gauge increased 19.67% today to an intraday high of 21.90 countering the declines in the S&P 500. Investors watched Goldman's shares fall 4% to $161.07 this afternoon even though the firm earned $8.20 per share in the fourth-quarter, which blew right past average estimates of $5.19 a share. Frenzied options trading exploded on the financial institution with roughly 358,000 contracts exchanged on the stock by 2:50 pm (EDT). Bearish bets were plentiful, although there is also evidence of contrarian bullish plays, as well. Put options were purchased as low as the February $145 strike where 3,500 contracts were purchased for an average premium of $1.46 per contract. Shares are still 12.20% greater at the current level than the breakeven price on the puts at $143.54. The heaviest put trading occurred at the nearest to-the-money February $160 strike where more than 23,000 contracts changed hands. At least 8,100 of the contracts were purchased for $4.12 per contract. Contrarian players sold 2,300 puts at the February $135 strike to pocket an average premium of $0.93 each. Put sellers retain the full premium as long as Goldman's shares trade above $135.00 through expiration next month. Some investors are looking right through the negative news and buying call options. Most notable is the 7,200 calls purchased at the February $165 strike for an average premium of $4.52 each. The stock must rebound back to $169.52 in order for call buyers to breakeven on their purchases. Other traders threw in the towel at the higher February $170 strike by selling at least 8,900 calls to receive an average premium of $3.02 per contract. Two-way trading traffic in GS options and investor uncertainty has lifted…

by phil - November 3rd, 2009 8:14 am
Wheee, this is fun!
Just two weeks ago, on October 17th, I warned in the Weekly Wrap-Up that it was "Dow 10,000 or Bust" for the next week and we failed that one and last Wednesday we were looking to hold NYSE 6,900 and THAT failed too. Now we enter into the second phase of our limbo game where the deep-voiced guy asks the question "how low can you go?" and we'll be setting our next bar at our long-standing 9,650 target for the Dow, which we are already hitting in pre-market trading. If that fails, we'll have to look down to S&P 1,000. As you can see from Jesse's Chart, we took a nice bounce off serious resistance yesterday but we're just not feeling it yet, even though the market is now as technically oversold as it was in March.
Yesterday was like a roller coaster and my first Alert to Members of the morning targeted 9,775 as the on/off line for our bullish/bearish posture on our DIA covers. We whipped past that line right about 10 am as we got good reports from ISM, Pending Home Sales and Construction Spending but by 12:45 we had broken back down so I sent out an Alert calling to refocus back to 55% bearish by adding the DIA Jan $100 ($5) and Jan $102 puts ($6.20), already covered by the Nov $99 puts ($2.50).
The reason we mess around with our covers is we don't want to flip in and out of our option positions, which are generally either straight bearish or well-hedged long positions, is because options carry a relatively large bid/ask spread and cost you money every time you get in and out. So, on the whole, we'd rather let our over-riding cover plays, like our DIA spread, adjust our stance as conditions change, making a single adjustment that keeps us balanced as we ride out the market waves.
It's been a couple of weeks since we had a good, old-fashioned stick save but we got a mother of one yesterday (as seen in Dave Fry's chart) which was right on schedule as Kustomz bought it up in Member Chat at 3:09 and I agreed at 3:19 that "It does feel like a pre-stick move" and we grabbed VIX $25 puts at .85 to protect ourselves from a sudden surge in complacency.
By 3:33, my next comment to Members was: "The stick lives!" but…

by Option Review - April 6th, 2009 5:35 pm
Today's tickers: HPQ, FXI, WFC, UNP, MGM, LVS, INFY, VIX, TXT & F
HPQ Hewlett-Packard Company – The world's largest technology company has seen its shares decline by more than 1.5% to stand at $33.53. Despite the dip in shares today, HPQ received very good news regarding EDS, an HP company. EDS, a leading IT outsourcing firm and a global technology services provider, was selected by the U.S. General Services Administration (GSA) to "provide information technology (IT) solutions for all federal government agencies under the GSA Alliant contract". EDS will be vying for task orders along with 59 other companies under the $50 billion contract. In line with the bullish news, though not necessarily inspired by it, one investor established a bull call spread in the January 2010 contract. At the January 40 strike price 10,000 calls were purchased for 2.80 apiece and spread against the sale of 10,000 calls at the January 50 strike for a premium of 75 cents each. The net cost of the call spread amounts to 2.05 and yields a maximum potential profit of 7.95 if shares can rally all the way up to $50.00 by expiration next year. In order to achieve such a rise shares would need to jump by 49% over the next nine months. Shares of HPQ have not traded above $50.00 since December 31, 2007.
FXI iShares FTSE/Xinhua China 25 Index Fund – The Chinese ETF appeared on our 'most active by options volume' market scanner this afternoon amid a 1% dip in shares to $30.55. Despite the fact that shares are off slightly, one trader initiated a bullish calendar spread. This optimistic investor sold 8,500 calls at the May 32 strike price for an average premium of 1.60 and repurchased 8,500 calls at the January 2010 40 strike price for 1.70 each. The trader receives a credit of 10 cents for rolling his position forward by about 8 months while bearing the risk that shares rise above $32.00 as he is short 8,500 calls at the May 32 strike. This trade implies that the investor does not see shares rallying above $32.00 by expiration in May, but does want to see shares rise by 31% to break through the January 40 strike by January's expiration. Elsewhere, option traders purchased 15,000 puts at the May 25 strike price for 60 cents apiece along with some 10,000 put options which traded…