Posts Tagged 'U.S. Senate on Christmas Eve'
by ilene - December 29th, 2009 12:52 am
Courtesy of Charles Hugh Smith, Of Two Minds
"Healthcare reform" is a simulacrum reform; beneath the public relations, it does nothing to challenge the status quo "sickcare system" which is impoverishing the nation even as the health of the citizenry declines.
There are two fundamental reasons why the "healthcare reform" which passed the U.S. Senate on Christmas Eve is a simulacrum of reform: it does nothing to lower cost or limit the diversion of national wealth to a few cartels, nor does it address the food-diet-nutrition-lifestyle causal chains which are dooming the nation to an explosion of preventable chronic disease and diminishing lifespans.
Here are two documentaries you need to see: Borrow, rent, or buy, whatever it takes, but see these:
Food, Inc.
King Corn (Film)
And two more which directly address the fast food industry:
Super Size Me
Fast Food Nation (film)
The central tenet of the Survival+ critique is that no problem can even begin to be solved without an integrated understanding of the interlocking chains of causality which create the problem.
In the U.S., healthcare costs are exploding for a number of powerful reasons, but the most important one is the deterioration of the citizens' health which can be causally traced to the nation's deteriorating food supply, diet, nutrition and fitness--all integrated parts of a massively unhealthy lifestyle.
While we don't know everything about human health, of course, we do know that extra weight (obesity) and lack of exercise are causally linked to a number of interlinked chronic diseases, all of which lead to early death (Diabetes, high blood pressure, heart disease, cancer, etc.).
The obesity epidemic can be viewed visually via this slideshow map of the U.S. I recommend you view this slideshow which depicts the obesity epidemic on a state-by-state basis:
Centers for Disease Control, U.S. Obesity Trends 1985-2007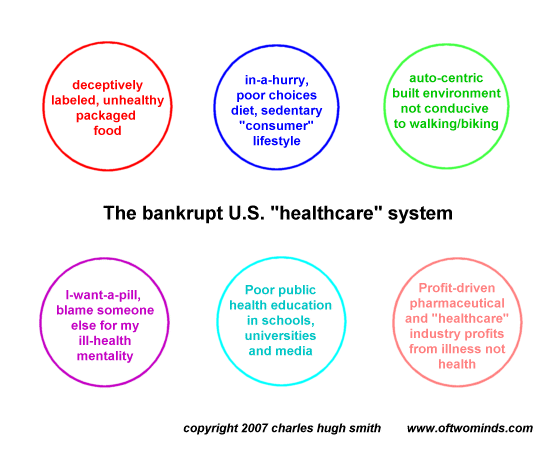 Here's a chart of global obesity (BMI is not a perfect metric, but this certainly suggests some obvious conclusions)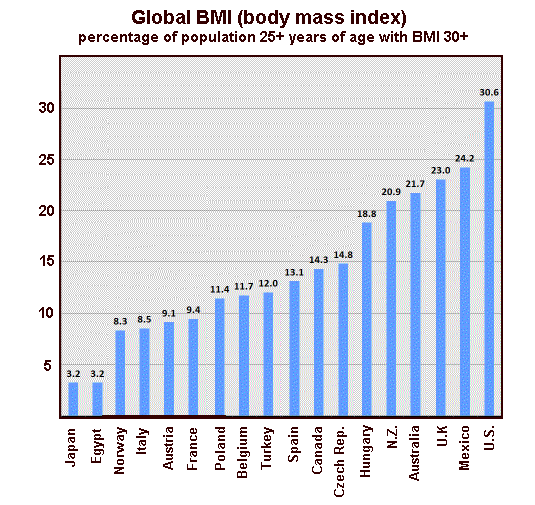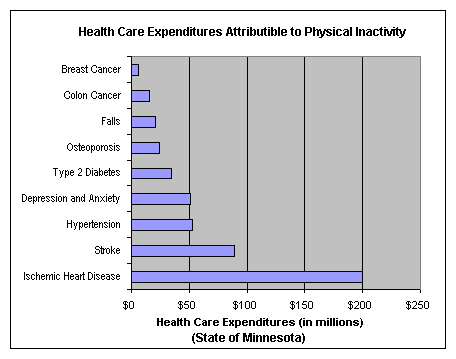 Some question whether poor diet, excess weight and inactivity actually increase healthcare costs; this chart from the State of Minnesota shows that inactivity does have costs.
The terrible truth is that the "sickcare" industry, agribusiness, and the fast-food/ packaged food industries all profit immensely from poor diet/ nutrition, widespread ignorance of the principles of human…