We don't have GNRC in our portfolios anymore but I still like them.
We haven't been in a hurry to get back in as they are spending a lot to expand so revenues are up (12% over last year) but profits are down (20% less) so they did and may still get negative interpretations from traders (and poorly constructed algos!).
 🤖 Generac Holdings Inc. (GNRC) is an energy solutions company that sells power generators to residential customers, commercial and industrial sectors, and outdoor power equipment for property maintenance. The company has also entered the residential solar market through its acquisition of Pika Energy, and offers outdoor power equipment such as log splitters, trimmers, and stump grinders.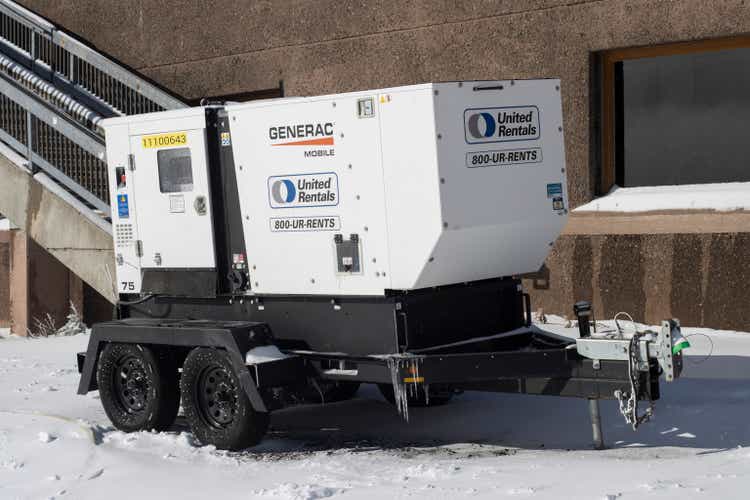 On the C&I side, GNRC sells both commercial-grade natural gas and diesel-powered generators, microgrids, and Energy-as-a-Service applications, as well as products designed for the mobile industry. The company has made 15 acquisitions since 2017 and 28 since 2011 to transform from a generator supplier into a whole-home power-management company. The company's strategic vision is highly attractive, and GNRC has an extensive suite of products, including a new EV charging system that it will introduce this year.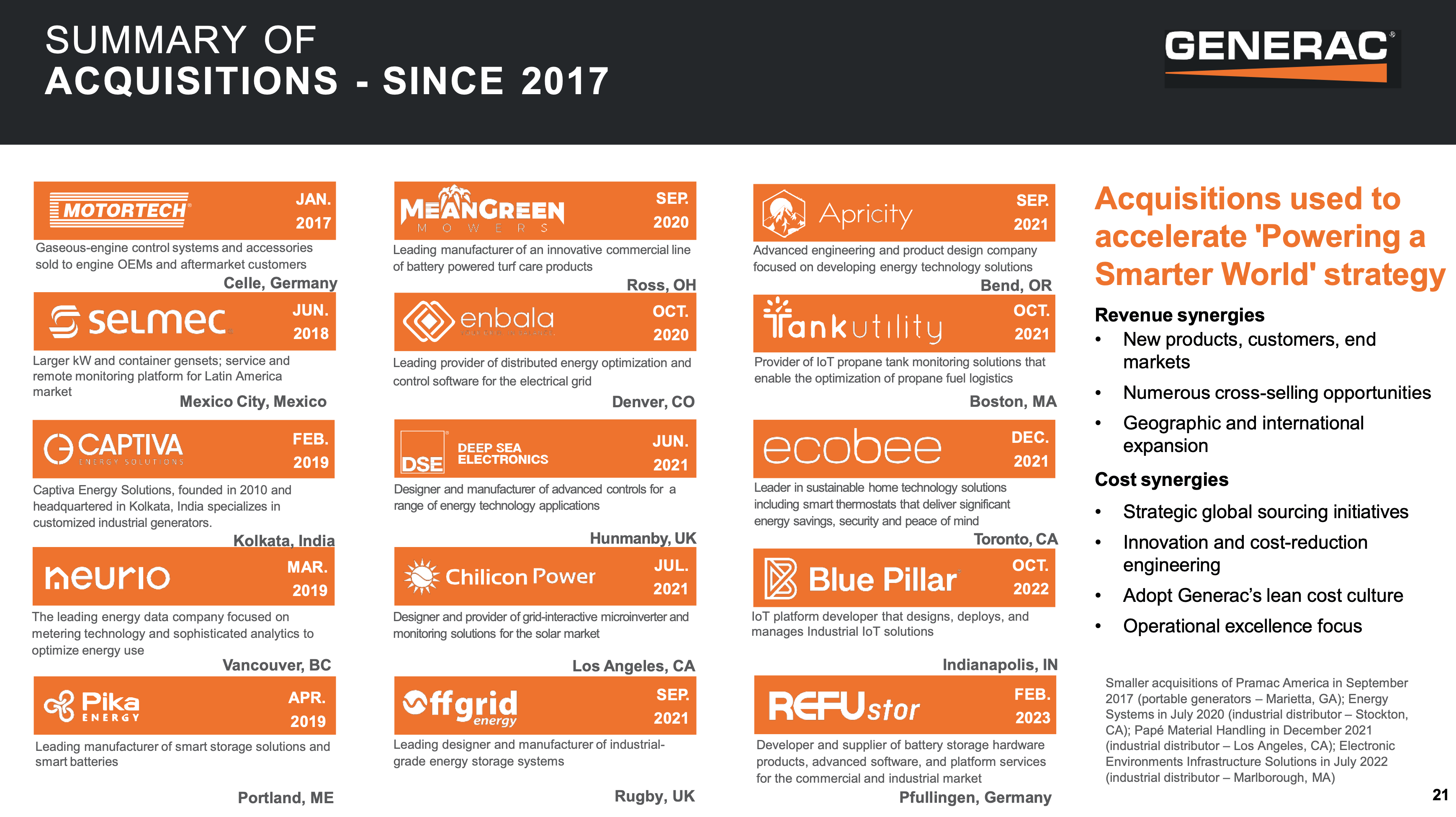 The demand environment for mobile products is expected to remain robust, and GNRC believes it will benefit from the secular trend towards investment in telecom infrastructure. While the company's execution issues have hampered its transformative story, GNRC is committed to targeting the market and adjacent opportunities. Generac Holdings (GNRC) has recently introduced its first residential electric vehicle (EV) charging system to meet the growing need for charging solutions as the demand for EVs continues to rise in the United States. The 48A/11.5kW Generac EV charger is a Level 2 home charger that can charge a car battery in as little as four to six hours. The product's out-of-the-box compatibility with almost all EVs on the market today makes Generac's solution available to most EV owners.

The introduction of the EV charger diversifies and de-risks the company's product portfolio, reducing the overall risk of the company and "future-proofing" its business in case home generator sales decline in the future. The expansion of its clean energy offerings will likely increase the appeal of Generac to environmentally conscious investors, as the company capitalizes on government incentives related to the purchase of EVs.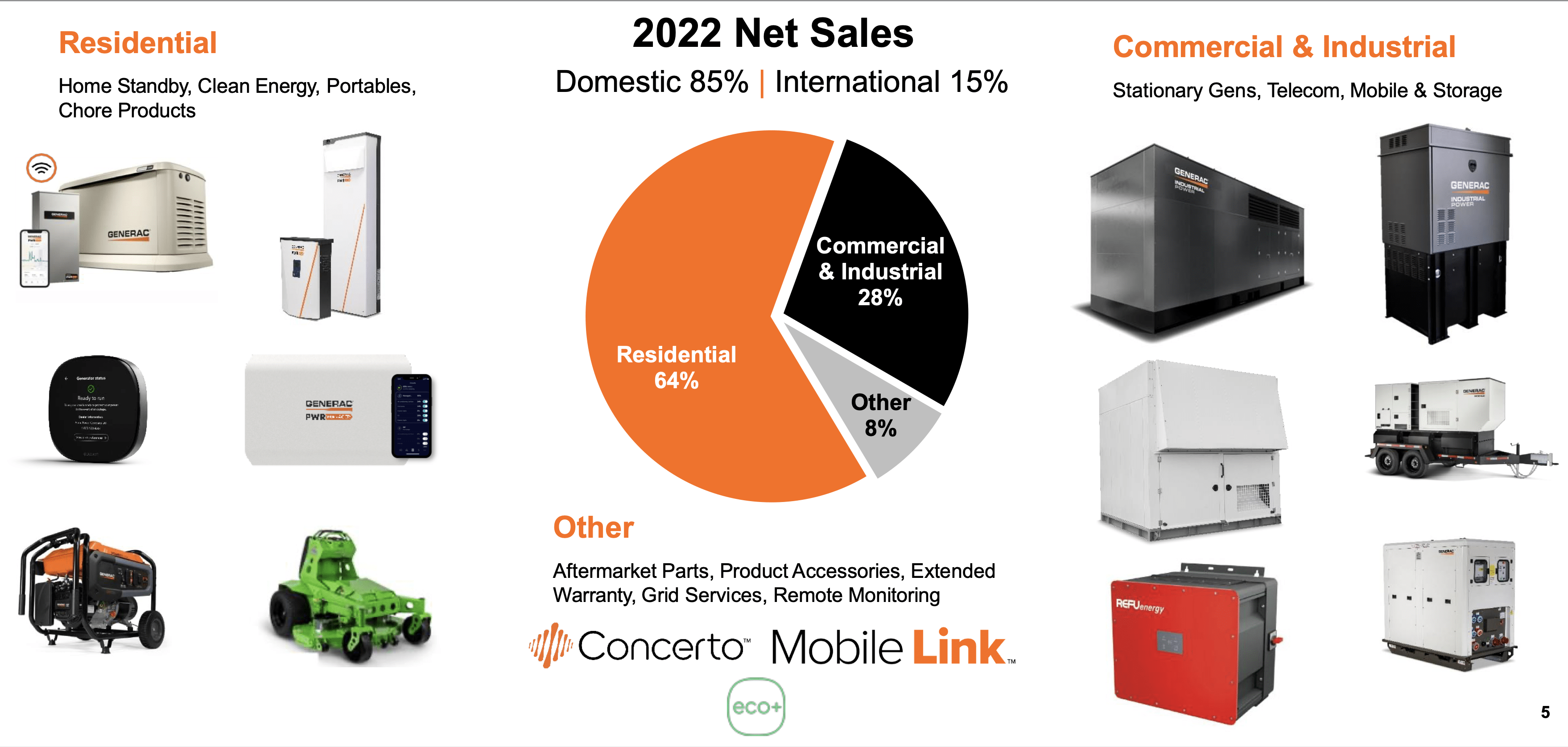 Generac is primarily targeting the residential market, which includes homeowners who want to ensure that their homes have a reliable backup power source in case of an outage. Additionally, they are also targeting commercial markets such as healthcare facilities, data centers, and other businesses that require uninterrupted power supply. Generac is also targeting the growing market for renewable energy storage, including those who have solar panels installed on their homes and want to store excess energy for future use.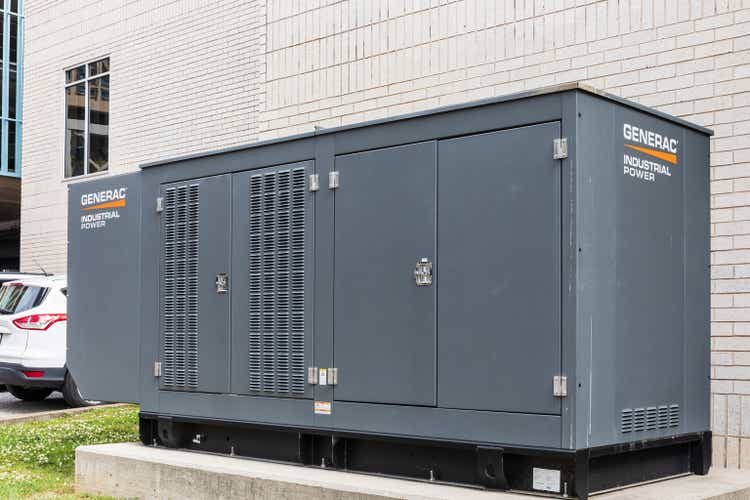 The company's long-term growth prospects, however, still look promising, as changes in the energy, utility, and automotive sectors continue to create a demand for reliable power supply for homes and businesses. The company's valuation metrics suggest that the stock is overvalued, but a discounted cash flow model estimates a per-share value of $149, indicating a 22% potential upside. The article also mentions the company's recent slowdown in revenue growth, inflation's impact on the company's gross margins, high inventory costs, and high price volatility, which could be a concern for investors. Overall, the company could be an excellent long-term holding if purchased below $100.
The risk/reward for Generac is attractive as long as its EV chargers remain competitive with other available options, and there is sufficient installation capacity.
I don't feel a lot of pressure to jump in right now but I certainly want them back in the LTP. At the moment, you can sell the GNRC 2024 $100 puts for $25 – that's a really good price. In fact, let's sell 10 of those for $25,000 in the STP – just to remind us to keep an eye on them (and to pick up $25,000 in case our hedges don't pay off). If GNRC goes below $75, we are happy to start building a position in the LTP so, from the STP's point of view, it's just $25,000 for free and, from the LTPs point of view, we're buying 1,000 shares for $75,000 (not including whatever roll we do).