He's back!
After a relatively calm couple of weeks while the President was in Europe, we're back to the National nightmare of dealing with an Administration in turmoil (Trump now has a "war room" dedicated to staving off negative reports about his ties to Russia – at your expense, of course) with Trump's son-in-law, Jared Kushner, now under direct investigation and there are rumors of a major staff shake-up as suspected leakers are being fired now that the boss is back in town.
There are as yet unsubstantiated claims that Trump is now under indictment for his ties to Russian mobsters (but a sitting President has immunity so the case is "on hold"). Last week, the Trump campaign released an email to supporters entitled "SABOTAGE," in which the campaign said, "There are people within our own unelected bureaucracy that want to sabotage President Trump and our entire America First movement."
The White House has yet to announce any terminations or staff realignment. Instead, overnight Trump took another swipe at reports that his Twitter privileges may be removed, saying that "the Fake News Media works hard at disparaging & demeaning my use of social media because they don't want America to hear the real story!"
This kind of stuff is not really good for investor confidence. Not only is Trump's domestic agenda in turmoil but he has single-handedly taken the mantle of World Leadership away from the US for the first time since World War II with Germany's Angela Merkel warning the G6 (who were all aligned with science against Trump on climate change this weekend) that reliable relations with her country's closest post-World War II ally may be a thing of the past.
"The last few days have also shown me that the times when we could completely rely on others are to some extent over," Merkel said in a speech at a climate conference in Berlin on Monday, echoing her language of the day before. "We are and remain close partners," she said of the U.S. and Germany, "but we also know that we Europeans really must take our destiny into our own hands."
Wow, we just blew our relationship with Europe! Trump has, however, succeeded in uniting Germany's political parties – AGAINST HIM – as even Merkel's opponent in the upcoming election, Matin Schultz said: "The new U.S. president doesn't rely on international cooperation, but rather isolationism and the apparent right of the strong." Schulz accused Trump of "political blackmail" in an op-ed piece for Tagesspiegel newspaper on Monday.
Trumps slogan "America first" is not just an attack on the principle of free trade."America first means Trump's logic: saying good-bye to the painstakingly negotiated Paris climate protection agreement, the dismantling of the United Nations, political blackmail instead of international diplomacy".
None of this stuff is good for the markets, folks – especially markets that are trying to justify record highs. I'll be live at the Nasdaq this morning and I've been asked to discuss hedging strategies (see notes from our Live Member Chat Room) – "just in case" and there's a general sense that selling in May and going away was indeed the top topic of conversation at the Hamptons over the weekend. We'll see what happens as the top traders come back from their summer homes and decide whether or not they want to roll the dice on June.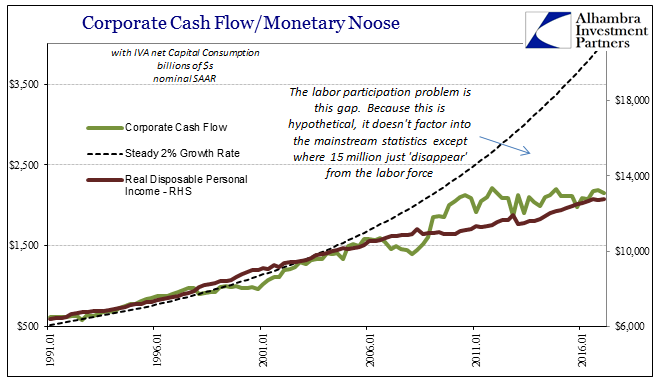 Jeff Snider at Alhambra Investments made a good point this weekend that businesses can no longer afford labor, as evidenced by ultra-low unemployment coinciding with still ultra-low wages. Snider does the math and makes a strong argument that the "recovery" we've had has come at the expense of the workers – especially the 15M people who have dropped out of the labor force since 2009. As noted by Snider:
"In the end, all this confusion exists because the wrong measurements are employed starting with the wrong linear perspective. GDP was never meant to quantify shrinking; in fact, nothing is, which is why we have such difficulty measuring just how badly the economy has performed during a decade otherwise clearly lost. "
A whole lot of financial engineering went into giving us a positive Q1, not the least of which were the easy comps we had from last year's terrible Q1. A whole lot of buybacks and favorable estimations of forward tax rates (Trump's tax breaks for the wealthy and corporations have been assumed to be passing) allow companies to show greater profits on the same or even lower sales. If you take out the Energy Sector's 21.6% earnings growth – the S&P 500 was flat to last year (when we were at 1,850) and, despite all the record-high hoopla, 36% of the S&P 500 companies missed their sales numbers.
As noted in the chart above, S&P 500 earnings for Q1 came in at a $140 rate, just $10 (7%) better than they were in 2014 yet the PRICE of the S&P stocks has gone up 30% based on wild exrapolation of all the stars lining up to give us a perfect economic recovery with full employment, low wages, low taxes, infrastructure spending and cheap commodities. It's never happened before – so why not now?
As you know, our 4 Member Portfolios are mainly in CASH!!! and very well-hedged. So far, we've been waiting for the crash that simply never comes but that's OK as we manage to amuse ourselves with Futures plays (from last week's Live Trading Webinar) like Coffee (/KC), which made $3,937 off the $128 line:
Our oil trade (/CL) was good for $2,300 on Friday's recovery (and we gave you that one FOR FREE in the Morning Report – you are welcome!)
We also gave you our Gasoline (/RB) trade idea on Friday morning and that was good for $2,062 into the close.
So that's a nice $4,362 from our $3/day PSW Report just from Friday's post – not a bad use of our sideline CASH!!! as these Futures trades are great for quick in and out gains while we wait for market resolution. For the Futures challenged, we also mentioned our 40 long USO July $9 calls at $1.20 and they jumped over 10% to $1.35 for a $600 gain (12.5%) on the Day – and these are just the free trades folks – you can subscribe here before you miss the next one!
No new trade ideas but we'll like the same levels if we test them again and our other plays (VIX, Indexes, Dollar) are still in play from last week. Today and tomorrow are going to be "watch and wait" kind of days and we have another Live Trading Webinar tomorrow – hopefully we can do as well as we did last week!