Phil's Newsletter
by phil - August 28th, 2015 8:31 am
Oops, sorry, I'm not supposed to do this.
Sometimes we know things in advance and we are not allowed to talk about them until the data is release and Personal Income and Spending reports don't come out until 8:30 but we already know Personal Income and Spending are heading lower, not higher as expected, because it's right in yesterday's GDP Report, which shows Real Annualized Per Capita Disposable Income at $37,843, which is down $3 from the last estimate, not up at all.
Overall Gross Domestic Income (GDI), which includes our Corporate Masters, increased just 0.6% in the 2nd quarter, compared to 0.4% in the first half. This does not seem like the kind of number that would lead us to have a MASSIVE upward revision in GDP – from 2.3% to 3.7% in the second estimate and up 3.1% (400%) from Q1's anemic 0.6% growth rate.
| Category | Q2 | Q1 | Q4 | Q3 | Q2 |
| --- | --- | --- | --- | --- | --- |
| GDP | 3.7% | 0.6% | 2.1% | 4.3% | 4.6% |
…

by phil - August 27th, 2015 8:27 am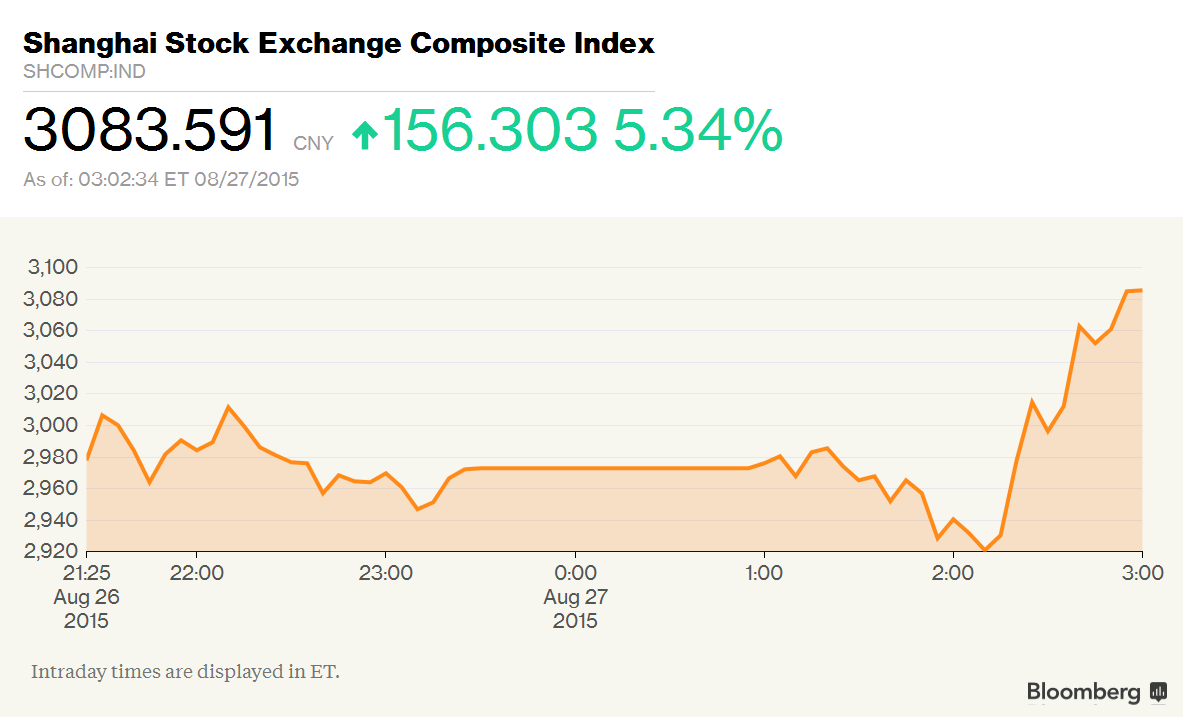 Wheeee, what a ride!
From a new low at 2,920 (down 42%) all the way back to 3,083 in 45 minutes was the close of the Shanghai Composite this morning as China's government resumed its intervention in the stock market this morning. China had halted its stock-market intervention in the first two days of this week as policy makers debated the merits of an unprecedented rescue, according to people familiar with the situation.
Even though the move was clearly fake, Fake, FAKE, it was still enough to excite investors as Asian and European markets followed China's lead higher and now EVERYTHING IS AWESOME again and the US Futures are up another 1% on top of yesterday's spectacular move.
While we were looking for a bounce off Tuesday's drop back to test 1,950 on the S&P 500, this is not the way we like to make our Strong Bounce lines (faked with stimulus and loose money talk). Still, fake or not, we'll take it as it only enhances our performance. In yesterday's post, we had long trade ideas for Apple (AAPL), which popped 5.75%, Baker Hughes (BHI), which popped 3% and Sotheby's (BID), which gained 1%.
We discussed our 5% Rule and our bounce lines yesterday on BNN's Money Talk and it's a real black swan event for me to spend 10 minutes talking technicals, so you might want to watch it. Meanwhile, the Russell hit our weak bounce line EXACTLY and the Nasdaq hit our strong bounce line EXACTLY with the Dow and the S&P in between and the NYSE woefully short – indicating this rally hasn't been to broad-based.
Dow

16,200

(weak) and

16,650

(strong)
S&P

1,900

(weak) and

1,950

(strong)
…

by phil - August 26th, 2015 8:23 am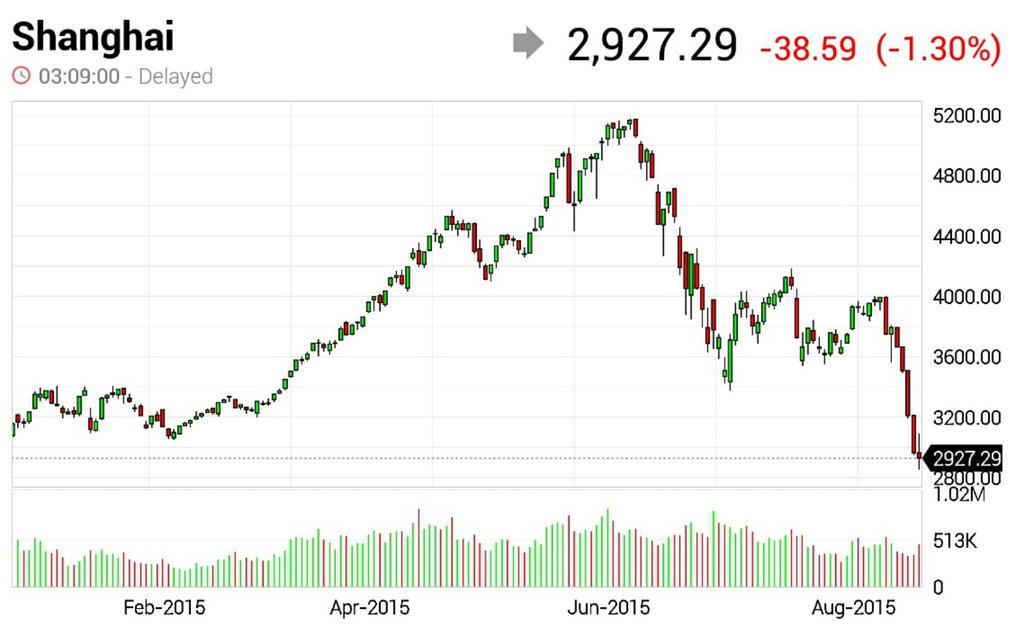 There's no question about it, China is a disaster.
Though officially down "just" 1.3% for the day, the Shanghai Composite fell 3% into the close, once again failing the 3,000 line, which is 42% off the June highs, just 60 days ago. We knew China was going to collapse, that was never in doubt. In fact, in our June Trade Review, my comment to our Members was:
I don't want to be overly dramatic about this stuff (and we are short on both China and Japan through FXI ($51.85) and EWJ ($13.26) as well as short the US markets as full disclosure) but I'm not going to let my people go through what people went through in 2008 if I can help it. If you remember, it was a very slow roll to collapse while the markets made record highs in 2007/8 as well.
FXI topped out just over $52 and is now $35, down 32.6% and Japan's EWJ bottomed out at $11.25 yesterday, down 11% over the same period. Our own markets only just begun selling off last week but are catching up fast with the S&P falling from 2,100 to our 1,850 target, a 12% decline in very short order. The Nasdaq, however, completed a 22.50% drop yesterday, briefly making a red box on our Big Chart for the first time since last October:
We need to keep a close eye on Japan, who are a lot closer to China than we are (geographically and economically). If they are able to hold up in the face of China's collapse, we should be able to as well. Keep in mind (see that review) that my expectations for a 10% correction in the US markets was BECAUSE we thought China would collapse – so this is very much in-line with our expectations.
HOWEVER, now we have to worry about all the traders who didn't see this thing coming from a mile away and have been caught with their pants down on this sell-off. Just because we were prepared for it and…

by phil - August 25th, 2015 8:18 am
We need 3% gains today.
That's right, after dropping 15% our 5% Rule™ says a weak bounce should be 20% of the drop and that's a 3% bounce off yesterday's close just to keep us a tiny bit bullish and, thanks to China's expected market save (more on that later), we're getting it pre-market. We already played for these bounces, of course – as I noted in yesterday's morning post, we wanted to go long in the Futures at:
Dow 15,840 (/YM), now 16,320

- up $2,400 per contact

S&P 1,850 (/ES), now 1,946

- up $4,800 per contract

Nasdaq 4,000 (/NQ), now 4,200

- up $4,000 per contract

Russell 1,080 (/TF), now 1,152

- up $7,200 per contract
That's $18,400 (per contract) in gains from our suggestions in yesterday's morning post. Whatever you do DO NOT SUBSCRIBE HERE or you will get useful information like that sent to you pre-market every day. Of course, those gains are nothing compared to the shorts we abandoned at the same levels from last week's Live Trading Webinar, where we featured a short on the Dow Futures at 17,477 which were up $8,185 per contract at our target low of 15,840.
I was the first person to hash-tag #BlackMonday (which trended), tweeting it out at 5:05 am, long before the Futures fell off a cliff. We expected the sell-off due to lack of China intervention and, by the time I was writing the 8:20 post, we did a very good job of calling the bottoms but, at 9:42, in our Live Member Chat Room, I said:
I think this is almost a flash-crash. Someone (thing) is selling with abandon. I think since we wanted to grab a long, we should and I nominate Dow at 15,600, which is more than 10% down for at least a bounce and the DIA Sept $155s at $6.75 were $13 on Friday and I like them for a gamble with the intention of selling the $159s for $6 on a bounce (now $5.20) so 20 of those for the 5% Portfolio with a stop at $6 or if the Dow can't hold 15,600.
…

by phil - August 24th, 2015 8:20 am
People are starting to FREAK OUT!
It's been so long since we've had a good old-fashioned market correction that many "investors" think the World is ending and are selling everything that isn't nailed down. Of course, in some cases they are right – especially if they are the kind of momentum chasers who piled into Netflix (NFLX) at over 250 times earnings or Tesla (TSLA) about the same or Amazon (AMZN) at 100 time earnings as they looked to carnival barkers like Cramer and Co. to hit the noisemakers and tell them how wise they were for following all the lemmings off a cliff.
Skip to the last four minutes of this interview from last Wednesday Morning, where I explain why Netflix was our top choice for a short, now 25% ago and I also called for a 10% market correction, now (including the morning's futures) 8% ago. That morning, we were also shorting the Dow Futures (/YM), which were at 17,000, Russell Futures (/TF) at 1,205 and Nasdaq Futures (/TF) at 4,525 using the strategies we had discussed at the end of July in: "Using Stock Futures to Hedge Against Market Corrections."
Aside from the Dow contracts now up $5,500 at 15,900, Russell contracts gaining $8,500 at 1,120 and Nasdaq Futures gaining $10,500 at 4,000, we also suggested bullish play on gold that has already jumped 30% in two weeks. Even in this downturn, I was able to point out to our Members early this morning that there was a good entry on Gasoline Futures at $1.33 on the /RBV5 contracts (Sept) and we're already back at $1.345 for a $650 per contract gain.
As noted in "Using Futures..", there are ALWAYS opportunities to pick up nice gains in the Futures market, no matter which way things are going. I also sent out an alert to our Members with Technical Analysis of the current market conditions and you can see it on Twitter (our 5:05 am tweet) if you'd like – as I won't rehash it here other than to say our expected 10% correction is right on track.
Looking over at our Big Chart, 1,942.50 is where we think the S&P will settle out but…

by phil - August 22nd, 2015 8:34 am
$19,700!
That's how much our Short-Term Portfolio gained on Friday during the market drop. During the session, we cashed out some of our winning hedges and added a few more conservative positions into the weekend – just in case China comes through with stimulus and pops the market.
That brought our cash position up from $255,000, at noted in the morning post, to $318,000. In other words, we cashed out $62,975 worth of winning positions – WHILE THEY WERE WINNING – this is something I work very hard to teach our Members, the forgotten skill of taking profits off the table!
As we calculated in Member Chat, we still had $45,000 of in-the-money protection after we cashed out the naked portions of our SDS, SQQQ and TZA hedges at 11:15. Then, later in the day, we didn't like the way the market looked so we added bull call spreads on SDS and SQQQ after noting that the S&P and the Nasdaq still had a lot further to fall if this is a proper correction.
What's the most important take-away here? WE CHANGED OUR MIND! We followed our Rule #1 and ALWAYS sold into the initial excitement because we got a good drop in the morning and we didn't want it to reverse on us. Then, once the bounces were weak and we began breaking down again – we simply bought another SDS position and more SQQQs.
A lot of traders are "embarrassed" to make a decision and then, even if they feel it was a mistake, to go back and re-buy the position – especially when they have to call a broker and "admit" they changed their mind. That's a huge problem because even the best traders are wrong 40% of the time and sticking to wrong decisions does not make you a better trader (trust me, I've tried!).
We take pokes at Futures entries all the time and rarely with conviction because we're only guessing where support will be and, if it fails – the quicker we CHANGE our minds the better! Again, this is one of the reasons that learning to trade the Futures can make you a much better trader…

by phil - August 21st, 2015 8:32 am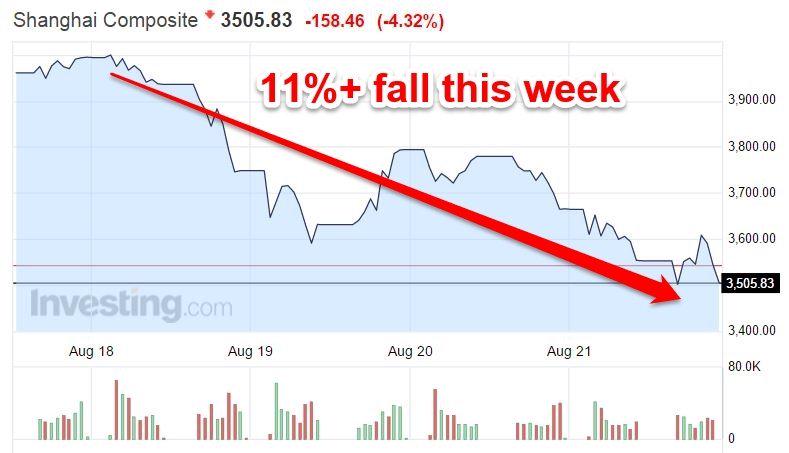 How many times have I told you so?
Remember, I can only tell you what is going to happen and how to make money trading it – that is the extent of my powers. Yes, if you make me dictator for life, heads will roll (literally) and I could get this mess straightened out but, if you continue to elect the idiots you've been electing – all we can do is sit on the sidelines and make money trading against their incompentency.
Our bearish Short-Term Portfolio, for example, was up 124.5% at 1pm, when we reviewed it in our Live Member Chat Room (you can join the fun right here) but finished the day up 136.2%?, gaining $12,000 in just 3 hours as the market continued to fall! Why were we so bearish that a stock market crash gives us one of our best days of the year? Because we pay attention to the stuff I wrote about above!
Yes, as fundamental investors we are often a bit too far ahead of the curve and we failed to participate in the last legs of the great China rally because we already…

by phil - August 20th, 2015 8:29 am
Here we go again!
The S&P Futures are re-testing that 2,060 level, which is 20 points below the 200-day moving average and, more importantly, 35 points below the 50 dma, which means, if we finish down here, we can drag the 50 dma almost a full point lower and a few days like that can bend the line down and then we're heading into our 3rd major death cross sometime around the end of September.
That's why we look for strong bounce lines off these critical support levels – if we don't get the bounces, the shape of the charts will change and that will turn sentiment more bearish and make it all the much harder for the indexes to rally in the Future. All this is taken into account by our fabulous 5% Rule™ which, as you can see from yesterday's Big Chart – has really been driving the market lately.
Last week, we discussed our outlook for the S&P by examining some of the major components and contemplating whether or not they could drive the market any higher and we concluded that Exxon (XOM) and Chevron (CVX) would be a drag on the S&P and the Dow with oil at $43. A week later, oil is at $41 (we went long at $40.65 this morning in our Live Member Chat Room) and both companies have had a TERRIBLE week, with XOM down 2.75% and CVX down 5.75% (about the same as oil itself), both costing the S&P and the Dow heavily.
Of course, we told you this would happen last Thursday, so don't act all shocked about it this morning. In fact, yesterday's morning post called the action in the headline ("Whipsaw Wednesday – Monday Market Gains Gone in a Flash (Crash?)") and you can have those posts delivered to you pre-market, every day, by signing up right here.
Last week, the conclusion of our two-part study on the S&P was:
So, upon further examination, there is no change to our stance of being short the markets
…

by phil - August 19th, 2015 8:39 am
LOL, what a joke!
Unfortunately, the joke is on us as Monday's silly low-volume rally has already been completely erased in this morning's Futures, which is fantastic news for people who joined us for yesterday's FREE Live Trading Webinar (replay availabe here), where we shorted the Dow Futures (/YM) at 17,477 and overnight we got a drop back below 17,000 for a $385 per contract overnight gain.
Futures trading is NOT complicated – it's actually more straightforward than options trading as you simply pick a spot on the chart and say "I think the index will go above or below that line." The trick is getting the above or below part right but the rest is just placing a bet and crossing your fingers. We do live webinars every Tuesday at 1pm and often teach Futures trading as it's a wonderful way to make quick adjustments to your portfolio (see "Using Stock Futures to Hedge Against Market Corrections").
In our Live Member Chat Room, we also picked up Russell Futures (/TF) short at 1,220 at the market open and there we caught a nice ride down to 1,205 for a $1,500 per contract gain. On the S&P Futures (/ES) our line was 2,092.50 and those paid $50 per point down to 2,084.50, which is +$400 per contract and the Nasdaq Futures (/NQ) fell from our 4,545 line back to 4,525 and that was good for a $1,000 per contract gain.
Aside from being a really fun way to pick up some extra money in an otherwise dull trading day, Futures can be very valuable hedges and they are not just used by traders but by companies as well. In fact, despite oil averaging below $50 this year, many oil companies are getting far more than that because they sold their oil on the Futures markets at much higher prices: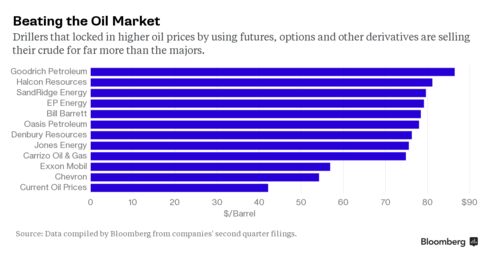 That has somewhat shielded them from falling oil prices (oil averaged $85 last year) but now those hedges are running out and oil is still down below $43 (we're long) and you know these companies don't want to lock in that price but what if it goes even lower? The next earnings cycle is early November for…

by phil - August 18th, 2015 8:01 am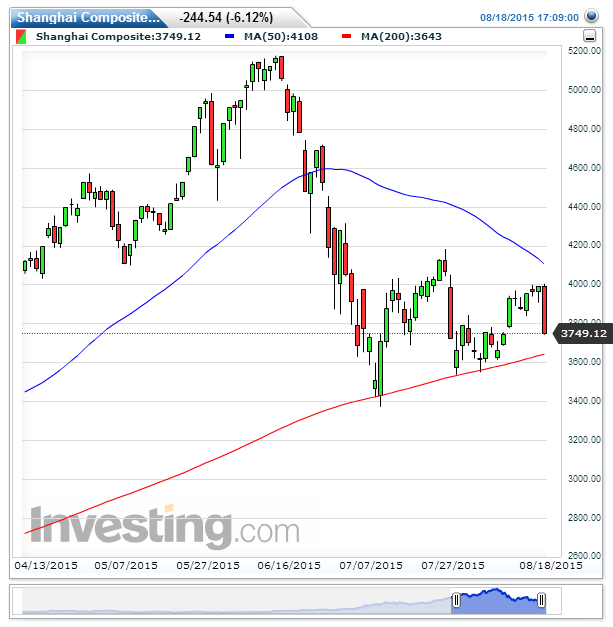 The Shanghai Composite fell 6.12% today (again).
If this is the first place you're hearing about it, that's very sad and very scary because it should be the screaming headlines as China is our largest trading parner and the second-largest economy on Earth and those of us who invest in the Global Marketplace (and yes, that includes America!) should care very much what happens in China.
Since the last time China fell 6% in a day (which is a neat trick since they halt stocks that fall 10% so most of the stocks were halted to get that average), which was only 3 weeks ago, China has taken extraordinary measures to prop up the market yet they are already failing and once again we are rapidly approaching another test of the 200-day moving average, below which there is no real support for another 20% drop and even that will be tenuous at best as the Shanghai is still 100% higher than it was last summer – for no particularly good reason.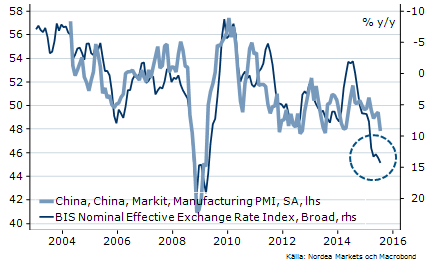 In fact, looking at China's PMI Report, it's amazing that the markets are holding up so well as we spiral back to low levels of production not seen since 2008/9. It's not just China, of course. Globally, the average PMI reading in July was 51, just one point into expansion (or one point away from contraction, if you are a glass half-empty type) and, unfortunately, I have to remind you that the PMI is an OPINION report – in the US, it's a survey of just 400 Purchasing Managers and how they THINK the next 6 months are looking.
Like any 400 out of 40,000 people who actually agree to be surveyed (margin of error is +/- 4.88), their OPINIONS may not represent the broader population and may have no relation whatsoever to what's actually going on. After all, purchasing managers are members of the top 10% who have good jobs with good salaries and are bound to be more optimistic than the average person who has to work for a living and has no time to answer surveys.
…