Author Archive for ilene
by ilene - October 19th, 2017 1:16 am
Courtesy of Michael Batnick
Stocks have been near all-time highs for a while now. The S&P 500 has gone 322 days without experiencing a 5% drawdown, colloquially known as a "pullback."
Stocks haven't just been hanging out near all-time highs, they've been printing new ones daily. In 2017, 47 out of 201 sessions have closed at an all-time high. It's been a remarkably smooth ride. Not day-to-day, of course it never is, but in reality the S&P 500 has gained 19% since last July without giving anything back. This is a rare moment in stock market history. Be thankful.
One more chart and I'll arrive at the point. The average daily drawdown over the last three years is just -2.27%. Meaning, over the last three years on average, the S&P 500 has been within 2.27% of its all-time high. It's remarkable to think back on all the top calls and angst that we've all experienced over the last 756 trading days. And look at that flat red line not worrying about a damn thing.
Okay, here's the point. A lot of people have this idea that when this ends, badly or otherwise, and one day it will, that all the money that's gone from active to passive will exit just as fast as it entered. I don't necessarily buy this, but for arguments sake let's just say that money flees at the first sign of trouble. Is the counter that they would behave better during a bear market if there money was in an actively managed fund?
Consider a piece of data from Jack Bogle's Common Sense on Mutual Funds:
Following the -48 percent market decline in 1973-1974, investors made withdrawals from their holdings of equity mutual funds during 24 consecutive quarters, from the second quarter of 1975 through the first quarter in 1981.
If stocks fall 48% again, investors are exiting. They're exiting because stocks are falling and stocks are falling because they're exiting. But in a garden variety bear market, say 25% or something thereabouts, I think people with balanced portfolios, generally speaking, will do okay. But anything deeper than that and we'll…

by ilene - October 18th, 2017 10:48 pm
Why Richard Thaler won the 2017 economics Nobel Prize

Courtesy of Sergey V. Popov, Cardiff University
The 49th Sveriges Riksbank prize in economic sciences – commonly referred to as the Nobel Prize for economics – has been awarded to Richard H Thaler for his contributions to behavioural economics. He was a key proponent of the idea that humans do not act entirely rationally. By applying insights from psychological research, he helped the world better understand people's economic decision-making in particular.
Thaler published extensively in the field of finance. He pinpointed the difference between the predictions in financial literature, which assume that people act perfectly rationally to maximise their expected profits (the idea of the homo economicus), and what actually happens on the markets.
Thaler was on many people's list of Nobel favourites. But since the award already went to Daniel Kahneman in 2002 for behavioural economics and then jointly to Eugene Fama, Lars Peter Hansen and Robert Shiller in 2013 for financial markets, his chances seemed relatively slim. But the Great Recession – caused by financial markets seeming to behave "irrationally" – brought a lot of attention to research that extensively cites Thaler's 40-year long academic career. He even made a guest appearance in the film The Big Short to explain why banks kept buying and selling bad debt to their detriment.
People are not perfect computers, and Thaler's research on limited rationality demonstrates this. For instance, people tend to be loss averse: they'd rather expect a smaller payoff with the same risk, but cap their losses. This obviously has implications for financial markets: financial products based on the binary options of profit or loss, for instance, rely heavily on advertising that any potential losses are limited.
Mental accounting

Another contribution of Thaler was the concept of mental accounting: people don't, it turns out, think about their total lifetime welfare when making financial decisions. Instead they focus on the performance of individual decisions and are less concerned with making savings if they are a small percentage of what's being spent. This idea led to the development of the field of behavioural finance, which addresses the implications of limited rationality.
…

by ilene - October 18th, 2017 10:37 pm
How the home of Robin Hood is trying to free itself of modern slavery

Courtesy of Alison Gardner, University of Nottingham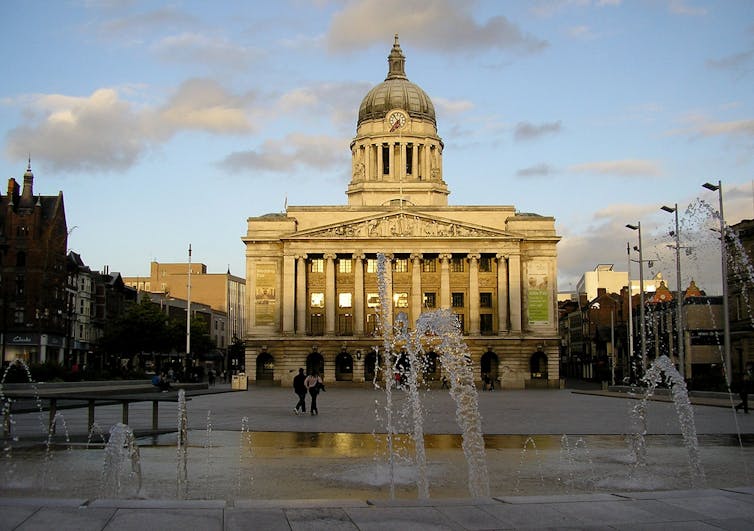 A year after the police chief in Nottinghamshire committed to making the county and the city of Nottingham free from slavery, a group of the region's businesses, churches and charities have pledged to help make this a reality.
There are estimated to be between 10,000 and 13,000 victims of modern slavery and human trafficking across the UK. We don't yet fully understand how those cases are distributed around the country, but it is clear that official figures for arrests and referrals to the National Referral Mechanism (NRM), the government's support framework for victims, currently only scrape the surface. In Nottinghamshire, police data shows there were 33 referrals to the NRM in 2016-17, more than double the referrals in 2015-16.
Hiding in plain sight

While people may be trafficked from anywhere in the world, modern slavery is also a very local issue. The recent case of Nottinghamshire farmer Jon Hammond is one example. During a casual conversation at an office Christmas party, one of his employees confided to another that he had been trafficked to the UK and was being exploited by his landlord. In June 2017, the landlord was jailed for eight years after admitting to charges of human trafficking and forced labour.
Slavery can be hidden in plain sight within our workplaces or neighbourhoods, a phenomenon described as "the slave next door" by modern slavery experts Kevin Bales and Ron Soodalter.
Patterns of exploitation are sometimes only revealed by unusual or anti-social behaviour in communities, or disclosed through established relationships built on trust. When cases emerge, it is frequently local employers, frontline staff in public services, or voluntary sector organisations that first need to recognise the problem, and signpost victims to appropriate specialised services.
While the government announced £8.5m in 2016 to help enforce its national level Modern Slavery Strategy, there has been…

by ilene - October 18th, 2017 10:23 pm
Why is there so little research on guns in the US? 5 questions answered

Courtesy of Lacey Wallace, Pennsylvania State University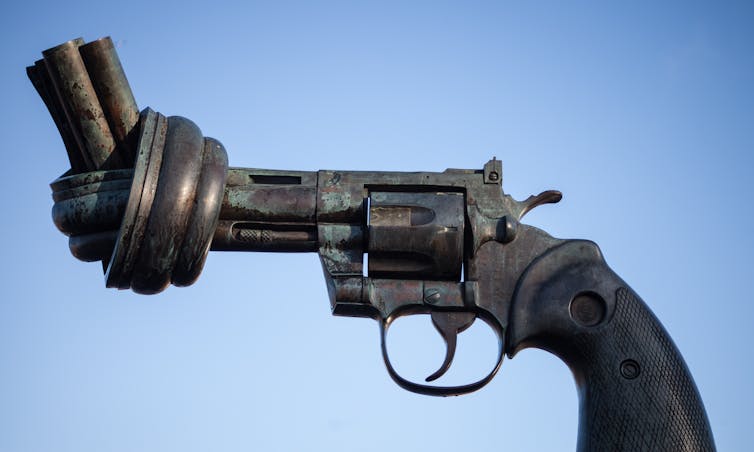 When Stephen Pollock opened fire Oct. 1 on concertgoers in Las Vegas, killing 59, the city became the unfortunate host of the deadliest mass shooting in U.S. history. Investigators are still trying to piece together the events that took place that evening, and why.
Like other recent mass shootings, the events in Las Vegas were quickly followed by demands for change to gun control policy.
But which policy do we choose? Following the Las Vegas shooting, debate has focused on bump stocks, accessories that allow a semiautomatic weapon to fire more rapidly. Will restrictions on them help prevent another mass shooting? Is there a better policy option?
Unfortunately, the research we need to answer these questions doesn't exist – and part of the problem is that the federal government largely doesn't support it.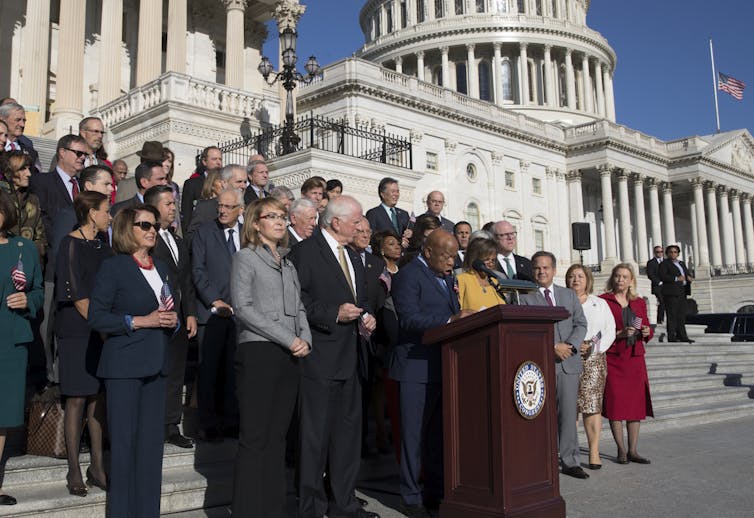 Why do we need research about guns?

Gun violence is a public health issue. It's a leading cause of premature death in the United States, killing more people each year than diseases like HIV, hypertension and viral hepatitis.
While violent crime has generally been on the decline since the mid-1990s, the latest reports from the FBI suggest crime rates may be starting to increase. Gun crime has been a persistent problem. According to the Centers for Disease Control and Prevention, 33,594 individuals were killed by firearms in 2014 alone. That's only about 200 less than the number of people killed in motor vehicle accidents. In 2015, roughly 85,000 people were injured by firearms, including nearly 10,000 children.
In order to prevent gun injuries and deaths, we need accurate information about how they occur and why. While police reports and FBI data can provide some detail, they…

by ilene - October 18th, 2017 7:36 pm
China's green planning for the world starts with infrastructure

Courtesy of Asit K. Biswas, National University of Singapore and Kris Hartley, Cornell University
The United States is retreating from the global community under a president who rejected the Paris Climate Accords and denigrates NAFTA and NATO. This provides an opportunity for China to play a greater role in global affairs.
This provides the backdrop for the 19th Party Congress, as China seeks to balance external influence with domestic economic stability. One area in which China can exert greater influence is infrastructure, an urgent issue for development. According to the OECD, supporting development worldwide requires yearly infrastructure investment of US$6.3 trillion until 2030. With knowledge of development honed through decades of rapid domestic economic growth, China is well placed to shape global development in ways that may define the rest of the 21st century.
China has invested in infrastructure projects around the world since the 1970s but a coherent policy for infrastructure investment first appeared in 2013. During a speech in Kazakhstan, Xi unveiled the Silk Road Economic Belt concept.
Shortly thereafter he proposed the Asian Infrastructure Investment Bank. Other institutions supporting China's global infrastructure initiatives include the US$40 billion Silk Road Fund and the New Development Bank led by China, Brazil, Russia, India, and South Africa.
The crown jewel, China's Belt and Road Initiative, is expected to attract US$1 trillion for trade, transport, and energy initiatives around the world.
Build at your own risk

Infrastructure is a development necessity, but its expense is a barrier and assistance from China is attractive. More than 60 countries have signed agreements for China to fund infrastructure projects.
However, loan recipients should not assume that infrastructure will automatically transform their economy. Projects can drain resources and often provide little benefit to greater society. Attracting a Belt and Road Initiative project may grab headlines but it is no panacea.
The economic benefits of infrastructure are often vastly overstated. Currently Sri Lanka is unable to service debts to Chinese lenders for expensive but largely unused ports, airports, and highways.
Designed for one million passengers per year, Mattala Rajapaksa…

by ilene - October 18th, 2017 7:11 pm
To Uber or not? Why car ownership may no longer be a good deal

Courtesy of F. Todd Davidson, University of Texas at Austin and Michael E. Webber, University of Texas at Austin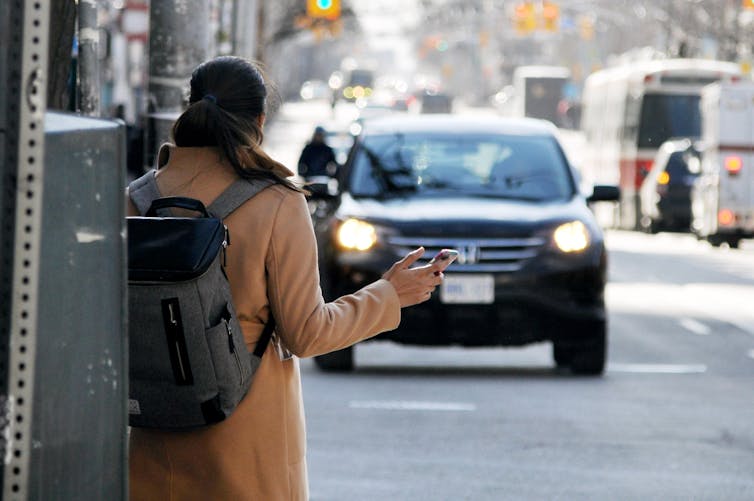 Every day there's more news about the inevitable arrival of autonomous vehicles. At the same time, more people are using ride-hailing and ride-sharing apps, and the percentage of teens getting their driver's license continues to decline.
Given these technologies and social changes, it's worth asking: Should Americans stop owning cars?
We've conducted an analysis of the all-in cost of car ownership, and we found that mobility services such as ride-hailing and ride-sharing apps – which few people today would consider their main mode of transportation – will likely provide a compelling economic option for a significant portion of Americans. In fact, if the full cost of ownership is accounted for, we found that potentially one-quarter of the entire U.S. driving population might be better off using ride services versus owning a car.
From dream to brutal reality

America's love affair with the car and individual car ownership took off after World War II, aided by inexpensive fuel, a rising consumer class and a vast national network of highways. A new generation of young professionals moved away from the urban core to the suburbs and abandoned mass transit for transportation enabled by personal car ownership.

This shift transformed the modern American landscape, triggered a new approach to city planning and enabled urban sprawl. Cities that blossomed before WWII – New York and Boston, for example – already had and continue to use their mass transit systems. By contrast, cities whose growth mostly occurred in a post-war boom like Los Angeles, Atlanta, Houston and Denver were built and effectively designed around car ownership. It's still typical for an American family to buy a house that has a large garage to store cars.
But for many people, the 1950s concept of driving…

by ilene - October 18th, 2017 6:42 pm
How media sexism demeans women and fuels abuse by men like Weinstein

Courtesy of Virginia García Beaudoux, University of Buenos Aires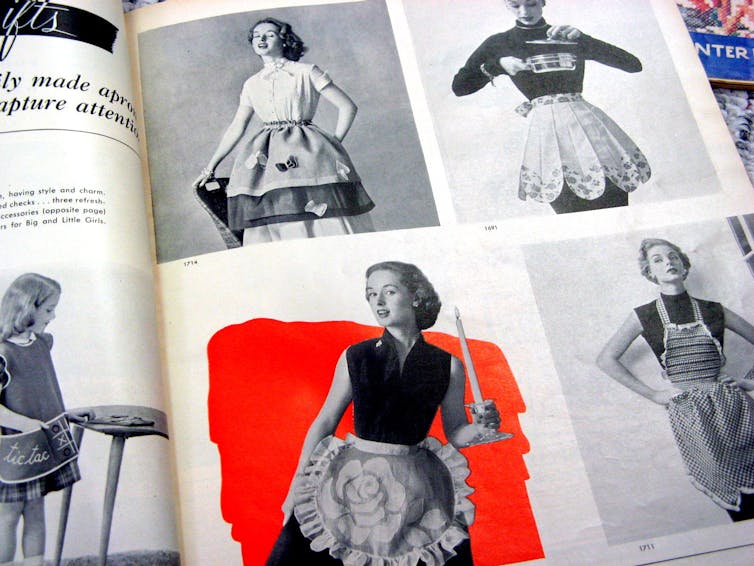 The sexual abuse scandal currently embroiling media mogul Harvey Weinstein has stunned the United States, with Hollywood and the fashion industry declaring that "this way of treating women ends now."
As an Argentinean woman who studies gender in the media, I find it hard to be surprised by Weinstein's misdeeds. Machismo remains deeply ingrained in Latin American society, yes, but even female political leaders in supposedly gender-equal paradises like Holland and Sweden have told me that they are criticized more in the press and held to a higher standard than their male counterparts.
How could they not be? Across the world, the film and TV industry – Weinstein's domain – continues to foist outdated gender roles upon viewers.
Women's work

Television commercials are particularly guilty, frequently casting women in subservient domestic roles.
Take this 2015 ad for the Argentine cleaning product Cif, which is still running today. It explains how its concentrated cleaning capsules "made Sleeping Beauty shine."
In it, a princess eager to receive her prince remembers that – gasp – the floors in her castle tower are a total mess. Thanks to Cif's magic scouring fluid, she has time not only to clean but also to get dolled up for the prince – who, in case you were wondering, has no physical challenges preventing him from helping her tidy up.
But why should he, when it's a woman's job to be both housekeeper and pretty princess?
Somewhat paradoxically, advertisements may also cast men as domestic superheroes. Often, characters like Mr. Muscle will mansplain to women about the best product and how to use it – though they don't actually do any…

by ilene - October 18th, 2017 10:54 am
Courtesy of Pam Martens
America has now been through various iterations of "it's time to stop bashing Wall Street" by writers who seem to easily get air time or plenty of print space to make their case. An OpEd in the New York Times today is the latest in this endless series. We'll get to that column shortly, but first some necessary background.
Wall Street did not accidentally run a barge aground and leave a small oil slick on the Hudson River. Wall Street did not accidentally release tainted lettuce that sickened a few dozen people. What Wall Street did was intentional and criminal: it financially engineered a toxic subprime house of cards which it knew from its own internal reviews was going to collapse; it then molded the toxic product into inscrutable bundles; it sold the bundles to unsuspecting investors around the globe while making side bets that it would all come crashing down. Then, after causing the greatest financial collapse in the United States since the Great Depression, Wall Street's unrepentant scoundrels paid themselves billions of dollars in bonuses with taxpayer bailout funds.
One of the largest wrongdoers of this era, Citigroup, received the largest taxpayer bailout in history (over $2.5 trillion in loans, cash infusions and asset guarantees) and while this was occurring, one of its executives, Michael Froman, was staffing up the administration of the next President of the United States, Barack Obama, including an accepted recommendation for the head of the Justice Department.
The 2007-2009 financial crash was more than the product of greed. There was both knowing and criminal wrongdoing, but none of those responsible have gone to jail. None of the regulatory gaps that allowed this to happen have been rectified. The biggest Wall Street banks have grown even bigger and remain too-big-to-fail; Wall Street is still paying the rating agencies for their Triple-A ratings; highly speculative Wall Street firms are still allowed to hold trillions of dollars in taxpayer-backstopped insured deposits in the commercial banks that they are allowed to own under a Byzantine bank-holding company structure with thousands of far-flung subsidiaries around the…

by ilene - October 18th, 2017 10:26 am
Courtesy of The Automatic Earth.
Salvator Rosa Heroic battle 1652
A point BOE Governor Mark Carney made recently may be the biggest cog in the European Union's wheel (or is it second biggest? Read on). That is, derivatives clearing. It's one of the few areas where Brussels stands to lose much more than London, but it's a big one. And Carney puts a giant question mark behind the EU's preparedness.
Carney Reveals Europe's Potential Achilles Heel in Brexit Talks
Carney explained why Europe's financial sector is more at risk than the UK from a "hard" or "no-deal" Brexit. [..] When asked does the European Council "get it" in terms of potential shocks to financial stability, Carney diplomatically commented that "a learning process is underway." Having sounded alarm bells about clearing in his last Mansion House speech, he noted "These costs of fragmenting clearing, particularly clearing of interest rate swaps, would be born principally by the European real economy and they are considerable."

Calling into question the continuity of tens of thousands of derivative contracts , he stated that it was "pretty clear they will no longer be valid", that this "could only be solved by both sides" and has been "underappreciated" by Europe . Carney had a snipe at Europe for its lack of preparation "We are prepared as we should be for the possibility of a hard exit without any transition…there has been much less of that done in the European Union."

In Carneys view "It's in the interest of the EU 27 to have a transition agreement. Also, in my judgement given the scale of the issues as they affect the EU 27, that there will ultimately be a transition agreement. There is a very limited amount of time between now and the end of March 2019 to transition large, complex institutions and activities…

If one thinks about the implementation of Basel III, we are alone in the current members of the EU in having extensive experience of managing the transition for individual firms of various derivative and risk activities from one jurisdiction back into the UK. That tends to take 2-4 years. Depending on the agreement, we are talking about a substantial amount of activity." [..] "I wouldn't want to use financial stability issues as leverage. I wouldn't
…

by ilene - October 18th, 2017 2:17 am
World hunger is increasing thanks to wars and climate change

Courtesy of Leah Samberg, University of Minnesota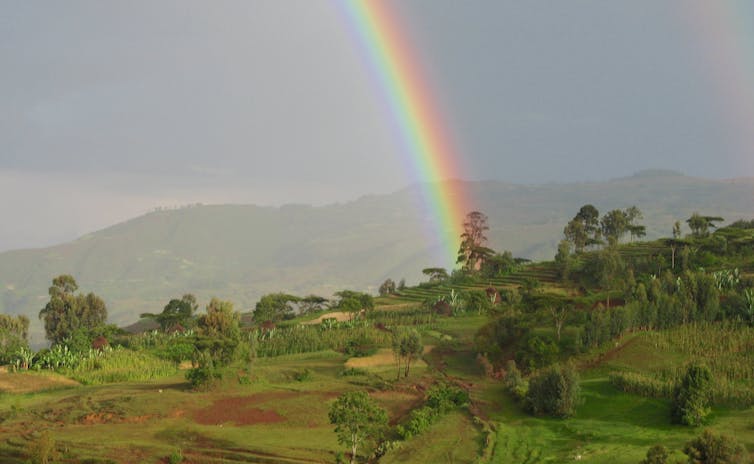 Around the globe, about 815 million people – 11 percent of the world's population – went hungry in 2016, according to the latest data from the United Nations. This was the first increase in more than 15 years.
Between 1990 and 2015, due largely to a set of sweeping initiatives by the global community, the proportion of undernourished people in the world was cut in half. In 2015, U.N. member countries adopted the Sustainable Development Goals, which doubled down on this success by setting out to end hunger entirely by 2030. But a recent U.N. report shows that, after years of decline, hunger is on the rise again.
As evidenced by nonstop news coverage of floods, fires, refugees and violence, our planet has become a more unstable and less predictable place over the past few years. As these disasters compete for our attention, they make it harder for people in poor, marginalized and war-torn regions to access adequate food.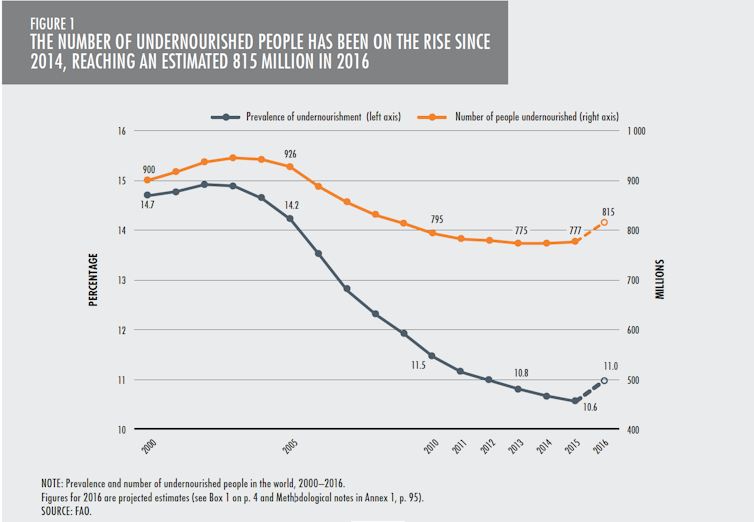 I study decisions that smallholder farmers and pastoralists, or livestock herders, make about their crops, animals and land. These choices are limited by lack of access to services, markets or credit; by poor governance or inappropriate policies; and by ethnic, gender and educational barriers. As a result, there is often little they can do to maintain secure or sustainable food production in the face of crises.
The new U.N. report shows that to reduce and ultimately eliminate hunger, simply making agriculture more productive will not be enough. It also is essential to increase the options available to rural populations in an uncertain world.
Conflict and climate change threaten rural livelihoods

Around the world, social and political instability are on the rise. Since 2010, state-based conflict has increased by 60 percent and armed conflict within countries has increased by 125 percent. More than half of the food-insecure people…