Mish on GM's proposed price increases and General Miscalculations.
GM needs some poker playing lessons. The first rule of bluffing is that it's important that not everyone else at the table not know it's a bluff.
The Kansas City Star is reporting GM to raise prices on 2009 models, cut production.

General Motors Corp. told dealers Monday it plans to raise prices on 2009 models by an average of 3.5 percent despite a tough market that is forcing the automaker to cut production and discount its 2008 models.

Mark LaNeve, GM's vice president of North American sales, said in conference calls to dealers that the increases will allow GM to recover only part of the rising cost of steel and other commodities and the cost of safety and other features on the new models. The increases will amount to about $1,000 per vehicle
Bluff Failed Last Time
GM tried this same bluff in December of 2007 and it failed miserably. Inquiring minds may wish to consider this February 25th 2008 post Manufacturers Pass On Costs As Commodity Prices Soar.

On December 19, 2007 GM announced they would increase prices. I circled the dates on the commodity charts above. Scroll up and take a look. For those who may not know, platinum is used in auto catalytic converters. Iron, aluminum, and copper are used in various components as well. All are soaring and all are way higher than they were on December 19 when GM made its price hike announcement.

What did GM do in spite of commodity prices that kept going up? GM rolled back price hikes and announced price cuts.
Implications of GM's non-cash writeoff
As long as we are doing a bit of history inquiring minds may wish to consider the Implications of GM's non-cash writeoff.

By writing off substantially all of these assets, GM (likely with encouragement from Deloitte) is effectively stating that its future earnings prospects are so uncertain that it may never have the opportunity to apply these tax credits against future taxable income.

While the corporation and the media would lead one to be believe that because this $39 bln write off is "non-cash", a deferred tax write-off it is about as clear a message about future earnings as you will ever see.
It's right there, in black and white. And GM's earnings have since gone to hell.
GM offers 6-year, no interest loans
Amazingly, in the same breath as announcing price hikes that everyone on the planet knows cannot and will not stick, GM offers 6-year, no interest loans.

General Motors will offer large financing incentives to clear out a backlog of 2008 model year vehicles, the nation's No. 1 automaker said Monday.

The company also announced it has engaged Citibank to help with a previously announced strategic review of the company's Hummer SUV brand.

Citibank will help GM assess possible offers to purchase the brand from GM, said Mark LaNeve, GM's vice-president for marketing in a conference call. Citibank will also help GM assess other options for Hummer, including a possible revamp of the brand's model line-up.
Incentive deal

The carmaker will offer 0% financing for loans as long as six years on most of its 2008 models. Vehicles included in the program range from large SUVs such as the Chevrolet Suburban to small two-seat sports cars like the Pontiac Solstice.

The promotional program – which will only be available from Tuesday through next Monday, June 30 – will be called the "72-hour sale," the company said.

"We're really trying to spark the market here at the end of the quarter," LaNeve said.
Core Incompetence
I see that GM now needs the help of Citigroup to dump the Hummer. Two of the most incompetent big caps have joined hands hoping for some Hail Mary play that allows GM to dump the Hummer. GM should have dumped the hummer and GMAC years ago. I said so at the time. It could have done so easily then.
It only fitting that two companies with no core competence seek each other out.
More Production Cuts
The Monitor is reporting GM to further cut pickup, SUV production.

General Motors Corp. says it will further cut production of trucks and sport utility vehicles from the summer through the end of the year. Spokesman Chris Lee says GM will cut shifts, reduce assembly line speeds and temporarily idle seven factories because of declining consumer demand for the truck-based vehicles.

The biggest cut will take place at the company's Janesville, Wis., factory that makes large SUVs. It will be idled the weeks of July 14 and 21, plus it will be shut down another 10 weeks through the end of the year. Lee said Monday the other affected plants are in Oshawa, Ontario; Silao, Mexico; Arlington, Texas; Moraine, Ohio; Fort Wayne, Ind.; and Shreveport, La.
Demand Weak, Economy Weak, Production Cut, Prices Raised
Hmm. Which one of those does not fit in? Not only does GM need a basic lesson in poker, GM needs a simple lesson in economics.
Gas guzzler graveyard
CNNMoney is talking about the Gas guzzler graveyard.

General Motors' Hummer has both a fuel economy problem and an image problem. The brand's best-known model, the full-size H2, not only drinks a lot of gas, it really looks like it does.

EPA fuel economy estimates for the big Hummer H2, the brand's iconic model, aren't available because vehicles of its weight aren't actually considered "passenger vehicles," officially speaking. The H2 is therefore exempt from rules requiring the posting of fuel economy estimates.

H2 sales are down almost 27 percent. Fewer than 3,000 H2's have been sold so far this year, compared to more than 4,000 by this time last year, according to data from the industry newspaper Automotive News.

Sales of the smaller Hummer H3 have been hurt even more. Sales of mid-sized truck-based SUVs, like the H3, have been declining even longer than sales of full-sized SUVs as buyers switch to smoother-riding, more efficient car-based crossovers. The H3 gets about 15 mpg in combined city and highway driving, which is relatively poor compared to similar vehicles of its size. H3 sales have dropped about 30 percent so far this year compared to last year.
Status Symbols Are Out
Status symbols are out and frugality is in. That is especially tough on the Hummer because other than status, the tank had nothing going for it. I would question any company that would want to buy it. GM is late to the sales party by two years. GM is late to every party.
GM No Longer Teenager
click on chart for sharper image.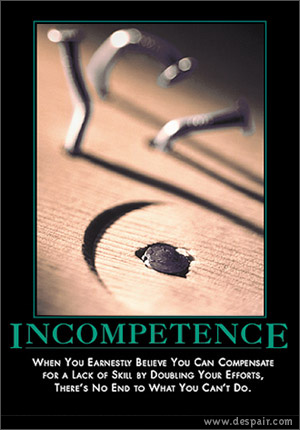 GM is no longer a teenager. How long can it hold double digits?
Technically, GM can easily bounce at this point back up to resistance which also corresponds to the 50 day moving average near 17.50.
Striped Tailed Ape Play
Let's now return to GM's bluff one more time, using an analogy from the card game of bridge. There is not much bluffing in bridge but it does exist. The play I have in mind is called the striped tailed ape double.
For the non bridge playing crowd, the stripe tailed ape double is a bluff that which raised will send the bluffer running like a striped tailed ape.
The last time GM tried this bluff, consumers would not pony up and GM ran like a stripe tailed ape when sales plunged. Eventually GM scaled back the price hikes and instituted a round of price cuts instead.
The GM Death Watch is still in focus. This bluff will not help GM any.