Maybe I am being too bearish on the economy.
Maybe there is a shining city on the hill with 1,000 points of light and if I simply close my eyes and believe in it, I will be transported there and everything will be wonderful and China will expand and Europe will expand and the US markets will rise and rise as the 18M unemployed people line up in the streets to cheer us as we all drive past them in our new cars as we head over to the gas station to pay $4 for gas, honking joyfully as we pass by each empty storefront and each abandoned home.
It was good to take quick bearish profits, as I warned in yesterday's post because quick profits are all the bears get these days as it was indeed a "Whipsaw Wednesday," and Buffett's warning went in one ear and out the other of investors so quickly that clearly there was no gray matter slowing it down along the way! I was very proud of our short plays on COF, HPQ, RTP, SRS, RTH and our DUG long but all had a half-life on their success so short you could have run an atomic clock with it. Fortunately, we had our bounce levels to guide us and our 3 of 5 rule to get out of bearish positions so the damage was more to our pride than our virtual portfolios.
Although I could see the turn in my 9:45 Alert to Members, I didn't have the heart to make any bullish calls as it just seemed like such nonsense. By 10:12 we were even more concerned that something was up and I said: "Don't get too excited bears. As I said in the post, profits need to come quickly off the table – this is not a market for riding 20% profits too far." Sadly, I then proceeded to make a short play on OIH at 10:26 that stopped out at 10:34 and an incredibly poorly timed idea to get the DIA $93 puts at 11:22, just minutes before the market went flying and stopped that one out too as we flew through our bounce zone of Dow 9,200, S&P 986, Nas 1,946, NYSE 6,400 and RUT 555. Now that they've held up so well, those levels now become our watch levels to the downside and it makes the previous support levels of Dow 9,100, S&P 980, Nasdaq 1,950, NYSE 6,400 and Russell 550 even less likely to be broken.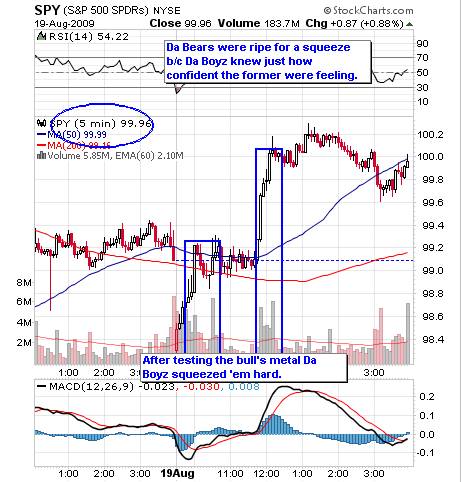 Amazingly, right about 11:30, the markets began a 100-point "parabolic" run for no particular reason (see David Fry's chart) on not even any significant volume and that accounted for 100% of the day's gains. Of course, the energy sector led the charge with oil up 5% on the day but oil was already up 2.5% ahead of the energy report and that was at 10:30, not 11:30. While we have real issues with the energy numbers, there wasn't much we could do about it so we looked at bullish plays on UNG and UYG, looking to cash in on the insanity. The most bullish items I saw yesterday were:
Shiller says we're setting up for another housing bubble within five years: "The low interest rates, the affordability is leaning that way and the ratios are back down."
Fed buys $2.6B of the $13.1B offered by dealers in Treasurys maturing 2021-2026. Last time the Fed bought back in this range, it purchased $3B of $11.7B offered so that's an improvement of some sort.
Fed eases margins on low-risk collateral used by banks to obtain loans from its discount window and Term Auction Facility, stressing the changes stem from a multi-year review, and are not a response to the financial crisis. Still, analysts say the move is a plus for the economy and the markets.
I'd have to say that last one, which hit the wires at 11:57 but was certainly known earlier by the big boys (who sit at the table with the Fed govs) so effectively this was a money dump coupled with the 5% jump in crude for the day – all nonsense that doesn't change the overall fundamentals but we also have to know when we're beat and go with the flow, even as we look for the exits at all times. We went into the close still a little bearish overall, with 1/2 covers on our long DIA puts as we now fear the pre-market action but we essentially stuck to our game plan for the week, where we expected a flat Wednesday and a drop on Thursday as we got retail earnings reports and jobless claims. If we don't get a turndown today, it may be time to throw in the bearish towel…
8:30 Update: We have the jobs numbers and 576,000 jobs were lost, right in line with the 4-week moving average (so 2.3M people a month losing their jobs) and up 15,000 from last week and much higher than the estimates of 550,000 jobs lost. This by iteself shouldn't be enough to tank the markets because, if we didn't care about the 9.3M people that were already on unemployment last week (and we are totally ignoring the other 9M people whose benefits have run out and are considered "out of the workforce"), we sure aren't going to get too worked up about an extra 26,000 people getting pink slips. After all, look how good it's been for corporate profits to fire all these people! Heck, we should have done this years ago – what a great economy we would have if we could get rid of all the blood-sucking workers and just sell stuff!
Retail earnings, on the other hand, may actually matter as GYMB, HOTT, PETM and FLWS all lowered guidance since yesterday. SHLD also had a big miss and none of the reporting companies raised guidance and even companies that beat low estimates, did so on poor revenues overall. Congress is stepping in to save SHLD and appliance manufacturers with a new "cash for clunkers" program aimed at consumer durables. $300M has been authorized for the fall for rebates on high-efficiency household appliances, furnaces and air-conditioning systems. WHR and GE are going to be the big US winners. We already like GE since they control the media anyway but SHLD is going to be the bargain baby of the group after that terrible earnings report and we'll be looking to dip our toes in on that one as they sell off, looking like $64.44 pre-market (9am). If the economy is really bottoming, Sears is a bargain. If the rebate program works, Sears is a bargain. If commercial real estate comes back, Sears, with 3,900 of the best retail locations in America, is a bargain with a market cap of $8Bn or about $2M per store. Most likely we'll initiate a play by selling naked puts, perhaps the Sept $65 puts for about $6.
Asia hadn't seen our jobs numbers or retail sales (after all, those are their manufactured goods we're not buying) as they keyed off our happy, happy markets yesterday and the Shanghai Composite shot up 4.5% this morning, erasing all of Wednesday's loss PLUS 1 point (just for emphasis). That was such happy news that the Nikkei rose 1.8% but still just under the 10,400 line it needs to prove a rebound and the Hang Seng gained 1.8% (374 points) but not one penny more than the opening gap up that also, almost to the penny, erased all of Wednesday's losses. This is a market condition the Chinese refer to as: ??????, which means "Manipulated pile of dung," or an "MPD Day" for short.
EU markets are up about a point ahead of the US open but off their highs after hearing our jobs numbers. They too are shaking off news that would worry more rational markets as the UK and German budget gaps widened by huge margins with the UK needing to borrow net $13.2Bn vs $320M projected by "economists," who we've already learned not to listen to but WOW, that's off by a lot! The recession has left even deeper scars in Germany, where the government forecasts gross domestic product contracting by 6% in 2009. "Even though economic data as a whole are pointing to a stabilization of the economy, the situation however is still fragile," Deputy Finance Minister Joerg Asmussen wrote in the ministry's August fiscal update. "The crisis and its consequences are far from overcome."
Tax intake has shriveled. During the first seven months of the year, German tax receipts were 5.2% lower than the year-earlier period, while federal government tax receipts were 2% lower during the same period. One of the hardest-hit categories has been the intake from corporate taxes, tumbling 57.9% during the first seven months from a year earlier, while income-tax revenue was down 4.4% in the January-July period on a yearly basis.
We'll see if all this negative news actually matters today. RTP is a good short at the bell as their earnings were awful and they will only improve if you believe in the commodity fairy and the Sept $160 calls can still be sold naked for $9, which makes an interesting play. We're not going to do much today, other than watch our levels and see what sticks. We had really hoped for a bigger sell-off into expiration day as it will be tough to make buys for next period at these elevated prices.