Our global leaders all get together today with the Global Financial Crisis (yes, it's still a crisis) topping the list for the 2nd year in a row.
Fresh from the UN general assembly in New York, heads of government and a vast diplomatic entourage will descend on Pittsburgh today to kick off two days of talks on economic stability, financial regulation, climate change and bankers' bonuses. They will be greeted by boarded up shops and energetic protests. On the eve of the summit, China indicated it was willing to countenance an initiative by President Barack Obama to smooth the flow of capital around the world in the hope of securing greater long-term economic stability. The US proposal calls on rapidly expanding economies such as China, Brazil and India to boost domestic consumption in order to lower their trade surpluses, while the US and Europe would encourage more saving to reduce long-term budget deficits. Gordon Brown yesterday (see UK protests in picture) backed the effort, saying he hoped "different continents can better work together to achieve the growth we need."
Yes, like any addict we NEED growth. Stability just won't give us the fix we need as our entire global economy is based on borrowing to spend money we don't have today in anticipation of being able to pay it off in the future, when things are "better." The fact that this has clearly not worked out at all for the past does not seem to deter our leaders. In fact, in 2009, our pals in the G20 have borrowed an additional $5,365,000,000,0000 to see them over this little "rough patch" we're having:
This doesn't take into account the $6Tn worth of debt OBLIGATIONS taken on by our own Fed and Treasury, not to mention whatever nonsense the rest of the world is into – this is just the checks they wrote in excess of the cash that came in – and the year isn't even over yet! Now $5.3Tn may not seem like a lot to you but it is a 16% increase in total global debt in just 12 months. In fact, according to the Global Debt Clock in the Economist, our friends in the G20 are on a path to increase our debt from a "mere" $30Tn last year all the way up to $45Tn in 2011. That's a 50% increase in just 3 years! At that pace, by the time my first daughter is going to college in 2020, the G20 will be $151,875,000,000,0000 in debt - so I guess that sort of puts her student loan into perspective!
How, you may wonder, can the world go another $115Tn into debt when the entire current global GDP is less than $50Tn? You would think that someone would look at our balance sheet and cut us off but that's the fun part – we're borrowing all this money from each other and as long as we all maintain the charade that we expect to get paid back one day, everything is fine. Meanwhile, I'll be advising my daughter to major in basic survival skills – just in case this infinite debt plan doesn't work out….
I don't want to write a 5-page article on the G20 but, seriously, the gist of the plan by the US, Japan and Europe is to encourage China, Brazil and India to consume more so we can bring trade into balance and create a demand for American labor and goods. Yes, really, that's their plan for global growth – massive global consumption. I believe that was the solution that enabled the planet Remulak to prosper, which is why the Coneheads were always encouraging Earthlings to consume mass quantities – it wasn't a comedy sketch, it was an economic solution from the stars!
I will discourage my daughter from taking math classes or she may become depressed if she realizes that China, Brazil and India (notice Russia is now considered hopeless) have a combined GDP of less than $7Tn and it would take a 30% increase in consumption by those three countries to make up for just a $2Tn pullback (5%) in consumption by the US, Europe and Japan ($37Tn). That's a real shame too as global trade is off 30% this year – that's $15Tn, so the G20 "solution" to the problem is for Brazil, China and India to triple their consumption to make up for it. Hey – Big Macs and IPhones for everybody…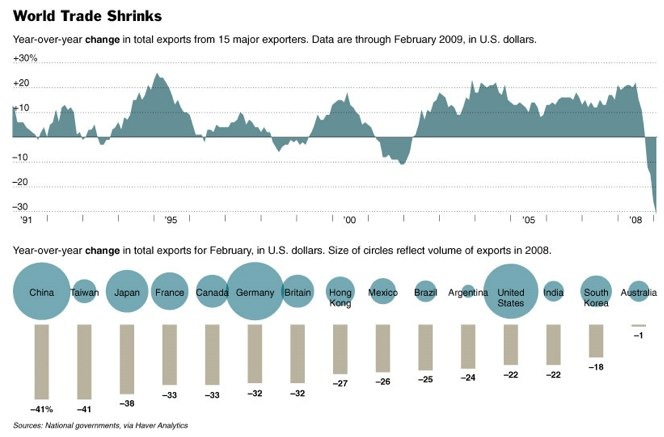 Meanwhile, even these horrific-looking trade numbers may be overstated as China's copper stockpiling is now lashing back and creating a global glut with 331,950 metric tons piled up in warehouses. "The rise in inventories has gotten people worried," said Lannie Cohen, the president of Capitol Commodity Services Inc. in Indianapolis. "There's some fear about a slowdown in demand." "Rising exchange inventories and slower Chinese imports of refined metal have capped the market in the short term," Robin Bhar, an analyst at Credit Agricole SA's Calyon unit in London, said in a report dated yesterday. Record shipments into China in the first half of this year contributed to a doubling of futures prices by August. "The dollar has gotten so oversold lately that people are worried we could get a strong bounce now," Cohen said. He said that would push down commodity prices.
Speaking of stockpiles, we had an 11.2 MILLION barrel build in energy stocks last week, with gasoline up 5.4Mb and crude up 2.8Mb and distillates up 3Mb – that is more oil than we import in a day going unused into storage in a single week. It's also, like the unnecessary copper that piles up in warehouses, a very false indicator of the global economy as $800M worth of oil was shipped to America this week – even though there was no actual demand for it So between copper and oil and gold and other metals being moved about the globe like speculative chess pieces, chasing fictional buyers that never materialize, the trade numbers are probably worse than we think.
We were thilled yesterday as our morning plays for Members ahead of the oil inventories were the USO $37 puts at $1.75 (now $2.60, up 54%) and the OIH $115 puts for $2.55 (now $3.30, up 29%) – those are not bad for day trades but nothing compared to our DIA spread, which I discussed in the morning post. We had been accumulating the Sept 30th DIA $98 puts at .90 and the Sept $99 calls at .60 and my quick read of the Fed statement for members led me to conclude that the rally would reverse so we sold the $99 calls for .90 and doubled down on the $98 puts at .55 and those calls finished the day at $1.18 (up 115% from the dip). So that means taking $90 to buy the puts and $60 to buy the calls at first led to cashing in the calls for $90 and using $55 to buy more puts ($145 total), which then cashed out at $236 so $150 turns into $271 in 2 days (up 80%) – this is why we love those Dow strangles ahead of market moving events!
We didn't press our luck as we still have our Dec puts as well as our Oct puts and that's bearish enough in case the G20 does some razzamatazz to make the markets jump. We did press our EDZ bets rather than go against China directly but China did drop 544 points this morning despite a 200 point stick move right after lunch. The Nikkei has been closed all week and they opened up 175 points and held it thanks to a 100-point stick save into their close. The Shanghai finished up very slightly but it was the Baltic Dry Index (yes, back to trade again) that caught our attention as they plunged 71 points (3%) and fell below our 2,250 watch line.
As you can see from David Fry's chart, the BDI is in serious danger of a massive breakdown yet the Transports (IYT) are UP 40% since early July. One of these indexes is tremendously wrong and, since the shippers are probably charging as much as the REAL market will bear while the IYT is a manipulated tool of the Gang of 12 – I'll have to go with IYT being a bit ahead of itself. Dec $75 puts are $6.20 and you can sell the Dec $71 puts for $4.20 to create a $2 spread that pays a 100% return if Transports go down 9 cents between now and December. THAT's a nice hedge, just in case the G20 doesn't solve everything…
Europe is flat and trading should be choppy today as the bulls are holding out hope that the G20 will save them, just like they thought the Fed would save them yesterday. We'll stand ready to take advantage of the big moves but yesterday was so profitable we can afford to just kick back and relax today and watch the fun – no pressure at all…
Do you know someone who would benefit from this information? We can send your friend a strictly confidential, one-time email telling them about this information. Your privacy and your friend's privacy is your business... no spam!
Click here and tell a friend!