Archive for 2009
by Zero Hedge - November 15th, 2009 8:48 pm
Courtesy of asiablues
By Economic Forecasts & Opinions
U.S. President Barack Obama has begun a nine-day tour of Asia at a time when the U.S. economy is struggling to emerge from a deep recession. But nothing looms bigger than China, the largest holder of U.S. debt (around $797.1 billion, up 10% this year), has emerged from the global economic downturn in an ever stronger position. When Obama sets foot in China for the first time, he will confront a dramatically altered balance of power between the two nations.
Two Decades of Explosive Growth
This seismic shift is driven by China's astonishing economic growth over the past two decades and has accelerated during the global financial crisis. Its 9% to 10% annualized GDP growth rate in the past two and a half decades is unprecedented in world history.
In 1992, Chinese gross domestic product (GDP) was less than 7% of America's GDP. By 2000, the figure topped 12%. When Obama won the election in 2008, the Chinese economy had grown to equal more than 30% of U.S. output. New data show that China is on track to grow more than 8% in 2009, driven by high industrial output and retail sales.
Impressive Stimulus Package…and Working
During this global recession, China's astonishing growth did slow down, but unlike most developed economies, China never entered a recession.
The Chinese have launched the world's biggest investment program (about $585 Billion) after the start of the financial crisis last year. Beijing's stimulus program is estimated to amount to about 13% of Chinese gross domestic product, making it almost twice as large as the U.S. program and close to five times the size of its German equivalent.
The government's massive economic stimulus program has transformed the country into an enormous construction site. As a result, China's industrial production rose 16.1% year-over-year in October, the most since March 2008 and a slide in exports eased to 13.8% the slowest pace this year. However, behind the impressive economic data, troubles might be lurking.
China Bubble Forming
China's purchases of dollars to prevent appreciation gave it foreign-exchange reserves totaling $2.3 trillion in the third quarter, the world's largest. Meanwhile, its sale of Yuan to keep it fixed to the dollar contributed to a 29% jump in its money supply, and the peg helped spur more than $150 billion in speculative funds…

by ilene - November 15th, 2009 7:43 pm
Tom's right - this is completely outrageous! Our federal gov't officials who participate in this sort of gifting should be thrown out, and the Constitution restored….. See an earlier post too, Our Chatty Cathy Congress. - Ilene
Courtesy of Tom Lindmark at But Then What
Gretchen Morgenson's Times article today is enough to make you retch.
Buried in the law extending unemployment benefits and reauthorizing the tax credit for homebuyers was a "little" gift to any company that happened to lose money in the past five years. Here's how she describes the largesse:
But tucked inside the law was another prize: a tax break that lets big companies offset losses incurred in 2008 and 2009 against profits booked as far back as 2004. The tax cuts will generate corporate refunds or relief worth about $33 billion, according to an administration estimate.

Before the bill became law, the so-called look-back on losses was limited to small businesses and could be used to counterbalance just two years of profits. Now the profit offset goes back five years, and the law allows big companies to take advantage of it, too. The only companies that can't participate are Fannie Mae and Freddie Mac and any institution that took money under the Troubled Asset Relief Program.

Among the biggest beneficiaries are home builders, analysts say. Once again, at the front of the government assistance line, stand some of the very companies that contributed mightily to the credit crisis by building and financing too many homes.
Morgenson takes this travesty to task by focusing on the homebuilders. Fair enough. There are too many of them, they are financially in fine shape and based on recent history they appear to be managed by fools. Why they should receive such a gift is beyond comprehension.
There's to my mind a bigger issue here, however. Why in an era in which the federal deficit is soaring beyond any comprehensible level and the absolute certainty that…

by ilene - November 15th, 2009 7:19 pm
Courtesy of Edward Harrison at Credit Writedowns
This morning, David Rosenberg of Gluskin Sheff had another wonderful piece. I am only going to take on one part of it here. I have linked to the full article below so that you can read his analysis in it's entirety (registration free but required).
The part I want to focus in on has to do with GDP revisions. Basically, the GDP numbers the U.S. government releases are always revised when more complete data come in. Often the data come in years later via tax returns and other slower-to-report channels, so we can get huge disparities in what was reported at the time and what ends up being the final data series. Rosenberg thinks Q3 is going to see major, major downward revisions because of small businesses.
He says the following (highlighting added):
We noticed an interesting piece of research on U.S. GDP from Goldman Sachs' Economics team that's worth highlighting. The team questions whether the official government GDP statistics capture how poorly small businesses (ie, sole proprietorships) are doing. The weakness in small business sentiment is seemingly at odds with the recent 3.5% Q3 GDP reading but may explain why the unemployment rate has continued to steadily increase. Part of the reason for small business weakness is that most don't have the same access to credit as larger firms and larger firms' output tends to be better captured in the GDP data. While sole proprietorships tend to be small they collectively account for a nontrivial 17% of the U.S. economy.

The Goldman team uses a couple of different statistical approaches to test their thesis. They use timely data from the National Federation of Independent Business (NFIB) confidence survey, which shows that despite a recent improvement, confidence remains exceptionally weak (in fact two standard deviations below long-run trends). The first model suggests that the NFIB survey is consistent with overall GDP growth of 2.5% to 3.0% — not the 3.5% reported. As well, they find that current NFIB readings are more in line with below-50 readings on the ISM manufacturing index versus the actual reading of 55.7.

The second approach has to do with revisions to the GDP data and their relationship to the NFIB. U.S. GDP goes through many revisions as more, and
…

by Chart School - November 15th, 2009 6:33 pm
Courtesy of The Pragmatic Capitalist
From Decision Point:
After the S&P 500 broke down from the rising wedge pattern I expected that prices would continue to head lower into a 20-Week Cycle low at the end of this month. But no. Instead prices rallied back above the rising trend line which formed the bottom of the wedge. Prices even rallied to a marginal intraday new high, so the rising trend that began at the March lows remains intact. In spite of that, it looks as if prices are forming a double top.
On the chart I have drawn a new rising wedge pattern that conforms to the gradual rolling over that prices appear to be doing. As usual, we should expect prices to break down out of the wedge, and, perhaps, that will lead to the correction we have been awaiting.
Below, our OBV (On-Balance Volume) suite of charts shows the short-term CVI and STVO coming off overbought levels and allowing for further decline in the short-term. The medium-term VTO shows that an internal correction is in progress that appears to be spreading to price behavior.
In his comments today, John Murphy (StockCharts.com) pointed out that large-cap indexes are beginning to out-perform small cap indexes. This should be of special interest to our subscribers because we track both cap-weighted and equal-weighted versions of the major market and sector indexes. (Equal-weighted indexes the smaller-cap stocks in the index to exert more influence on the price of the index.) In the example below, we have a chart of the S&P 500 displayed with the Price Relative to the Rydex S&P Equal Weight ETF (RSP). You can see that the S&P 500 relative strength line trended downward since March, but recently it began to trend upward. The message being that it is probably time to shift money out of the equal-weighted vehicles and into the cap-weighted vehicles. (See signal table below to see how well equal-weighted stocks have performed.)
Bottom Line: Last week I thought that a medium-term correction had begun, but a rally to new highs killed that projection. The market now looks as if it is topping, and internals support the idea that there will be a decline into the end of the month. A further
…

by Chart School - November 15th, 2009 5:55 pm
Courtesy of Fallond Stock Picks
Another week of point gains, but supporting technicals continue their downward descent. The S&P is very close to a MACD trigger 'sell' with Fibonacci retracements still in play; however, a break of 1,107 would favour a push perhaps as far as 1,222.
The Nasdaq is fighting resistance which marked support in early 2008. Its MACD 'sell' is already in play. [Click on charts for larger images.]

Although the Nasdaq 100 gives hope with its move into 'fresh air' and a possible move into the 2000s. But it does have a MACD trigger 'sell' to contend with.

However, the positives in the Nasdaq 100 are undermined by the struggles in the Russell 2000 – and the Russell 2000 is more important from a leadership perspective. Small Caps lie well below resistance with MACD 'sell' and weakening long term stochastics (momentum) to consider.

Market breadth has long been sided with the bears. The Nasdaq Summation Index has been on a 'sell' since July 10th.

And the weakness in the Bullish Percents has generated a new 'sell' signal; the last of the key Nasdaq Breadth signals to turn bearish (the Percentage of Nasdaq Stocks above the 50-day MA generated a 'sell' on July 10th)

With all three key Nasdaq breadth indicators negative, and small caps (and semiconductors) struggling it would not be considered foolish to step aside and let the heat leave the market before long sided positions could be considered again.
by ilene - November 15th, 2009 1:00 pm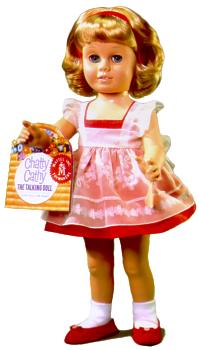 By Karen Tumulty, courtesy of TIME
Those of us former little girls of a certain age can remember a doll that we all had to have. She was called Chatty Cathy, and if you pulled a string in her neck, she would say things like "Please brush my hair" and "Let's have a party!"
It turns out that Chatty Cathy and the United States House of Representatives have a lot in common. Except in Congress' case, it is the biotechnology industry that has been pulling the string.
In today's New York Times, Robert Pear has a story that tells us how it happened that more than a dozen lawmakers made virtually the same statement in the official record of the House health care debate. (It's worth knowing that these are not necessarily speeches they gave on the floor itself, but rather, what gets printed in the Congressional Record when they ask permission to "revise and extend" their remarks. So no one actually hears them say it, but it does go into the official history of the event, and it does put them firmly on record. It also tells the lobbyists' paymasters that they are getting good return on their investment.)
In this case, the statement in question had actually been written by the biotechnolgy industry--which, as Michael Scherer and I wrote a few weeks back, has been a big winner in the health reform debate, rolling over even such powerful figures as Energy and Commerce Committee Chairman Henry Waxman to get its way. Pear (a reporter whose digging skills are legendary among those of us who have been around Washington a while) tells us:
Genentech, a subsidiary of the Swiss drug giant Roche, estimates that 42 House members picked up some of its talking points — 22 Republicans and 20 Democrats, an unusual bipartisan coup for lobbyists.

In an interview, Representative Bill Pascrell Jr., Democrat of New Jersey, said: "I regret that the language was the same. I did not know it was." He said he got his statement from his staff and "did not know where they got the information from."

Members of Congress submit statements for publication in the Congressional Record all the time, often with a decorous request to "revise and extend my remarks." It is unusual for so
…

by ilene - November 15th, 2009 12:48 pm
Courtesy of Joe Weisenthal at Clusterstock
Contrary to last week's speculation, China insists that it has no plan to let the Yuan slowly appreciate against the US Dollar. Prior to the collapse, the country had allowed incremental strengthening, but in light of the economic weakness, that "glide path" was put on hold.
A Yuan peg is consistent with cheap money — since it essentially means printing enough currency so that the country can match the US's torrid pace — and since all other indications are that China is not ready to tighten, then it makes sense that they'd continue.
Telegraph: According to an analysis from Morgan Stanley, the authorities are now seeking to recalibrate the message.
In its third-quarter monetary policy report on Thursday, the People's Bank of China left out a standard phrase pledging to maintain the stability of the yuan and said that it would consider major currencies, not just the dollar, in guiding exchange rates. This prompted speculation that the government was about to allow its currency to strengthen against the dollar, after having pegged it to the US currency for more than a year.
However, a report on Saturday by Xinhua, the state-controlled Chinese news agency said that the government would not allow the currency to gain against the dollar in the short term.
Wang Qing, chief Asia economist for Morgan Stanley in Hong Kong, said in a report to clients: "I consider this article an official effort by Chinese authorities to dismiss the renewed speculation of yuan appreciation in the near term."
As you can see from this chart, Morgan Stanley had previously expected the Yuan to appreciate to 6.55 against the dollar, from it current level around 6.8, sometime by the end of 2010.
See Also:
by ilene - November 15th, 2009 11:31 am
Courtesy of Mish
E.J. McMahon, director at the Manhattan Institute says New York deficits amount to financial emergency.
New York state's huge and growing budget gap requires government to take drastic actions to correct it, said E.J. McMahon, director of the Empire Center for New York State Policy at the Manhattan Institute.

McMahon spoke to the Council of Industry, a regional trade group, Friday at the Powelton Club.

He charted flat revenues against expected spending if nothing is changed and showed a $20 billion gap looming by 2012-13.

McMahon said the state must declare a financial emergency and enact a statutory freeze on public-sector wages for at least three years. State law allows this and enables contracts to be voided, he said. It would save at the rate of $2 billion a year for state, local and school taxpayers.

McMahon also called for shutting down the state's pension systems to new entrants and giving them instead a plan similar to one of the alternatives for the State University system, in which a stable amount is contributed by the state and employees can add their own.

He said some parts of the state's Taylor Law, governing labor relations with public employees, should be repealed, including compulsory arbitration for police and fire unions. Other laws should also be targeted for repeal because they're costly, including the rule requiring that on most public work the "prevailing wage" be paid, usually the union scale.

State spending should be capped by changing the state constitution, he said, recommending the "tax expenditure limitation" approach exemplified by Colorado.


He laid blame on politicians.

"It's their failure to stop the growth in spending that is the underlying problem," he said. "New Yorkers are voting with their feet and heading for the exits."
Tax Expenditure Limitation Analysis
There is surprisingly little in the way of current analysis of TEL analysis. I did find this TEL Impact Study by the Cato Institute that seems to predate 2000.
The existence of a TEL may not be sufficient to influence the size of government. The way a TEL is written can have an important impact on its effectiveness. Hidden loopholes may make it easy for a state legislature to work around the law.
…

by ilene - November 15th, 2009 10:34 am
By Barbara Kiviat, courtesy of TIME
If you bought or refinanced a house within the past year, there's a 1 in 4 chance you have the Federal Housing Administration to thank. The Depression-era agency, once the last resort of folks who were less-than-perfect credit risks, was practically forgotten during the real estate boom — anyone with a pulse qualified for a mortgage. Now the FHA has resumed its old role by propping up the housing market, since private lenders began shunning all but the least-risky loans. The FHA doesn't lend directly but rather entices lenders do so by agreeing to cover any losses. The FHA stood behind fewer than 3% of new mortgages in 2006. In 2009, just three years later, the FHA insured nearly 30% of home purchases and 20% of refinances.
That hasn't come without cost. As the FHA filled the void left by the private sector, it has assumed the risks of those loans. And now that a growing number of people have stopped paying their mortgages, the FHA has had to pay out more in claims that it forecast. The agency has just $3.6 billion on hand to cover any unexpected losses in its $685 billion portfolio. That paltry level of reserve funding, less than is mandated by the government, has left some members of Congress in a twitchy mood and some onlookers to wonder if the FHA will eventually need a massive infusion of cash.
If Congress does wind up extending emergency funds to the FHA — which is a full-fledged part of the Federal Government, unlike quasi-government bailout beneficiaries Fannie Mae and Freddie Mac — it will be in large part because of the role the agency has played in stabilizing the housing market. Last spring, as first-time home buyers rushed to take advantage of the $8,000 tax credit designed to lure them into the market, the FHA insured a full 49% of their mortgages. In October, Congress renewed a higher limit on the size of FHA loans (now up to $729,750), first put in place last year, to allow the agency to expand into pricier markets. "The government may need to inject billions of dollars into the FHA, but the alternative — another perturbation in the housing market, more foreclosure aid, more bank bailouts — could…

by ilene - November 15th, 2009 12:17 am
By Ilene
Brendan Maher and Declan Butler, authors of a recently published Nature article "Swine flu: One killer virus, three key questions," set out to answer three questions about the H1N1 virus. Here's what they found.
How does it kill?
Sherif Zaki, head of the infectious-disease pathology branch at the Centers for Disease Control, discusses his team's observations from their pathological studies.
1. The H1N1 virus penetrates deep into the alveoli (the terminal air sacs in the lungs). In contrast, the seasonal flu viruses tend to infect cells higher in the upper airways. This deep penetration is reminiscent of the action of the H5N1 avian flu virus. Zaki commented: "[H1N1] is like avian flu on steroids." Why might this be?
Zaki says that his observations fit well with recent research looking at the mechanism of infection. A group led by Mikhail Matrosovich at Philipps University Marburg in Germany and Ten Feizi at Imperial College London studied sialyl glycans, glycoproteins that the flu virus binds to in order to gain entry to human cells. Although seasonal strains of H1N1 bind mostly to versions of the glycoproteins known as α2-6, the researchers found that the new pandemic H1N1 can also bind to a version called α2-3, which is found in greater proportion in the lower respiratory tract.
2. In patients who have died, co-infection was common with H1N1. Zaki's group observed infection with bacteria such as Staph aureus or Streptococcus pneumoniae in about a third of the fatal swine-flu cases. However, in the remaining two thirds of fatal cases, the virus was lethal alone. The damage seen in the lungs is characterized as 'diffuse alveolar damage,' reflecting a very difficult to treat state of respiratory distress syndrome. According to Zaki's research, about 90% of the fatal cases had some underlying medical condition.
Zaki expects the number of flu cases to increase as the flu season "ramps up."
How does H1N1 spread?
Brendan Maher visited Peter Palese's laboratory at Mount Sinai School of Medicine where testing for how the viruses spread is being carried out. Researchers John Steel and Anice Lowen compared the transmissibility of H1N1 to that of seasonal flu using a guinea pig model. Their data indicate that the H1N1 virus transmits as efficiently as seasonal flu viruses, which is consistent with real-world data showing…