Orphan Drugs Are Good! BioMarin Pharmaceuticals
Courtesy of Pharmboy
A rare disease, sometimes known as an orphan disease, is any disease that is not common. Typically, a rare disease has such a low prevalence in a population that a physician in a busy general practice would not expect to see more than one case a year. Most rare diseases are genetic--present throughout the person's entire life, even if symptoms do not appear immediately. However, many rare diseases appear early in life, and about 30% of children with rare diseases die before reaching their fifth birthdays.
No single cutoff number has been agreed upon for which a disease is considered rare. A disease may be considered rare in one part of the world, or in a particular group of people, but still be common in another. In the United States of America, the Rare Disease Act of 2002 defines rare disease strictly according to prevalence, as any disease or condition that affects less than 200,000 persons in the United States, or about 1 in 1,500 people.
BioMarin's (BMRN) core business and research is in enzyme replacement therapies for orphan diseases. They are the first company to provide therapeutics for mucopolysaccharidosis type I (MPS I), by manufacturing Aldurazyme (commercialized by Genzyme Corporation). BioMarin is also the first company to provide therapeutics for Phenylketonuria (PKU)
As of 2005, BioMarin commercialized arylsulfatase B (Naglazyme) as an enzyme replacement therapy for the treatment of mucopolysaccharidosis VI (MPS VI), and in 2007 a drug version of tetrahydrobiopterin (Kuvan), the first medication-based intervention to treat phenylketonuria.
On 11/30/09, BioMarin announced that the FDA has granted orphan drug designation for 3,4-diaminopyridine (3,4-DAP), amifampridine phosphate, for the rare autoimmune disease Lambert Eaton Myasthenic Syndrome (LEMS). 3,4-DAP has previously received orphan drug designation in the E.U. Also, in October 2009, the Committee for Medicinal Products for Human Use of the European Medicines Evaluations Agency adopted a positive opinion recommending approval of amifampridine phosphate for LEMS. If approved by the European Commission, amifampridine phosphate will be the first approved treatment for LEMS, thereby conferring orphan drug protection and providing ten years of market exclusivity in Europe. BMRN expects to meet with the FDA in early 2010 to determine the necessary regulatory path for amifampridine phosphate in the U.S. and is also preparing to launch the product in Europe during 1Q10. (Interestingly, Acorda Therapeutics has 4-aminopyridine (Ampyra) which was approved for MS. The only difference is an amino group, but the targets for each drug are almost identical.)
Currently, BioMarin has an exciting range of breakthrough drug candidates. In clinical development, it has PEG-PAL (PEGylated recombinant phenylalanine ammonia lysase) for PKU and GALNS for MPS IVA (Morquio A Syndrome). A variety of other promising preclinical programs are also being pursued with the goal of filing one IND per year to ensure continued growth. One per year, this is very aggressive!
Utrophin Inducer for Duchenne Muscular Dystrophy is one of BioMarin's drugs in preclinical development. Its preclinical development program begins with a tightly-managed early stage review process designed to maximize speed and efficiency around the identification and analysis of new product candidates for orphan diseases. By utilizing powerful, compelling biology, along with specialized manufacturing, clinical and regulatory expertise, BioMarin is providing rapid access to breakthrough drugs for patients who might otherwise go untreated.
BioMarin Pharmaceutical Inc. reported unaudited consolidated earnings results for the third quarter and nine months ended September 30, 2009. For the quarter, the company reported GAAP net income was $6.6 million or $0.06 per diluted share as compared to GAAP net income of $0.8 million or $0.01 per diluted share for the third quarter of 2008. Non-GAAP net income was $15.5 million or $0.13 per diluted share for the third quarter of 2009, compared to non-GAAP net income of $8.2 million or $0.08 per diluted share for the third quarter of 2008. The company reported total revenues of $80,807,000 as compared to $72,646,000 for the same period last year. Income from operations was $10,133,000 and income before income taxes was $7,585,000 as compared to income from operations of $2,351,000 and income before income taxes of $1,081,000 for the same period last year.
BioMarin has some work to do. Either grow revenues by expanding into new diseases for their current products, or bring more things through the pipeline. Most likely it will be the latter. There are only so many patients to treat when the targets a company works on orphan drugs.
Analysts are positive on BioMarin's stock, as am I. With a $2B market cap, it is a company ripe for takeover. Earnings are coming in a few days, and I am not one for taking great risks. I would like a pull back, as the stock moved up 100% from its low in 2009. The stock is still 50% off its high in 2008, but fair value based upon P/E for a company that is growing their pipeline is $20-25. Any hic-ups and they are back in the $14 range.
I like buying a ½ position (commit only ½ of the capital to a position that should not be more than 7-10% of a portfolio) the 17.5 Jan 2011 calls ($4.50) selling a ½ position of the March 2010 $20 puts ($1.30) now and 22.5 March 2010 calls for $1 or better (stock will have to rise to get this price). For instance 2 17.5 Jan 2011 calls and 1 of each of the March call and puts.
Lighting the Path – Illumina
The June 2000 announcement of the sequencing of the human genome was practically treated as the biggest science news story since the lunar landing. Celebratory press conferences were held on both sides of the Atlantic, with President Clinton and British Prime Minister Tony Blair congratulating the two rival sequencing groups, the for-profit Celera Genomics of Rockville, Maryland and the publicly-funded International Human Genome Sequencing Consortium. It is like a 3 billion piece puzzle, and we are still putting the pieces together!
The human genome has 23 chromosome pairs. Twenty-two of these are autosomal chromosome pairs. The remaining pair is the sex-determining pair (X and Y). The haploid (one of each pair) human genome occupies a total of just over 3 billion DNA base pairs. The Human Genome Project produced a reference sequence of the euchromatic human genome, which is used worldwide in biomedical sciences.
The final sequencing was supposed to lead to cures for many diseases, including cancer, diabetes and depression. Well, where are the cures? Still years away. There are many barriers between knowledge of the genome and final solutions to diseases. One is the cost to sequence the human genome. It was $2.7B over 10 years. One company, of many, is trying to reduce turnaround time and cost for sequencing, and it is based in sunny San Diego – Illumina.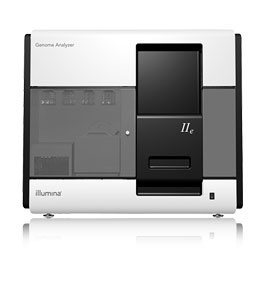 llumina, Inc. engages in the development, manufacture, and marketing of integrated systems for the analysis of genetic variation and biological function. Its instrumentation products are increasingly gaining traction. A Beijing genomics institute, BGI is purchasing 128 of the new HiSeq 2000 sequencing systems to aid $1.5 billion of research in the areas of sustainable development, healthcare, agriculture and bio-energy. This buy represents the largest single order of such systems to date.
To study complex diseases you need to look at a lot of samples and do that, ideally, in a cost effective and rapid manner. If you look at the three tech axes that matter: speed, cost effectiveness and ease of use in the workflow, HiSeq 2000 improves all of those areas. Omead Ostadan, Illumina's vice president of marketing.
The cost of sequencing a human genome has fallen below $10,000 for the first time, a feat which has the potential to transform research costs and, eventually, therapeutic strategies. Typically new technology has a slow entrance to the market because of its high price points, but the genetic analysis business is evolving differently. The newer technologies are quickly becoming more affordable and some industry insiders believe that the entire sequencing of a human genome will cost less than $1,000 in the near future. This change in pricing could mean a major new market opening up as gene technology, used to detect disease and prevent genetic disorders, moves from the research lab to your physician's office.
Gene-sequencing technology promises to offer researchers a new look at the basic building blocks of the human body, but the technology won't necessarily bring immediate breakthroughs that will rid the human race of disease. It still has a long way to go before practical applications of the technology can do more than preclude a certain patient from a certain kind of drug therapy, or help predict if someone is prone to a particular disease.
Illumina is now price competitive with Affymetrix, the leader in this field. "New sequencing technologies are now becoming price competitive with Affymetrix's array products, especially for gene expression analysis, which has traditionally been Affymetrix's strongest end market," wrote Barclays Capital analyst C. Anthony Butler.
Of the 15 analysts following this stock, 10 have buy recommendations and five have holds. Analysts are looking for, on average, a 22.5% increase in sales next year and a 35.1% increase in EPS. Expected 5 year compounded EPS growth rate is 19.98%, making the stock a reasonable long-term holding.
Illumina expects to post Q4 revenue of $176 million, beating previous guidance of $165 million. That lifts full year revenue to $662 million, up about 15%. For 2010, the company expects revenue growth of about 20%, which implies $794.4 million, gross margin in the high-to-mid 60s and non-GAAP EPS of 90 cents to $1. The Street has been expecting $800.4 million and $1.04.
Buying the 35 June 2010 ($4.95) and selling the 40/35 March 2010 calls/puts for $3.30 (i.e. add the price of the puts and calls to get $3.3. Calls are 1.2. Puts are 2.1).
Disclosure: Currently long ILMN, but not BRMN. I will buy/sell BRMN options noted above.
Do you know someone who would benefit from this information? We can send your friend a strictly confidential, one-time email telling them about this information. Your privacy and your friend's privacy is your business... no spam!
Click here and tell a friend!