Remember 1,333 or bust?
That post was less than a month (and 10%) ago (July 20th), when I warned that earnings were NOT looking good when measured in constant currency and that the Greek crisis was spreading like a cancer and it was ridiculous to pretend that it could be "fixed" with the BS solutions that were being proposed at the time.
Yesterday we all waited anxiously for Merkozy to come up with their proposal and the disappointment was palpable from the markets as soon as they came out (we picked up some nice short trades in Member Chat!). There was no expected increase in the size of the Euro-Zone Fund, which is looking inadequate now that Italy has been thrown into the bailout mix. That sent Gold back to $1,800 and TBills back to the lows.
"We can't solve problems in a big bang," Ms. Merkel told reporters after a meeting with Mr. Sarkozy. "What we are proposing will allow us to regain confidence step by step." Fortunately God did not feel that way when he created the universe or we'd still be waiting for him to finish the first 100 Million Galaxies. "A fundamental discrepancy remains between what markets need and what politicians can offer," said Jacques Cailloux, chief European economist at Royal Bank of Scotland, predicting more tensions in markets.
Mr. Sarkozy and Ms. Merkel set out the following proposals
:
Elect a euro-zone president with a 2½-year mandate

Enshrine fiscal discipline in the constitutions of the 17 euro-zone countries
Introduce a tax on financial transactions within euro zone
Align French and German corporate-tax rates
Prepare French and German future annual budgets on the basis of shared macroeconomic analysis
Wow! It took them all day to come up with that? So after waiting over a week for this historic meeting we get NOTHING at all to fix anything NOW. At least the US Congress tells you they can't agree on anything – so you KNOW you are screwed. These guys do nothing and pretend they accomplished something. They did accomplish freaking out the Financials by proposing a tax that would impact High-Frequency Trading, which is estimated to be about 70% of all market activity. While that may be bad for a few IBanks (which makes it very unlikely it will actually pass), it's great for the non-robotic market players as it would be very nice to trade with PEOPLE once again, who buy stocks with the intention of holding them for more than the next 5 minutes.
Nonetheless, a positive statement from the EU leaders promising to do something or other sometime in the future should be enough to calm the panic in the EU markets and that should be enough to strengthen the Euro and weaken the Dollar to prop up our markets but let's not be fooled by a "Weak Dollar" rally.
I already sent out an Alert to Members this morning, warning that the Dollar has been knocked down over half a point early this morning (our usual 3am trade) so anything LESS than a half-point pop in the Futures is bearish and we looked at shorting S&P Futures (/ES) below the 1,200 line and the Russell Futures (/TF) below the 710 line.
We are, on the other hand, patiently waiting for inventories (10:30) to short oil. There was a major refinery outage last week that caused a draw in gasoline but the reason doesn't matter as long as there's an excuse to pump up the prices but this will be a fantastic shorting opportunity back near $90 a barrel and we can once again stick it to the NYMEX pump crew by agreeing to sell them barrels for the $90 they are going to pretend to want them at by shorting the (/CL) Futures.
As you can see from our Big Chart – we're still struggling to get the NYSE over that -5% line and anything other than an up day is going to form a pattern that is both ugly and lame in our indexes, which are already suffering the indignity of "Death Crosses" across the board so those Must Hold levels are going to be VERY difficult to retake – even under the best conditions. As I have been saying all month – ONLY QE3 can save us at this point and today is not likely to be the day with Fisher speaking at 1:20.
You can see how the SOX and Transports are already curling over from their weak bounces (25%) and the lower they stay, the faster those 20-day moving averages drop away from the 50 dma – giving us uglier Technical Patterns. We're not getting any help with today's data as the Core PPI was up a blazing 0.4% in July, double what was expected by the Economorons who predict this sort of thing for a living. That's going to make it very hard for the Fed to justify more Quantitative Easing.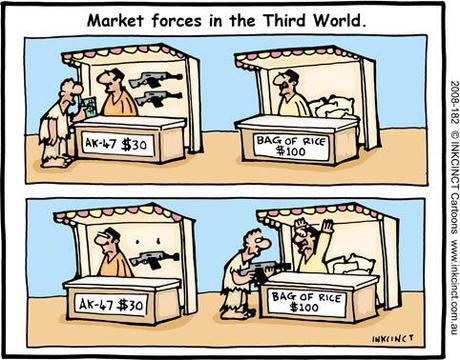 The BOE, on the other hand, has given up fighting inflation, with rates there over 4% – about the same levels we had in the US when Nixon imposed both wage and price controls (didn't help) in the 70s. Meanwhile, in the US, Rasmussen finds a record number of people saying they are paying more for groceries than ever before with only 4% saying they are not spending more than they were last year.
Whether those people are great shoppers or merely clueless is not known. On top of that, the Rasmussen poll finds: "Confidence among Americans in the stability of the nation's banking industryhas hit rock bottom" and "Overall consumer confidence as measured in the Rasmussen Consumer Index is now hovering above the lowest levels of the post-9/11 era."
Vietnam's annual inflation is hitting 21% and China is practically begging us to stop the madness and are finally de-pegging the Yuan with a $3.1Bn auction now scheduled to begin giving them some volume to free-market pricing of their currency. Meanwhile, the US is talking about QE3 AND Stimulus Measures but I'm not sure that we can drive the Dollar low enough to reprice our equities and commodities higher – more likely, the dip in the Dollar is just masking another round of selling as people run for the exits and back to the relative safety of our declining Dollars.
Trade your stocks and commodities for Dollars while they are cheap and please, be careful out there!
Do you know someone who would benefit from this information? We can send your friend a strictly confidential, one-time email telling them about this information. Your privacy and your friend's privacy is your business... no spam!
Click here and tell a friend!