Oh, hello Mr. Seoul,

I dropped by
to pick up a reason

Stick around while the clown
who is sick

does the trick of disaster
Asia was in turmoil last night as news of the death of Kim Jong Il hit the wires. South Korea's Kospi Index fell 3.4%, both the Shanghai and Hang Seng fell more than 2% at their opens but, along with the Nikkei, they all finished strong and down about 1.25%. My comment on the matter to Members at 11:29 last night was:
Meanwhile, Dear Leader has died and that shot the Dollar back to 81 and knocked the futures down half a point. Asia is down more like 2% as no one is please with Jr. taking over in South Korea. I always find that amusing when leaders who are hated die and the markets react negatively – as if the next guy could be worse. Markets just hate uncertainty but China is in charge of N. Korea – I doubt Kim's son is going to suddenly declare war or whatever it is people are worried about. He's just 27 and probably not suicidal

If anything (but I'm going to bed), I'd take oil long off the $93 line (/CL), which is where we liked them Friday. Gold already zoomed back to $1,600 and has been rejected there and the Dollar doesn't look that strong above 81 so far.

So far, my logic is holding up as things have already calmed down and oil topped out at $94.50 at 5:30, for a nice $1,500 per contract gain in less than 6 hours. I find it easier to trade futures off news like that than they are to play during the US Market hours as the moves internationally, still seem to make a little sense while the moves in the US market are often pure nonsense.
Speaking of nonsense, David Fry agrees with me on Treasury rates as we are now falling below what you can get in an FDIC-insured deposit, which I consider the non-panic limit for rates. Unfortunately, we do get plenty of panic at a drop of the hat these days and TLT shorts were our big loser last week but we stuck with them for January, hoping things calm down over the next few weeks.
Europe is calm enough this morning with not much happening over the pre-holiday weekend (our own dear leaders also have families to shop for). We began our 2011 PSW Holiday Shopping Survey. With dozens of reports from around the World already in, it's great reading and please remember – it's even better if you contribute as well!
On Friday, we stuck with our plan to get very cashy into the holidays. You can get a full review of the week's action in Stock World Weekly, which also features a rundown of Pharmboy's 2011 Biotech Trade Ideas, with plenty of good entries still available in this very choppy market. We were worried enough about the weekend to add an EDZ hedge in Member Chat – this time it was the April $21/25 bull call spread for $1, which has a 300% potential upside all by itself and is easily offset by short puts on many stocks we REALLY want to buy for less if they go on sale, like VLO, where someone will pay you .98 just to promise to buy the stock for $20 (now $20.67) in 30 days. That's a nice hedge!
Of course the best hedge in the World is CASH and we were fortunate enough to hit our targets on most of our expiring plays in our White Christmas Portfolio, leaving us with just our GNW Jan spread, a bullish Jan spread on FAS (of course) and the aforementioned TLT position that went against us and was rolled to January.
That brings us to over 95% virtual cash, which is something we can live with over the weekend. If we catch a break and get a little Santa Rally (as we're 100% bullish now with our 5%), then we will be thrilled to go 100% cash on Friday so we can, as planned, have ourselves a merry little Christmas with our 200% gains.
The markets are closed on Monday and again the Monday after New Year's and again on the 16th (MLK day) so lots of long weekends for us to go skiing this year so why not take advantage of it by setting yourself up cashy or market neutral and taking a weekend or two this year to balance out the other parts of your life?
Look at Kim Jung Il – rich, powerful… From the above picture it looks like he was a happy little baby. Where did he end up? As dead as anyone else at 69. Money helps but it doesn't buy you immortality and you still can't take it with you and, as pointed out by the Beatles 50 years ago, it can't buy you love either (except in Nevada). While Kim Jung Il may have left a bit of a mark on history as a brutal dictator, what about Henry Flagler, Stephen Harkness, Henry Rogers and O.B. Jennings? Those 4, along with John D. Rockefeller, were some of the richest men in the World in 1900 – long forgotten now.
Rockefeller was the lead partner in Standard Oil and amassed a fortune that put the others to shame and he was smart enough to hire PR people to take picture of him handing dimes out to poor people (his annual salary, at the time, was $60M a year – $2Bn by today's standards so he could spare a few) and also smart enough to buy a few newspapers to make sure they thought those pictures rated page one coverage (a dime then would be about $3 today – if Bill Gates handed out $5s today, and the newspapers declared him a generous God, wouldn't you find that a bit strange?).
Speaking of rich people trying to manipulate the media. Saudi Arabia's Prince Alwaleed Bin Talak has invested $300M in Twitter, buying up 3.6% of the company. Why? Because the microblogging service is hailed as being instrumental in helping organize Arab Springs protests this year and building up a stake in the new media gives the Prince a degree of control – as well as useful inside information.
I'm sure the Twits will deny he will have any influence – just as the WSJ insists that they maintain their journalistic integrity after Rupert Murdoch bought a stake or the way Rupert's Fox News claims to be "fair and balanced" although, strangely, in the last 12 years – they haven't found a single Democratic candidate to support anywhere in America, for any political office – Federal, State or Local across 25 network stations and 175 affiliates covering every single state in America. Just a coincidence, I suppose…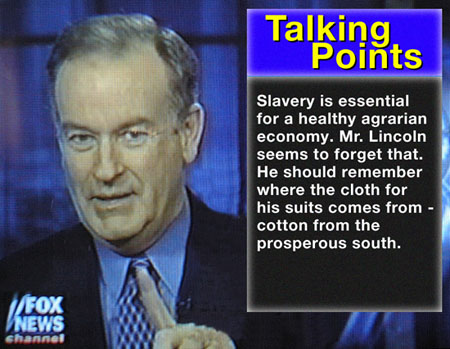 That, to me, is the funniest thing about Kim's death today – to listen to Fox News talk about HIS use of propaganda and the way he treated HIS poor people! This is beyond the pot calling the kettle black, this is like the black hole at the center of the Universe calling the kettle black – except if the black hole at the center of the Universe did that, the sound would just get sucked up into the event horizon and we'd never hear it – but you know the black hole has got to be thinking that the hypocrisy of Fox News clearly knows no bounds!
How many slaves died after living lives of misery – building pyramids for Pharaohs whose names are now long-forgotten and who's pyramids are nothing but dust? Even the Pharaoh would have been better off spending less time worrying about where to hide his burial chamber and spending more time with his family and friends. As Ben Franklin once remarked: "It is only when the rich are sick that they fully feel the impotence of wealth."
It's funny how the modern propaganda machine tries to change that one word, "impotence", into "importance" to create a new paradigm for the war between the rich and the poor. Maybe one day, through cloning or whatever – the rich may be able to buy themselves a degree of immortality. After all, that's what the Pharaohs thought they were getting and they were willing to commit all sorts of atrocities on Earth in order to assure their own place in the afterlife.
The spirit of Kim Jong Il is alive and well, sadly in the very people who claim to condemn him…
Merry Christmas to all!