No, we won't hold it.
I know, I'm supposed to keep an air of drama so you are enticed to read but the top of this article goes out as an early alert to our Members via the PSW Report and I think our subscribers would appreciate knowing as soon as possible that Europe is down over 1% and the US Futures are only down about 0.4% and very likely to fall hard and fast once trading opens.
We are already short, of course but we picked up more short plays in the Futures this morning and are catching a nice ride down already. The Dollar is, of course, being manipulated lower – down to 82.65, to mask the market weakness and this is pretty typical behavior in the manipulated market tops I've been warning about for most of the past month.
As we expected, Japan is down again as Australia's GDP disappoints and Abe is not able to print enough FREE MONEY to satisfy the ravenous bulls – who aren't satisfied with 50% gains in 6 months. "Please Sir, I want some more" sounds cute when you are a skinny little orphan boy but, when you are a fat Japanese Bankster, bloated off $75Bn a month in stimulus – it's just greedy.
Possibly holding our market up this morning, relative to the melt-down in Europe is a disappointing ADP report, showing just 135,000 jobs added in May vs. 171,000 expected. Also on the "bad news means more free money" front is a TERRIBLE MBA Mortage Applications number that dropped another 11.5% for the week, now down over 40% in 4 reports. The Refinance Index dove 15% to its lowest level since November 2011 as the average 30-year fixed-rate mortgage jumped 17 bps to 4.07%, the highest in more than a year.
As you can see from Dave Fry's chart, IYR has been in melt-down for a month and these number simply confirm the trend. As in Japan, if our Fed's $85,000,000,000 per month stimulus is failing to boost the critical housing sector – there's some very serious problems that smart investors can tell still need to be addressed and, as noted in the "Smart Money" chart we discussed yesterday, we (as our Members are certainly the smart money crowd) are pulling our cash off the table BEFORE the market collapses – no matter how many reassurances Cramer and the Fed give us.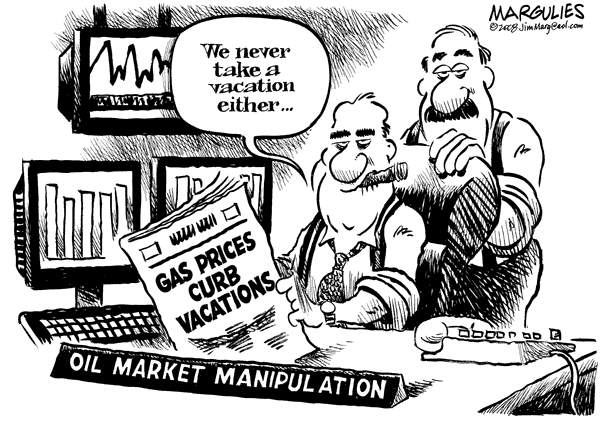 We already caught a .50 drop ($500 per contract) shorting Oil Futures (/CL) in Member Chat this morning and it's come all the way back to $93.85 (8:40) to give us another crack but more dangerous now as the NYMEX opens at 9am and we can expect the bullish API Report, which showed a 7.8Mb draw in crude, to give them an excuse to drive it higher – where we'll be shorting the hell out if it into inventories at 10:30 since the API number is ridiculous or, at best, is distorted by the Holiday Weekend and represents a one-time thing.
The Fed's Fisher was predictably bearish last night, Likening the Fed's monetary policy to a Shakespearean play starring a "daring Captain" Ben Bernanke, Act IV which, according to Fisher: "will involve the drama of introspection, with the FOMC evaluating the utility of its navigational tactics, and, perhaps, fine-tuning them, if not altering the course."
He told a Toronto audience last night that there was a "practical limit" to the size of the Fed's balance sheet and investors should not expect "QE infinity." While chances are "extremely low" that monetary policies will help push inflation above the Fed's 2 percent target this year, the bond-buying program is, "at best, pushing on a string and, at worst, building up kindling for speculation and, eventually, a massive shipboard fire of inflation," he said.
Oh no, honesty from the Fed – RUN AWAY!!! Now that we've gotten rid of that bearish bastard, it's up to Raskin (8:30 am) and Plosser (noon) tomorrow to re-spin today's Beige Book (2pm) but, frankly, they don't want the markets too calm as we've still got notes to peddle next week – so a little market fear is a useful thing indeed. TBills and Japan are the main two points Jeff Gundlach and I disagree on as I don't like Japan's fake market nor do I think the Fed is ready to let TLT fail $113 (we have an STP bet on that, in fact) but, otherwise, this is a fantastic presentation that sums things up quite nicely:
I would call your attention to a couple of key slides like this one highlighting Europe's 5-Year Recession:
And this one, which summarizes the entire stupidity of the US tax system in a single chart:
Keep in mind that's Corporate Profits net of losses from other Corporations so already we're understating real earnings by over $1Tn. Then, if you consider that profits are also net of very generous deductions given to the top 1% (something we discussed in Monday's Member Chat) and the normal $1Tn of amortization and depreciation of capital goods, we're talking about US Corporations paying about 5% tax on $4Tn of Gross Profits. If they paid 25% tax, we would have no deficit, we'd have a surplus and our national debt would be paid off in 20 years. Instead, we have this:
Wake up America! Your country is being stolen from you and no, it's not getting better. The lunatics are clearly in charge of the asylum in Congress and the whole thing is sponsored by our Corporate Masters, who will squeeze every last Dollar they can out of this country and leave the wreckage for greener pasture once the last job is outsourced.
That's logistics!
Do you know someone who would benefit from this information? We can send your friend a strictly confidential, one-time email telling them about this information. Your privacy and your friend's privacy is your business... no spam!
Click here and tell a friend!