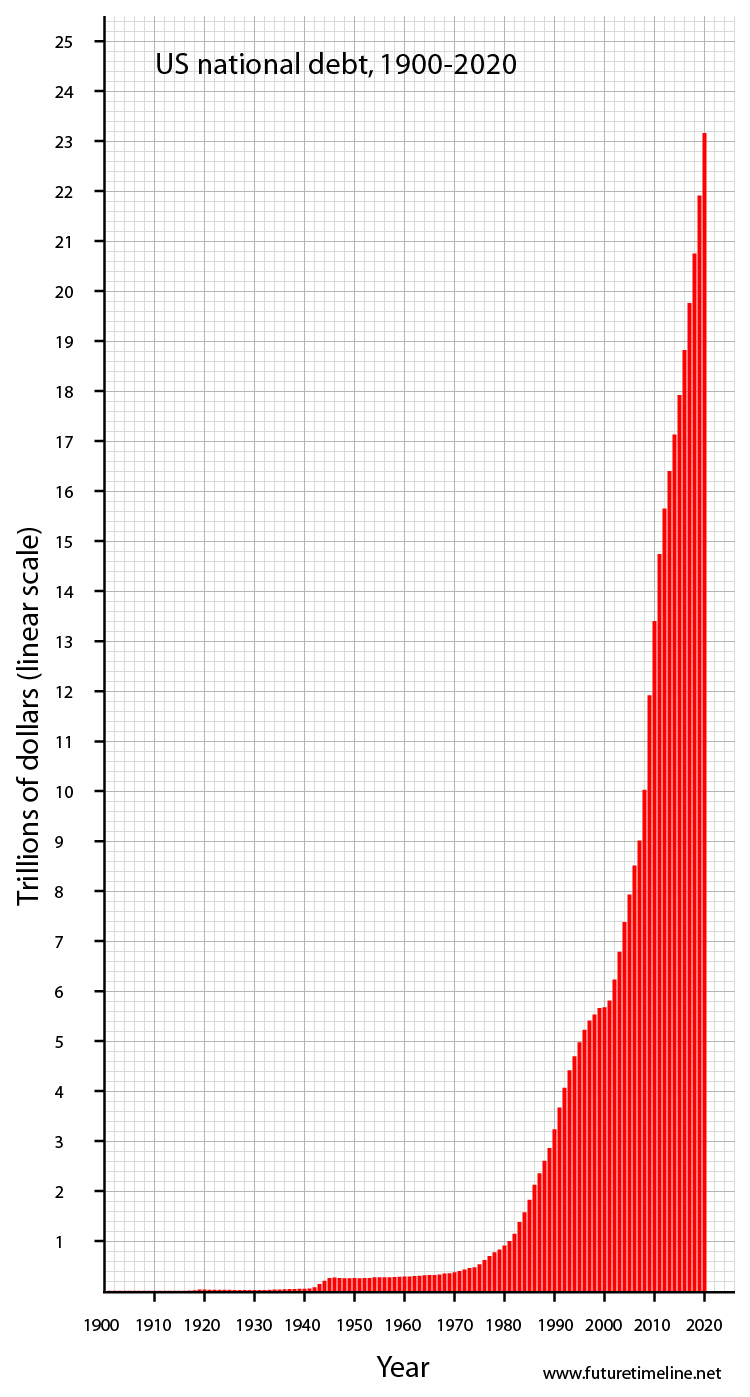 "Forgive us our debts, as we have also forgiven our debtors."
Hah – what a crock! How many people who have recited that prayer have forgiven any debts? How many have had debts forgiven? Certainly none of the G20, who owe each other tens of Trillions of Dollars and certainly not Argentina's bondholders, who drove the nation to default and certainly not the bondholders of THREE Atlantic City Casinos that are on the verge of shutting down and putting 10,000+ people out of work in a county of 275,000 so about 5% of the working population.
Are casinos simply a bad business or is the economy not quite as strong as we are led to believe?
In the past 14 years, we have more than tripled the debt of the first 224 years of our nation's existence and, in the next 7 years, we are on track to add 150% more (than the $5Bn we had when Clinton left office).
The $2.4Bn Revel Casino opened in March of 2012 and was $1.5Bn in debt at the beginning of 2013 but did a pre-packaged bankruptcy last year that cut the debt to $272M but it's been hemorrhaging money since and the value of the casino has been slashed to $450M yet an auction scheduled for yesterday got ZERO bidders, which may now lead to yet another bankruptcy – making it an annual event.
This is no run-down property, this is a beautiful, modern building that LOOKS like $2.4Bn was spent to build it. It's a beautiful property with nice restaurants and great rooms and a nice beach and a swim out pool on the deck so you can use it even in the winter – no expense was spared but, like many grand projects, the cash flow isn't there to support the great dreams of the creators.
Even at $450M, if you could sell the 1,400 rooms (57 floors) into condos and got $300,000 for 1 bedroom apartments, that's only $420M and wouldn't be worth the effort. So, if you can't do that and you need 3,800 people to run the casino/hotel – that's a pretty big nut to cover each month. The casino loses roughly $3M per week as it runs now and, in it's second bankruptcy, has now been looked at by every VC firm, Hedge Fund and Real Estate Developer in the country and NO ONE wants it.
On it's own, you might say that says more about the execution of this particular casino than it does about the economy but no one wants Harrah's (CZR) Showboat Casino either, nor do they want the Trump Plaza, both down the street from Revel and both have been around for decades, making some money for the owners over the years but now deemed unbuyable as well.
A combination of competition from other states and the Recession killed Atlantic City and the state is desperate to prevent the coming collapse of three hotels closing at once but Gov. Christie already put $260M of the state's money into Revel in an attempt to save it and that money is GONE! If it were just Atlantic City, we could brush that off but, in 2012 alone revenues fell 15% from the previous year and, in 2013, another 4% was lost.
This is during our "recovery". Las Vegas dropped 10% in 2013 after dropping 15% in 2012 (we're short WYNN and long CZR). If you are one of our American readers, you KNOW that, when we feel good about the economy, we go to Vegas. If Vegas isn't doing well, then America isn't doing well – let's not fall for the MSM hype and start paying attention to the economic evidence we see every day!
Speaking of hype, notice in the chart above that 2013 (green) comes BEFORE 2012 (red) on the bar chart? That's so the casual observer (most people) will look at the official state graphic and get the impression that things are getting better, not worse. Keep that in mind before you vote for Christie as President…
This is just an example of how data can be manipulated by your trusted Government and the Corporate Media to twist the facts and influence your investing and voting decisions to suit their needs. I don't want to be a downer but I do want you to be cautious as the markets merely BOUNCE off the lows – as we expected they would.
Our strong bounce lines predicted since last week's drop were: Dow 16,650 (-80), S&P 1,940 (-3), Nasdaq 4,385 (+16), NYSE 10,750 (-17) and Russell 1,150 (-8). That means, out of 34,875 points worth of predictions, we are off by net 92 point on our 5% Rule™ or 0.2% – not bad for levels we predict a week in advance!
Since we're off by an average of 2 points out of 1,000, perhaps it's a good idea to heed the RULE part of the 5% Rule™ which tells us that we need to hold OVER those strong bounce lines for 2 full days to break the downtrend. So far, this is day zero – so DON'T GET EXCITED…
We made some nice profits shorting the Index Futures in our Live Member Chat Room early this morning and we're looking for key failures like /TF 1,135 and /YM 16,500 and /ES 1,930 and /NQ 3,900 to short some more as we don't believe those strong bounce lines will hold once the volume picks up. The only trades we added yesterday were market-neutral Butterflies for our Butterfly Portfolio – in general, we remain Cashy and Cautious.
Be careful out there!
Do you know someone who would benefit from this information? We can send your friend a strictly confidential, one-time email telling them about this information. Your privacy and your friend's privacy is your business... no spam!
Click here and tell a friend!