Archive for 2015
by ilene - December 20th, 2015 11:44 pm
Courtesy of John Rubino
Sometimes one big event dominates the landscape, like last week when the Fed raised interest rates. Other times a bunch of less-universally-significant-things add up to a meaningful story. And the story that follows here is, of course (given the venue), ominous.
First up is the much-discussed US$9 trillion that developing countries borrowed back when the dollar was weak and their currencies were relatively strong. Pundits have been warning that with the dollar soaring this debt was largely underwater and therefore a threat. But as far as anyone could tell it wasn't blowing anything up.
Then on Friday a big Mexican construction company defaulted:
(Bloomberg) – Empresas ICA SAB will skip a debt payment due by the end of the month as Mexico's biggest construction company heads for the nation's biggest default in at least two decades. Stocks and bonds declined.

The builder won't pay $31 million in interest on its $700 million in bonds maturing in 2024, the company said Friday in a statement. ICA was using a 30-day grace period that ends Dec. 29. The company will be forced to halt payments on all of its $1.35 billion in overseas notes, eclipsing glassmaker Vitro SAB as the biggest corporate bond defaulter in Mexico since Moody's Investors Service began tracking the data in 1995, according to the rating company.

The announcement caps a year in which ICA posted its biggest quarterly loss in 14 years as the government cut back infrastructure projects and the plunge in Mexico's peso drove up the company's leverage. The company will work on a cost-cutting and restructuring plan to be completed by mid-February, advised by Rothschild & Co. and FTI Consulting. ICA appointed board member Alfonso Gonzalez Migoya as co-chief executive officer.

ICA had coupon payments looming over the next two months for its two other dollar bonds maturing in 2017 and 2021, with the first one due Jan. 24. The company reported total debt of 57.9 billion pesos as of September 30.
Now multiply the above by, oh, a thousand, and you get a sense of what could happen in 2016 if the dollar stays strong, commodity prices stay low, and the…

by Insider Scoop - December 20th, 2015 11:00 pm
Courtesy of Benzinga.
Western Refining, Inc. (NYSE: WNR) and Northern Tier Energy LP (NYSE: NTI) today jointly announced that they have entered into a merger agreement whereby Western will acquire all of NTI's outstanding common units not already owned by Western.
Under the terms of the merger agreement, NTI unitholders will receive $15.00 in cash and 0.2986 of a share of WNR common stock for each NTI common unit held. Using the WNR 20-day volume weighted average price as of October 23, 2015 (the last trading day before WNR made its initial offer to acquire all of NTI's outstanding common units) results in an implied consideration of $28.34 for each NTI unit. This represents an 18% premium to the 20-day volume weighted average price of NTI's common unit price as of October 23, 2015.
As an alternative to the cash and stock consideration, each NTI unitholder may elect to receive, per NTI unit, either $26.06 in cash or 0.7036 of a share of WNR. The election will be subject to proration to ensure that the aggregate cash paid and WNR common stock issued in the merger will equal the total amount of cash and number of shares of WNR common stock that would have been paid and delivered if all NTI unitholders received $15.00 in cash and 0.2986 of a share of Western common stock per NTI common unit. Upon completion, NTI unitholders are expected to own approximately 15% of WNR. The transaction is expected to close in the first half…

by Insider Scoop - December 20th, 2015 11:00 pm
Courtesy of Benzinga.
China Petroleum & Chemical Corp (ADR) (NYSE: SNP) — commonly referred to as Sinopec — is mulling a takeover of Anadarko Petroleum Corporation (NYSE: APC), source familiar with the matter told Benzinga.
China Petroleum is an $89 billion market cap company involved in the crude oil and natural gas space. Anadarko is an independent exploration and production with a market cap of about $23.4 billion. Both stocks were trading lower on Monday, following weakness in the energy sector.
HSBC Bank is financing the deal, according to the source.
Shares of Anadarko spiked to a high of $47.72 on Monday following the news; The stock closed at $46.55, up 1.9 percent.
Stifel analyst Michael Scialla told Benzinga the rumor fits into the story around the China gas sector and the understood benefits of Anadarko inventory and Permian exposure. "A bid from a China company for Anadarko would make sense given APC inventories and Permian Basin exposure."
Scialla said Anadarko's inventory and exposure to Permian Basin jives with China story of oil and gas companies seeking oil inventory. The Permian Basin is a hot location and Sinopec would benefit from exposure there. However, the analyst thought Exxon Mobil Corporation (NYSE: XOM) looked to be the most likely buyer.
Oppenheimer analyst Fadel Gheit said that although anything is possible, a deal between Sinopec acquiring Anadarko has low probability, specifically a less than 50 percent chance due to regulatory concerns. However, he did say that Anadarko is believed to be a takeover…

by Insider Scoop - December 20th, 2015 11:00 pm
Courtesy of Benzinga.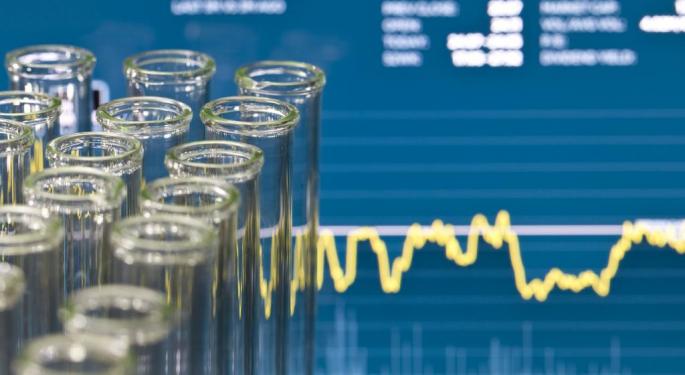 • AVEO Pharmaceuticals, Inc. (NASDAQ: AVEO) has announced a partnership with EUSA Pharma granting EUSA exclusive European rights to tivozanib.
• The deal could reportedly generate nearly $400 million for AVEO.
• AVEO CEO Michael Bailey told Benzinga that the tivozanib deal is the last piece of the puzzle in AVEO's 2015 strategy.
Aveo Pharmaceuticals shares are surging more than 29 percent in early trading on Monday following an announcement by the company of a new partnership with EUSA Pharma granting EUSA exclusive European distribution rights for advanced renal cell carcinoma (RCC) treatment tivozanib.
Following the announcement, Benzinga had the chance to speak with AVEO CEO Michael Bailey about the new deal.
Importance Of The Deal
Bailey told Benzinga that AVEO is primarily focusing most of its efforts on North America and that the company strives to maintain exclusive rights to tivozanib in that critical market. However, global partnerships with companies like EUSA are an important part of unlocking the full value of the drug.
"This deal represents an important milestone for AVEO in the fulfillment of that overall strategy," Bailey added.
Tivozanib

Advantage
When asked about how tivozanib compares to peer treatments, Bailey explained why AVEO is so optimistic about the drug's impact in the $500 million-plus European RCC market. He highlighted three characteristics that differentiate tivozanib from other treatments in the market:
1. It is among the most potent small molecule VEGF inhibitors.
2. It…

by Insider Scoop - December 20th, 2015 11:00 pm
Courtesy of Benzinga.
Shares of Walt Disney Co (NYSE: DIS) have appreciated 14.21 percent year-to-date, while declining 10.41 percent over the past month.
Jessica Reif Cohen of Bank of America Merrill Lynch has maintained a Buy rating on the company, with a price objective of $130.
Cohen believes that the early success of "Star Wars: The Force Awakens" bodes extremely well for the company's business model, given that it can further monetize "Star Wars" content.
According to the Bank of America report, "After much anticipation, Star Wars: The Force Awakens has opened strong in the U.S. and abroad, grossing $238mn in opening weekend domestic box office and an estimated $279mn at the international box office."
Related Link: Despite Massive 'Star Wars' Potential, Jefferies Is Still Waiting On The Sidelines Of Disney
In the US, this movie has seen the highest opening weekend in the history of December openings, as well as the highest opening weekend ever, the largest Thursday night preview, the largest Friday, opening day, the largest single day and the fastest to gross $100 million.
Internationally, the movie failed to break the opening weekend record set by "Jurassic World," partly given that the movie will open in China only on January 9, 2016.
"While The Force's initial results are highly encouraging for DIS' FY16 estimates and the multi-year runway of the rejuvenated Star Wars franchise, opening weekend performance remains just a window into a wide range of ultimate outcomes," the report mentioned.
Given the initial strength of The Force Awakens, the ultimate domestic box office could reach $700-$800 million.
"Importantly, direct competition appears light over the next few weeks, suggesting the film's runway is clear. Repeat visitation is also a significant swing factor considering the franchise's relatively passionate fan base," the report added.
Posted-In: Bank of America Merrill Lynch Jessica Reif Cohen Star WarsAnalyst Color Long Ideas Reiteration Analyst Ratings Trading Ideas
by Insider Scoop - December 20th, 2015 11:00 pm
Courtesy of Benzinga.
• Credit Suisse has upgraded several oil services stocks to Outperform.
• The firm believes that the beginning of February could mark an inflection point for the industry.
• Credit Suisse predicts that the ultimate bottom in U.S. drilling activity is likely coming in the Spring of 2016.
In a new report, Credit Suisse analyst James Wicklund has upgraded a handful of names in the oil services industry. Wicklund believes that investors should be scooping up shares of companies with unconventional North American exposure between now and the beginning of February.
Seasonal Cyclicality
Wicklund points out that February typically marks the end of a six-month market discount period for oil services stocks and that these names typically rebound from early February through at least mid-April. U.S. drilling activity is typically about 7.0 percent higher in the second half of the year than the first half.
The oil services sector was up 12 percent from Feb. 1 to April 15 in 2015.
Bottom Of The Cycle?
Despite the optimism, Credit Suisse is still among the consensus that believes onshore U.S. activity will be down in 2016 compared to 2015. However, the firm believes that oil prices will begin their recovery by the end of next year.
"Looking at the historical seasonality of U.S. drilling activity, and based on that conventional wisdom, it would appear that the cyclical bottom of activity, for what is considered the second-worst downcycle in 30 years, will be in the spring of 2016," Wicklund explains.
Upgrades
In light of the firm's belief that a recovery could begin as soon as February, Credit Suisse has upgraded the following stocks from Neutral to Outperform: Forum Energy Technologies Inc (NYSE: FET), Nabors Industries Ltd. (NYSE: NBR) and Superior…

by Insider Scoop - December 20th, 2015 11:00 pm
Courtesy of Benzinga.
GoPro Inc (NASDAQ: GPRO) shares have lost 45 percent in the last three months, and are trading close to the lower end of their 52-week range of $15.90 – $69.75.
Piper Jaffray's Erinn E. Murphy maintained an Underweight rating on the company, and a price target of $15.
The company could continue to clear inventory, at the cost of its margins, Murphy stated.
GoPro's blended pricing is around 20 percent below the September levels. The Amazon price and rank analysis indicates that GoPro continues to witness significant pricing pressure, not merely for the HERO Session, but also for other core models, analyst Erinn Murphy said.
While this has resulted in a modest increase in rankings, the company could still be clearing inventory, which would come at the cost of margin. "We have a downward bias on our Q4 EPS of $0.28 (Street: $0.33)," Murphy wrote.
GoPro's profitability is likely to be under pressure on account of a number of reasons. During its latest quarterly earnings call, the company indicates that inventory was up 147 percent, and up 70 percent excluding new product, during the quarter. This compares with sales being up 43 percent y/y.
"We note management is working diligently to clear this inventory. In addition to price cuts on AMZN, we have also seen the HERO Session product cleared on several adjacent channels including QVC in recent weeks in which the company commented they sold 16k units in 36 hours," the Piper Jaffray report stated.
Murphy added that there new product is likely in 2016, including an update to the HERO platform as well as a quadcopter. He added, however, that there is concern regarding the current inventory levels in the channel and "the lingering economic impacts of recent price reductions."
Posted-In: Erinn E. Murphy Piper JaffrayAnalyst Color Short Ideas Reiteration Analyst Ratings Trading Ideas
by Insider Scoop - December 20th, 2015 11:00 pm
Courtesy of Benzinga.
Boise Cascade Co (NYSE: BCC), a plywood and engineered wood products manufacturer and materials distributor, has agreed to acquire Georgia-Pacific's engineered lumber business for $215 million.
Georgia-Pacific, a Koch Industries subsidiary, is one of the largest manufacturers and distributors of tissue, pulp, paper, toilet paper and paper towel products. The company's Vice President noted in a press release that while its lumber business has been profitable, it is not a core segment and part of its overall building products division.
"We believe this potential sale to an established player in the industry is in the best interest of our engineered lumber employees, customers and stakeholders," Mark Luetters, Georgia-Pacific's Executive Vice President commented in the press release.
Posted-In: Georgia-Pacific Koch Industries Mark Luetters Paper ProductsNews M&A
by Zero Hedge - December 20th, 2015 10:38 pm
Courtesy of ZeroHedge. View original post here.
Submitted by Tyler Durden.
Now that all the suspense surrounding the Fed's rate hike is gone, and only questions about the future of risk assets and deflation remain in a "Policy Mistake" world, the market's attention is turning back to the disturbing topic which spread like wildfire two weeks ago when first Third Avenue, and then several more mutual and hedge funds announced they would liquidate while imposing redemption "gates."
To be sure, the spin doctors scrambled to make the Third Avenue junk bond fund collapse a unique, one-off situation, however subsequent fund flow data released late last week suggested that the pain for debt (and especially high yield) funds is only beginning. As we wrote on Thursday night, in a development that is certain to further exacerbate the (in)stability of the bond market, Bank of America wrote that there was "Carnage in Fixed Income" as a result of the largest outflow from junk bond funds in at least a year.
It wasn't just junk: as the FT chimed in, investment grade – that all important category for funding stock buybacks – was also slammed as "investment grade bond funds in the US have been hit with a record wave of redemptions, a week after two high-yield funds announced they would shutter and another barred withdrawals as the credit market showed further cracks." This was the largest outflows since Lipper began tracking flows in 1992.
And despite rising briefly, bond prices resumed their fall over the past week following the fading euphoria from Yellen's rate hike decision (which is very adverse for all fixed income products) the combination of redemptions and further price declines will quickly turn quite deadly for many funds who have been scrambling to juggle both sliding AUMs and droppinh prices, and are hanging on by a thread.
So in what may be an attempt to create some more volatility (after all a flatter yield curve means that only a surge in volatility can help bank profits) Citi's William Katz writes that he "spent the last few days combing AUM releases, prospectuses, Morningstar, Simfund, and Statements of Additional Information in an effort to gauge High Yield dynamics across our Coverage universe" and specifically to determine which mutual fund(s) will follow Third Avenue next into the twilight zone.
And so Wall Street…