Archive for December, 2016
by ValueWalk - December 31st, 2016 6:37 pm
By Dr. David Kass. Originally published at ValueWalk.
In 2016, Berkshire Hathaway class A shares rose 23.4% vs. a 9.8% increase in the S&P 500 (with dividends included.)  Over the 51 year period from 1965 – 2015, Berkshire's compounded annual gain equaled 20.8% vs 9.7% for the S&P 500 (with dividends included.)  From 2012-2016, the most recent five year period, Berkshire's compounded annual gain equaled 16.3% vs. 12.2% for the S&P 500.
Berkshire's closing share price of $244,121 on December 30, 2016, represents a price to book value ratio of 1.5, based on a book value of $163,783 on September 30, 2016.  Its price to book value ratio has averaged 1.6 over the past 30 years.  Warren Buffett has previously stated that he would buy back shares when Berkshire's price to book value is below 1.20.
The post Berkshire Hathaway Outperforms the S&P 500 in 2016 appeared first on ValueWalk.
Sign up for ValueWalk's free newsletter here.
by Zero Hedge - December 31st, 2016 6:20 pm
Courtesy of ZeroHedge. View original post here.
Is Tesla having the worst year ever?  Over the course of 2016, we've written frequently about Tesla's many setbacks including several auto-pilot related crashes, hackers taking control of moving vehicles, egregious levels of cash burn and a very controversial merger with SolarCity.
Now, as 2016 draws to a close, Tesla once again finds itself in the spotlight as a Model X owner has filed a lawsuit alleging that his electric SUV suddenly accelerated while being parked, causing it to crash through the garage of his home and into his living room, injuring the driver and a passenger.
In the lawsuit filed Friday in California, Ji Chang Son said that one night in September, he was slowly pulling into his driveway as his garage door opened when the car suddenly sped forward.  Unfortunately for Tesla, the lawsuit seeks class action status noting at least seven other complaints from owners of similar incidents.  Per CBC News:
"The vehicle spontaneously began to accelerate at full power, jerking forward and crashing through the interior wall of the garage, destroying several wooden support beams in the wall and a steel sewer pipe, among other things, and coming to rest in plaintiffs' living room," the lawsuit said.

The lawsuit, filed in U.S. District Court in the Central District of California, seeks class-action status. It cites seven other complaints registered in a database compiled by the National Highway Traffic Safety Administration (NHTSA) dealing with sudden acceleration.
Not surprisingly, after conducting a "thorough investigation," Tesla concluded that their cars are still extremely awesome and therefore any malfunction in operation was certainly due to user error.
Tesla said in a statement that it had "conducted a thorough investigation" of the claims made by Son.

"The evidence, including data from the car, conclusively shows that the crash was the result of Mr. Son pressing the accelerator pedal all the way to 100 per cent," a Tesla spokesperson said in an emailed statement.

Tesla said it has various ways to protect against pedal misapplication, including using its autopilot sensors to distinguish between erroneous pedal application and normal cases.
Of course, the only question now is how many "plumes of smoke" have to be discovered before Tesla investors start to worry that there might actually be a fire?
by ValueWalk - December 31st, 2016 6:16 pm
By Simply Safe Dividends. Originally published at ValueWalk.
One of the most important components of Simply Safe Dividends is our Dividend Safety Score, a metric that rates the safety of a company's dividend payment by scrubbing through its most important financial metrics.
Dividend Safety Scores are available on our site for thousands of dividend-paying stocks and can help you avoid riskier investments and build a more resilient income stream. You can read more about how our scores are calculated and view their real-time track record by clicking here.
Dividend Safety Scores range from 0 to 100, and I usually suggest that conservative investors focus on stocks that score at least 60. Scores can be interpreted as follows:
As you know, I believe in complete transparency in all that I do. From reporting detailed performance information about our dividend portfolios each month to owning up to investment mistakes I make (and there will certainly be more), I will always do my best to tell it exactly how it is.
The only way to grow as an investor is to be open and honest with ourselves, tracking and analyzing our entire decision-making process and the results we achieve (good and bad) in order to continuously improve. If we give into human temptation to ignore our investment mistakes, we do ourselves a great disservice and are more likely to make the same errors over and over.
The same is true for our Dividend Safety Scores. Instead of blindly shoving thousands of scores out there on the website and hoping they have some meaning behind them, I track their performance in order to gain powerful insights that can be used to make our scores even smarter as time goes on. I know many of you rely on Dividend Safety Scores to help guide your investment decisions, and I take your trust in our metrics very seriously.
By logging real-time dividend cut announcements and recording the Dividend Safety Score we had for a company right before its dividend reduction was reported, we can view the effectiveness of our Dividend Safety Scores, learn more about why companies cut their dividends, and discover ways to further improve the risk assessment capabilities of our scores.
We began tracking all dividend cut announcements in April 2016 (see them all here). The chart below incorporates data recorded…

by ValueWalk - December 31st, 2016 6:03 pm
By SC Messina Capital. Originally published at ValueWalk.
Steve Eisman of The Big Short
fame recently stated the stock market was entering a Golden Age for the financial sector, specifically banks. The argument goes, deregulation under Trump and rising interest rates, coupled with rising leverage and higher risk, will be extremely beneficial for banks in the near future.
We don't disagree with Eisman, but we think it is more likely we are entering a Golden Age for Property & Casualty (P&C) insurance stocks. Whereas deregulation and rising leverage seem to be required steps in Eisman's thesis for the gilded age for banking stocks to play out, P&C insurance companies can remain at their existing leverage ratios and insurance regulation can remain status quo – the mere rise in interest rates from the zero bound alone has the potential to catapult ROEs in the P&C sector into a gilded era.
As a fund, S&C Messina Capital is happy with the status quo as successful underwriting has been generating healthy ROEs for our portfolio companies, but an increase in interest rates would boost the returns of the portfolio even further; the portfolio would also experience multiple expansion.
With interest rates finally rising from the zero bound, we are entering a Golden Age for P&C insurance companies. As long as rates continue to rise, we shall see the earnings power of P&C carriers continue to rise as well, all else being equal. There is no telling how long this gilded age for P&C insurance carriers will last.
The relationship between an increased ROE & share price performance
Share prices of P&C insurance carriers tend to track their long-term ROEs. For instance, a carrier earning an annual ROE of 10% is likely to see its share price grow 10% per year through various insurance and economic cycles.
Figure 2. Share prices performance follows growth in underlying book value
Why does earnings power increase?
To ask simply, why do rising rates benefit the earnings power of P&C insurance carriers? This is because most of their assets are invested in fixed
…

by ValueWalk - December 31st, 2016 5:59 pm
By VW Staff. Originally published at ValueWalk.

In this interview which aired on Bloomberg, Warren Buffett discusses topics ranging from his value investing techniques, his purchase of the Washington Post, playing Bridge, and how he analyses stocks and businesses. He also gives some insights into what he values most in life (time, not money). Talking about his beginnings as a value investor, Warren Buffett discusses how he was influenced by David Dodd.
Warren Buffett On The David Rubenstein Show
The post Warren Buffett On The David Rubenstein Show appeared first on ValueWalk.
Sign up for ValueWalk's free newsletter here.
by Zero Hedge - December 31st, 2016 5:40 pm
Courtesy of ZeroHedge. View original post here.
Submitted by Salil Mehta via Statistical Ideas blog,
Happy New Year!  As we wrap up another successful year of the statistics blog (now with >50k followers), we would be remiss not to recognize some nice friends who are still feeling disappointed over the outcome of the recent U.S. election.  It is worth exploring a little more about the election results, based on the most updated voting records.  Particularly as the Democrats have pivoted the tête-à-tête from recount and FBI director Comey, to popular vote and Russian president Putin. 
What does it mean to now imply that "most Americans" voted for Democratic ideals, given the results (looked at through the prism of a popular vote tabulation) showed Hillary Clinton won by only a couple percent? 
It turns out that this sort of conclusion is false, and instead it leads to one party presuming to hold a mighty moral high-ground from their ¼ voting share? 
From a peak in 2008, now through 2016, those not caring to vote (in white below) continuously rose to 45% (from 43%).  This is a higher voter apathy than in virtually all other advanced countries.  And frankly, it is the largest American segment of 114m (up from 99m).  Last-minute undecideds (including me) rose.
Additionally, the voting share for the popular vote "winner" (in blue below) fell to 48% (from 53%), or as a portion of the entire eligible population (as opposed to as a portion of voters) it fell to 26% (from 30%).  So on net, even as the population grew, a small fraction voted (and within that an even smaller fraction voted for the popular vote "winner").  This results in Hillary Clinton not epitomizing the views of "most Americans" even if she "won the popular vote", but rather supported by only 66 million Americans (down from 70 million who voted for Barack Obama in 2008).
I'm with her?  Observe their share of the pie, below!  Democrats have simply seen a continuously dwindling moral-standing to speak for all Americans, even as the population has grown in the past 8 years.
So now back to my friends who are still feeling sour over the Presidential election and looking for relief.  I feel a particular sense of responsibility since my polling probability research was read by millions and continuously solicited/shared by one party, and
…

by Zero Hedge - December 31st, 2016 5:25 pm
Courtesy of ZeroHedge. View original post here.
Europeans must have been delighted to discover that one thing is working as well as it has since the start of the Great Recession. Behemoth banks that are failing are still able to pay their Christmas bonuses to their top executives and give nice dividends to their shareholders thanks to Super Mario Draghi. 
Keeping up the tradition of central bankers looking out for other bankers, Mario Draghi, chief of the European Central Bank "agreed to lower the minimum capital requirements for Deutsche Bank on Tuesday, 'giving the lender more leeway to structure bonus payments and dividends.'" (Zero Hedge).
Thank God for that, huh? The needs of the stockholders and top execs have been taken care of before one of the world's oldest megabanks falls on everyone else. While Deutsche Bank's stocks sit at all-time lows after it has been required to pay $8 billion in fines, at least the golden parachutes are in top condition.
Italy surrenders to Germany
Meanwhile, the world's oldest bank in Italy got nationalized for Christmas so that the losses of capitalists — many of whom exist outside of Italy — could all be socialized to the people of Italy. However, when the People's Republic of Italy became the new owner of the bank, they found out the hole in the bank's core was bigger than they thought. (Surprise.)
The ECB now estimates the hole to be 8.8 billion euros, rather than the 5 billion of additional capital they formerly believed it needed. That's a 75% increase in the bank's capital shortfall that took place from November through December. What a sleigh ride!
…

by Zero Hedge - December 31st, 2016 4:39 pm
Courtesy of ZeroHedge. View original post here.
It was a year replete with Asshats, men and women making complete fools of themselves — as mankind tends to do on a continuous basis. But, just like in the book Animal Farm, some fools are more equal than others.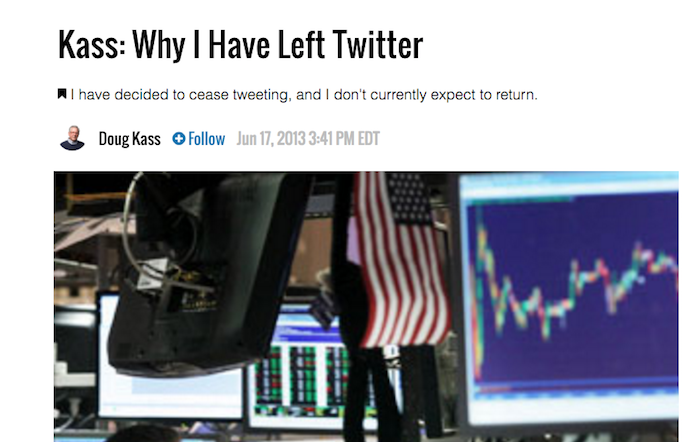 Enter Doug Kass.
During the height of Hillary Clinton's campaign, buoyed by a biased media and rigged polls, Mr. Kass took time out from his day to venture on over to have a chat with the strange man at Bloomberg, who is seemingly obsessed with bow-ties and what college professors are up to, Tom Keene. During his interview, accompanied by an analyst from Citi, Kass predicted, quite effervescently and with ample degrees of energy, that Donald Trump would, in fact, DROP OUT of the race for President of the United States.
Both him and the Citi analyst were practically orgasmic over the specter of such a humiliating occurrence — which would, of course, equate to the ascension of the first female president of the United States, Hillary Clinton.
Watch.
As the campaign carried on, I kept tabs on Mr. Kass to make sure he knew that he owned that video and would one day pay for it.
.@DougKass Wondering if you still believe Trump will drop out of the race? Thanks in advance.

— The_Real_Fly (@The_Real_Fly) September 19, 2016
Today is that day.
Congratulations Mr. Douglass Kass for winning 2016′s Asshat of the Year Award. You certainly earned the distinction.
Content originally generated at iBankCoin.com
by Zero Hedge - December 31st, 2016 4:00 pm
Courtesy of ZeroHedge. View original post here.
Submitted by Jason Ditz via TheAntiMedia.org,
Adding to concerns about the civilian toll of the US air war against ISIS targets, the Pentagon yesterday admitted that they carried out an airstrike against the parking lot of a Mosul hospital, conceding that they "may have killed civilians" in the attack.
The Pentagon's Combined Joint Strike Force said in a statement that they were after a van they suspected of carrying ISIS fighters, and they blew it up in the parking lot of what "was later determined to be a hospital." The US has previously insisted all hospital sites in Mosul were well known and that they were taking extreme care not to hit civilians.
Yet this is the second time this month the US-led coalition has bombed a hospital's property, with a previous attack deliberately targeting the city's main hospital complex at the behest of the Iraqi government. The Pentagon insisted at the time they "did not have any reason to believe" they killed any civilians, but conceded they had no idea if there were even patients at the hospital.
The Pentagon has made a habit of dramatically underreporting civilian casualties in the ISIS war, with some reports suggesting that the actual toll of civilians killed by the US may be as many as ten times the "official" figures.
This is the result of the Pentagon largely not investigating allegations of large figures they deem "not credible," and revising downward the numbers slain in already well-documented incidents by the time they get around to putting them in the reports.
by ValueWalk - December 31st, 2016 3:30 pm
By VW Staff. Originally published at ValueWalk.
Ben Graham Centre's 2017 Value Investing Conference
April 19, 2017
Toronto, Ontario
The Ben Graham Centre for Value Investing will hold its 2017 Value Investing Conference at The Fairmont Royal York in downtown Toronto.
Ben Graham Centre for Value Investing
The Ben Graham Centre for Value Investing at the Ivey Business School at Western University will hold a conference on Value Investing on April 19, 2017 at the Fairmont Royal York in downtown Toronto.
The mission of the conference is to promote the tenets of value investing as pioneered by Benjamin Graham, to expose conference participants to the various value investing methods used by practitioners, and to encourage and support academic research and study in the area of value investing.
The conference will provide a forum to explain, discuss and debate the principles, practices and various applications of value investing from a global context. Corporate executives offered an industry perspective of how to look for value creating opportunities and how to create value.
"George runs a Value Investing Conference the day before our meeting…I highly recommend it – he has some outstanding speakers and it is well worth your time to attend."

– Prem Watsa

Chairman and CEO, Fairfax Financial Holdings Ltd

from the 2016 Fairfax Annual Report
Conference Organizer and Chair
George Athanassakos, Director, Ben Graham Chair in Value Investing, Ivey Business School
Luncheon Keynote Speaker
Will Danoff, Vice-president and Portfolio Manager, Fidelity Investments' Contrafund, Boston, Massachusetts
Topic: "A Growth Manager's Perspective on Value Investing"
Value Investor Session
Michael Van Biema, Founder & Managing Principal, Van Biema Value Partners LLC, New York, NY.
Thomas A. Russo, Partner, Gardner Russo & Gardner, Lancaster, Pennsylvania
Topic: Global Value Equity Investing
Mohnish Pabrai, Managing Partner, Pabrai Investment Funds, Irvine, California
John Phelan, Co-Managing Partner and Co-Founder, MSD Capital, L.P.
Andrew Brenton, Chief Executive Officer, Turtle Creek Asset Management, Toronto, ON
Corporate Executive Session
TBA
Sponsorship
For more details and to register:  http://www.bengrahaminvesting.ca/Outreach/2017_Conference.htm
The post Ben Graham Centre's 2017 Value Investing Conference appeared first on ValueWalk.
Sign up for ValueWalk's free newsletter here.