We're back from Las Vegas!
As you can see, the trip was easily paid for with an instant $5,000 winner on our Natural Gas (/NG) Futures trade and you didn't even have to be in Vegas to play as I put a note out to all our Members in the live Member Chat Room saying:
/NG round tripped, chance to load up again at $2.90.
This morning we took the money and ran at $2.97 along with $500 per contract on oil at $52.80 but we're still long on coffee (/KCN7, now $147.50) and short on the Russell (/TF, now 1,395) – there's always something fun to play in the Futures! In fact, there seems to be a lot of demand for an all-day Futures Trading Workshop so let us know if you are interested and we'll see if we can find a date to hold one of those and, of course, we often find good Futures to trade in our weekly Live Trading Webinars – and we have one today at 1pm, EST.
As I noted in yesterday's post, we found some stocks to trade during our weekend seminar and so did Warren Buffett, who followed us into Monsanto (MON) as well as Apple (AAPL), with Berkshire adding 42M shares at about $5Bn – a LOT more than we paid but still a lot less than it is now.
Of course, if you still want to buy AAPL for $120 or less, you can – just use our very simple system for buying stocks at a discount, which will be featured at the NY Money Show on Feb 27th, when I teach a 1:30 class on the subject that will apparently be live-cast (so I guess I'd better work on some slides!).
Anyway, without all that tedious actually LEARNING how to give yourself a discount on almost any stock you want, the way I would trade AAPL at the moment is — WAITING FOR IT TO PULL BACK!!! What, you think I'm some kind of TV huckster who tells you to chase things after you missed a 25% run? NO – that's the whole point of what we teach people NOT to do – you missed it – either it gets cheaper or you move on…. Jeeze….
Monsanto (MON), on the other hand, is still silly at $107.63 since Bayer has already agreed to buy them for $128 per share and we invested ages ago at bet $88.50 and Warren has now followed us in closer to $100 (maybe he's only a PSW Report Member and might have missed the Webinar when we added it to our Long-Term Portfolio). I can't get you into MON for $88.50 anymore but I can help you pay 10% less than Warren Buffet with the following trade:
Sell 10 MON 2019 $100 puts for $9.30 ($9,300)
The mechanics of selling a put is that someone PAYS YOU $9,300 (in this case) in exchange for you promising to buy MON from them for $100 between now and Jan, 2019. You can be forced, at the stockholder's discretion, any time they want, to spend $100,000 on Monsanto, so make sure you REALLY want to own 1,000 shares at net $90,700 ($90.70/share) but, as noted, Warren does and we're down for 1,500 shares at net $88.50 in our own LTP.
The nice thing (for those of us in the Top 1%, that is) is that the margin requirement on this trade is only $13,057 so our return on margin is 71% – far, far better than the 10% discount and a lot more than we could make, percentage-wise, if we bought the stock for $107.63 and they finalize their deal at $118. Even better, we probably don't have to wait until 2019 to finalize our deal as these put options would cancel out the day the deal finalizes – and we get to keep the $9,300 as our payment for NOT buying MON for $100. Isn't is great to be rich???
Seriously, they say "the rich get richer" but they actually have no idea how many ways there are to make money when you already have it. Not only do we get paid not to buy stocks but it's a long-term capital gain that's only taxed at 20% (soon to be 10-15% under our beloved President Trump – long may he rain more and more money on those of us who need it least).
In fact, the main reason we went long on Exxon (XOM) as a Top Trade Idea from our weekend seminar is that Trump is giving them tax breaks too and that will pump up their net earnings and that's MORE FREE MONEY for us Top 1% shareholders to enjoy while we suck it out of your wallet at the pump. Thank you for voting!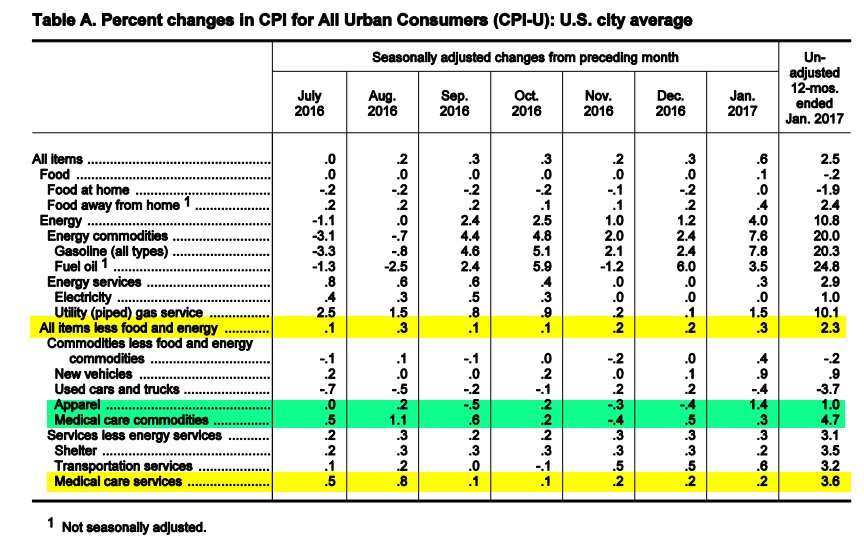 Speaking of inflation, we just got a stunningly high 0.6% rise in the CPI, which matches the 0.6% rise in the PPI yesterday and that is 100% higher than the expectations by the leading economorons they usually survey. It was led, of course, by a 7.8% increase in gasoline in January after a 2.4% increase in December, which compounds well over 10% so thank you for shopping and thank you for taking the humble CEO of XOM and making him your Secretary of State. Gasoline used to be $4 a gallon wholesale under Bush, it's down to $1.54 – we can do this to you for a long, long time so start saving now for your next tank of gas and thank you once again for your vote!
There is no better way to get rich than to nickel and dime the consumers to death with rising prices and fees – especially when you can force more of them to participate in the labor force (due to their need for money to cover the basics), which then keeps our labor costs down WHILE justifying our need for tax incentives and stimulus to "help create jobs" – no matter how crappy those jobs are. America – F' Yeah!
Once again, this is why we put out our Secret Santa's Inflation Hedges to get you through 2017. As we noted in yesterday's post, our SLW Trade of the Year is already up 900%, which is a good start on the way to our 1,800% goal but there's 3 other trades there you can still get involved with and, of course, we have trade ideas like that every day for our Members…
Today though, as I noted, we're short the Russell Futures (/TF) and rising CPI puts the Fed on the table for faster rate increases as does EVERYTHING the Fed speakers said yesterday – including Yellen herself, so I think it's completely ridiculous that the markets are trading like it's 1999 – it clearly is not.
Do you know someone who would benefit from this information? We can send your friend a strictly confidential, one-time email telling them about this information. Your privacy and your friend's privacy is your business... no spam!
Click here and tell a friend!