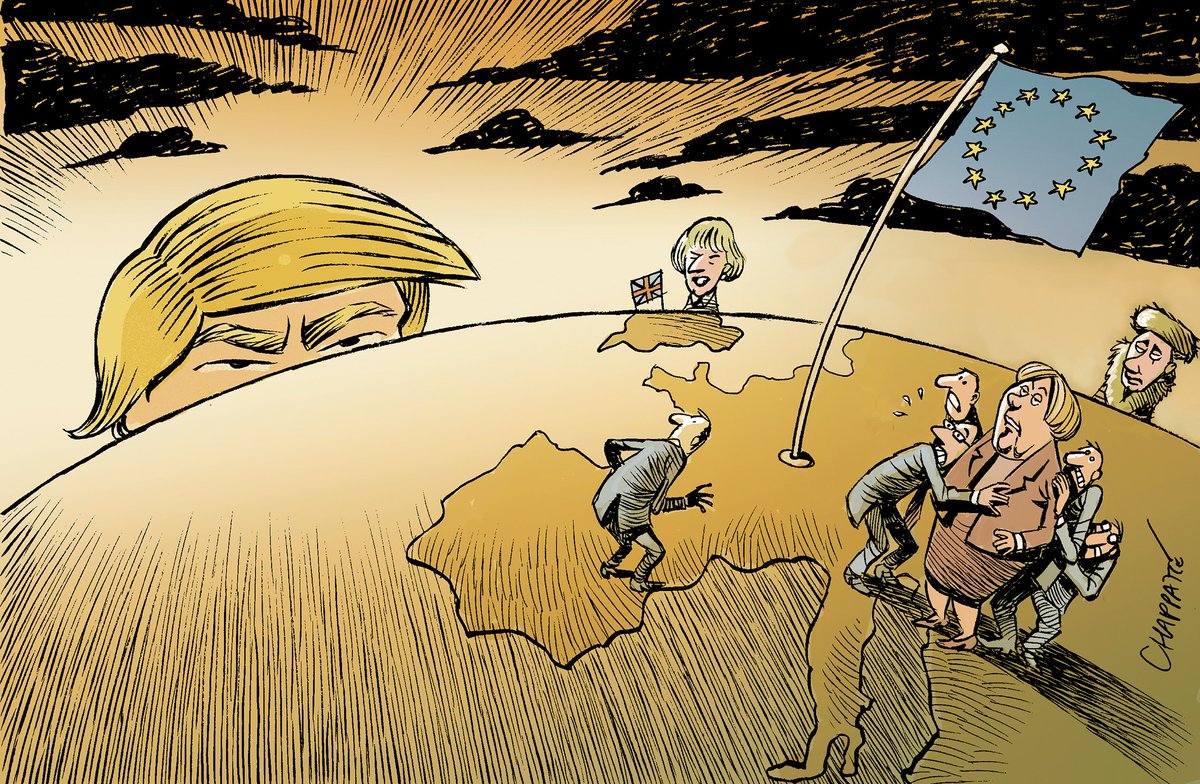 Will Trump come back?
Julian Assange is finally coming back after 8 years in hiding, I wonder where Trump will be seeking asylum – perhaps Mother Russia? As noted by CNN: "Besieged at home, Trump sets off for 'do-or-die' foreign trip," stating "if President Donald Trump's crucial first foreign trip passes off without a disaster, it will be considered a success." 8 days without a disaster? It's only been 114 days so far and I don't think we've gone 3 in a row without a new scandal!
Not only that but Julian Assange is back – I can't wait to see WikiLeaks turn its sights on Donald's secrets. Over in Europe, they want to know if Trump is really pulling out of the Paris Climate Accord in defiance of the entire rest of the World, who ratified the treaty – there's a good start. That's the middle of his trip, which Trump ends with a NATO meeting, where he has to explain to the actual Members why he thinks they don't do their share but first, Trump heads over to the Middle East, where he has boasted he can fix things.
Of course the real purpose of the trip is to sell arms to the Saudis and we have our LMT and RTN back from when Trump was first elected (see: "Merry Trumpmas – Looking Forward to a Wild New Year"). Raytheon (RTN) is already over our $145 target and our trade idea for them was:
We also like Raytheon (RTN), who get paid almost $2M every time the US fires a Tomahawk missile (and we do that a lot!). So, to bet on the escalating cold war (and the proxy wars we love to fight), we like:

Sell 5 RTN 2019 $120 puts for $8.50 ($4,200)
Buy 5 RTN 2019 $120 calls for $29 ($14,500)
Sell 5 RTN 2019 $145 calls for $15 ($7,500)

In this case net $2,800 in cash buys us a $12,500 spread so the upside potential at $145 (where we are now) is $9,700 (346%). As with the LMT trade, we're being conservative in our initial entry, in case the market sells off but, if it doesn't, nothing wrong with "just" making a 346% return on cash. Margin requirement for 5 short $120 puts is just $6,000, so it's a nice, margin-efficient trade as well.
It's only been 5 months but already the short $120 puts are down to $3.65 ($1,825) and the $120/145 spread is net $19.50 ($9,750) for net $7,925, which is up $5,125 (183%) and simply "on track" for our full $9,700 (346%) gain. The upside from the trade as it stands is more than a double but that's not that interesting to us as a new trade – as clearly we can do much better than doubling our money over 18 months.
In fact, let's look at the LMT trade from the same morning's report:
Because of their work on nuclear fusion, Lockheed Martin (LMT) is our favorite US defense contractor and they've been down recently as Trump tweeted out his displeasure with F35 cost overruns but, overall, we think it's a nice opportunity to go long LTM:

Sell 5 LMT 2019 $200 puts for $13 ($6,500)
Buy 5 LMT 2019 $220 calls for $45 ($22,500)
Sell 5 LMT 2019 $260 calls for $23 ($11,500)

That puts you into the $20,000 spread that's 80% in the money for net $4,500 so the upside potential, if LMT just manages to move up $10 in two years, then it's a profit of $15,500 (344%) and ordinary margin on the short puts is about $10,000 but those puts are a nice 20% discount to the current price – we're playing conservative because we do expect a market pullback.
Despite the recent dip, LMT is still over our target as well and the short $200 puts are down to $5.86 ($2,930) while the $220/260 spread is net $26.80 ($13,400) so net $10,470 is up $5,970 (132%), not quite as good as RTN but not bad for a 5-month return, right?
That's something I want to stress about our long-term plays, it's not that they don't make money in the short run – we prefer them because, IF we are wrong, we have 2 years to ride out the trade and make adjustments. If we're right – we make fantastic returns using very little cash. As I noted yesterday, our Long-Term Portfolio has blasted higher this month and, in our Live Member Chat Room, when we reviewed the LTP – we found NOTHING that needed changing into today's expirations BECAUSE they are generally "set and forget" long-term FUNDAMENTAL trades like the ones above.
Read the news, make a trade, collect your cash – that's our whole system….
Speaking of systems, we predicted the index bounces yesterday using our fabulous 5% Rule™ and, other than the Nasdaq, which blasted higher we're right in the ranges we expected which means we're not very impressed with the dip buyers so far – especially since declining volume on the broader NYSE was 10% higher than advancing volume.
I'll color code and add charts so we know what to watch for today to decide if we are going to be bullish or bearish into the weekend (prediction: bearish). The first number is where we are now (8:15) in the Futures (yesterday we used the base):
Dow (

/YM

) 20,678 with

20,600

(weak) and

20,700

(strong) bounce lines.
S&P (

/ES

) 2,370 with

2,360

(weak) and 2,370 (strong)
Nasdaq (

/NQ

) 5,650 with

5,580

(weak) and

5,610

(strong)
NYSE (no futures) 11,434 with

11,450

(weak) and

11,500

(strong)
Russell (

/TF

) 1,362 with

1,360

(weak) and

1,370

(strong)
That's a bit too much red to get bullish about. The S&P is right on the line at 2,370 so they'll be our leading indicator for day trades but, on the whole, the Dollar is down 0.5% at 97.25 so the Futures up 0.3% is pathetic – not even enough to compensate for the weak Dollar so we're taking this whole thing with a grain of salt.
Those Oil Futures (/CL) blasted over $50 and that was up more than $1,500 per contract, so we took those off the table this morning – congratulations to all who played along at home, it's a good way to go into the weekend, right?
The same with Gasoline (/RB), which went over $1.625 so we stopped out there on the way back down with a lovely 0.725 gain at $420 per penny, per contract is up $3,045 per contract there and most of those gains came after we reiterated the trade in yesterday morning's report.
Remember, I can only tell you what is going to happen in the markets and how to make money trading it – the rest is up to you!
We went over the oil trades extensively in Wednesday's Live Trading Webinar (47:00 on the replay) and the only reason we cashed in is because there are still over 80,000 open June contracts at the NYMEX for delivery of 80M barrels and you know, if you have been following oil with us, that at least 65,000 of those orders are fake, Fake, FAKE!!! and the holders have no intention of having the oil delivered during the month of June so they must get rid of them by Monday – that's a lot of downward pressure at the moment.
Click for
Chart

Current Session
Prior Day
Opt's
Open
High
Low
Last
Time
Set
Chg
Vol
Set
Op Int
Jun'17
49.28
50.07
49.28
49.98
08:22
May 19






-


0.63
27706
49.35
80657
Call Put
Jul'17
49.67
50.39
49.60
50.30
08:22
May 19






-


0.64
190273
49.66
631460
Call Put
Aug'17
49.75
50.62
49.75
50.54
08:22
May 19






-


0.63
13012
49.91
172678
Call Put
Sep'17
50.15
50.84
50.07
50.77
08:22
May 19






-


0.63
4936
50.14
188089
Call Put
Oct'17
50.29
51.01
50.25
50.94
08:22
May 19






-


0.61
3198
50.33
108262
Call Put
Nov'17
50.47
51.16
50.42
51.10
08:22
May 19






-


0.60
1445
50.50
66667
Call Put
Dec'17
50.64
51.29
50.54
51.21
08:22
May 19






-


0.58
10503
50.63
314308
Call Put
Jan'18
51.04
51.29
51.04
51.29
08:22
May 19






-


0.58
1099
50.71
71605
Call Put
July is already stuffed with 631M barrels worth of orders and imagine if they actually delivered them! No, they are essentially all FAKE!!! and they too will be cancelled and rolled once they are done manipulating the prices to screw American drivers out of Billions of Dollars over the holiday weekend. And look at that log-jam they already have in December – that's going to be a nightmare to unwind. We look forward to shorting oil again right after July 4th, in fact.
But, for now, we have faith in the ability of the NYMEX crooks to steal Billions of Dollars from their fellow Americans by jacking up the price of oil and gasoline into next weekend's holiday so we'll be buying the F'ing dip in oil (/CL) and gasoline (/RB) if we do get one but, so far, they are holding our exit levels. We still have our long Oil ETF (USO) and Gasoline ETF (UGA), of course (see yesterday's notes) – those we don't pop in and out of like we do with the Futures.
Notice how we trade at PSW? We have PLENTY of long-term trades that we don't have to touch and which are well-hedged against a market downturn. While we wait for those trees to bear fruit and while we hang out and look for new opportunities, we make the occasional short-term options trades with a small fraction of our portfolio money and, FOR FUN, with an even smaller fraction, we occasionally trade the Futures. The vast, VAST bulk of our investments, however, go to the long-term trades – even in our Options Opportunity Portfolio.
Speaking of corrupt Governments on the run – Brazil's President Temer is under investigation in connection with a corruption scandal – something we discussed back in March when I was interviewed for China Global Television:
As I said at the time "it's not going away" and here it is and nothing has changed my mind about taking the opportunity to go long. This is the dip we were waiting for as Brazil's ETF (EWZ) took an insane dive, back to the December lows. That's a bit of an overreaction because President Trump has proven you can have an inept, corrupt leader with a terrible policy agenda based on hate-mongering and cronyism, who is just two steps ahead of going to jail – and the markets can still rally, right?
So I like EWZ down here ($32.75) and we can take advantage of this dip with the following:
Sell 5 EWZ 2019 $25 puts for $2 ($1,000)
Buy 10 EWZ 2019 $25 calls for $11.50 ($11,500)
Sell 10 EWZ 2019 $35 calls for $5.50 ($5,500)
That's net $5,000 on the $10,000 spread that's over $7,000 in the money to start. The upside potential is $5,000 which would be a 100% return on your money and your worst-case downside would be owning 500 shares of EWZ for net $30/share ($15,000). The ordinary margin on the short puts is just $780 so it's a very margin-efficient play as well.
Have a great weekend,
- Phil
Do you know someone who would benefit from this information? We can send your friend a strictly confidential, one-time email telling them about this information. Your privacy and your friend's privacy is your business... no spam!
Click here and tell a friend!