And here we are, yet again.
2,399.50 was the top for the S&P Futures (/ES) yesterday at noon so it's game on for our shorts as well as Russell (/TF) 1,380 and both are still hanging around those levels this morning. As I said yesterday (and the 4 Tuesdays before that), we'll keep shorting at the top until it stops working. Seems like a sensible plan, right?
We're even more excited about our China Ultra-Shorts (FXP), which we've been tracking since April 3rd and currently, in our Options Opportunity Portfolio, we have 10 June $24 calls we paid $2 ($2,000) for on 5/15 after netting a $650 loss on our original spread so we're in for net $2,650 but FINALLY someone besides me has noticed how out of control China's debt situation is becoming as Moody's hits the Middle Kingdom with its first credit rating cut since 1989, saying that the outlook for the country's financial strength will worsen, with debt rising and economic growth slowing.
"The downgrade reflects Moody's expectation that China's financial strength will erode somewhat over the coming years, with economy-wide debt continuing to rise as potential growth slows. While ongoing progress on reforms is likely to transform the economy and financial system over time, it is not likely to prevent a further material rise in economy-wide debt, and the consequent increase in contingent liabilities for the government.

"More broadly, we forecast that economy-wide debt of the government, households and non-financial corporates will continue to rise, from 256% of GDP at the end of last year according to the Institute of International Finance. This is consistent with the gradual approach to deleveraging being taken by the Chinese authorities and will happen because economic activity is largely financed by debt in the absence of a sizeable equity market and sufficiently large surpluses in the corporate and government sectors. While such debt levels are not uncommon in highly-rated countries, they tend to be seen in countries which have much higher per capita incomes, deeper financial markets and stronger institutions than China's, features which enhance debt-servicing capacity and reduce the risk of contagion in the event of a negative shock."
Isn't that exactly what I've been telling you? What amazes me is how long it takes for these ratings agencies to catch on. Hell, they still think Japan is solvent – but that's a trade for another day…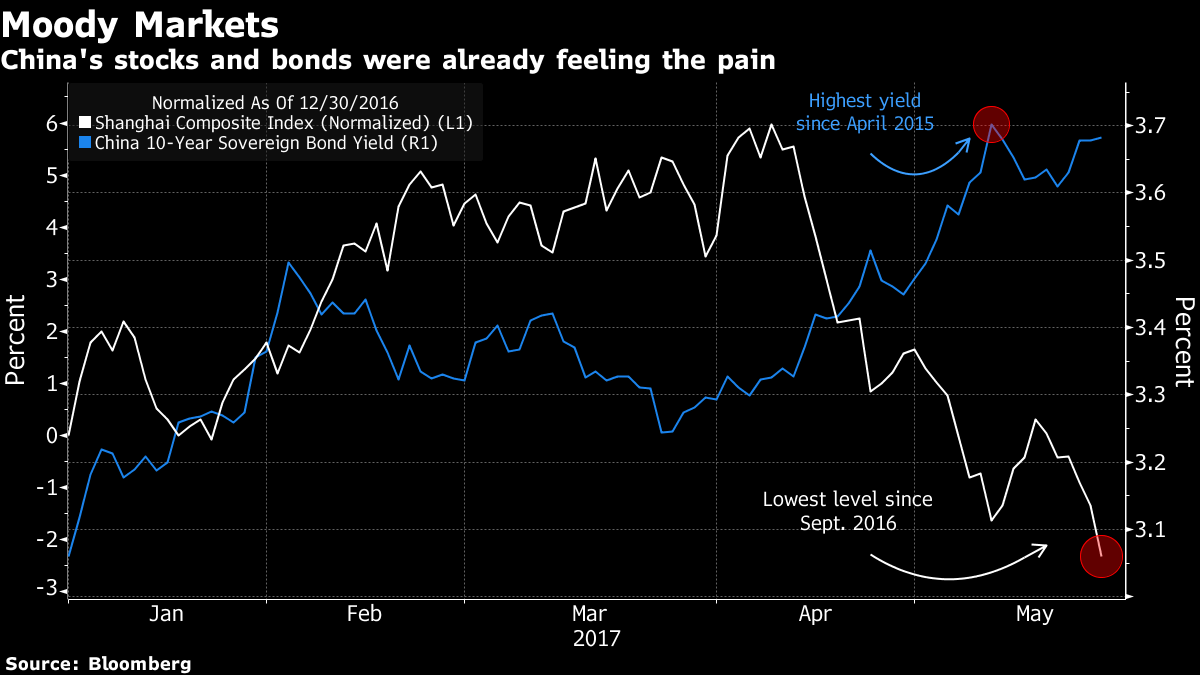 China's debt problems stem from the global financial crisis, which began in 2008. In response, China unleashed a huge spending spree that led to a flurry of construction: highways, airports, property developments and more. To fuel that spending, local officials and state-run companies borrowed heavily. Even after the worst of the financial crisis passed, China continued to rely on such borrowing to fuel growth. Today, borrowed money in China no longer packs the same economic punch. Thanks to an aging work force, smaller productivity gains and the sheer math of diminishing returns, China must borrow more and more to achieve similar levels of growth. China's debt has been increasing lately by an amount equal to about 15 percent of the country's output each year, to keep the economy growing between 6.5 and 7 percent.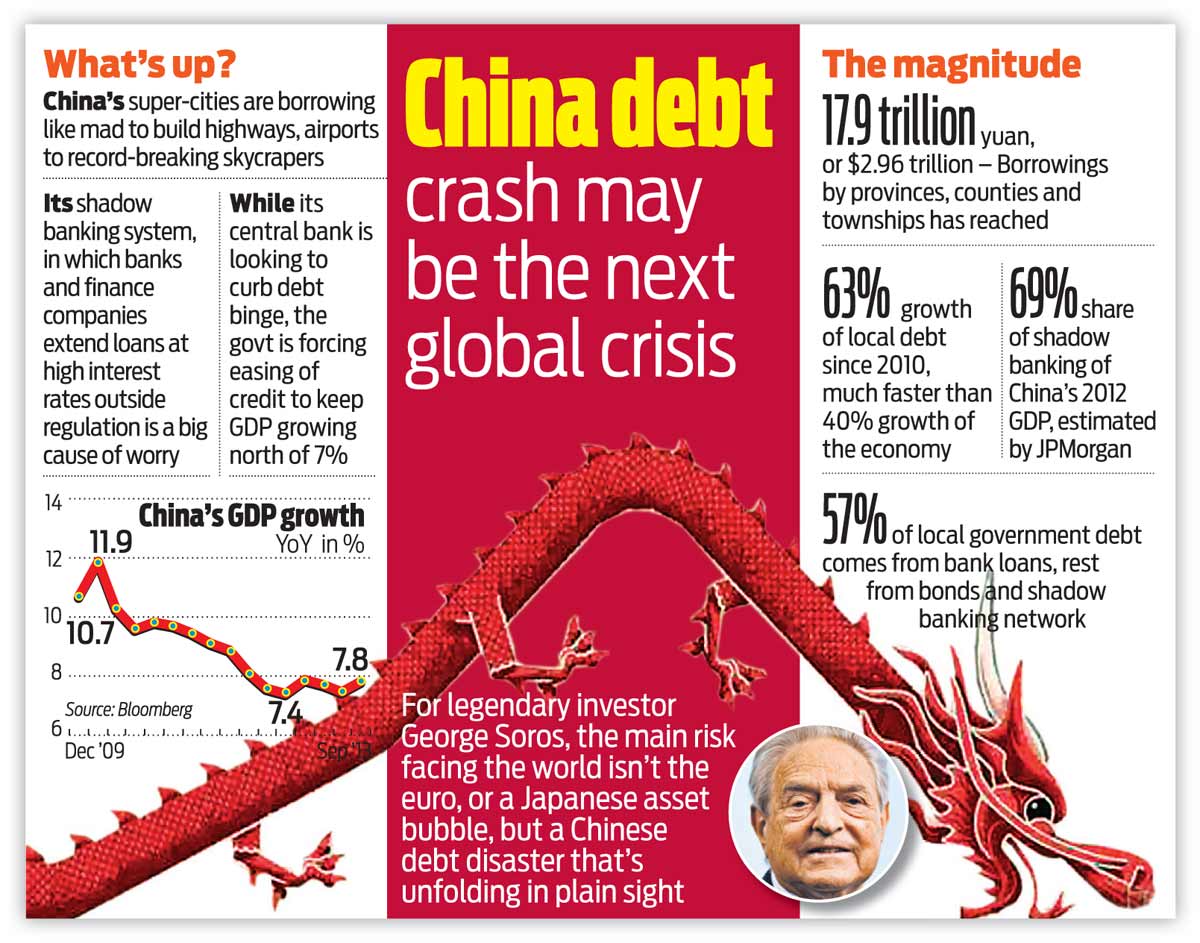 If you have to go 15% in debt to grow 7% – you are going to go broke eventually! China's banking sector is already rated Baa3, 6 notches lower than Government debt but, because Government debt had been rated at Aa3 (best) and because the Government bailout of the banks was assumed, the banks were able to borrow closer to A1. Now that China is dropped to A1 and especially because of the issues Moody's is raising, the borrowing costs for their banks may increase substantially.
Meanwhile, at the same time, the MSCI seems likely to again reject China's inclusion in the Emerging Market Indexes. "There's still a lot of issues to resolve in a short period of time," MSCI Chief Executive Officer Henry Fernandez said in an interview on Bloomberg TV. "We're making a lot of progress on all fronts but it doesn't mean we'll get there." 100 stocks trading in China are currently suspended – that's 5% of their market – that's a big red flag according to MSCI.
Only 169 mainland China-listed companies will be considered for inclusion, down from 448 under a previous proposal, and all will be large-cap shares currently accessible to foreign investors through the connect links with Hong Kong. That's why the Hang Seng has managed to hold up so far, despite the Shanghai Composite dropping 9% in the last two months but, if MSCI rejects those 169 as well (June 20th decision) - look out below!
Speaking of out of control Governments who's numbers you can't trust – Trump's Draconian Budget turns out to to be so fundamentally flawed on the math side that even the Republican Budget Committee can't support it. Former Treasury secretary, Larry Summers, did a very nice job of eviscerating the proposal in the Washington Post, saying:
"The administration asserts that it will propose revenue neutral tax cuts with the revenue neutrality coming in part because the tax cuts stimulate growth! This is an elementary double count. You can't use the growth benefits of tax cuts once to justify an optimistic baseline and then again to claim that the tax cuts do not cost revenue. At least you cannot do so in a world of logic.

"The Trump team prides itself on its business background. This error is akin to buying a company assuming that you can make investments that will raise profits, but then, in calculating the increased profits, counting the higher revenue while failing to account for the fact that the investments would actually cost some money to make. The revenue generated by the investments might exceed their cost (though the same is almost never true of tax cuts), but that doesn't change the fact that the investment has a cost that must be included in the accounting.

"This is a mistake no serious business person would make. It appears to be the most egregious accounting error in a presidential budget in the nearly 40 years I have been tracking them."
At the same time as Team Trumps BS projections are being trashed, Asher Edelman went on CNBC yesterday and spilled the beans on the Plunge Protection Team, which President Trump has been abusing to keep the market maxed out at all costs (literally) – leaving us much more vulnerable than usual to a systemic shock. Here's Asher explaining the situation:
Is the plunge protection at work? Legendary investor @AsherEdelman lays out the conspiracy pic.twitter.com/A3h7QyV1EC

— CNBC's Fast Money (@CNBCFastMoney) May 23, 2017
On the whole, there are far too many cats getting out of the bag for us to believe this runaway market can go any higher and, as Edelman notes, it's very possible that the only reason the markets haven't already corrected is because we have a President who is trying to shore up his reputation by propping up the stock markets but that's the kind of trick that can only fool all of the people some of the time and, once they wake up and see through your facade - what do you do then?
Sadly the answer is probably "start a war with North Korea."
We have a Live Trading Webinar at 1pm, EST and we'll react live to those Fed minutes as well as the detailed release of the EIA Petroleum Status Report. Oil is at $51.28 now and we're already long the Oil ETF (USO) but we'll be looking for an opportunity to go long Oil Futures (/CL) and Gasoline Futures (/RB) into the holiday weekend as well.
Do you know someone who would benefit from this information? We can send your friend a strictly confidential, one-time email telling them about this information. Your privacy and your friend's privacy is your business... no spam!
Click here and tell a friend!