That's it, the bears are dead.
We'll still keep our hedges, just in case, but we're certainly not going to be looking for new shorts in this 1999-style market that goes up and up and up some more. Every dip is a buying opportunity and you could already see this week how every dime that flowed out of the Nasdaq went right into other stocks, boosting the other indexes to all-time highs.
That's OK though because, as noted yesterday, we have PLENTY of ways to profit from a continuing bull market and we do have lots of hedges so we will SLOWLY deploy some more cash and just see if we can ride this wave until it finally breaks.
Meanwhile, the Futures trades continue to be very good to us with yesterday's morning report idea for the long on /NQ has also hit our $375 per contract at 5,775, just shy of our 5,780 goal – as predicted by our fabulous 5% Rule™.
Rejection at 5,780 is technically bearish for the Nasdaq but the other indexes are off like rockets so it's not really a great morning to short though I do like playing the S&P (/ES) Futures short below the 2,440 line and Russell (/TF) below 1,430 as long as /NQ stays below 5,780 and the Nikkei (/NKD) stays below 20,000. And no, it's not a contradiction to short the Futures after saying we can't short the market – this is just playing for intra-day fluctuations – fluctuations that netted over $20,000 worth of gains from last week's morning reports alone!
We are fairly certain the Fed will be raising rates at 2pm and that should lead to Dollar strength, which will put pressure on the indexes so, although we went long on Oil (/CL) at $46 and Gasoline (/RB) at $1.48 in our Live Member Chat Room earlier this morning, we'll certainly be out by the afternoon. Oil is down on strong builds indicated in last night's API Report but we think the 10:30 EIA report won't have a 5Mb product build and anything less than 2Mb will now be considered bullish. Obviously, we'll be using tight stops below our line.
The long-term picture for oil is deteriorating as OPEC's rivals are set to produce more additional oil than is forecast through 2018, putting even more pressure on OPEC to cut back if they want to maintain even these low prices.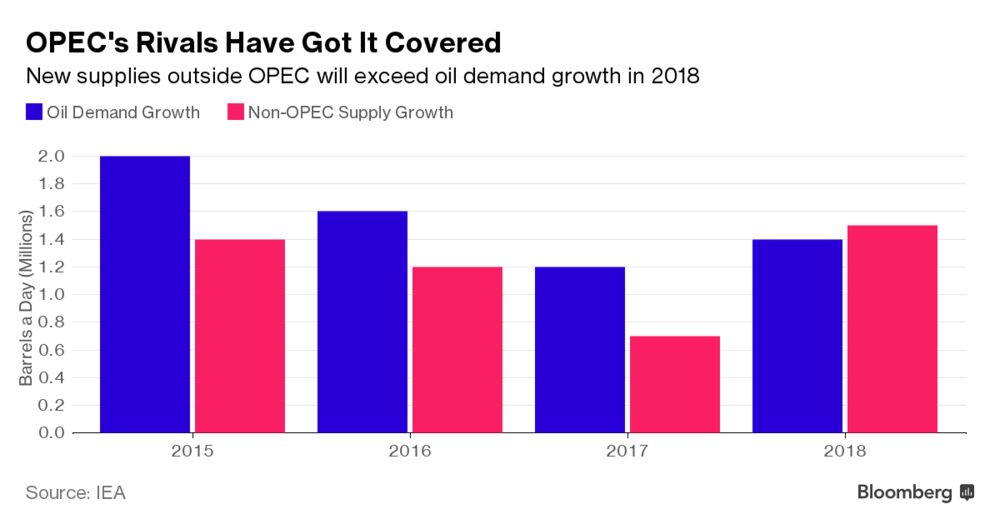 This wouldn't be so bad but the situation we have now is a glut already so we are simply running out of places to store the oil and that forces the producers to incentify the buyers and the way they do that is by lowering the price but lower prices don't actually make you consumer more oil – certainly not in the short run – so that plan tends to fail very badly (as we saw last year).
So we're only long on oil (and not very) until July 4th and then we think we may see $40 again in the fall. They'll be lucky to hit $52.50 into the holiday at this rate. Adding insult to injury for oil demand, European Industrial Production growth slowed down in April to 1.4%, from 2.2% in March. Iceland, who kicked off our last Global collapse, just cut interest rates as their own economy contracted by 1.9% in Q1 – a very disappointing number prompting a swift response from their Central Bank.
In the UK, however, inflation blasted up to 2.9% in May and the BOE only used inflation as a condition for when to tighten and their target is 2% so even Goldman Sach's stooge, Mark Carney won't be able to avoid a rate hike when they are this far over the mark and that has now prompted calls for the ECB to reverse but Goldman stooge Draghi has, so far, been very firm on continuing to hand free money out to banks for as long as possible.
Those pressures are likely to push the Dollar (/DX) lower this morning and that will boost equities as well as our commodity plays but then the Fed is likely to reverse it all so we'll watch our lines and look for the best entry though I'll be liking /DX long as well once things calm down.
There's been a shooting in Virgina where one of the targets was GOP House Whip Steve Scalise was shot along with several other people so expect a crazy morning leading to a crazy afternoon and we'll be covering it live throughout the day.
Do you know someone who would benefit from this information? We can send your friend a strictly confidential, one-time email telling them about this information. Your privacy and your friend's privacy is your business... no spam!
Click here and tell a friend!