Wheeee, what a ride!
We had a nice little dip yesterday as it was revealed that Donald Trump Jr, Jared Kushner and Paul Manifort clearly committed Federal Crimes (campaign finance laws) which say:
"A foreign national shall not, directly or indirectly, make a contribution or a donation of money or other thing of value, or expressly or impliedly promise to make a contribution or a donation, in connection with any Federal, State, or local election.

"A solicitation is an oral or written communication that, construed as reasonably understood in the context in which it is made, contains a clear message asking, requesting, or recommending that another person make a contribution, donation, transfer of funds, or otherwise provide anything of value."
The cover-up is now incidental to the actual crime and now the question is whether the President knew what his campaign manager, son and son-in-law were doing or if he was completely oblivious, as he now claims. Anything other than completely oblivious is an impeachable offense for Presdident Trump so we'll have to hope it's a coincidence that:
"On the same day Donald Trump Jr. confirmed the meeting with Mr. Goldstone—two days before the meeting took place—the elder Mr. Trump at a rally promised to give a "major speech" days later that would address "all of the things that have taken place with the Clintons."
The "good news" is the markets were saved, for the moment, by a weakening Dollar, which dropped 0.5% as International Traders lost even more confidence in the United States of America and it's Government. Dropping the value of the Dollar instantly makes things you buy with a Dollar, like stocks and gold, more expensive (in Dollars) and so the Gold (/YG) trade idea we had for you in yesterday morning's PSW Report made a quick gain of $322 per contract on the $10 move higher (rejected at $1,220) so you are welcome for that AND the ABX trade, picked up a quick $250 (2.5%) as well – not a bad day's work!
We called for a short on the Nasdaq (/NQ) at 5,700 and the flash crash took it to 5,665 at $20 per point, per contract but, realistically, you would have to be a robot to catch that. Call it 5,680 for a $400 per contract gain there and flipping to the Russell bullish (/TF) at 1,405 (as called in the Morning Report, 7 hours before it happend) yielded another $500 per contract winner at 1,415 and now we're looking for another good short – but no targets yet as we're waiting on Yellen.
Oil is going to be interesing today as we popped back up to the $46 line, where we don't mind shorting it (tight stops above). $46.20 is the 5% line off $44, so we'll watch that closely and we expect retraces of 20% of the $1.20 move so we'll call it $46 and $45.75 which makes $45.75 our primary target and below that is big trouble for /CL.
Last night's API Report showed a huge 8.13Mb draw of oil after a 5.76Mb draw last week and that has the bulls all excited but this is for the week ending July 7th and it would be TRAGIC if Americans did not put some gas in their tanks for July 4th weekend. In fact, the gasoline draw this week was an anemic 800,000 barrels after 5.7Mb last week so, once again, demand did not match supply (they used the oil to make gasoline that no one wanted) and that mismatch will make Gasoline (/RB) a nice short at $1.535 with a stop over $1.54 ($210 per contract) and hopefully we'll make a nice $500 per contract at $152 or less.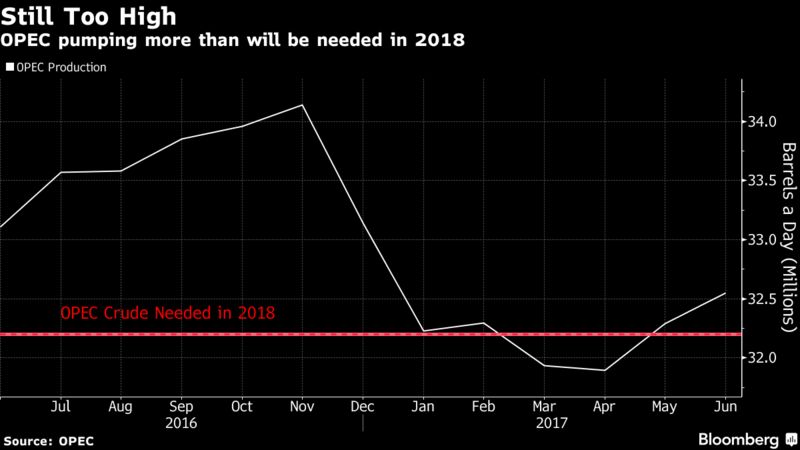 Though traders don't seem to have realized it yet, OPEC just figured out that they are still pumping 900,000 barrels per day too much oil – according to their own monthly report. As I said at their last meeting, the group needed to cut another 1Mbd to keep oil over $45 and this report says I was off by 100,000 barrels but my premise is right on the money and we expect very weak pricing into the fall if OPEC doesn't take drastic action.
"Growth in global oil consumption will be stable next year, at 1.26 million barrels a day, or 1.3 percent. However, the increase in supplies from outside OPEC will accelerate, to 1.1 million barrels a day, or about 2 percent, with most of the expansion coming from the U.S."
We'll deal with whatever Yellen says to Congress this morning in our Live Member Chat Room.
Do you know someone who would benefit from this information? We can send your friend a strictly confidential, one-time email telling them about this information. Your privacy and your friend's privacy is your business... no spam!
Click here and tell a friend!