Courtesy of Pam Martens.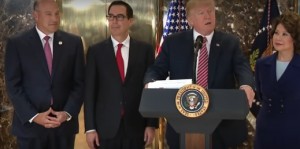 Trump's Press Conference at Trump Tower, Tuesday, August 15, 2017. Trump Is Flanked by (left to right) Gary Cohn, Former President of Goldman Sachs, Now Chair of Trump's National Economic Council, Steven Mnuchin, Treasury Secretary, and Elaine Chao, Secretary of Transportation.
As the stock market repeatedly set new highs this year, confidence in the President was eroding among the general public. That erosion of confidence now extends to dozens of the top corporate leaders in America.
There is apparently a new social standard in America. When it was revealed in the final weeks of Trump's Presidential bid that he had stated on video that he could sexually assault women ("grab 'em by the p*ssy), it was not a serious impediment for the top executives of the largest corporations in America to continue to pander to Trump, take top posts in his administration and serve on his business advisory councils.
Even though it is generally accepted that women "drive 70-80% of all consumer purchasing, through a combination of their buying power and influence" the male executives that sit atop the most famous brands in America had no trouble hitching their wagon and their brands to Donald Trump's chaotic White House.
Even after Trump's highly controversial Executive Order on immigration in January, there was only mild whimpering from most of the suits in the corner offices — with a few exceptions. Google co-founder, Sergey Brin, did join protesters at San Francisco International Airport while noting that he was protesting in his personal capacity as a refugee, not in his official Google capacity. Apple CEO Tim Cook and Microsoft CEO Satya Nadella expressed strong objections to the Trump order. Sam Altman, President of Y Combinator, also protested at the San Francisco airport and released a statement on his blog. He wrote that Trump's "precedent of invalidating already-issued visas and green cards should be extremely troubling for immigrants of any country or for anyone who thinks their contributions to the US are important.  This is not just a Muslim ban. This is a breach of America's contract with all the immigrants in the nation."
But by late January, Trump had recruited top execs for his manufacturing advisory group, including the heads of Ford, Dow Chemical, GE, Boeing, Lockheed Martin, Johnson & Johnson, United Technologies and Intel. Another advisory body, the Strategic and Policy Forum, also had no trouble attracting CEOs from multinational brands like Indra Nooyi, CEO of Pepsi; Doug McMillon, CEO of Walmart, and Jamie Dimon, CEO of JPMorgan Chase.
…
Do you know someone who would benefit from this information? We can send your friend a strictly confidential, one-time email telling them about this information. Your privacy and your friend's privacy is your business... no spam!
Click here and tell a friend!