Trump will cut taxes!
That's what took the Dow 200 points higher yesterday. Have we heard that before? Yes – for almost a year now, that's been driving the markets higher and any time the markets need a boost, they promise us tax cuts and, like well-trained dogs and, like I said in the title of yesterday's Morning Report: "Fools Rush Us Towards the Strong Bounce Lines."
As we expected, we did hit our strong bounce lines on on the Futures in yesterday's action at Dow 21,800 (21,850), S&P 2,442.50 (2,450), Nasdaq 5,850 (5,870) but missed Russell 1,377.50 (1,372.50) so we shorted the Russell at the 1,370 line and, this morning, we're already up $250 per contract at 1,365. That's exactly what we said we'd do – wait for the strong bounces and short them as they cross back under. Now we're waiting to see if the other indexes cross back under or if the RUT comes up to join them and confirms a more bullish rally. Dow (/YM) 21,850 is my next favorite short.
Our long position on the Nikkei (/NKD) was good for gains of $500 per contract on the way up and yes, we could have made more money on the Dow or the Nasdaq – but we weren't that confident in the morning that the indexes wouldn't head further down and /NKD seemed like the safer bet. We have a Live Trading Webinar at 1pm, EST and we'll look for some new opportunities this afternoon.
We are back long on Coffee, using the /KCH8 (March) contracts. I was encouraged by finding a bit of support at $130 ($133 in March), though below $130 we will stop out and wait for a better bottom. Our long premise on coffee is that Global Warming will disrupt production and, right now, Italy is having a terrible grape season due to a drought (go long Italian Wine). As noted by the Times:
The warming temperatures, shortening of the seasons and unseasonal storms brought on by global climate change are hastening the harvest of perhaps the most venerable crop of Western civilization.

Other studies have suggested that traditional wine-growing regions in Europe and around the world will become too hot for the berries traditionally linked to their earth and climate, or terroir, and will be forced to adopt varietals built for heat.
I almost hate to mention the Coffee ETF (JO) as it's been a frustrating play and we gave up on it in favor of the Futures contracts but it is at $16.80 and you can sell 5 March $15 puts for 0.50 ($250), which obligates you to own 500 shares at $15 and then use that $250 to help fund 10 $15 ($2.45)/17 ($1.35) bull call spreads at $1.10 ($1,100) for net $850 on the $2,000 spread that's starting off almost entirely in the money. If JO finishes above $17 at March expirations (16th) you make $1,150 (135%).
Remember, we would not be surprised at all if coffee falls another 10% and tests the $120 line, so it's the kind of trade you need to have dry powder (and a strong stomach) for.
Futures, on the other hand, are way more fun. Even as I'm writing this the Russell (/TF) shorts are closing in on $1,500 profit for the day, with 3 of 4 stopping out on the bounce at 1,360 so far. The way our system works is we cash out a nice winner like this one (locking in the gains) and then look for a "fresh horse" – an index that is lagging the others to the downside and, more importantly, is close to a nice upside resistance point we can stop out at with little damage which, as I mentioned above, is the Dow (/YM) at the moment.
It's nice to make $1,500 before breakfast and then get back to cash and enjoy the rest of your day. If you learn how to do that just 50 days a year, you pocked an extra $75,000 – don't you think that makes it worth learning how to trade futures? Personally, that's all I'm going to do when I retire – wake up, make a few trades and, if I have a good day, I get nice lunch and, if I have a bad day, I just go for a walk and have lunch at home. Even in New York City, $1,500 buys you a very nice lunch!
As I've mentioned before, we trade Futures for fun while we wait for our long-term trades to mature. We end up talking about them more often because they trade every day but yesterday, in our Live Member Chat Room, we went over our Watch List which, in it's first 6 months, has 12 clear winners, 6 trades where the stock is flat (but our "Be the House" trading system makes them profitable anyway) and 6 that are even better entries than where we started in March (always look on the bright side).
One of the stocks on our watch list that got cheaper is Limited Brands (LB) who we talked about on Benzinga's Pre-Market Prep on Monday as a contender for our Trade of the Year for 2018 (if it stays this cheap). We think this year's 45% drop is way overdone due to several factors we have discussed before in our Live Member Chat Room (join the fun here) and the LB trade idea we has for Benzinga was:
Sell 5 LB 2019 $30 puts for $4.10 ($2,100)
Buy 10 LB 2019 $35 calls for $6.20 ($6,200)
Sell 10 LB 2019 $47.50 calls for $2.50 ($2,500)
That puts you into the $12,500 spread at net $1,600 (we did the math wrong on the radio) with $10,900 upside (681%) at $47.50. The worst case is LB is below $30 (20% down from here) and you are forced to buy 500 shares for $30 plus the $1,600 you are out of pocket for so about $33 per share is still a 10% discount to the current prices as your worst case.
We also talked about low-volume moves and it doesn't get much lower than yesterday's 57.6M shares traded on the S&P ETF (SPY) in the "rally" compared to 128M and 136M in Thursday and Friday's down action. So we dropped from 2,470 to 2,420 on 264M shares and then we recovered from 2,420 to 2,455 on barely 100M shares traded in the two subsequent days. That's how we can short this bounce with confidence – there's no real base here – it's just a pump up to suck in the retail traders so the funds can dump their next round of stocks on.
Do you really think it's a coincidence that the market is sliding and Trump wakes up and starts tweeting about tax cuts? Of course, last night we got right back on the crazy train with Trump threatening to shut down the Government if he doesn't get his wall. That sent the Dollar down half a point, back to 93 but recovering a bit this morning to 93.20 as most Congresspeople pointed out that lunatic doesn't have the power to shut down the Government. Trump came down hard on the media – especially CNN, while his team was busy publishing fake photos of the crowd at his rally (they used the crowd from the Cavaliers 2016 Championship Parade and photoshopped it to boost the President's image). Yes, things are that bat-shit crazy here in America!
In reality, there was a massive crowd of protestors outside the arena, who clashed with the police and were tear-gassed, pepper sprayed and blinded with flash grenades. Trump, who loves to have a scapegoat, blamed the media for – well for everything. In last night's speech he:
Accused the media of turning "a blind eye" to gang violence

Accused the media of "trying to take away our history and heritage" (re: Confederate statues that states and cities are taking down after Charlottesville).

Accused the media of giving a platform to hate groups ("The only people giving the platform to these hate groups is the media itself.")

Called journalists "sick people"

Said this: "You would think they want to make our country great again. And I honestly believe they don't."

Said the media is "the source of division in our country."

"If you want to discover the source of our division in the country, look no further than the fake news and the crooked media, which would rather get ratings and clicks than tell the truth," he said.
Trump also said he would terminate NAFTA, which is something that would make the markets very nervous – if they took him seriously. "Personally, I don't think we can make a deal because we have been so badly taken advantage of," Trump said during the rally. "I think we'll end up probably terminating NAFTA at some point." Officials from the U.S., Canada and Mexico met in Washington last week to officially start renegotiating NAFTA, the deal that has bound the three economies together since 1994.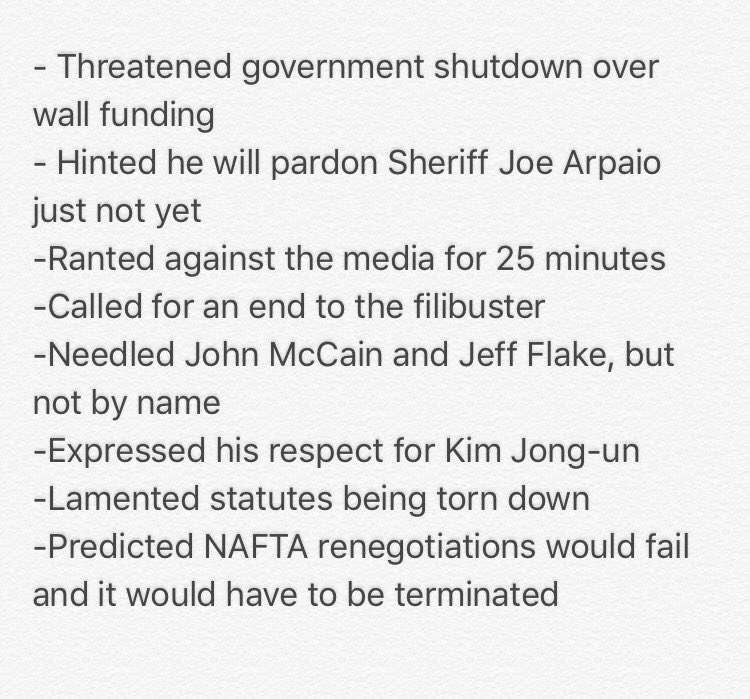 Why do investors believe Trump when he says we're going to get a tax cut but then ignore him when he says he will terminate NAFTA? Trump also had harsh words for GOP senators McCain and Flake, both from Arizona. The crowd at the Phoenix Convention Center immediately began jeering McCain, a longtime Trump critic who delivered the tie-breaking vote that sank the Obamacare repeal bill. Trump's attacks on Flake, a vulnerable senator facing reelection in 2018, have infuriated senior Republicans, including Senate Majority Leader Mitch McConnell, who have vowed to defend him. In the days leading up to the rally, several of Flake's Senate colleagues put out statements defending him, a not-so-subtle warning to the President not to go after the Arizona Republican.
And you wonder why we're shorting the market?
Just be careful out there…
Do you know someone who would benefit from this information? We can send your friend a strictly confidential, one-time email telling them about this information. Your privacy and your friend's privacy is your business... no spam!
Click here and tell a friend!