Courtesy of Pam Martens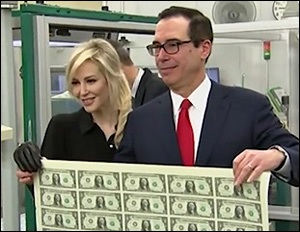 Actress Louise Linton and Husband, U.S. Treasury Secretary Steve Mnuchin at the Bureau of Engraving and Printing, November 15, 2017
By Pam Martens and Russ Martens
U.S. Treasury Secretary Steven Mnuchin appears to have inaugurated a perpetual bring your wife to work day. It's become so farcical that it frequently feels like the United States Treasury Department has morphed into a low-budget, badly scripted reality TV show where the female star is so out-of-touch that she must continually scurry about in her haute couture erasing the haughty things she has written about the little people on multiple continents. We'll get to that shortly, but first some background:
It all started back on January 19 when actress and then fiancée Louise Linton sat by her man during his Senate Finance Committee confirmation hearing to become U.S. Treasury Secretary. At the hearing, Democratic Senator Ron Wyden of Oregon had this to say about his repugnance to see Mnuchin fill the post as U.S. Treasury Secretary:
"Mr. Mnuchin's career began in trading the financial products that brought on the housing crash and the Great Recession. After nearly two decades at Goldman Sachs, he left in 2002 and joined a hedge fund. In 2004, he spun off a hedge fund of his own, Dune Capital. It was only a few lackluster years before Dune began to wind down its investments in 2008.

"In early 2009, Mr. Mnuchin led a group of investors that purchased a bank called IndyMac, renaming it OneWest. OneWest was truly unique. While Mr. Mnuchin was CEO, the bank proved it could put more vulnerable people on the street faster than just about anybody else around.

"While he was CEO, a OneWest vice president admitted in a court proceeding to 'robo-signing' upward of 750 foreclosure documents a week. She spent less than 30 seconds on each, and in fact, she had shortened her signature to speed the process along. Investigations found that the bank frequently mishandled documents and skipped over reviewing them. All it took to plunge families into the nightmare of potentially losing their homes was 30 seconds of sloppy paperwork and a few haphazard signatures.

"These kinds of tactics were in use between 2009 and 2014, a period during which the bank foreclosed on more than 35,000 homes. 'Widow foreclosures' on reverse mortgages – OneWest did more of those than anybody else. The bank defends its record on loan modifications, but it was found guilty of an illegal practice known as 'dual tracking.' One bank department tells homeowners to stop making payments so they can pursue modification, while another department presses on and hurtles them into foreclosure anyway."
Before the confirmation hearing concluded, Senator Wyden added the following suggestion that Mnuchin had attempted to mislead the Committee in his financial disclosures:
"Mr. Mnuchin, a month ago you signed documents and an affidavit that omitted the Cayman Island fund, almost $100 million of real estate, six shell companies and a hedge fund in Anguilla. This was not self-corrected. The only reason it came to light was my staff found it and told you it had to be corrected."
Do you know someone who would benefit from this information? We can send your friend a strictly confidential, one-time email telling them about this information. Your privacy and your friend's privacy is your business... no spam!
Click here and tell a friend!