Archive for 2017
by ValueWalk - April 2nd, 2017 11:48 pm
By JOHN F. BANZHAF. Originally published at ValueWalk.
Jeff Sessions win NYPD in NYC Alerting ICE to Court Appearances of Illegal Immigrants in reversal of sanctuary cities rule
Jeff Sessions NYPD Sanctuary cities ICE NYC By Ciar (Own work) [Public domain], via Wikimedia Commons
In the wake of an announcement by U.S. Attorney General Jeff Sessions that he would cut off funding if so-called sanctuary cities did not begin cooperating with the federal government regarding illegal aliens, it has been reported that the New York City Police Department [NYPD] alerts Immigration and Customs Enforcement [ICE] agents if immigrants facing deportation are due to appear in Criminal Court, thereby making it easier for them to be detained by the federal government.
Although many cities loudly proclaimed that they would not yield to these threats and yield even one inch on their sanctuary status, some observers, including public interest law professor John Banzhaf, predicted that Sessions' threat, even if arguably unconstitutional, would successfully pressure at least some jurisdictions.
He noted that Florida's largest county, Miami-Dade, long known for welcoming immigrants, has already ordered jails there to "fully cooperate" with Trump's order regarding sanctuary cities, and others appear to be considering it.
Other states are also moving to pressure localities to begin cooperating with federal immigration enforcement.  These include, Iowa, Kansas, Kentucky, North Carolina, Pennsylvania, Texas, Virginia, and Wisconsin.
Banzhaf has publicly suggested that Trump's order may unconstitutionally violate both states' rights and Congress' rights, and the sanctuary behavior about which he complained may not even violate the statute he cited.
Nevertheless, in part because cities may have difficulty obtaining a prompt judicial ruling on the constitutionality of the threat or even of a proposed cutoff, and because of the huge risks and legal costs of challenging governmental action, many more – despite their defiant claims – are likely to cave in.
Indeed, if New York City begins cooperating even in a small way with ICE, this might help persuade many other jurisdictions – which lack NYC's resources to fight the federal government in court – to likewise bend, suggests Banzhaf.
The entire program, beginning with President Trump's executive order stating that funds should be cut off to so-called sanctuary cities – if it is interpreted as many suggest, and if a court is ever able to rule on the issue – may…

by Market Shadows - April 2nd, 2017 10:47 pm
Financial Markets and Economy

Almost a Decade Later, U.S. Money Markets Are Yet to Recover (Bloomberg)
Regulators' effort to stamp out risk in the $2.6 trillion U.S. money-fund industry is creating unintended ripple effects across financial markets, with far-reaching consequences for companies and investors.
Asia Stocks Advance as Busy Week Begins; Yen Rises: Markets Wrap (Bloomberg)
Stocks in Asia rose and the dollar slipped as trading began in a busy week that includes a meeting between China President Xi Jinping and Donald Trump and culminates in the monthly U.S. jobs report.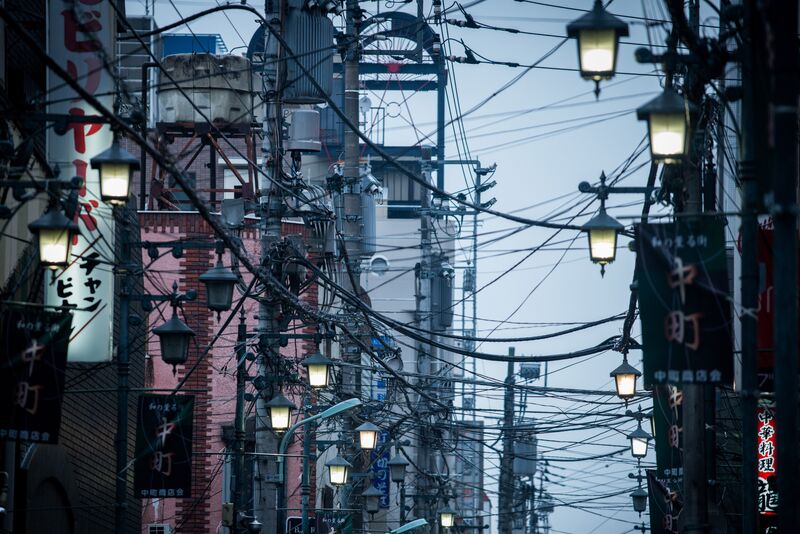 A Surge in These Tokyo Stocks Is Puzzling the Firms' Own Officials (Bloomberg)
Officials at a handful of Japanese cable makers and concrete firms say a buying spree in their own companies' shares is probably unjustified.
Japanese Corporate Sentiment Improves on Better Profits (Bloomberg)
Confidence among Japan's large manufacturers improved for a second consecutive quarter in the first three months of the year as a weaker yen helped profits rise to a record.
Australia Home Prices Rise Most in 7 Years Amid Bubble Concern (Bloomberg)
Average home values in Australia's eight state and territory capitals rose 12.9 percent in the 12 months through March, the fastest pace since May 2010, according to data from CoreLogic Inc. released Monday.
There's a way to invest in a cleaner environment, and the market is booming (Business Insider)
An increasing percentage of people today are not solely concerned about outsized returns when they invest their money — they also care about the social impact of their investments.
Sentiment vs. Reality: The Economy Is Telling Two Different Stories (The Wall Street Journal)
Based on surveys alone, one would think it is booming. Consumer confidence soared to a 16-year high in a Conference Board poll released this week. Surveys of small-business owners reflected optimism since the election.
The Reclusive Hedge-Fund Tycoon Behind The Trump Presidency (The New Yorker)
Last month, when President Donald Trump toured a Boeing aircraft plant in North Charleston, South Carolina, he saw a familiar face in the crowd that greeted him: Patrick
…

by ValueWalk - April 2nd, 2017 10:32 pm
By Dr. Andrew Stotz, CFA. Originally published at ValueWalk.
---
Disclaimer:
This example was created on February 22, 2017. This is NOT a valuation, forecast, rating, or recommendation; rather, it is a teaching example. What follows is NOT investment advice; rather, it is a teaching example. It is intended only as academic information to those who want to learn about valuation. It should not be construed as the basis for any valuation or investment. The information in this presentation came from various sources which we believe are reliable, though we do not guarantee the accuracy, adequacy or completeness of such information. We hope you enjoy learning about valuation as much as we do!
Background
AKR was born as a small chemical trading business over 55 years ago in Surabaya. It has since grown to become one of Indonesia's largest private sector distributors of basic chemicals, petroleum, logistics and supply chain solutions.
AKR supplies refined petroleum products from international refineries to the mining industry, government power utility, industrial and commercial establishments and also to the retail sector through its petrol stations.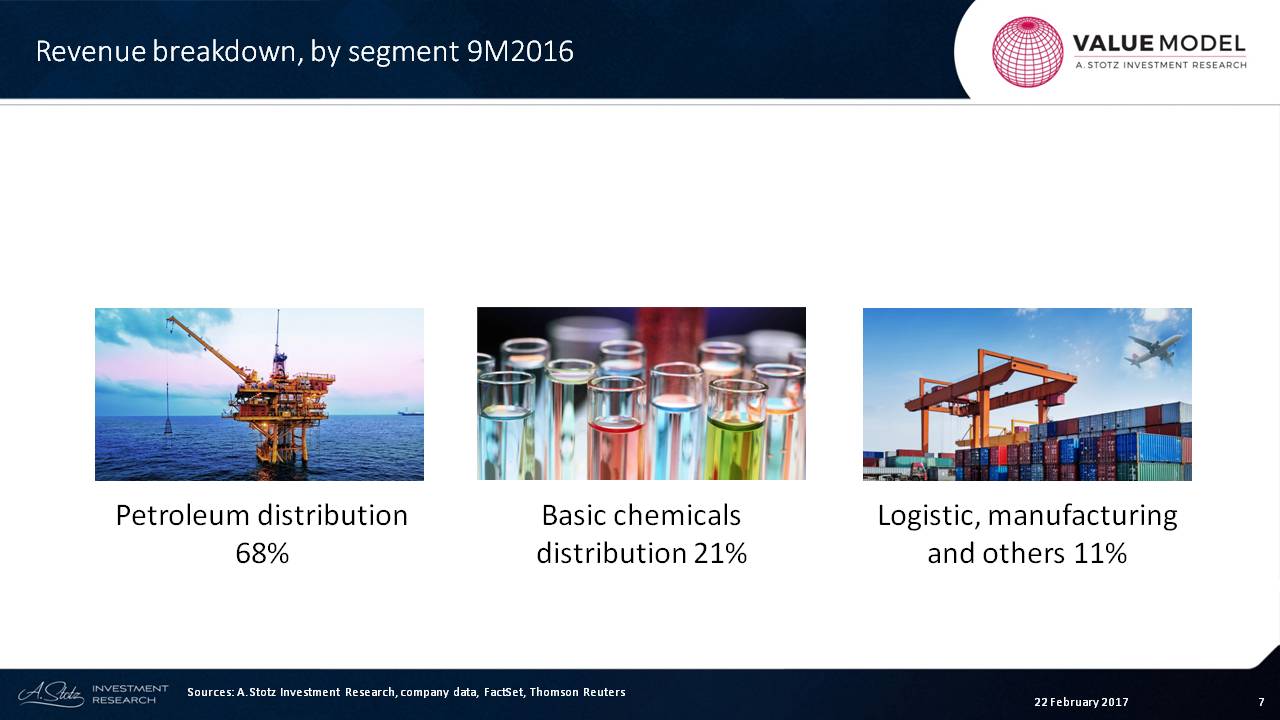 Today, AKR is the supplier of choice to industrial companies in the textiles, alumina, chemical, soap and detergent industries and supplies basic chemicals to the construction and consumer-related industries.
The 9-month 2016 revenue breakdown shows that 68% comes from petroleum distribution.
Forecast
The first thing we can see about this company is that the revenue has been falling as oil prices took a dive. The net profit has been rising, however, which is very impressive in a falling environment.
The net margin, therefore, has risen to about 8.4%, and I'm going to keep it generally flat and up slightly for that period.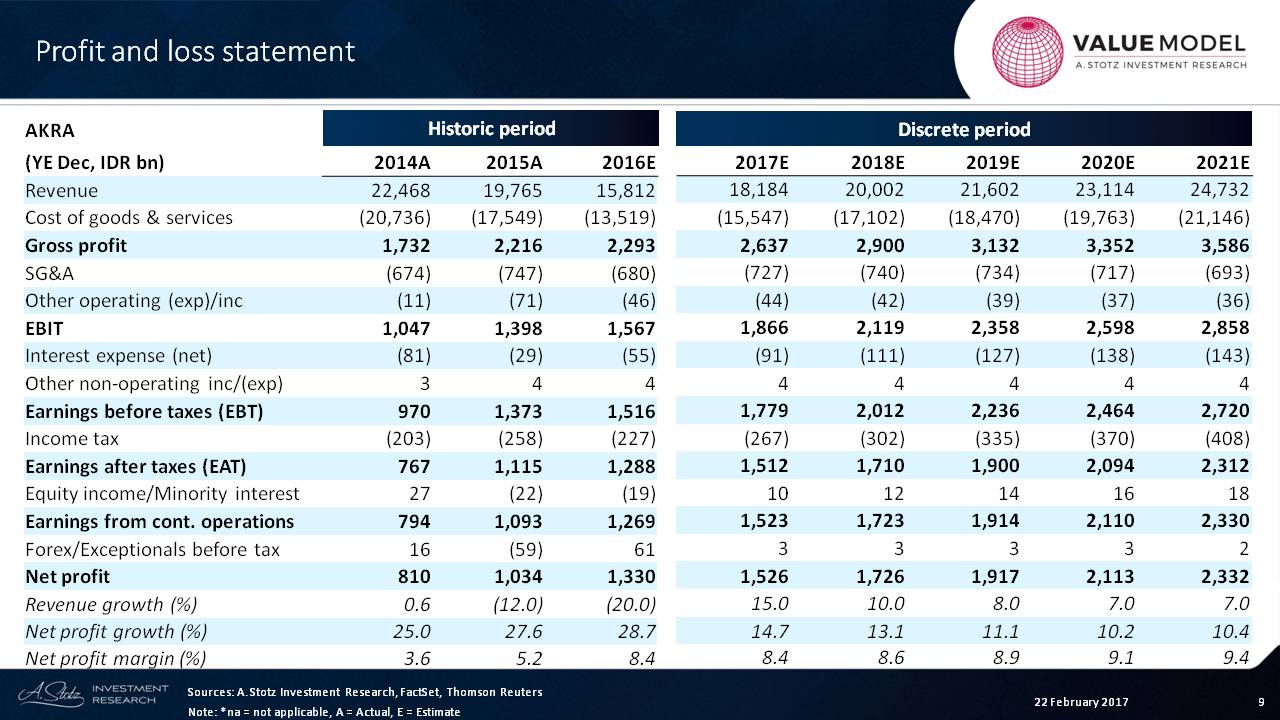 Assets
In the asset side of the balance sheet, we can see that the total net fixed asset growth is about 7%, and the total asset growth is in the range of 7% to 11%.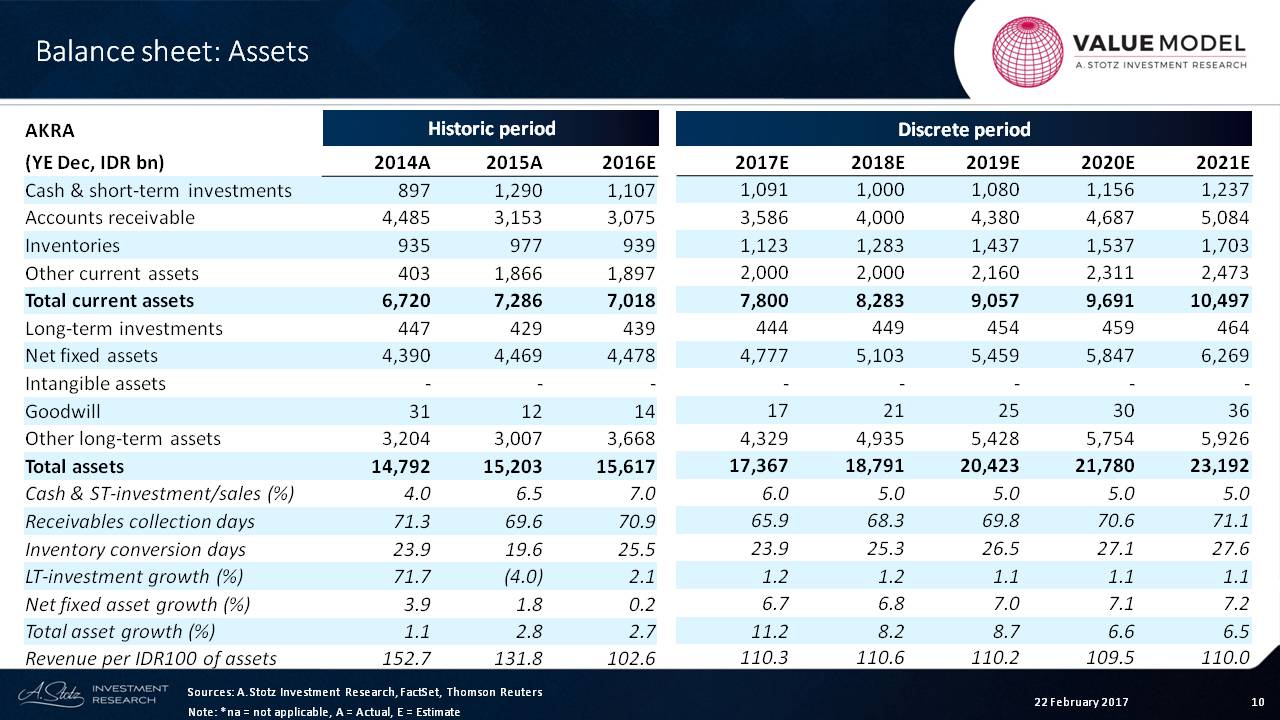 Liabilities and Equity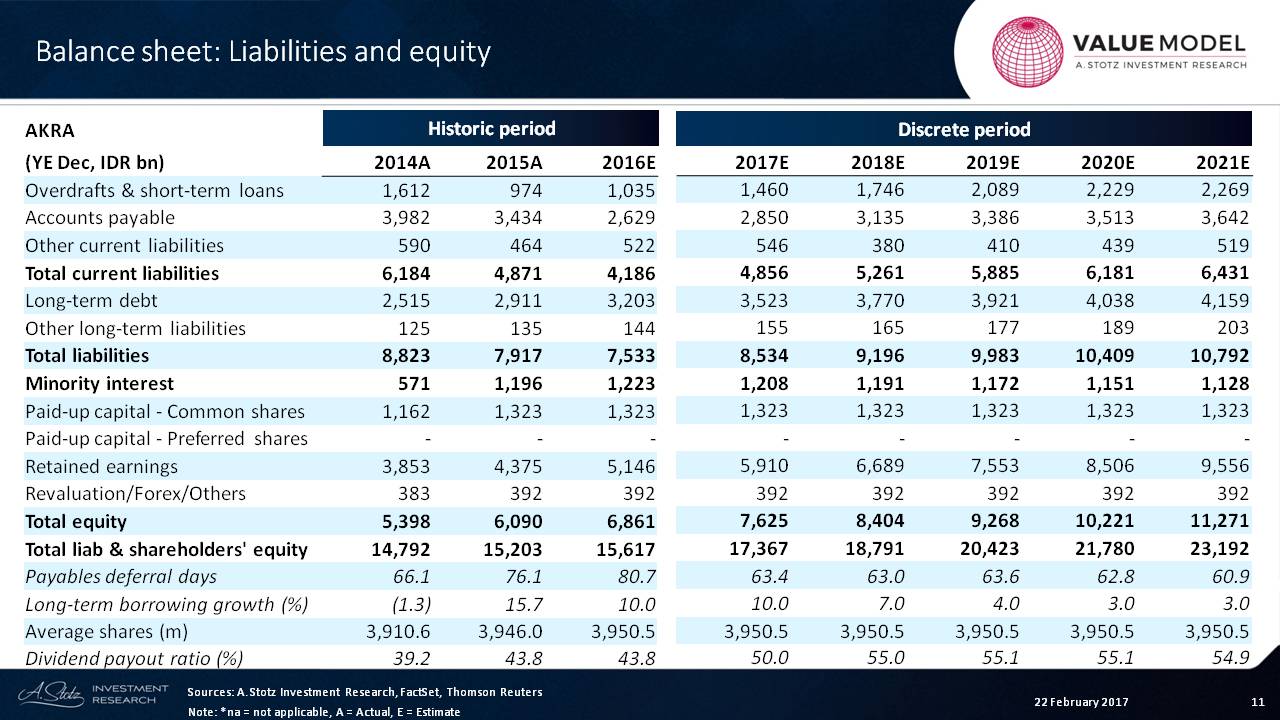 The amount of funding that the company gets is short term ? very small ? and they have a reasonable amount of long-term debt at about IDR 3,203 billion in 2016.
The dividend payout ratio is rising slightly, and I'm forecasting that it will rise in the future.
Cash Flow
If we now look at the cash flow statement, what we can see is that the operating cash flows are
…

by Zero Hedge - April 2nd, 2017 10:10 pm
Courtesy of ZeroHedge. View original post here.
Authored by Jeremiah Johnson (nom de plume of a retired Green Beret of the United States Army Special Forces) via SHTFplan.com,
For those who are skeptical about North Korea's capabilities, there is an excellent article presented by The Hill, entitled How North Korea could kill 90 percent of Americans."  The article is authored by none other than R. James Woolsey, former Director of the Central Intelligence Agency and by Dr. Peter Vincent Pry, the Executive Director of the EMP Task Force on National and Homeland Security and a former analyst with the CIA.
Although the President is moving forward with his agenda, he has hit a "stall" in these first two months just on repealing Obamacare: The Republican Party has been the stall, refusing to give him the necessary votes and impetus to overcome it.  As mentioned in previous articles, it will take the President at least 6 months before his actions and effectiveness can be assessed.  Six months is a long time.  In the meantime, the U.S. continues to emplace measures such as THAAD (Terminal High Altitude Aerial Defense) being deployed to South Korea.
China and Russia view it as an aggressive measure and a threat rather than a defensive strategy to protect South Korea and Japan.  This is partially correct.  The important thing to consider here is that North Koreans and their leader are starting to become more irate regarding the deployment of THAAD, the ongoing military exercises of U.S. and South Korean troops in the latter's nation, and the demand by Japan for a first strike initiative to occur.
Here are some excerpts from the article that readers should keep in mind:
"The mainstream media, and some officials who should know better, continue to allege North Korea does not yet have capability to deliver on its repeated threats to strike the U.S. with nuclear weapons.  False reassurance is given to the American people that North Korea has not "demonstrated" that it can miniaturize a nuclear warhead small enough for missile delivery, or build a reentry vehicle for an intercontinental ballistic missile (ICBM) capable of penetrating the atmosphere to blast a U.S. city.

Yet any nation that has built nuclear weapons and long-range missiles, as North Korea has done, can easily overcome the relatively much simpler
…

by Chart School - April 2nd, 2017 10:02 pm
Courtesy of Blain.
After the prior week's relative "fireworks", last week returned to the action we've seen much of 2017 – relative calm with an upward skew.  Very minor losses Monday and Friday book-ended 3 days of gains, with Tuesday being the one day where indexes moved significantly in any direction.  The S&P 500 gained 0.80% for the week and 5.5% for quarter 1.  Tuesday's gains were buoyed by news consumer confidence in March soared to the highest level in more than 16 years, and U.S. house prices jumped to their highest in nearly three years.
We've been noting the lack of volatility in many of our weekly posts; to that end:
Stocks are coming off their least volatile quarter in decades with the Dow industrials averaging a 0.3% change per day, the most steady quarter since the fourth quarter of 1965, according to Dow Jones data. The S&P 500 also averaged a daily change of 0.3% during the quarter, its least volatile since the third quarter of 1967.
Apple had a good week as it jumped 2.1% Tuesday to close at a record $143.80 after a UBS analyst said he could see the stock rise another 22% in his "most likely scenario."  It is worth noting as this stock is so influential on the NASDAQ which is currently outperforming the S&P 500.
You can see similar great action in NASDAQ heavyweights such as Facebook (FB) and Amazon (AMZN).
Here is the weekly "intraday" chart of the S&P 500 via Jill Mislinksi.
April is a great month for stocks; maybe it is all that last minute IRA money trying to get in before the annual deadline!
Over the past six decades, the Dow Jones Industrial Average has produced an average gain of 1.2% in the first half of April. The comparable average for the other 11 months is 0.2%.
China may have uncovered the largest gold mine in the country.
What is the Baltic Dry Index and should you care?
The week ahead…
A lot of interesting economic reports…

by Zero Hedge - April 2nd, 2017 9:43 pm
Courtesy of ZeroHedge. View original post here.
The global cyberwarfare scare washed ashore the British isles this weekend after UK nuclear power stations and airports were told to tighten defenses against terrorist attacks in the face of increased threats to electronic security systems, after intelligence agencies concluded terrorists could plant explosives in laptops and mobile phones that won't be caught by normal security screenings.
The Telegraph reports that British security services issued a series of alerts in the past 24 hours, warning that "terrorists may have developed ways of bypassing safety checks."
To be sure, there was no surprise as to the bogeyman behind the latest terror threat: intel agencies believe that ISIS and other terrorist groups have developed ways to plant explosives in laptops and mobile phones that can evade airport security screening methods.
What is perhaps surprising, is that it is this latest intelligence which is said to be behind the recent bans, in both the US and UK, of travellers from a number of countries carrying laptops and large electronic devices on board. Furthermore, "there are concerns that terrorists will use the techniques to bypass screening devices at European and US airports."
There are also fears that computer hackers were trying to bypass nuclear power station security measures. Government officials have warned that terrorists, foreign spies and "hacktivists" are looking to exploit "vulnerabilities" in the nuclear industry's internet defences. Energy minister Jesse Norman told The Telegraph that nuclear plants must make sure that they "remain resilient to evolving cyber threats".
Norman said: "The Government is fully committed to defending the UK against cyber threats, with a £1.9 billion investment designed to transform this country's cyber security."

He said the civil nuclear strategy published in February sets out ways to ensure that the civil nuclear sector "can defend against, recover from, and remain resilient to evolving cyber threats".
Meanwhile, back in the US, intelligence officials have warned that groups including ISIS and al-Qaeda may have developed ways to build bombs in laptops and other electronic devices that can fool airport security. There are fears that terrorists made the breakthrough after obtaining airport screening equipment to allow them to experiment. FBI experts have tested how the explosives can be hidden inside laptop battery compartments in a way that allows a computer
…

by Zero Hedge - April 2nd, 2017 9:35 pm
Courtesy of ZeroHedge. View original post here.
Bond bears covered over 340,000 10Y futures contracts in March – more than $34 billion notional Treasuries – making it the biggest short-squeeze in Treasury Futures history.
In fact, shorts covered across the entire yield curve complex… except for the every short-end…
Net Treasury futures shorts are now back to the lowest levels since early December 2016 but traders continue to pile into the short-end betting massively on further rate hikes as Eurodollar shorts push on beyond $3 trillion…
Seeingly betting on the continued "policy error" collapse of the yield curve…
This was not a surprise to Raoul Pal who explains "Why Everyone's Got It Wrong on Bonds"
Raoul Pal is the man who correctly called the strong dollar in late 2014.

And the crash in oil prices in 2014.

And the fall in emerging markets.

And the fall in junk bonds.

He is the man who wrote 'The End Game' which is the most widely read financial article in the history of the internet.

He's also the person who writes The Global Macro Investor, an original research service for a hand-picked selection of hedge funds, family offices, sovereign wealth funds and other high-end investors. Not to mention he has a background in co-managing the Goldman Sachs hedge fund sales business in equities and equity derivatives. As well as founding and managing a macro hedge fund for GLG Partners, one of the world's largest hedge fund firms.
It might not surprise you to know that Raoul retired at 36 and now lives in a beach house on the tropical island of Little Cayman in the Caribbean.
(That's what happens when you get the big calls right).
Today, he is predicting that the biggest ever short positions in the bond market are about to be proven wrong.
Pal believes investors are looking the other way, with the economy likely to do the opposite of what people expect. In this exclusive presentation, Real Vision co-founder and writer of the elite research service, The Global Macro Investor, he explains why everyone's wrong on bonds and why they are probably wrong on the dollar too – outlining two trades with a great risk reward and a high probability of success. 
While the market narrative is one of reflation and
…

by ilene - April 2nd, 2017 9:34 pm
To really help US workers, we should invest in robots

Courtesy of Nikolaus Correll, University of Colorado
America's manufacturing heyday is gone, and so are millions of jobs, lost to modernization. Despite what Treasury Secretary Steven Mnuchin might think, the National Bureau of Economic Research and Silicon Valley executives, among many others, know it's already happening. And a new report from PwC estimates that 38 percent of American jobs are at "high risk" of being replaced by technology within the next 15 years.

But how soon automation will replace workers is not the real problem. The real threat to American jobs will come if China does it first.
Since the year 2000, the U.S. has lost five million manufacturing jobs. An estimated 2.4 million jobs went to low-wage workers in China and elsewhere between 1999 and 2011. The remainder fell victim to gains in efficiency of production and automation, making many traditional manufacturing jobs obsolete.
Though more than a million jobs have returned since the 2008 recession, the net loss has devastated the lives of millions of people and their families. Some blame robotics, others globalization. It turns out that those forces work together, and have been equally hurtful to manufacturing jobs. The car industry, for example, imports more and more parts from abroad, while automating their assembly in the U.S.
As a robotics researcher and educator, I strongly advocate that the best way to get those jobs back is to build on our existing strengths, remaining a leader in manufacturing efficiency and doing the hard work to further improve our educational and social systems to cope with a changing workforce. Particularly when looking at what's happening in China, it's clear we need to maintain America's international competitiveness, as we have done since the beginning of industrialization.
Chinese competition

In 2014, China exported more, and more valuable, products than the U.S. for the first time. Many of these were made by…

by ilene - April 2nd, 2017 9:32 pm
Why there's more to fixing health care than the health care laws

Courtesy of George Wang, Columbia University Medical Center
There is so much debate currently about how best to provide health insurance coverage in our country that we risk losing sight of what it really means to be healthy and of how health care should be optimally provided.

The World Health Organization defines health as "a state of complete physical, mental and social well-being and not merely the absence of disease or infirmity." For the most part, the current health care delivery system conceptualizes disease as derangement in one part or a few parts of the human body, which is likened to a machine with smaller and smaller fixable parts.
Disease treatment in conventional medicine primarily relies on the use of medications or invasive interventions to treat the dysfunctional body part(s). It generally does not address the health of the whole person at the root level. Such a peripheral approach to health care overlooks the fundamental causes of disease and misses opportunities to realize true healing and health.
To achieve truly successful health care, we need to emphasize the primacy of healing the whole person on a fundamental level. This will catalyze a paradigm shift in the way health care is provided and consumed. Research has shown that such an integrative medicine approach, which considers the mind-body connection, lifestyle choice, social and environmental influence, individuality of body constitution and the therapeutic relationship, not only yields good health outcomes but is cost-effective as well.
As a professor of medicine and a practicing geriatrician and integrative medicine physician, I see on a regular basis the inadequacies of the current medical paradigm in addressing the chronic conditions often observed in aging. But I am inspired, as often, by the power of a whole-person approach to health restoration and creation.
Evidence expands on benefit of mind-body connection

Modern medical advances have led to the discovery of lifesaving therapies. However, for most people with chronic medical conditions, is taking daily multiple medications the optimal long-term solution to maintain health?…

by Zero Hedge - April 2nd, 2017 9:00 pm
Courtesy of ZeroHedge. View original post here.
Authored by Wolf Richter via WolfStreet.com,
Those who lost out on the Fed's "wealth effect."
Here's a mystery: Has this "wealth-effect" economy that the Fed so beautifully engineered since the Financial Crisis gotten a lot riskier, scarier, and uglier in some profound ways for lower-income Americans, those making $30,000 or less a year?
One of the questions that Gallup posed was this:
Next, I'm going to read a list of problems facing the country. For each one, please tell me if you personally worry about this problem a great deal, a fair amount, only a little, or not at all? First, how much do you personally worry about –
Then came 13 issues, including "hunger and homelessness."
Turns out, among Americans making $30,000 or less a year, 67% worry "a great deal" about hunger and homelessness! Food and shelter, two of the most basic human needs. That's the highest percentage ever in Gallup's data series on this question going back to 2001.
It's up from 52% in 2001/2004; up from 56% in 2007/2008; and up from 51% in 2010/2011.
Median annual household income in February was $58,714, according to Sentier Research. On an inflation-adjusted basis, this was about flat with February 2016 and below February 2000. Median income means 50% make more and 50% make less. Other studies have shown that incomes have risen sharply at the upper end of the spectrum, but have fallen at the lower end, with the gap widening. Thus the median might have stagnated, but for many of those below the median, things haven't turned out so well. And there are a lot of them!
With the prices of stocks, homes, art, classic cars, commercial real estate, and the like inflated to dizzying heights after eight years of radical monetary policies, why would these folks, making $30,000 or less – worry more than ever about such basic and dreadful conditions?
More on that in a moment. There are other elements in this mystery: Even among people making $30,000 to $75,000, a record 47% worry "a great deal" about hunger and homelessness, up from 40% in 2010-2011. And even among high-income Americans, the percentage, though small, has risen (chart by Gallup):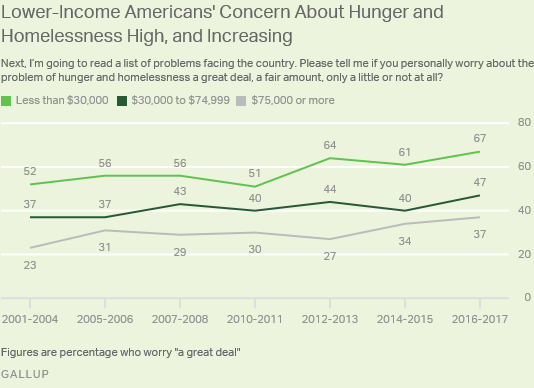 Rising worries about hunger and homelessness can have a number of
…