Courtesy of Pam Martens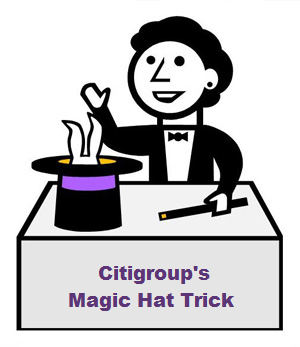 On Monday, Institutional Investor's Jonathan Kandell wrote a fascinating profile of Citigroup. He tried in every conceivable way to be kind to the company but the facts just kept getting in his way.
Interestingly, the official name of the behemoth bank holding company, Citigroup, appears just once in the article. Its homey, cuddly moniker, "Citi," appears 84 times. As the bank's public relations legions attempt to erase the stain of Citigroup's performance during the 2008 financial crisis and its Frankenbank birth in 1998 in violation of the Glass-Steagall Act and Bank Holding Act of 1956, changing the bank's name is likely in the cards.
When Sandy Weill and John Reed proposed to merge the disparate parts of Weill's Travelers Group, which owned an insurance firm (Travelers), investment bank (Salomon Brothers) and retail brokerage (Smith Barney) with Reed's Citicorp, parent of the FDIC insured Citibank in 1998 to form Citigroup, it forced the hand of Congress to repeal the consumer-protection legislation known as the Glass-Steagall Act the following year. That 1933 legislation barred Wall Street's brokerage and investment banks from combining with FDIC insured banks to prevent a replay of the 1929 Wall Street crash and Great Depression.
The Citigroup merger also forced the gutting of the provision in the Bank Holding Company Act of 1956 that prohibited insurance companies from merging with insured depository banks. Removing those necessary banking walls proved lethal to the U.S. taxpayer, the U.S. economy, the U.S. housing market and the U.S. stock market. Just nine years after the repeal of Glass-Steagall, Citigroup was on taxpayer life support, receiving the largest bailout in U.S. history. The U.S. Treasury infused $45 billion in capital into Citigroup; the Federal government guaranteed over $300 billion of Citigroup's assets; the Federal Deposit Insurance Corporation (FDIC) guaranteed $5.75 billion of its senior unsecured debt and $26 billion of its commercial paper and interbank deposits; the Federal Reserve secretly funneled $2.5 trillion in almost zero-interest loans to units of Citigroup between 2007 and 2010.
And that was what happened at just one Frankenbank. Bear Stearns collapsed and was absorbed by JPMorgan Chase with Federal support. Wachovia was in a state of collapse and was taken over by Wells Fargo. The century old Merrill Lynch teetered into the arms of Bank of America while Lehman Brothers filed bankruptcy. AIG, the giant insurer, was quietly backing tens of billions of dollars of credit default swaps at the Wall Street banks in 2008 and needed a $185 billion taxpayer bailout. We could go on.
There are two things notable about the Institutional Investor article. First, the title "Can Citi Return to Its Pre-Crisis Glory?" begs the question: did Citigroup ever have "glory" days or was it all a big fantasy propped up by accounting gimmickry and a trillion dollars of off balance sheet "assets". A company doesn't lose 90 percent of its stock market value in a year if it's built on a solid foundation.
…
Do you know someone who would benefit from this information? We can send your friend a strictly confidential, one-time email telling them about this information. Your privacy and your friend's privacy is your business... no spam!
Click here and tell a friend!