Courtesy of Pam Martens.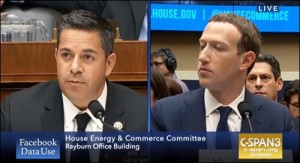 Congressman Ben Ray Lujan Questions Mark Zuckerberg at House Hearing on April 11, 2018
Facebook wants Congress, shareholders and Wall Street analysts to think of it as a sexy, high-growth-potential technology company, not a media company, but after 10 hours of Congressional probing this week, Facebook has been revealed to be a media company that is simply using advanced technology and deceptive practices to gain an unfair advertising advantage over other media companies. (Another reason Facebook does not want to admit to being a media company is that it would then have to take responsibility for the fake news and propaganda it is spreading through Russian bots and trolls of every stripe.)
As Facebook CEO Mark Zuckerberg conceded this week in the Congressional hearings, Facebook's business model revolves around the company's ability to provide advertisers with granular data on its users so that advertisers can more effectively target them for a specific product or service. But Zuckerberg kept his trade secrets on that data collection process close to his vest.
Time and again during the hearings, Zuckerberg was asked how many data points Facebook collected on its users. The 33-year old wunderkind who has been at the helm of this company since he cooked it up in his college dorm room at age 19, repeatedly told skeptical members of Congress that he did not know. And yet, it is this massive data point collection that provides Facebook with the secret sauce that generated $40.65 billion in revenue for Facebook in 2017.
Last month, Dylan Curran, a data consultant and web developer, provided the U.K.'s Guardian newspaper with a detailed analysis of what data Facebook and Google are collecting on their users. When Curran retrieved his own data file at Facebook, it contained the equivalent of 400,000 Word documents. Curran writes that Facebook stores "every message you've ever sent or been sent, every file you've ever sent or been sent, all the contacts in your phone, and all the audio messages you've ever sent or been sent." Curran writes further:
"Facebook also stores what it thinks you might be interested in based off the things you've liked and what you and your friends talk about…They also store every time you log in to Facebook, where you logged in from, what time, and from what device.
Do you know someone who would benefit from this information? We can send your friend a strictly confidential, one-time email telling them about this information. Your privacy and your friend's privacy is your business... no spam!
Click here and tell a friend!