Yes, this is Monday morning's Report.
I don't have much to say about the markets, they are back near the highs and we'll see if they hold tomorrow, not today, as it's Monday and Monday's don't matter. What we do need to do is bargain-hunt in case it is a real rally and the best way to do that is to look back on past trade ideas and see if we can find some that haven't gone up yet.
We did our last Top Trade Review in March, so it's a good time to do one of those and, as our Members well know, the vast majority of those trades turn positive so, when they're not, it's usually just a matter of time. As of the March review, we had looked at Top Trades that were initiated through July and, out of 32 trade ideas in 30 weeks, we had 24 winners and 8 losers but 2 of the winners turned around by Sept and that left is with 26 wins and 6 losses for a very solid 81.25% winning percentatge.
Our Top Trades are what we think are our best trade ideas of the week with the highest chances of winning and we send out Alerts to our Members via Text and Email but we don't have a specific portfolio for them as they ofen ended up in one of our 5 various Member Portfolios already.
There's a bit of randomness to the reviews in that we check in on trades after roughly 6 months so they are usually in progress and may be randomly up or down at the moment but that's why these reviews are so great for identifying bargains that simply haven't made a move yet. These are the Top Trade Ideas for August and September:
Tuesday, Aug 1st: Teva (TEVA) – We felt TEVA has bottomed out in early Aug but we were wrong and it did go a lot lower before bouncing back. Our trade idea was:
As a new play on TEVA, I would sell 5 2019 $30 puts for $4.20 ($2,100) and buy 10 of the 2019 $32.50 ($4.20)/$40 ($1.90) bull call spreads for $2.30 ($2,300) which would put you in the $7,500 spread for net $200 and worst case is you own 500 shares of TEVA for net $32.90 while best case is up $7,300 (3,650%) in 18 months. Let's add that to the OOP.
As you can see, TEVA fell off a cliff and we made adjustments in the OOP but killed the trade when it bounced in Dec. At the moment, the 2019 $30 puts are $12 ($6,000) and the $32.50/40 bull call spread is 0.10 ($100) so this trade is net -$5,900 plus the $200 it cost us to enter is a big $6,100 loss (3,050%). If we were still in the trade, I'd roll the 5 2019 $30 puts at $12 ($6,000) to 10 of the 2020 $22.50 puts at $6.30 ($6,300) and leave it at that as that's the entire loss so then hope TEVA comes back over $22.50 in the next 18 months or so.
Thurs, Aug 24th: Retail ETF (XRT) - We had a bonus idea on the penny stock GreenCoinX (GRNBF) and you can read the logic from the original post. It was trading at 0.0985 at the time and blasted up to $1.50 before pulling back for a 1,400% gain.
That was just a bonus play, the main trade idea was for the Retail ETF, XRT and our trade idea was:
Sell 10 XRT Jan $36 puts for $1 ($1,000)

Buy 10 XRT Jan $37 calls for $3.40 ($3,400)

Sell 10 XRT Jan $42 calls for $0.850 ($850)

?That's net $1,550 on the $5,000 spread that's $3,500 in the money to start. Upside potential at $42 is $3,450 (222%) in 148 days – not too shabby.
As promised, XRT did finish over $42 in Jan so the short puts expired worthless, leaving us with a net $5,000 on the spread for the expected profit of $3,450 (222%) in less than 6 months.
Wed, Aug 30th: Altria (MO) – Altria is the US part of Philip Morriss and the reason I liked them was, aside from the fact that nicotine is very addictive so they are legal drug dealers, that pot is becoming legal and that will open up a whole new revenue stream because, while people in California may hate smoking and even bans them outside – they mean cigarrettes, of course, not pot, which they smoke like fiends!
All kidding aside, it's a great opportunity for MO so worth a toss when they are cheap (and they still are). Our trade idea was:
Sell 10 MO 2019 $60 puts for $5.65 ($5,650)

Buy 20 MO 2019 $57.50 calls for $8.70 ($17,400)

Sell 20 MO 2019 $70 calls for $3.20 ($6,400)

Here we have a net of just $5,350 on the $25,000 spread with $19,650 (367%) upside potential. The difference is, in the LTP, we can easily deal with a move down in MO against our $60,000 commitment to buy the stock (which pays a 4% dividend) while in the OOP, we don't REALLY want to own it – so we make a smaller, more conservative commitment on the put side.
Though MO hasn't really gone anywhere yet, since we were BEING the House and selling premium, we're still doing well in our first 6 months. The Jan $60 puts have fallen to $3.30 ($3,300) and the $57.50/$70 bull call spread is now $6.10 ($12,200) for net $8,900, which is up $3,550 (66%) but only on the way to our expected $19,650 gain so you can still get in for $8,900 on the $25,000 spread and you only missed the first $3,550 by not subscribing to Top Trade Alerts!
Thurs, Aug 31st: Williams-Sanoma (WSM) – We caught the dead bottom on this one but they've since pulled back so maybe you didn't miss out too much if you didn't get in on the original play, which was:
We don't have WSM so let's get back in in the LTP:

Sell 10 WSM 2019 $42.50 puts for $5.30 ($5,300)

Buy 15 WSM 2019 $40 calls for $9.20 ($13,800)

Sell 15 WSM 2019 $52.50 calls for $4 ($6,000)

That's net $2,500 on the $11,250 spread so we have $8,750 (350%) upside potential at $52.50 and our worst case is owning 1,000 shares at net $45, which is about where it is now and that's aggressive but I really like the value down here – especially as a lot of people in Houston need furniture and furniture inventories are usually tight, which means there should be a nice drawdown over the next 6 months.
The Jan $42.50 puts have dropped to $3.20 ($3,200) and the $40/52.50 bull call spread is $8 in the money at net $6 ($6,000) for net $2,800 on the spread so only up $300 (12%) so far and great for a new trade. Don't forget, even if they don't go higher, the -$3,200 for the short puts goes away and becomes profit, as does the -$2,000 from the short calls, so PATIENCE is the key to these plays.
So here we have, in August, 3 winners and one loser which brings our total performance for 2017 up to 29 and 7 for an 80.55% win rate and it's a sad, sad day when 3 wins and one loss brings your winning percentage down, isn't it? Financially, it was on OK month as our big loss set us back but we did have $7,300 in winners against our $6,100 loser so a net gain $1,100 for the month – even if you never did make the adjustments and get out of TEVA when we did.
The markets are up this morning for no particular reason and we have 10 Fed Speeches this week, so be ready for anything. Not much data but a bit of earnings as we begin the first real week of earnings season: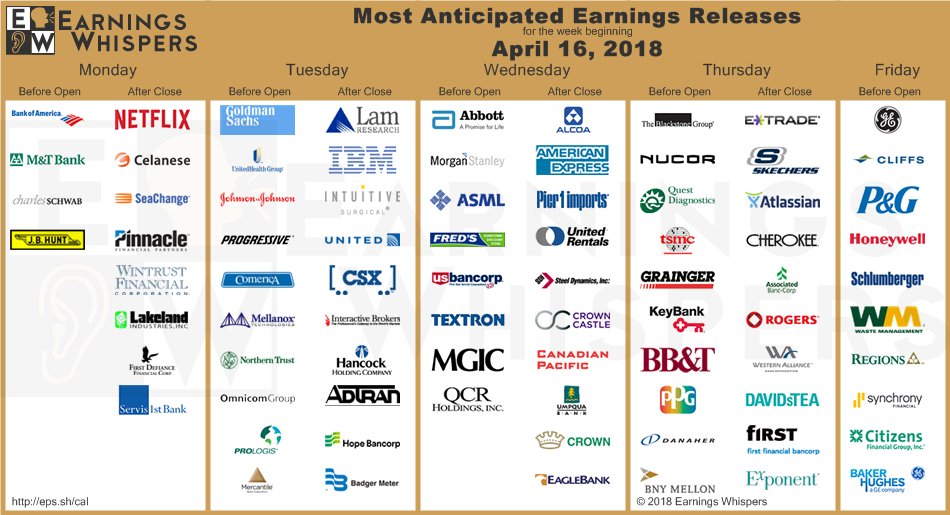 Do you know someone who would benefit from this information? We can send your friend a strictly confidential, one-time email telling them about this information. Your privacy and your friend's privacy is your business... no spam!
Click here and tell a friend!