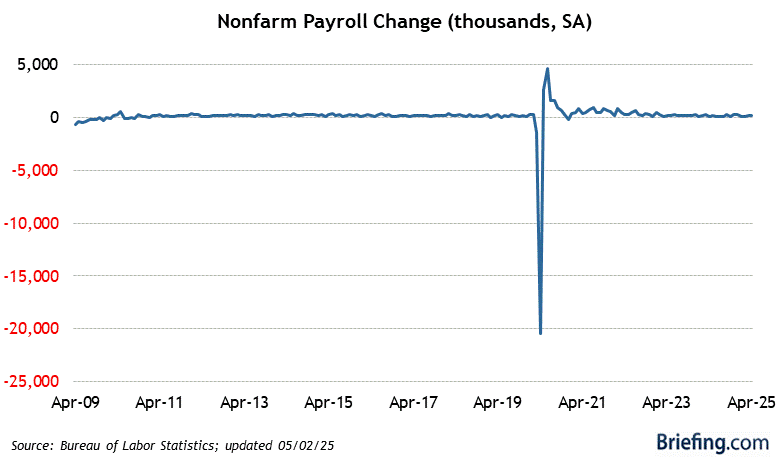 How many jobs were created in May?
Expectations are about 190,000 but I'm not sure it matters much as we've been in a very tight, China-like range since 2011 – almost never too hot or too cold. The Republicans often accused the Obama Administration of manipulating the data which means the current administration believes the data can be manipulated and MUST be manipulated to make it "fair" and give them the same advantage Obama had with his fake data. See how easy that is to justify?
The US ads about 2M citizens per year so we'd better create 200,000 jobs per month or we're simply adding more unemployed people. According to the Fed's recent Beige Book (see Wednesday's Webinar for discussion), we're actually running low on employees, with sub-4% Unemployment Rates, usually considered "full employment". At this point and that's putting pressure on wages which will put pressure on Corporate Margins and it also raises demand for the Dollar (to pay the workers) and all that puts pressure on the Fed to raise rates.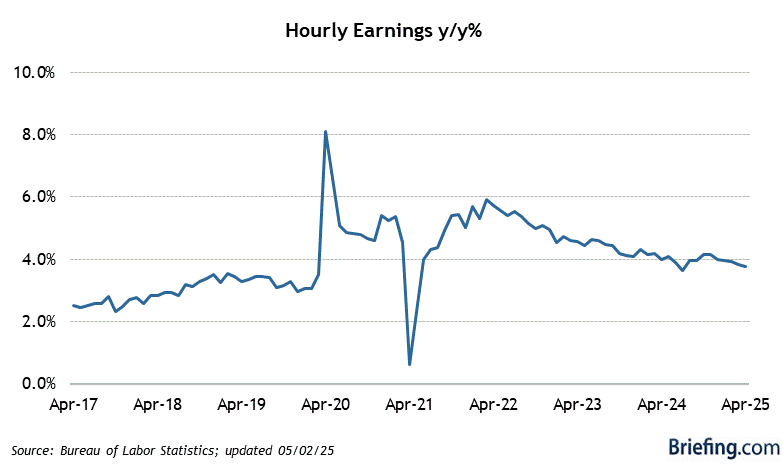 Keep in mind, on this chart, wages aren't going down, they are just accelerating at a slower pace but, in theory, 2.5% is ahead of inflation, which means it is, in fact, eating into Corporate Margins and the more jobs that are created, the more pressure it puts on employers to pay up if they want to get top talent. We're only in the very early stages of worker empowerment but we're already seeing strikes and tougher labor negotiations as job mobility gets easier as we approach full employment.
8:30 Update: 223,000 jobs were created in May and the Unemployment Rate has dropped to 3.8% which makes it practically and emergency for the Fed to raise rates at their June 13th meeting or they risk getting behind the 8-ball on inflation. That means, once again, we'll look to short the Nasdaq (/NQ) at the 7,000 line (tight stops above) as well the S&P (/ES) now 2,720 as long as it's below 2,728 (a $400 loss, so be careful).
We had a lot of fun yesterday with our index shorts. In yesterday's PSW Morning Report, we jumped on the chance to short the S&P Futures again at the 2,725 line and we got a nice drop all the way down to 2,700 for a lovely $1,250 per contract win. The Russell (/RTY) shorts did well for us too, falling from our 1,650 short entry all the way back to 1,635 for a $750 per contract winner.
As planned in the Morning Report, we also shorted Oil (/CL) Futures at $67.50 and we got quick $1,000 per contract gains on those and we also decided, in our Live Member Chat Room, to short Gasoline (/RB) and, as you can see, those made us some very nice gains as well ($4,389). That's $7,389 in profits for one day's work – don't you think you should learn how to trade the Futures? It's such a valuable tool to have in your belt but it takes A LOT of practice and hard work to get good at it – it's not something you should do casually.
We were short on the Oil Report at 11 and, at first, the Futures went up, not down but I said to our Members at 11:07:
I DD'd on my /RB short at 2.195 so 4 avg 2.189 at the moment and I'm good going to my meeting on that note.
Only 15 minutes later, I hadn't actually left yet and /RB had already started pulling back off that silly spike and I said:
Wheeee, there you go. Can't let the initial reaction fool you on those reports – more important to think about what it means and play it the way the data sends you!

Back to 2 short now with a nice profit and a stop over 2.18.
As you can see from the chart, we never had an issue with the stop line and we took the money and ran when I came back from my meeting at 1:35 (see screen shot). On that trade we were using a method called "scaling in" and "scaling out" of a position (see our Strategy Section) to raise our basis on the shorts so, effectively, we were just playing with 2 contracts that ended up making $2,000 each!
As it's Friday, we're mostly in watch and wait mode today as the trading is likely to be light and light trading tends to take us higher so we'll be mostly looking for opportunities to improve our hedges into the weekend because, much like Wednesday, nothing has actually changed since yesterday and there's no reason the Futures should be higher this morning.
Notes are collapsing, yield curves are inverting but suddenly no one cares? Yep, I'm pretty sure we're going to work on our hedges this morning!
Have a great weekend,
- Phil
Do you know someone who would benefit from this information? We can send your friend a strictly confidential, one-time email telling them about this information. Your privacy and your friend's privacy is your business... no spam!
Click here and tell a friend!