Economic War!
That's what Russian Prime Minister, Dmitry Medvedev called US sanctions early this morning and he threatened "other means" of retaliation so Congresspeople better invite some Food Tasters to their barbeques this summer as this whole thing started over Russias use of nerve agents (allegedly) to murder former spys in the UK, which recently killed a bystander who thought a bottle of poison was perfume.
These sanctions are not coming from the White House – Trump says Russia denies it and that's good enough for him. The Senate and the House are not convinced though, and they have proposed sweeping sanctions against Russia on August 2nd, which are slated to go into effect on August 22nd and get much worse 90 days later if Rusia does not provide "reliable assurances" it will no longer use chemical weapons, allow on-site inspections by the UN or other international observer groups, and respond to other U.S. demands.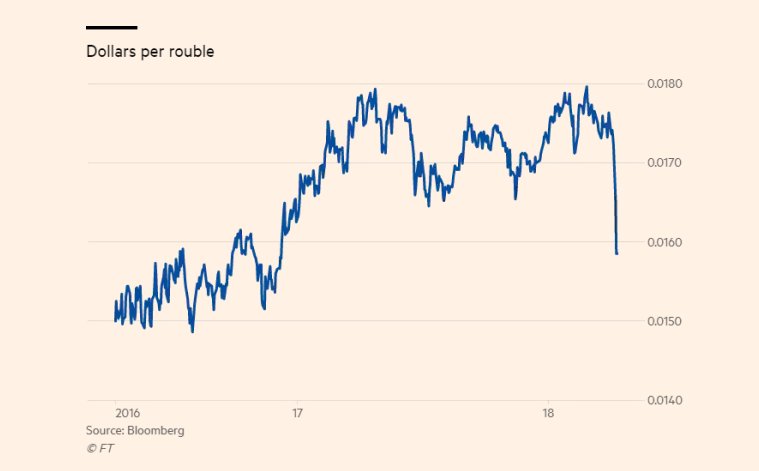 The Ruble crashed yesterday and Medvedev said this morning that Moscow would consider it a "declaration of economic war" and would retaliate "economically, politically, or, if needed, by other means" if the United States imposes bans on Russian banks or their use of a particular currency. While he did not go into detail, Medvedev's reference to "other means" appeared to have been aimed to raise the prospect that Russia could respond with military force or some other form of warfare, such as a cyberattack or even more nerve gas.
In other Cyrillic news, Turkey's Lira is also crashing as negotiations bread down over the jailing of an American Pastor, Craig Brunson, who has been held there for two years on terrorism charges for his involvement in an attempted coup in July of 2016. Turkish officials have accused Mr. Brunson of aiding the group accused of orchestrating the coup and another Kurdish separatist movement, charges that the American pastor and U.S. officials have denied.
Last week, the Trump administration accused Turkey's justice and interior ministers of human rights abuses and imposed economic sanctions on both men. The crisis sent Turkey's lira plunging to record lows. Publicly, Mr. Erdogan was defiant. Privately, his government was trying to secure a face-saving way to end the standoff. On Monday, Turkey's currency plunged again after the U.S. said it was considering new penalties against Ankara as the two countries battle over economic tariffs.
It's funny what the market chooses to finally pay attention to (see yesterday's notes on trade) but any excuse wold have at least snapped us back off the 7,500 line on the Nasdaq Composite, which is a neat 50% higher than we were when the market collapsed in 2000. As I said to our Members in our Live Chat Room yesterday:
AAPL/That – Not sure how many people time AAPL on the dividend but /NQ rejected at 7,500 is on a run from 7,200 so 300 points means a weak retrace is 60 points to 7,440 and that'd down a bit from here and a strong retrace goes back to 7,380, which still seemed high until this past week blasted us over.
This morning we flipped long at our goal but with tight stops below and we are also picking up long positions on Silver (/SI) and Gasoline (/RB) as they bottom out against a strong Dollar - see our morning Tweet for details. We're still following the Tesla (TSLA) saga, of course and they are now hovering around $350, which is great for our trade on them (see "Wednesday's Whopper – Musk Claims Some Idiot Offered Him $420/share for Tesla!") which was:
Let's take Elon at his word and sell 2 TSLA Jan $420 calls for $23 ($4,600) in the STP and buy 3 Jan $450 ($100)/420 ($79) bear put spreads for $21 ($6,300). That's net $1,700 on the $9,000 spread.
It's not just that TLSA has pulled back but the premium has drained out of the position so, already the short Jan $420 calls are down to $15.50 ($3,100) while the Jan $450/420 bear put spread is now $107/84 for net $23 ($6,900) so that's net $3,800 and already up $2,100 (123%) in two days but that's just "on track" for our expected $7,100 gain. Even from $3,800, this trade still stands to gain $5,200 (136%) from here which most people would consider a fantastic 4-month gain but here, at PSW, we call those our "scraps"…
Speaking of scraps, that Silver (/SI) trade from this morning is already up $300 per contract and Gasoline (/RB) is up about $900 per contract - enough to pay for our Egg McMuffins this morning and we're still waiting to see if the indexes cross back over to pay for lunch. If not, we're very happy to call it a day at $1,200 as I'm sure we'll find something fun to trade next week as well.
We'd better make money every morning as the Consumer Price Index (CPI) just came in hot with 2.9% year/year inflation. We haven't hit 3% since 2011 and, if it has not been for a surprising 0.2% drop in hourly wages, we would have certainly hit it today. Gold and silver are both very cheap and make great inflation hedges for the long term at these prices. WPM is our favorite in the space – it was our 2017 Stock of the Year when it was back in the teens but, even at $21, it's still a good value.
No one seems to like Barrick Gold (ABX) except me so we just keep buying the unloved mega-producer. They made 0.75/share last year and they are going to make about 0.55 this year but that's all assuming gold stays around $1,200 as they sell 5M ounces for $6Bn and drop $1.5Bn to the bottom line. BUT, if gold went up 10% and they sold the same 5M ounces for $7.2Bn – the costs wouldn't change and they'd make $2.7Bn or over $1/share. That's why they make a good inflation hedge, they are a high-leverage way to play gold without the risk of holding it yourself.
We're still holding plenty of CASH!!! and we're very well-hedged into the weekend uncertainty but the market technicals are very impressive, no matter how silly the traders are being. Last year we had a 1.5% drop in the indexes into the August expirations, which are coming next Friday so we'll see if we survive that before going back to deploying some of our cash to pick up companies that have been unfairly punished for their earnings.
Have a great weekend,
- Phil
Do you know someone who would benefit from this information? We can send your friend a strictly confidential, one-time email telling them about this information. Your privacy and your friend's privacy is your business... no spam!
Click here and tell a friend!