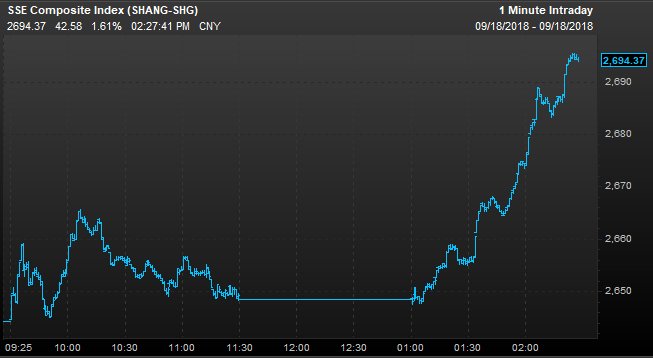 China turned around this morning.
It's funny because everyone thinks they are "winning" the trade war. The Chinese Government is planning to cut tariffs on imports to their favored trading partners, which we assume will no longer include the US. This will disadvantage US exporters to China and encourage Chinese firms and consumers to buy goods and services from other trading partners but it's also a nice tax break so it's boosting the Shanghai this morning, up 2.5% for the day at the close.
Other than that, the news has been very quiet and we're expecting to drift along into the close today as it's a Quad Witching Day in which quarterly options and futures contracts expire (there are 4 kinds), which is often punchuated by high-volume (what is that?) moves and yesterday was already a busy day on SPY as we punched in a new high at 2,945 and we would have liked to short 2,950 but we'll take a cross below 2,940 on /ES to short that with tight stops:
| Date | Open | High | Low | Close* | Adj Close** | Volume |
| --- | --- | --- | --- | --- | --- | --- |
| Sep 20, 2018 | 292.64 | 293.94 | 291.24 | 293.58 | 293.58 | 100,288,900 |
| Sep 19, 2018 | 290.97 | 291.69 | 290.83 | 291.22 | 291.22 | 49,080,600 |
| Sep 18, 2018 | 289.58 | 291.58 | 289.55 | 290.91 | 290.91 | 61,930,400 |
| Sep 17, 2018 | 290.82 | 290.86 | 289.03 | 289.34 | 289.34 | 68,244,000 |
| Sep 14, 2018 | 291.06 | 291.27 | 290.00 | 290.88 | 290.88 | 55,079,900 |
| Sep 13, 2018 | 290.32 | 291.04 | 290.00 | 290.83 | 290.83 | 51,034,200 |
Also at record highs are our Member Portfolios and our Money Talk Portfolio, which we only trade live on the show once each quarter, has finished it's first year (we started last Sept 6th with $50,000) up 81% at $90,495 – that's incredible performance for a low-touch portfolio and, despite the fact that we went to 90% CASH back in July, our remaining positions have gained another 10% over the summer – despite being completely untouched since I was on the show on July 18th:
General Mills was our new trade and, so far, it hasn't gone anywhere so still good for a new trade. As I did not expect to be on the show again until October, I wanted to have more cash to take advantage of the coming crash and so far, so wrong on my timing but we have another month – so we'll see how things go….
The remaining positions are indeed our "dogs" of the year (so far) as we've cashed out our winners, but we still like the dogs enough to stick with them and we're also well-hedged with the Nasdaq Ultra-Shorts (SQQQ) – just in case this rally ever does fade away. Mostly we're hedged with CASH and we have $85,740 of it on the sidelines, waiting for SOMETHING to go on sale.
We have found a few things to add this month with Top Trade Alerts going out on HBI, DLTR, OIH, SDS (hedge) and MJ – and the longs are already gaining ground. Speaking of grounds, congratulations to those who followed our Tuesday morning Coffee (/KCN9) Futures Trade as we got a nice spike yesterday and took half off the table with a $4,931 gain already for the week.
Today is likely to be very crazy so it's too dangerous to play the Futures, though it's tempting to short Gasoline (/RB) as it tests $2.04 and Oil (/CL) is at $71 again and also a tempting short but now we're at the front of the November contract cycle and there's not a lot of pressure forcing them to trade at realistic prices and also there's an OPEC meeting (small one) over the weekend and that's going to randomize the outcome – so safer not to play those we do have Oil Ultra-Short (SCO) long positions in our Short-Term Portfolio – to take advantage of the longer down-trend.
Short Call

2018 21-SEP 18.00 CALL [SCO @ $14.86

$0.00

]

-20

6/22/2018

(0)

$-3,000

$1.50

$-1.48

$0.40

$0.03

-

$2,950

98.3%

$-50

Short Put

2018 21-SEP 16.00 PUT [SCO @ $14.86

$0.00

]

-10

6/22/2018

(0)

$-1,000

$1.00

$0.15

$1.15

$-0.05

$-150

-15.0%

$-1,150

Long Call

2018 16-NOV 15.00 CALL [SCO @ $14.86

$0.00

]

40

8/27/2018

(56)

$6,800

$1.70

$-0.60

$1.10

$0.10

$-2,400

-35.3%

$4,400

Short Call

2018 16-NOV 18.00 CALL [SCO @ $14.86

$0.00

]

-40

8/28/2018

(56)

$-2,800

$0.70

$-0.40

$0.30

-

$1,600

57.1%

$-1,200
What we have here is the Nov $15/18 bull call spread that we paid net $4,000 for but we then sold $4,000 worth of Sept puts and calls and the short calls will expire worthless and we'll have to pay the short puts back about $1,000 but that's still fantastic as we end up in the $12,000 spread for net $1,000ish. Notice we sold twice as many calls as puts as we figured SCO would still be down around $16 as of today – we're off by $1 but benefit from being more sure about it not being at $18 yet. That's how we make money Being the House with options – we sell the risk to other suckers who think they know what SCO will do month to month and now we can sell it again in October and make a profit – whether SCO hits our November target or not.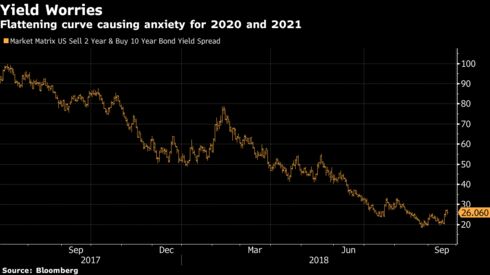 It's been a fairly quiet week in the markets but not so much next week as September draws to a close and the Fed will make a policy adjustment on Wednesday (2pm) and also will extend their economic projections out to 2021 for the first time – so that will be interesting. Ray Dalio, who founded Bridgewater Associates, the world's biggest hedge fund, this month predicted the U.S. economy is about two years from a downturn. Former Fed Chairman Ben Bernanke shared that view of a possible decline in 2020, when fiscal stimulus wanes like "Wile E. Coyote is going to go off the cliff."
I'll be very surprised if the Fed doesn't raise rates at the upcoming meeting but it's also the end of the quarter and "THEY" want to keep the market at record highs – so they can print up pretty charts and graphs to show you how you need to put your money in the markets.
For our part – we continue to be "CASHY and CAUTIOUS" despite the rally and, with 80% gains in our portfolios already – I don't really think we're missing anything by being careful.
Do you know someone who would benefit from this information? We can send your friend a strictly confidential, one-time email telling them about this information. Your privacy and your friend's privacy is your business... no spam!
Click here and tell a friend!